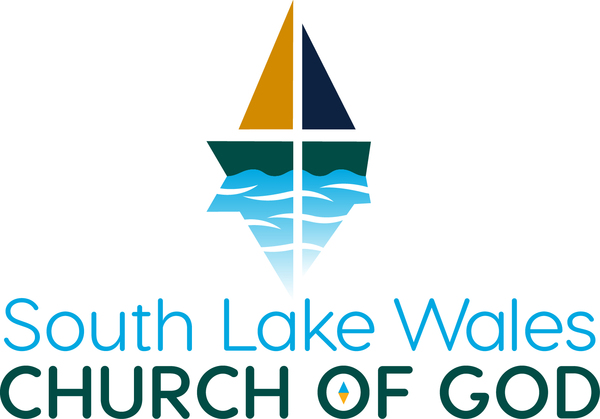 The Compass Newsletter
January 6, 2023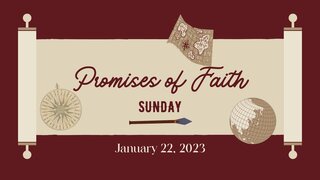 We are called to not only pray but financially help missionaries both locally and abroad. Promises of Faith, Sunday, January 22nd, you will have the chance to get a greater understanding and meet several of the missionaries that SLWCOG supports. We are excited that several of the missionaries will be here in person and will be sharing in our service. It will be a great experience to share with our missionary partners and worship with them.
This will be a combined worship service at 10:15 AM in the CMC Worship Center. There will be a potluck/international fellowship meal following the service. Plan to bring your specialty dish(es) to share. Paper products, utensils, and drinks will be provided.
2023 Tithe Envelopes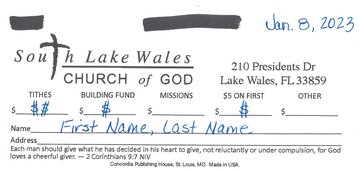 Thank you for your faithful giving of tithes in 2022!
Tithing envelopes are available through the church office. We do not use a number tithe system any longer; the system is based on names. So tithes, both cash and check, can be placed in a traditional tithe envelope or a mailing envelope. The envelope does need to have the Date, Name, Tithe Designation (if other than general giving). See sample above.
Questions? See Julie Selent or Gail Hinton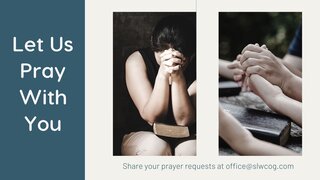 Contact the church office at 863.638.1019 or office@slwcog.com to update your prayer requests.
- Albrecht, Sara – health issues (daughter of Al & Jan Bodine)
- Alexander, Laura Grace – cancer (friend of Sara Bogart
- Armed Force personnel
- Bordine, Jim – diabetes and MRSA (son of Al & Jan Bodine)
- Burke, Nicholas – health issues (friend of Linda Golack)
- Caregivers for loved ones
- Curtis, Darrel – stage 4 kidney disease
- Durham, Carolyn – health issues
- Educators
- First Responders
- Hager, Andy – pending back surgery
- Hamilton, Gary – health issues (Sara Bogart's nephew)
- Hickey, Raymond – cancer (son of Jim & Susan Black)
- Holeton, Al – health issues
- Linamen, Larry – cancer (Shirley Fair's brother)
- Schrecker, Samatha – Guillain-Barre' syndrome (Terri Holstrom's niece)
- Sikora, Kaci – pancreatitis – (Dewey & Kathy Westerburg's granddaughter)
- Singer, David – stage 4 kidney failure
- Stoddard, Dick – stage 4 lung cancer and COPD (Bob Bogart's friend)
- Stought, Udora – breast cancer
- VanDeusen, Joann – recovering from a fall
- Vignolini, Danyelle – health issues (Linda Golack's friend).
- Warner University Faculty, Staff and Students
- Westerburg, Dewey – health issues
- Wilcox, Robert – Parkinson's disease ( Joan Wilcox's sister)
- Wilson, Dan & Diana – health issues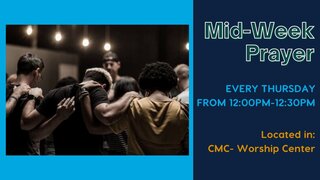 We believe in the power of prayer! Stop and pray with us every Thursday at noon right were you are or in the sanctuary/CMC.
Just Pray!
Life Line Screening
A screening can provide Peace of Mind or Early Detection. On January 27th you have the opportunity to participate in the LifeLine Screening. The screening package is only $149 (50% saving) and includes: Carotid Artery Screening (plaque); peripheral Arterial Disease Screening; Abdominal Aortic Aneurysm (AAA); Atrial Fibrillation; and Osteoporosis Risk.
Appointments can be made at their website or by calling 884.558.0984.
Be with Jesus. Become Like Jesus. Do what Jesus Did.
Our address is: 210 Presidents Dr, Lake Wales, FL, 33859