Weekly Update ~ Últimas Noticias Semanales
February 18, 2022/ El 18 de febrero de 2022
Come worship with us! ¡Venga a adorar con nosotros!
Join us for worship this Sunday in English at 9am in person
and online on Zoom or Facebook.
Únase a nosotros éste domingo para la misa en español a las 12:30pm en persona y en línea en Facebook y Zoom.
Please wear a mask at all times at church, and socially distance yourself from others. Those who are not fully vaccinated, or who have underlying medical conditions which put them at higher risk for severe complications from COVID infection, should participate in worship at St. Peter's/San Pedro through a virtual offering.
Thank you!
Por favor, use una máscara en todo momento en la iglesia y aléjese socialmente de los demás. Aquellos que no están completamente vacunados, o que tienen condiciones médicas subyacentes que los ponen en mayor riesgo de complicaciones graves por la infección COVID, deben participar en el culto de St. Peter's/San Pedro
a través de una ofrenda virtual. Gracias!
FINALLY! ¡FINALMENTE!

Finally! After literally decades of work and tireless effort by many devoted innovators in the field of immigrant rights and justice including our own Dr. Alexandra Piñeros Shields, the Massachusetts State Representatives passed the Work and Family Mobility Act (AKA the "Driver's License Bill") that will allow undocumented immigrants to legally obtain a Massachusetts driver's license and the dignity, freedom and respect that goes along with it. The bill is predicted to soon become law in Massachusetts. This vital measure will help to ensure justice and opportunity for all citizens of Massachusetts regardless of immigrant status and help to make the lives of our immigrant family neighbors more manageable. Our parish, along with leaders in immigrant justice, like the Essex County Community Organization (ECCO), among so many other groups, worked relentlessly to achieve this tremendous goal.
If you would like to join with the Essex County Community Organization (ECCO) in bringing immigrant justice to our communities, please join us at their Online Community Meeting on Sunday, February 20th from 7pm to 830pm. You can register at this link. All
ECCO meetings are bilingual and open and accessible to all.
¡Finalmente! Después de literalmente décadas de trabajo y esfuerzo incansable de muchos innovadores dedicados en el campo de los derechos y la justicia de los inmigrantes, incluida nuestra propia Dra. Alexandra Piñeros Shields, los Representantes del Estado de Massachusetts aprobaron la Ley de Movilidad Laboral y Familiar (también conocida como "Ley de Licencia de Conducir") que permitirá que los inmigrantes indocumentados obtengan legalmente una licencia de conducir de Massachusetts y la dignidad, la libertad y el respeto que la acompañan. Se prevé que el proyecto de ley pronto se convierta en ley en Massachusetts. Esta medida vital ayudará a garantizar la justicia y la oportunidad para todos los ciudadanos de Massachusetts, independientemente de su condición de inmigrante, y ayudará a que la vida de nuestras familias inmigrantes sea más manejable. Nuestra parroquia, junto con líderes en justicia para inmigrantes, como la Organización Comunitaria del Condado de Essex (ECCO), entre tantos otros grupos, trabajaron incansablemente para lograr este tremendo objetivo.
Si desea unirse a la Organización Comunitaria del Condado de Essex (ECCO) para llevar la justicia de inmigrantes a nuestras comunidades, únase a nosotros en su reunión comunitaria en línea el domingo 20 de febrero de 7 p. m. a 8:30 p. m. Puedes registrarte en este enlace. Todas las reuniones de ECCO son bilingües, abiertas y accesibles para todos.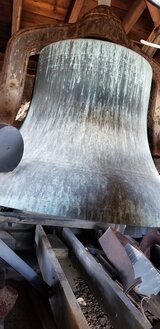 Our bells speak Spanish and Justice! Thanks to the unending help of our music director, Javier Márquez, our bells now speak Spanish and sing a Latino hymn, ¨Dios está aquí¨ (God is here) every evening at 6pm. In addition, at noon time daily, just prior to our bells tolling the Angelus as a devotion to Saint Mary, the Mother of God, our bells sing a song of justice for all that would have warmed Spencer Felder´s dear heart--"Lift Every Voice and Sing." Written by Massachusetts resident James Weldon Johnson in 1900, Lift Every Voice and Sing is renown as the Black National Anthem, and it is so fitting to have this beautiful and deeply meaningful hymn fill the air in Salem every day as we as a nation come to terms with what it means to be antiracists.
Mr. Johnson's beautiful lyrics say it all:
Lift every voice and sing
Till earth and heaven ring
Ring with the harmonies of Liberty
Let our rejoicing rise
High as the listening skies
Let it resound loud as the rolling sea
Sing a song full of the faith that the dark past has taught us
Sing a song full of the hope that the present has brought us
Facing the rising sun of our new day begun
Let us march on till victory is won
Stony the road we trod
Bitter the chastening rod
Felt in the days when hope unborn had died
Yet with a steady beat
Have not our weary feet
Come to the place for which our fathers sighed?
We have come over a way that with tears has been watered
We have come, treading our path through the blood of the slaughtered
Out from the gloomy past
Till now we stand at last
Where the white gleam of our bright star is cast
God of our weary years
God of our silent tears
Thou who has brought us thus far on the way
Thou who has by Thy might Led us into the light
Keep us forever in the path, we pray
Lest our feet stray from the places, our God, where we met Thee
Lest, our hearts drunk with the wine of the world, we forget Thee
Shadowed beneath Thy hand
May we forever stand
True to our God
True to our native land
Nuestras campanas hablan Español y Justicia! Gracias a la ayuda incesante de nuestro director musical, Javier Márquez, nuestras campanas ahora hablan español y cantan un himno latino, ¨Dios está aquí¨ (Dios está aquí) todas las noches a las 6:00 p. m. Además, todos los días al mediodía, justo antes de que nuestras campanas tañen el Ángelus como devoción a Santa María, la Madre de Dios, nuestras campanas cantan una canción de justicia para todos que hubiera alegrado el querido corazón de Spencer Felder--" Levanta cada voz y canta". Escrito por el residente de Massachusetts James Weldon Johnson en 1900, Lift Every Voice and Sing es conocido como el Himno Nacional Afroamericano, y es muy apropiado que este himno hermoso y profundamente significativo llene el aire en Salem todos los días a medida que nosotros, como nación, venimos a términos con lo que significa ser antirracistas.
Las hermosas letras del Sr. Johnson lo dicen todo:
Levanta cada voz y canta
Hasta que la tierra y el cielo suenen
Anillo con las armonías de la Libertad
Que nuestro regocijo se eleve
Alto como los cielos que escuchan
Deja que resuene fuerte como el mar ondulante
Canta una canción llena de la fe que el pasado oscuro nos ha enseñado
Canta una canción llena de la esperanza que nos ha traído el presente
Frente al sol naciente de nuestro nuevo día comenzado
Marchemos hasta que se gane la victoria
Pedregoso el camino que pisamos
Amarga la vara de castigo
Sentido en los días en que la esperanza no nacida había muerto
Sin embargo, con un ritmo constante
¿No tienen nuestros pies cansados
Venir al lugar por el cual suspiraron nuestros padres?
Hemos recorrido un camino que con lágrimas ha sido regado
Hemos venido, hollando nuestro camino a través de la sangre de los sacrificados
Fuera del pasado sombrío
Hasta ahora estamos por fin
Donde se proyecta el brillo blanco de nuestra estrella brillante
Dios de nuestros años cansados
Dios de nuestras lágrimas silenciosas
Tú que nos has traído hasta aquí en el camino
Tú que con tu poder nos has llevado a la luz
Guárdanos para siempre en el camino, te rogamos
Para que nuestros pies no se desvíen de los lugares, Dios nuestro, donde te encontramos
No sea que, ebrios nuestros corazones con el vino del mundo, te olvidemos
Sombreado bajo tu mano
Que podamos permanecer para siempre
fiel a nuestro Dios
Fiel a nuestra tierra natal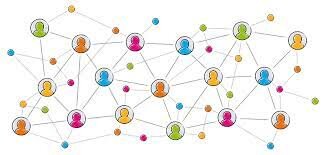 The pandemic has done a good job of keeping us all apart! Now it´s our job to stay connected for our Christian community and for our sanity! If you are feeling disconnected from friend, family and church, consider joining us on the telephone on Fridays at 230PM in English and 330pm in Spanish for a chance to reconnect with each other. To join the conversation, please call Fr. Nathan for the Zoom link. Thank you!
¡La pandemia ha hecho un buen trabajo al mantenernos a todos separados! ¡Ahora es nuestro trabajo mantenernos conectados por nuestra comunidad cristiana y por nuestra cordura! Si se siente desconectado de sus amigos, familiares y la iglesia, considere unirse a nosotros por teléfono los viernes a las 230 pm en inglés y a las 330 pm en español para tener la oportunidad de reconectarse entre sí. Para unirse a la conversación, llame al Padre Nathan para obtener el enlace de Zoom. Gracias.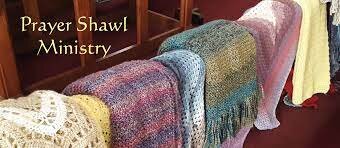 A prayer shawl ministry is one where parishioners knit or crochet shawls that are blessed at the altar and made ready for those in special need of prayers because of a difficult crisis or loss. We have a few beautifully handmade shawls now, but we need to have about 12. Please let us know if you are able to knit or crochet one of no particular size, color or shape--just as the Holy Spirit moves you. Thank you!
Un ministerio de chales de oración es aquel en el que los feligreses tejen o hacen crochet chales que son bendecidos en el altar y preparados para aquellos que necesitan oraciones especiales debido a una crisis o pérdida difícil. Ahora tenemos unos pocos chales maravillosamente hechos a mano, pero necesitamos unos 12. Por favor, avísenos si puede tejer o tejer uno que no tenga un tamaño, color o forma en particular, tal como el Espíritu Santo lo mueve. ¡Gracias!
Prayer List ~ Lista de Oraciones
We pray for all who are vulnerable to, or suffering from, the Corona Virus worldwide. Oramos por todas las personas que son vulnerables al coronavirus, o por quienes ya sufren con el virus en todo el mundo.
For those on our prayer list including -- Para todos en nuestra lista de oraciones: Ted, Jon Paul, Patrick, Isabel y familia, Soraida, Ana, Hadi, Theresa, Nancy, Diane, Florrie, Rosario Espinal, Melecia, Joyce and Alison, Elaine, Chila, Vitoriano, Melecia, Xiomara, Kevin, Karley and their children, Nadia, Yvonne, Laurie, Sandy & Carl, Geoffrey, John Haskell, Ashley, Mary Hanks, Peter Getchell, Eleanor, Clarisa, Kelsey, Matt, David, Irene, Cosset Maria, Mara, Marangelis, Ennis and Sarah, Albert, Linda, Aür, MaryBeth and Allison, Betty Ann, Corbin, Blanca, Gilberto, Emily, Lisa, Gretchen, Ana, Maria Estela Rosa, Andy, Evelyn, Doña Consuelo, Don Félix, Bob, Bill and Geri, Elia y Glenn, Tony, Louise, Charlie, John, Susan, Maria, Courtney, Celia, Amy, Bill, Jacquelyn Maria and Johnnie Mae.
We also pray for those who have died. También oramos por los que han muerto.
To add someone to the prayer list, please let Fr. Nathan know. Thank you. Para agregar a alguien a la lista de oración, por favor avísele al Padre Nathan. Gracias.
Giving is easy at St. Peter's/San Pedro!  ¡Donar es fácil en St. Peter's/San Pedro!

Upcoming Events
Download
Join us for a joyous celebration of the Holy Eucharist in our open and affirming community where everyone is welcome on their journey of faith. Masks are required and social distancing is easily accomplished in our large sanctuary.
Sunday, February 20th, 2022  •  9–10 am (EST)
Download
Únase a nosotros para una celebración alegre de la Sagrada Eucaristía en nuestra comunidad abierta y afirmativa donde todos son bienvenidos en su camino de fe. Se requieren máscaras y el distanciamiento social se logra fácilmente en nuestro gran santuario.
Sunday, February 20th, 2022  •  12:30–1:30 pm (EST)
Download
Join us for a bilingual Holy Eucharist in English and Spanish in our historic, affirming and multicultural community of faith. Our service includes our liturgy for healing as well as our bilingual Sunday School. All are most welcome to join us. Únase a nosotros para una Santa Eucaristía bilingüe en inglés y español en nuestra comunidad de fe histórica, afirmativa y multicultural. Nuestro servicio incluye nuestra liturgia de sanación, así como nuestra Escuela Dominical bilingüe. Todos son bienvenidos a unirse a nosotros.
Sunday, February 27th, 2022  •  10:30–11:30 am (EST)
Serving all in Christ's name. Sirviendo a todos en el nombre de Cristo.
Our address is: 24 St Peter St, Salem, MA 01970, USA