Easter Sunday
April 12, 2020
WELCOME TO ST JOHN UMC
Welcome to worship with St John UMC in Chattanooga TN. We are so glad to have you with us today! Our vision is that our community is healed through Jesus Christ. We do this by inviting our community to believe in Jesus Christ, offering a place to belong and to build their faith, and ultimately inviting them to bless others inside and outside the walls of the Church. As we move into worship, please take a moment and let us know a little about you & your family on the digital connection card here: https://stjohnumc.org/online-connection-card. Then, on the end of the form, write down a prayer need and/or praise for how you've seen the glory of God this past week. Our team is standing by to pray for you and connect with you on this journey we call life.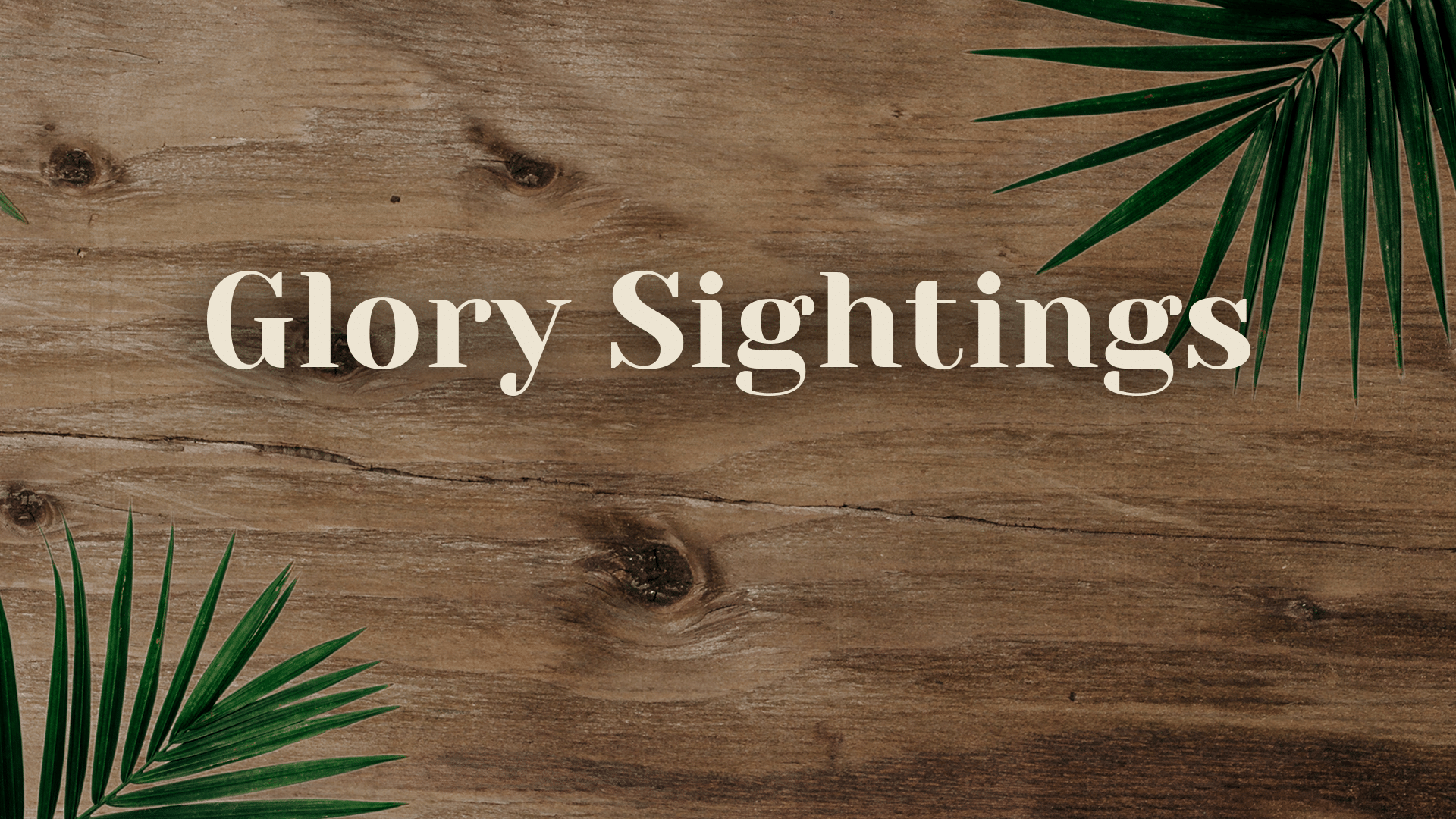 GLORY SIGHTINGS
Take a few moments to share your glory sightings from this week. This is your chance to brag on God. One of the great advantages is we have time for everyone to share this way. You can type your glory sighting out in the comments on the video stream or you make a little video on your phone and attach it to the comments after the live broadcast (We'd love to see your faces!)
TITHES & OFFERINGS
As we are gathered today for digital worship at St John United Methodist Church, we aim to engage in all the important parts of our weekly worship services both online and in person. One of those important worship elements is our offering to God's work through our financial gifts and our gifts of service. Our financial gifts to support what God is doing at St John make ministry possible every day of the year. In this season of rapid change, our church is providing ministry in new ways each day by offering: online prayer support & small groups, counseling via phone and video, worship services, youth and children's ministry activities kids can do from home, meal pick ups and more. We are continuing to facilitate Sunday school & small group ministry gatherings, support our local food ministry, and meet the needs of our church family and our community in any ways we can. All these things require financial resources. I encourage you to take a moment right now and make a gift to support ministry at St John UMC —you can easily make a one-time or recurring gift by:
Visiting our website: https://stjohnumc.org/give
Mailing a check to the church office at 3921 Murray Hills Dr, Chattanooga TN 37416
Text to Give - Simply text the word Give with the amount (e.g. Give 100) to (423) 225 2688.
Thank you for being a part of what God is doing.
Responsive Reading
Let no one mourn that he has fallen again and again;
for forgiveness has risen from the grave.
Let no one fear death, for the Death of our Savior has set us free.
He has destroyed it by enduring it.
He destroyed Hades when He descended into it.
He put it into an uproar even as it tasted of His flesh.
Isaiah foretold this when he said,
"You, O Hell, have been troubled by encountering Him below."
Hell was in an uproar because it was done away with.
It was in an uproar because it is mocked.
It was in an uproar, for it is destroyed.
It is in an uproar, for it is annihilated.
It is in an uproar, for it is now made captive.
Hell took a body, and discovered God.
It took earth, and encountered Heaven.
It took what it saw, and was overcome by what it did not see.
O death, where is thy sting?
O Hades, where is thy victory?
Christ is Risen, and you, o death, are annihilated!
Christ is Risen, and the evil ones are cast down!
Christ is Risen, and the angels rejoice!
Christ is Risen, and life is liberated!
Christ is Risen, and the tomb is emptied of its dead;
for Christ having risen from the dead,
is become the first-fruits of those who have fallen asleep.
To Him be Glory and Power forever and ever. Amen!
*Adapted from sermon by John Chrysostom (349-407)
The Easter Story
THE WORD…Matt. 27:50-66 & 28:2-15; Mk 15:33-34, 42-45; Lk 24:1-49; Jn 19:28-30 & 20:1-23 combined
33 At noon, darkness came over the whole land until three in the afternoon. 34 And at three in the afternoon Jesus cried out in a loud voice, "Eloi, Eloi, lema sabachthani?" (which means "My God, my God, why have you forsaken me?").
28 Later, knowing that everything had now been finished, and so that Scripture would be fulfilled, Jesus said, "I am thirsty." 29 A jar of wine vinegar was there, so they soaked a sponge in it, put the sponge on a stalk of the hyssop plant, and lifted it to Jesus' lips. 
30/50 When he had received the drink, Jesus cried out again in a loud voice, "It is finished." With that, he bowed his head and gave up his spirit.
51 At that moment the curtain of the temple was torn in two from top to bottom. The earth shook, the rocks split 52 and the tombs broke open. The bodies of many holy people who had died were raised to life. 53 They came out of the tombs after Jesus' resurrection and went into the holy city and appeared to many people.
54 When the centurion and those with him who were guarding Jesus saw the earthquake and all that had happened, they were terrified, and exclaimed, "Surely he was the Son of God!"
55 Many women were there, watching from a distance. They had followed Jesus from Galilee to care for his needs. 56 Among them were Mary Magdalene, Mary the mother of James and Joseph, and the mother of Zebedee's sons.
42 It was Preparation Day (that is, the day before the Sabbath). So as evening approached, 43 Joseph of Arimathea, a prominent member of the Council, who was himself waiting for the kingdom of God, went boldly to Pilate and asked for Jesus' body. 44 Pilate was surprised to hear that he was already dead. Summoning the centurion, he asked him if Jesus had already died. 45 When he learned from the centurion that it was so, he gave the body to Joseph. 
59 Joseph took the body, wrapped it in a clean linen cloth, 60 and placed it in his own new tomb that he had cut out of the rock. He rolled a big stone in front of the entrance to the tomb and went away. 61 Mary Magdalene and the other Mary were sitting there opposite the tomb.
62 The next day, the one after Preparation Day, the chief priests and the Pharisees went to Pilate. 63 "Sir," they said, "we remember that while he was still alive that deceiver said, 'After three days I will rise again.' 64 So give the order for the tomb to be made secure until the third day. Otherwise, his disciples may come and steal the body and tell the people that he has been raised from the dead. This last deception will be worse than the first."
65 "Take a guard," Pilate answered. "Go, make the tomb as secure as you know how." 66 So they went and made the tomb secure by putting a seal on the stone and posting the guard.
On the first day of the week, very early in the morning, while it was still dark, Mary Magdalene, Joanna, Mary the mother of James and other women took spices they had prepared and went to the tomb. 
2 There was a violent earthquake, for an angel of the Lord came down from heaven and, going to the tomb, rolled back the stone and sat on it. 3 His appearance was like lightning, and his clothes were white as snow. 4 The guards were so afraid of him that they shook and became like dead men.
5 The angel said to the women, "Do not be afraid, for I know that you are looking for Jesus, who was crucified.  Why do you look for the living among the dead? HE IS NOT HERE; HE HAS RISEN, just as he said. Remember how he told you, while he was still with you in Galilee: 'The Son of Man must be delivered over to the hands of sinners, be crucified and on the third day be raised again.' Then they remembered his words. 'Come and see the place where he lay. 7 Then go quickly and tell his disciples: 'He has risen from the dead and is going ahead of you into Galilee. There you will see him.'"
8 So the women hurried away from the tomb, afraid yet filled with joy, and ran to tell his Jesus' disciples. 9 Suddenly Jesus met them. "Greetings," he said. They came to him, clasped his feet and worshiped him. 10 Then Jesus said to them, "Do not be afraid. Go and tell my brothers to go to Galilee; there they will see me."
11 While the women were on their way, some of the guards went into the city and reported to the chief priests everything that had happened. 12 When the chief priests had met with the elders and devised a plan, they gave the soldiers a large sum of money,  13 telling them, "You are to say, 'His disciples came during the night and stole him away while we were asleep.' 14 If this report gets to the governor, we will satisfy him and keep you out of trouble." 15 So the soldiers took the money and did as they were instructed. And this story has been widely circulated among the Jews to this very day.
Mary Magdalene and the other women came running to a gathering of those who had followed Jesus, including: Simon Peter, John, the rest of the eleven, as well as a number of others. The women who had come from the tomb told the gathering everything that the angel in gleaming white clothing had said. But none in the gathering believed the women, because their words seemed to them like nonsense. 
However, Peter and John got up and started for the tomb. Both were running, but John outran Peter and reached the tomb first. He bent over and looked in at the strips of linen lying there but did not go in. Then Simon Peter came along behind him and went straight into the tomb. He saw the strips of linen lying there, as well as the cloth that had been wrapped around Jesus' head. The cloth was still lying in its place, separate from the linen. Finally, John also went inside. He saw and believed. Peter, on the other hand, went away, wondering to himself what had happened. Neither of them understood from the Scriptures that Jesus had to rise from the dead. The disciples went back to where they were staying.
Now Mary Magdalene had gone back to the tomb, and she stood just outside of the tomb, crying. As she wept, she bent over to look into the tomb and saw two angels in white, seated where Jesus' body had been, one at the head and the other at the foot.
They asked her, "Woman, why are you crying?"
"They have taken my Lord away," she said, "and I don't know where they have put him." At this, she turned around and saw Jesus standing there, but she did not realize that it was Jesus.
He asked her, "Woman, why are you crying? Who is it you are looking for?"
Thinking he was the gardener, she said, "Sir, if you have carried him away, tell me where you have put him, and I will get him."
Jesus said to her, "Mary."
She turned toward him and cried out in Aramaic, "Rabboni!" (which means "Teacher").
Jesus said, "Do not hold on to me, for I have not yet ascended to the Father. Go instead to my brothers and tell them, 'I am ascending to my Father and your Father, to my God and your God.'"
Mary Magdalene went to the disciples with the news: "I have seen the Lord!" And she told them that he had said these things to her.
Later that same day two of Jesus' disciples were going to a village called Emmaus, about seven miles from Jerusalem.  They were talking with each other about everything that had happened. As they talked and discussed these things with each other, Jesus himself came up and walked along with them; but they were kept from recognizing him.
He asked them, "What are you discussing together as you walk along?"
They stood still, their faces downcast. One of them, named Cleopas, asked him, "Are you the only one visiting Jerusalem who does not know the things that have happened there in these days?"
"What things?" he asked.
"About Jesus of Nazareth," they replied. "He was a prophet, powerful in word and deed before God and all the people. The chief priests and our rulers handed him over to be sentenced to death, and they crucified him; but we had hoped that he was the one who was going to redeem Israel. And what is more, it is the third day since all this took place. In addition, some of our women amazed us. They went to the tomb early this morning but didn't find his body. They came and told us that they had seen a vision of angels, who said he was alive. Then some of our companions went to the tomb and found it just as the women had said, but they did not see Jesus."
He said to them, "How foolish you are, and how slow to believe all that the prophets have spoken! Did not the Messiah have to suffer these things and then enter his glory?" And beginning with Moses and all the Prophets, he explained to them what was said in all the Scriptures concerning himself.
As they approached the village to which they were going, Jesus continued on as if he were going farther. But they urged him strongly, "Stay with us, for it is nearly evening; the day is almost over." So he went in to stay with them.
When he was at the table with them, he took bread, gave thanks, broke it and began to give it to them. Then their eyes were opened and they recognized him, and he disappeared from their sight. They asked each other, "Were not our hearts burning within us while he talked with us on the road and opened the Scriptures to us?"
They got up and returned at once to Jerusalem. There they found the Eleven and those with them, assembled together and saying, "It is true! The Lord has risen and has appeared to Simon." Then the two told what had happened on their way home, to Emmaus, and how Jesus was recognized by them when he broke the bread.
Later that evening—of that very same, first day of the week—the disciples were together with the doors locked for fear of the Jewish leaders. While they were still talking about how Jesus had been with the two disciples in Emmaus, Jesus himself came and stood among them and said, "Peace be with you!" They were startled and frightened, thinking they saw a ghost. He said to them, "Why are you troubled, and why do doubts rise in your minds? Look at my hands and my feet. It is I myself! Touch me and see; a ghost does not have flesh and bones, as you see I have."
When he had said this, he showed them his hands and feet. 41 And while they still did not believe it because of joy and amazement, he asked them, "Do you have anything here to eat?" They gave him a piece of broiled fish, and he took it and ate it in their presence.
He said to them, "This is what I told you while I was still with you: Everything must be fulfilled that is written about me in the Law of Moses, the Prophets and the Psalms."
Then he opened their minds so they could understand the Scriptures. He told them, "This is what is written: 'The Messiah will suffer and rise from the dead on the third day, and repentance for the forgiveness of sins will be preached in his name to all nations,  beginning at Jerusalem.' You are witnesses of these things. I am going to send you what my Father has promised; but stay in the city until you have been clothed with power from on high."
Again, Jesus said, "Peace be with you! As the Father has sent me, I am sending you." 22 And with that he breathed on them and said,  "Receive the Holy Spirit.  23 If you forgive anyone's sins, their sins are forgiven; if you do not forgive them, they are not forgiven."
2 Corinthians 5:17-21, TPT
17 Now, if anyone is enfolded into Christ, he has become an entirely new creation. All that is related to the old order has vanished.[a] Behold, everything is fresh and new.[b] 18 And God has made all things new,[c] and reconciled[d] us to himself, and given us the ministry of reconciling others to God. 19 In other words, it was through the Anointed One that God was shepherding the world,[e] not even keeping records of their transgressions, and he has entrusted to us the ministry of opening the door of reconciliation to God.[f] 20 We are ambassadors[g] of the Anointed One who carry the message of Christ to the world, as though God were tenderly pleading[h] with them directly through our lips. So we tenderly plead with you on Christ's behalf, "Turn back to God and be reconciled to him." 21 For God made[i] the only one who did not know sin to become sin for us,[j] so that we who did not know righteousness might become the righteousness of God through our union with him.[k]
Benediction Prayer
The cradle. The Cross. They say Jesus is the First and Last, the Beginning and the End! He is the keeper of Creation, the architect of the universe. He always was. He always is. He always will be. His bruises brought healing! His suffering brought freedom! His death brought life! His resurrection brings eternity! The world cannot understand him. Armies cannot defeat Him. Scientists cannot explain Him. Leaders cannot ignore Him. Herod could not kill Him. Nero could not crush Him. Tyrants from Stalin to Saddam Hussein could not silence Him. He is light, love, and Lord. He is goodness, kindness, gentleness, and God. He is holy, righteous, mighty, powerful, and pure. His ways are right. His word is eternal. His will is unchanging. He is Redeemer and Saviour, Lord and Christ. I serve Him because His bond is love and His burden is light. I follow Him because He is the wisdom of the wise, the power of the powerful, the ancient of days, the ruler of rulers, the leader of leaders, the sovereign Lord. He will never leave me. Never forsake me. Never mislead me. Never forget me. When I fall, He lifts me up. When I fail, He forgives. When I am weak, He is strong! When I am lost, He is the way! When I am afraid, He is my courage! When I stumble, He steadies me! When I am hurt, He heals me! When I am broken, He mends me! When I am blind, He leads me! When I am hungry, He feeds me! When I face trials, He is with me! When I face persecution, He shields me! When I face problems, He comforts me! When I face loss, He provides for me! And when I will face Death, He carries me home! He is everything for everybody, everywhere, every time, in every way. He is Jesus Christ! [I live because He lives!]
~ http://www.gordonmoyes.com/sermon_archive/ministry/sermons/051211.html
Let us get to know you!
Please take a moment to send us your information so that we may stay connected with you. Your information is carefully managed and protected.
How did you hear about us?