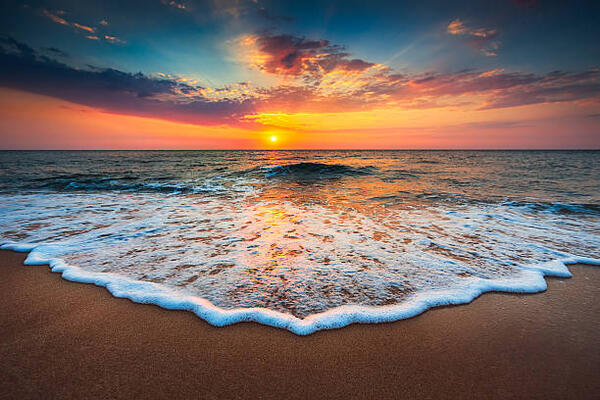 Monday Motivation
from St John UMC
Shedesha (Dee Dee) Hudson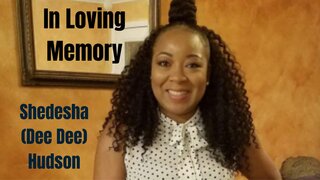 12/31/76 - 9/10/2022
Romans 14:8 If we live, we live for the Lord; and if we die, we die for the Lord. So, whether we live or die, we belong to the Lord.
This young lady touched so many hearts for such a short while. I don't remember seeing her without that beautiful smile. She left behind her husband Bobby of 20 years, and two sons Jordan and Jaylon. Please pray for her family as they go through this time of grieving. She was loved by her St, John family.
Don't Leave Us in the Dark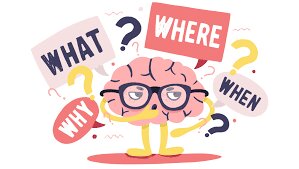 If you have an event or meeting or have any pictures you want to share, please email them to simpsue@epbfi.com. Thanks Susan
Thanks for all your input and photos! Keep them coming.
Birthdays this Week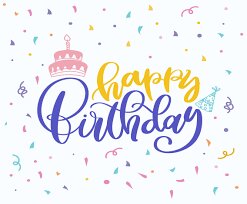 Carla Grider - (Belated) 9/8
Linda Navel - 9/14


HAPPY BIRTHDAY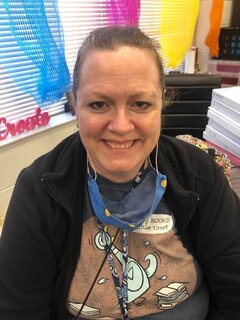 SO, DOES ANYONE KNOW WHEN KELLY HAS A BIRTHDAY?
WE'LL GET IT RIGHT YET. HER FACEBOOK PAGE SAYS 9/18!
HAPPY BIRTHDAY TO YOU KELLY MIREAULT. AND MANY MORE.
PRAYER REQUESTS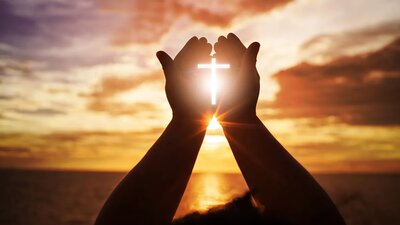 The Hudson Family, Bobby, Jordan. and Jaylon
Fritz Vetterick
Jim Mossburg
Karen Shell
Robin Dooley
Annie & Andrew Frierson
Erskine & Dot Peoples
Pat Smith
Delores Shaw
Sylvia Camp
Terry Ramsey
Mary McLain
Terrie Orr
Text "PRAY" to 423.481.8805
THE DAMES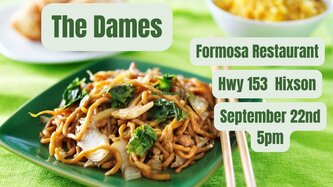 Single ladies come out and join us for dinner and fellowship!
First Night of SNL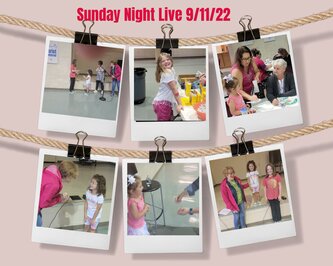 Fun. games and good pizza. Thanks, Haylee Smith, for doing the devotional. We look forward to seeing you each Sunday. At this time SNL will meet from 5-6:30pm every Sunday
This Week's Volunteers
This space is a reminder of things that are happening this week. If you see an empty spot you'd like to fill or a ministry you'd like to be involved in, just reply to this email, or click the title/link of that ministry.
Peoples Family
Volunteers needed for This Week
Food Love Team Leader: Marilyn Sterchi
Cooking: Robin Dooley, Judy Reich
Packing: Marily Sterchi, Kevin Dooley, Douglas Gallant, Brenda Love
Drivers: Lenny and Susan Simpson
Drive Thru: Kristen Blackburn, Gail Spaulding, Haylee Smith
Sunday AM Greeters
Sunday School - Carmen Williams
Worship - Susan Simpson, Marilyn Sterchi, Sandy Powell
Sound - Nate & Gabe Lowe
Media - Lenny Simpson
Camera - John Humphreys
Social Media - Kelly Mireault
Thanks!!!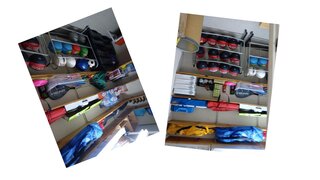 Jermey turned these rooms upside down cleaning them. They were ready for the first SNL meeting last night.
Got Change? COINS FOR KIDS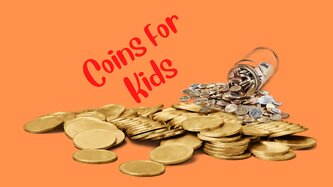 Steve Grider has started a new opportunity to help our kids. When you sign in on Sundays there will be a container to throw loose change in. Pennies add up to dollars. Thanks for such a great idea, Steve
Chattanooga Photo Society
$15 per person. For any other information contact
Milton McLain (423) 344-5643
Meal Trains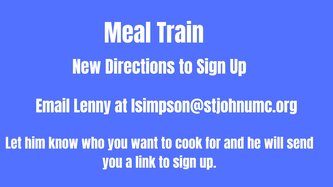 New directions on how to sign up.
How about making a larger portion when you're cooking and sharing the extra food for our church family that are recovering from an illness or an injury?
This is our Family:
Peoples Family
STARTING BACK OUR FELLOWSHIP!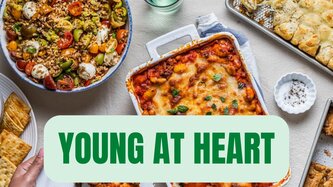 There is a meeting on September 20th at Marilyn Sterchi's home at 11:30 for a covered dish lunch. Please bring your favorite dish and join us for fun and fellowship! Also, please text Marilyn at
423-316-0824 and let her know what you will be bringing, this will help prevent duplicates of favorite dishes. Look forward to seeing you on the 20th.
SCENIC SOUTH DISTRICT GATHERING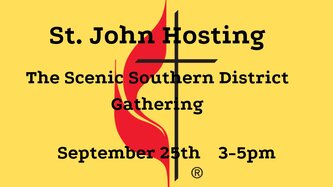 Keep the 25th on your calendars. The Believe Team is looking for volunteers as greeters. We need volunteers to make some homemade goodies. Please contact Susan Simpson 423-718-4781 or sign up at the welcome desk.
St John Flea Market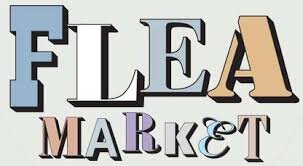 Mark your calendar for 10/1/2022 8:00am
Help is needed Monday-Friday September 26th through the 30th to set it up. If you can volunteer, please see one of the women from UMW group or just come to the CAC. Baked cookies will be for sale, so start making your special goodies! No adult clothes, box TVs, mattresses, baby beds or car seats please.
September 12th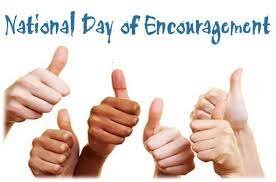 Lift up someone with a kind word!
Thanks!!!!!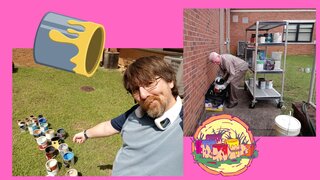 Jeremy Cooper and Bill Martin cleaning out the old paint around the church. Thanks guys.
Upcoming Events
Download
Thursday, September 15th  •  6–7 pm (EST)
Download
Thursday, September 15th, 7 pm (EDT)
Our address is: 3921 Murray Hills Drive, Chattanooga, TN, 37416