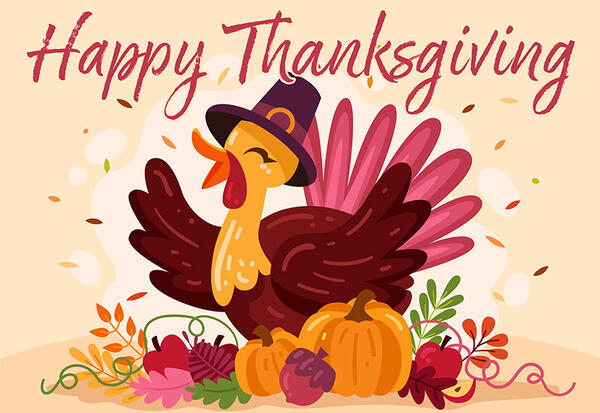 Monday Motivation
from St John UMC
Our Mission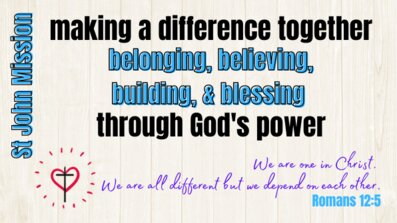 "There are many people who belong to Christ. And yet, we are one body which is Christ's. We are all different, but we depend on each other." Romans 12:5, NLV
St John Christmas Together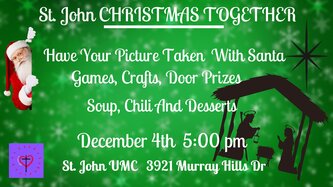 Get ready for an evening of fun and tasty food. Bring your favorite soup or chili to share. Games, crafts, door prizes, and pictures with Santa.
We still need volunteers. There is a signup sheet on the desk in the connector.
Our Vision

"Make a clean heart in me. O God. Give me a new spirit that will not be moved." Psalm 51:10 NLV
Erskine Peoples Obituary

Erskine Ladell Peoples, Sr.
U.S. Army Veteran Retired From Blue Cross And Was Talented Trumpet Player
Saturday, November 19, 2022
Erskine Ladell Peoples, Sr.
Erskine Ladell Peoples, Sr., 91, passed away on Saturday, November 12, 2022, in Chattanooga.
He was born on October 16, 1931, to Daniel Lewis Peoples and Pollie Mixon Peoples in Gadsden, AL. He received his formal education at Tennessee State University and completed further studies at the University of Michigan at Ann Arbor.
Erskine was drafted into the United States Army and served in the 62nd Army Band based in Fort Bliss, TX.
He was married to Dorothy Thompson on November 27, 1959. This union was blessed with two children, Erskine Ladell Peoples, Jr. and Tamatha Marie Peoples.
He began his professional career as a teacher and band director at Booker T. Washington High School in Chattanooga. He enjoyed the process of writing and arranging music for the band. He worked diligently to secure instruments for students that could not afford to purchase them. Erskine approached his vocation as he approached his life. He believed in order.
While still early in his career, he elected to change his path and embrace the insurance industry. He served the community and surrounding counties as a sales representative with Mutual Benefit Life and New York Life. Later in his career, he served the city of Chattanooga as the assistant manager of employee benefits. He retired from Blue Cross Blue Shield of Tennessee as a field service representative.
He loved music in every way. He was a talented trumpet player traveling with bands and orchestras throughout the country. He lent his talent to the Chattanooga Gospel Orchestra, the Spectrum Band, and the Chattanooga Community Orchestra. He was a member of Alpha Phi Alpha Fraternity. Erskine served on many boards, including Hamilton County Board of Education, Erlanger Board of trustees, Siskin Hospital Board of trustees, and the Bessie Smith Hall. He served as a member of the Saint John United Methodist Church and was a faithful member of the choir.
He is survived by his loving and dedicated wife, Dorothy T. Peoples; son, Erskine Ladell Peoples, Jr; daughter, Tamatha Peoples; grandchildren, Tarryn Crutcher, Lauryn Peoples, Ezra Peoples, and Tevin Crutcher.
Public viewing will be held on Monday, Nov. 21, from 2-6 p.m. at John P Franklin Funeral Home, 1101 Dodds Avenue, 423-622-9995.
An 11:30 a.m. funeral service will be held on Tuesday, Nov. 22, at Saint John United Methodist Church, 3921 Murray Hills Drive.
Interment will be in Chattanooga National Cemetery, with a gate time at 1:30 p.m.
Arrangements are by John P. Franklin Funeral Home, 1101 Dodds Ave., 423-622-9995.
Wednesday Night Meals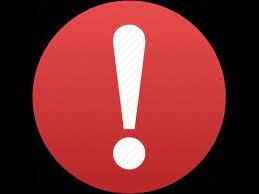 We will not serve Wednesday Night meals on the 11/23 and 11/30. Meals will resume on 12/7.
Womens Bible Study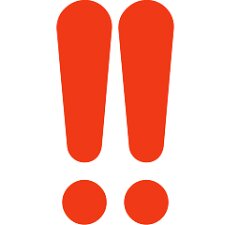 The Womens Bible study will not meet 11/22 but will resume 11/29.
Congratulations Jane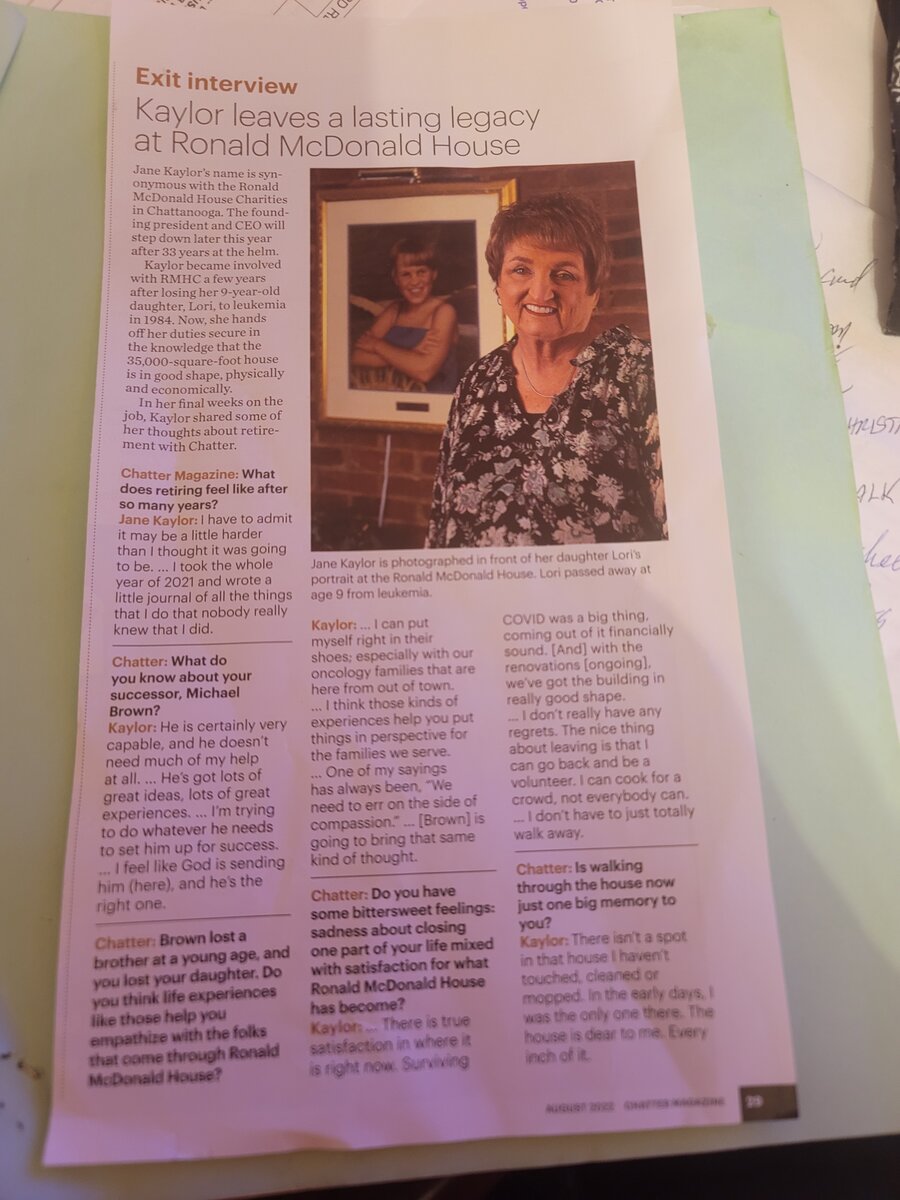 Put this on Your Calendar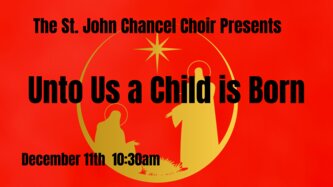 Our Values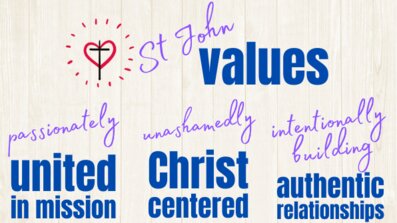 I have been crucified with Christ and I no longer live, but Christ lives in me. The life I now live in the body, I live by faith in the Son of God, who loved me and gave himself for me. Galatians 2:20
Operation Shoe Box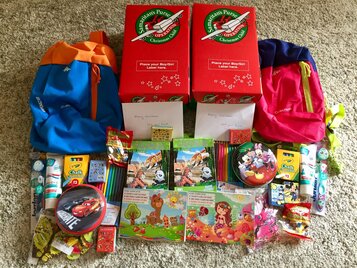 Saundra Vetterick said St. John did a total of 33 boxes. Thanks to all that participated.
World Hello Day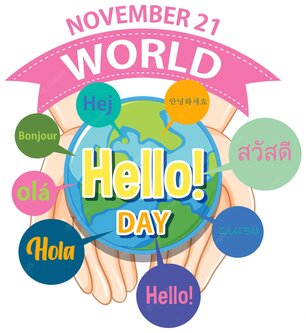 Hello World!!! Say hello to someone you don't know today.
Richard Dietrich Obituary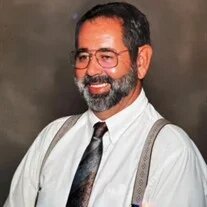 Obituary for Mr. Richard Franklin Dietrich, Sr.
Richard Franklin Dietrich, Sr., 83, of Columbia, died on Monday, November 14, 2022. Born in Ohio on November 19, 1938, he was a son of the late Franklin and Norma Yarnell Dietrich.
Richard was a member of St. Johns Methodist in Chattanooga, TN. He spent his life in construction, building homes & churches. His hobbies were wood working, furniture building and around the home projects. He spent his afternoons watching war and western movies and checking his eyelids for holes. He never complained, but when asked how he felt, he would reply "with my fingers". Mr. Dietrich loved to bake cakes and cook Sunday afternoon meals. Sundays afternoons were for a big meal and nothing else after 3:00pm. That time was for a nap; (Checking his eyelids for holes)
Survivors include his seven children, Debbie Ruotolo; Richard F. Dietrich, Jr. (Malinda), Dave Michael Dietrich (Deb), Pam Ouellette (Roger), David Patrick Dietrich, Cyndi Swafford, and Paul Dietrich (Anne); 24 grandchildren; 30 great-grandchildren; two great-great grandchildren; and one sister, Elizabeth "Betty Sue" Price (Jim). In addition to his parents, he was preceded in death by his wife, Mary Roberta Dietrich; and four siblings.
The service for Mr. Dietrich will be held at 2 o'clock, Saturday, November 19th, at Shives Funeral Home, Trenholm Road Chapel, 7600 Trenholm Road Ext., Columbia, 29223. The family will receive friends prior to the service beginning at 1 o'clock. Burial will be held in Florence National Cemetery.
Memorials may be made to Lighthouse Hospice, 110 Oak Park Drive, Irmo, SC 29063.
Hello!!!!!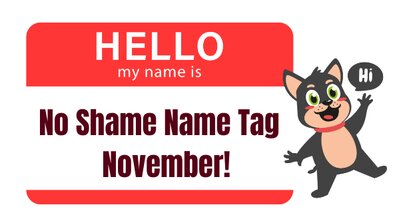 Say hello to everyone by name. Pick up and fill out a name tag at the Connector desk for the month of November.
The Patterson Family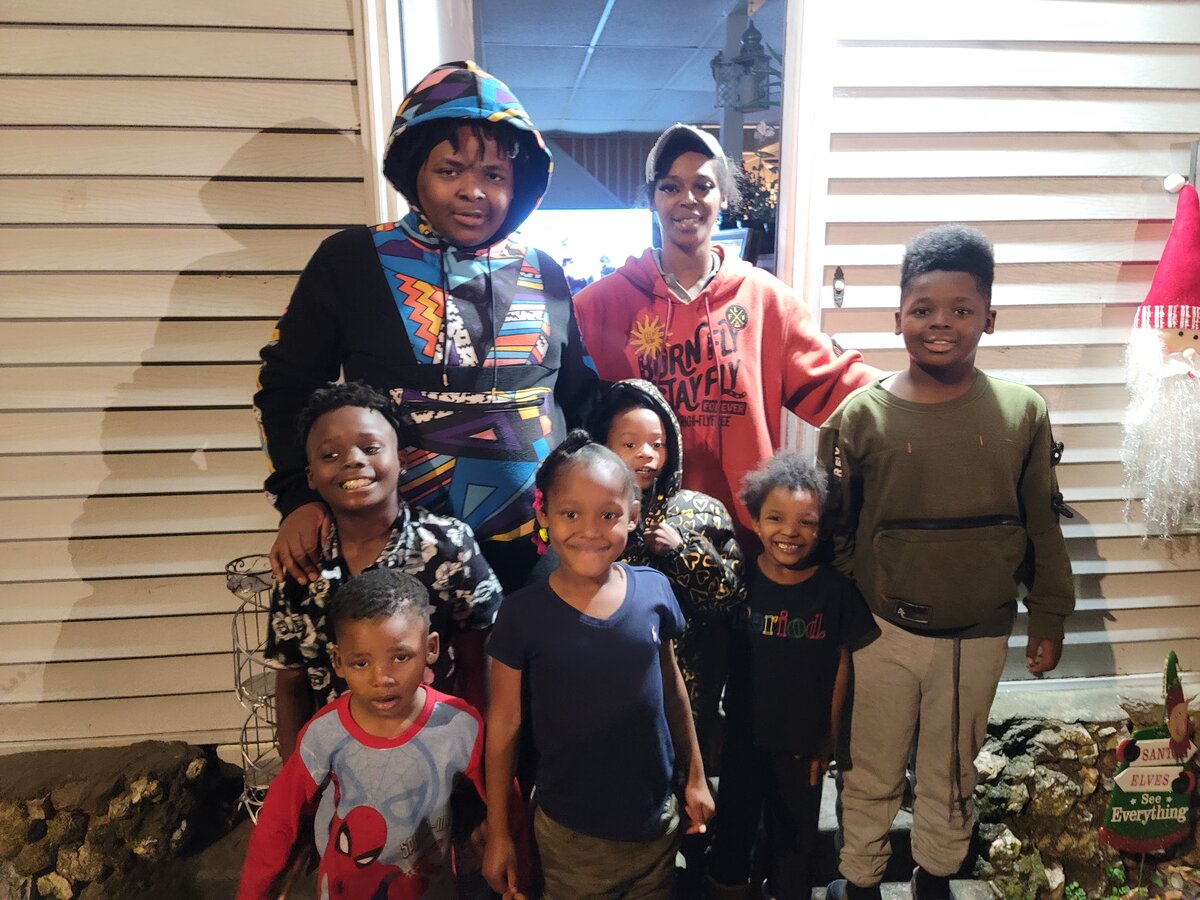 Lenny and I deliver this family Wednesday night meals. These are the sweetest kids you'd ever meet. They like to carry the food in and give you a big hug. Talaya Patterson is the mother. (orange top)
Loving our Seniors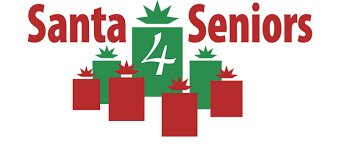 Buy a bag of Christmas gifts for a Senior. Just donate $25.00.
Santa's elf will shop for you.
See Mailyn Sterchi by 11/27 with your donation.
Holiday Schedule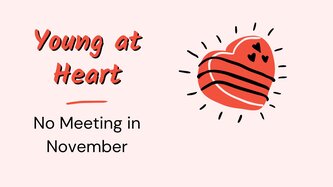 December 20th 11:30am will be a luncheon hosted by Marilyn Sterchi at her home.
Cookie Walk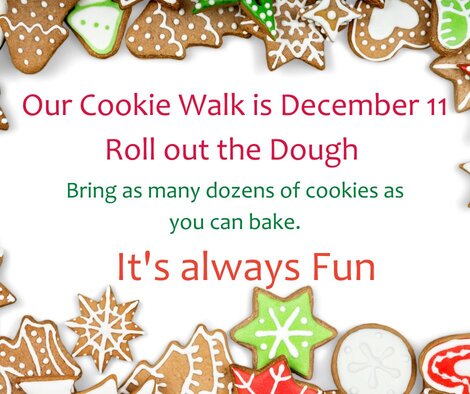 Right after Sunday Service 0n December 11th.
Decorating the Church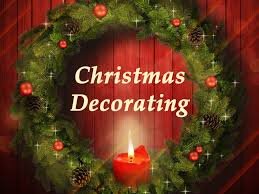 We meet at Hardees Hwy 58 for breakfast at 8:30am or meet at the church at 9:00am November 26th
Angel Tree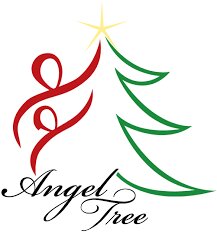 Wish/need lists from the parents will be available soon
Give Thanks Verse of the Day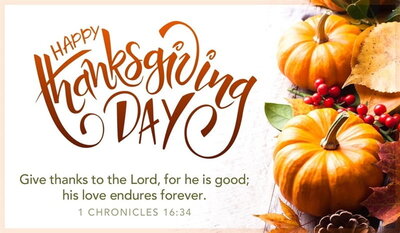 SNL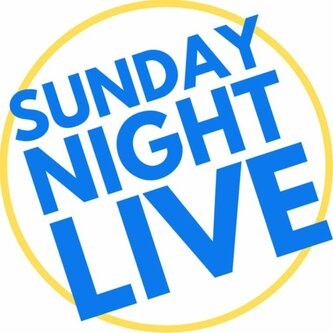 Every Sunday Night 5-7:00 pm
For kids and youth
Games
Snacks
Devotion
Everyone is invited. Come join us.
We Want to Hear from You

If you have an event or meeting or have any pictures you want to share, please email them to simpsue@epbfi.com. Thanks, Susan
Thanks for all your input and photos! Keep them coming.
Youth Progressive Dinner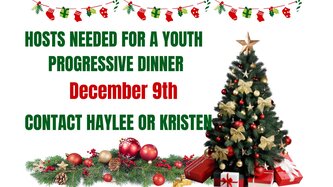 STILL NEED HOSTS
Only one host is needed for desserts.
Coins for Kids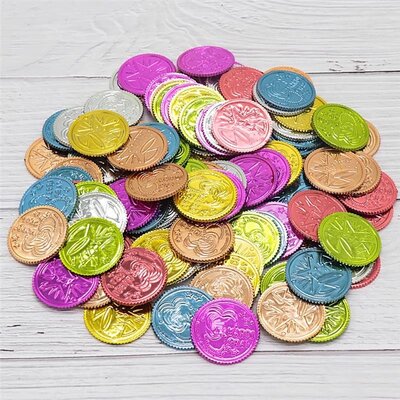 When you sign in on Sundays there will be a container to throw loose change in. Pennies add up to dollars.
This Weeks Birthdays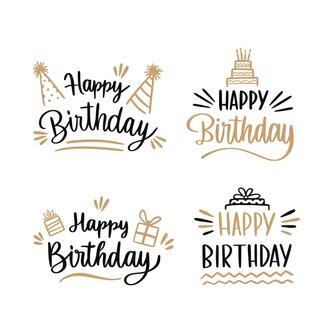 Denise Miles 11/21
Lily Blackburn 11/23
DeAnna Prather 11/24
Janice Cook 11/26
If you don't see your birthday posted, it's because we don't have it. You can go to Faithlife and update your profile. If you want, you can ask Lenny to add it. Also update your phone number. It makes it easier to check in on Sunday mornings.
PRAYER REQUESTS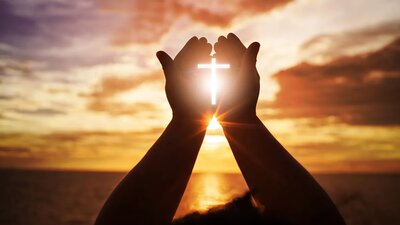 Jim & Marion Mossburg
Annie & Andrew Frierson
Dot Peoples and Family
Judy & Mike Hunter
Jim Blackwell
Jacqueline Gines
Randy Wallace (Gail Spaulding's Father)
Elise Cole
Bob & Jan Holcomb
DeWitt Miller
The Hudson Family
The Hale Family
The Orr Family
The Dietrich Family
Text "PRAY" to 423.481.8805
UMW Meeting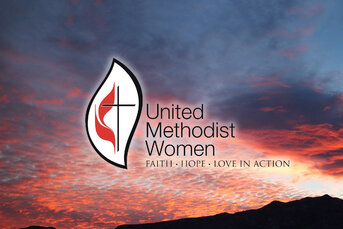 Keep the date 12/1/22 for the UMW Christmas Party. At 6:00pm in the CAC
This will be a covered dish meal.
Meal Sign Up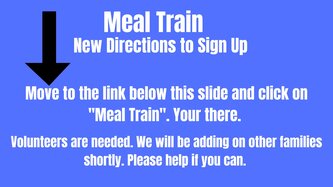 This Week's Volunteers
This space is a reminder of things that are happening this week. If you see an empty spot you'd like to fill or a ministry you'd like to be involved in, just reply to this email, or click the title/link of that ministry.
People's Family
Volunteers needed for This Week
Food Love Team Leader: Marilyn Sterchi
Cooking: Robin Dooley, Judy Reich
Packing: Marily Sterchi, Kevin Dooley, Douglas Gallant, Brenda Love
Drivers: Lenny and Susan Simpson
Drive Thru: Kristen Blackburn, Gail Spaulding, Haylee Smith
Sunday School - Carmen Williams
Worship - Susan Simpson, Marilyn Sterchi, Sandy Powell
Sound - Nate & Gabe Lowe
Media - Lenny Simpson
Camera - John Humphreys
Social Media - Kelly Mireault
Upcoming Events
Download
Thursday, December 15th  •  6–7 pm (EST)
Download
Thursday, December 15th, 7 pm (EDT)
Our address is: 3921 Murray Hills Drive, Chattanooga, TN, 37416