Good Earth Times November 5, 2020
GET informed GET connected GET inspired with St John UMC's Good Earth Times Matthew 13:8
Who Will Be On The Throne After Today?
"I urge, then, first of all, that petitions, prayers, intercession and thanksgiving be made for all people— for kings and all those in authority, that we may live peaceful and quiet lives in all godliness and holiness. This is good, and pleases God our Savior." (1 Timothy 2:1-3)
With today being election day, I want to call our church to continued prayer, to a spirit of unity, and to remembering that God remains sovereign over every rule and authority (Romans 13:1-5). I wanted to bring you words of encouragement today as so many are on edge today. I know so many that "unfriend" people over politics. Before social media, we didn't talk about politics as much, and I feel like it protected our hearts more than our current climate of sharing EVERYTHING that enters our thoughts. As Trevin Wax wrote in a recent Gospel Coalition article: "We must remind ourselves that our King is not up for election, that our faith is global not national, and that politics—while important—is not ultimate. In other words, we lift up the prominence of King Jesus in our thinking and demote the politics of this world. We are to engage in the political process out of love for neighbor, not out of fear or anger. We vote, we serve, we participate, but we do so as exiles and sojourners, not as people who pin all our hopes to any party or politician."
I'm praying that we hold onto this greater truth, as we interact with each other, and with our neighbors, over the next few days and weeks.
In my family growing up, we never really talked about politics. Before I became an eligible voter, I remember exactly one political conversation during my childhood. I was in 3rd grade and I was participating in the mock elections in my school. I had been assigned to represent George H.W. Bush (the first one in 1988) against the other half my class representing Michael Dukakis. I was telling my parents about the class project during dinner. My parents asked me what my argument was going to be. Since I had also recently learned the Spanish word for poop, my entire argument involved rhyming caca with Dukakis and Democrats with dummy, which I loudly explained in the middle of Western Sizzlin'. My moritified mother shushed me and explained that Democrats were not dumb and making fun of people's names were what bullies do and that was no way to win. 1998 was the year I turned 18, and my lawyer cousin ran for judge in our county as an independent. I was in college and very excited to vote for the first time, especially with a family member on the ballot. As it was also a presidental year, I listened carefully to the positions put forth by George W. Bush and Al Gore. I went to the polling center with my mom and we each cast our votes in our individual voting booths without any discussion before or during. Imagine my shock and dismay when my mother is floored after asking about my choice in the voting booth. "How could you vote for Gore? Your family is Republican."
I only share this story now because I feel it illustrates the seismic shift that has happened in our country. Politics is no longer something you discuss quietly at home. It is a shouting match amongst friends and strangers alike. It seems that gone are the days of polite civil discord. If someone disagrees, they can isolate themselves by ghosting and unfriending you and googling new friends that agree with themselves completely. (P.S. My family has grown a lot since 1998. While we still don't always agree on politics, we refuse to let it divide us!)
But we are Christians. We are called to be different. We are called to be a light in the darkness.
"The church has a grand opportunity: to show a watching world what a community looks like where allegiance to Christ transcends the political differences of the current moment. We can push back against the trend of making nearly everything in life political, and of reducing people to their political views."
In God we trust!
Love,
DeAnna
P.S. Just for the record, I don't always vote Democrat. I am a registered voter with no party affiliation. I pray for God to guide my voice and my vote every election cycle.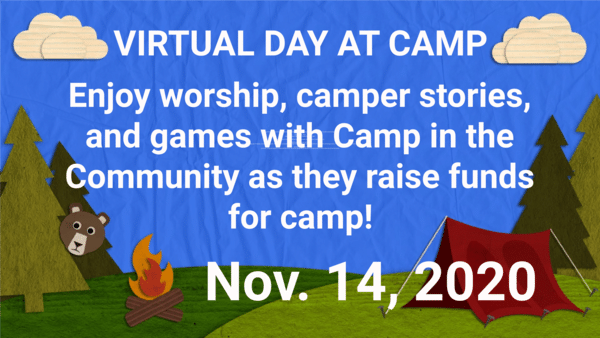 VIRTUAL DAY AT CAMP
Join Camp in the Community for a Virtual Day at Camp. Enjoy worship, camper stories, and games with us as we work to raise funds for camp! November 14, 2020 Streaming live on our social accounts starting at 9am! During our Day At Camp, we will be highlighting youth who have been fundraising for us. SUPPORT A CHILD'S FAITH JOURNEY Less than $1 a day give 3 children a camping experience. For some of our campers, this is their first experience in a church, with 40% of our campers not having a home church. Click the link below for more info. CALLING ALL YOUTH!! Join us by using your passion to raise fund for camp! We will be highlighting participants during our Day At Camp! More info at the link below.
TOGETHER TOMORROW CAMPAIGN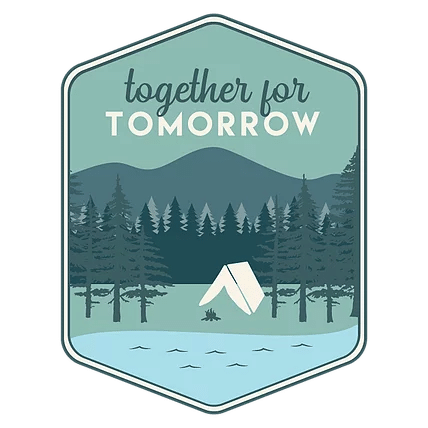 The Together for Tomorrow Campaign is the fundraising initiative launched to sustain our camps during the current pandemic so that they can be prepared to welcome our youth and children back as soon as safely possible.
The Holston Foundation has given a $150,000 gift plus an additional matching gift that they hope will inspire others to give. The gift is being made as a Challenge Gift and Camp in the Community is seeking to raise $30,000 to match the $30,000 it will receive from the Foundation gift.
Through its 9 years of ministry, countless numbers of our summer campers have come to know Christ, have heard God's call for their lives, and have learned to value God's creation all while making lasting memories. The Together for Tomorrow Campaign will ensure the camp's future.
You can respond to the Foundation's challenge by making a gift or pledge to the Together for Tomorrow campaign. For more information, contact Whitney Winston.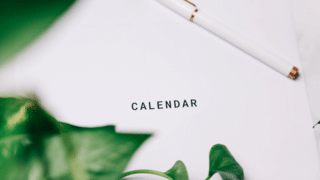 NEW SMALL GROUP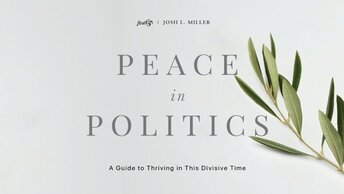 Are you dealing with anxiety over this election season & the divisiveness of our nation right now?
This lunchtime small group will use the Peace with Politics bible reading plan from iDisciple.org to equip, challenge, and impassion ourselves to choose the path of peace God offers. Then from that peace, share that peace with our world.
You can join the discussion online HERE on Thursdays at 12pm or you can watch on Facebook Live or catch the replay. We will discuss the reading material, share our loads with each other, rejoice in our glory sightings, and pray for our nation. This is a 10 week reading plan, so we will praying for our nation every Thursday until Inauguration Day.
Shoebox Giving Options:
Pack a virtual box on OCC's website
Pack your own shoebox following the directions HERE
Donate any amount to help towards Operation Christmas Child if you can't afford a whole box or would like our team to shop for you.
If you pack your own box, bring it to St John UMC on Sunday, Nov.15 between 10am-12pm or Wednesdays, Nov 12 or 18 between 6-6:30pm. Or click HERE for a local pick up location near you.
Our address is: 3921 Murray Hills Drive, Chattanooga, TN, 37416