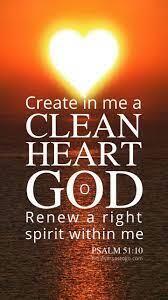 September 2021
Cornerstone News
From Pastor David . . .
"Listen to your heart..." sounds like really good advice. Of course, what we refer to as the "heart" is not the physical blood-pumping organ, but rather a symbolic representation of the center of our thoughts, values, dreams, and desires.
So how good is "listen to your heart" advice? Let's see.
Scripture gives warnings about our hearts. Jeremiah says the heart is deceitful (Jeremiah 17:9). Jesus says from the heart comes all sorts of junk (Matthew 15:19). Proverbs says there is a way that seems right, but in the end, it leads to destruction (Proverbs 14:12).
Wow. Those are some stark warnings. Of course, we are always free to not heed warnings. We can drive through the "Road Closed" sign, or disregard the "wet paint" sign. Sometimes it works out. Sometimes it doesn't.
Perhaps Adam and Eve were listening to their heart when they reached for the forbidden fruit. Maybe the religious leaders were following their heart's desire when they arrested and crucified Jesus. Many who "follow their heart" do not arrive where they want to and, instead, find themselves in difficult and tragic situations. This isn't surprising when you realize our hearts by default are inclined toward selfishness and sin.
If we choose to listen to Scripture's warnings about our heart, then what should we do? Where can we turn?
There's some really good news! The God of the universe, the One who knows us better than we know ourselves has invited us to allow him to guide and direct us. He has given us all we need in order to listen to him. He is beyond everything, yet he is closer than we know. We have everything we need in order to listen to him and he invites us to do so.
Not only does God desire to direct us, but God says he will transform our sin-formed and harden hearts. Through the prophet Ezekiel, he says he will give us a new heart, removing our heart of stone (hardened because of sin) and replace it with a heart of flesh (soft and open to God's spirit). This new heart is a game-changer.
God continues and says he will put his own Spirit within us and "move you to follow my decrees and be careful to keep my laws. (Ez. 36:27)" God gives us the opportunity to have an entirely new heart. In Psalm 51, David prays for this heart, "Create in me a pure heart, O God, and renew a steadfast spirit within me."
"Follow your heart"? I don't think so. "Follow your heart transformed and renewed by God's Spirit…" definitely! May David's prayer for a new Spirit-led heart become our own prayer.
Peace,
David
Food Pantry Opening in October
Food Pantry Opening in October, Find Out How You Can Help!
Over the summer, we found out that one of our pastors, Pastor David, has been selected for the opportunity to take a sabbatical in Spring of 2022. Alongside that news, we were blessed with the opportunity to receive grant funds which were designed to be celebratory for the ministry that is taking place at St. Paul in conjunction with David's sabbatical.
We began having several conversations, in which we invited people to stick around after the service and discuss where they would like to see that money go, if we received it, and one of the overwhelming responses that we heard was that the people of St. Paul would like to start a food pantry. So, we did some research on food pantries in the area and discovered that our church is located in an underserved area, and decided that this was a ministry we wanted to take on regardless of if we received the grant funds or not. We decided to partner with Hoosier Hills Food Bank, our local affiliate of Feeding America, to make this food pantry a reality.
Since then, I have had the tremendous honor of working with a team of individuals to develop and prepare for the launch of our food pantry, and now we are proud to say that we are only a month away from our launch date in October. Our food pantry will be open to the public every Wednesday evening from 5-7PM, beginning October 6. However, we know that our small team can't operate this pantry on our own, and so we're asking for your support!
Here are a few ways you could help us out:
Donate: While most of our food items will be coming from our mission partners at Hoosier Hills Food Bank (HHFB), there are several items that HHFB can not provide to us, including items like dry milk and personal care items to name a few. Likewise, we also accept monetary donations which will allow us to purchase the items we need as those needs arise. You can do so by writing 'Food Pantry' on a check and placing it in the offering, or give online by going to stpaul.life.
Volunteer: There are so many ways you can volunteer to help us with the food pantry! We will need individuals to man the pantry each Wednesday, to restock our pantry, to pick-up food items from HHFB, and more! To volunteer, simply go to stpaul.life and select the box which says 'Serve In Our Food Pantry'.
Last, but certainly not least, I wanted to personally thank all of those who have helped turn this dream into a missional reality, including: Erin Hollinden from Hoosier Hills Food Bank, our Pantry Co-Directors Katherine Haseman and Helen Stephenson, our Record Keeper Margaret Richardson, and our Structure and Design Team including Rick Richardson and Lee Carmichael.
Grace and Peace,
Aaron
St. Paul Online Community
Connect . . . Our St. Paul Online Community of Faith
Stpaul.life
Join a Blueprint Group, the Prayer Group, or other groups
Volunteer as an Usher, Greeter, or Tech Team member
Help us with our Food Pantry - it launches on October 6th! (see info above)
Learn more about the Idea Lab: Bible Builders, a new ministry involving LEGO's
And so much more! Contact Aaron at aaron@stpaulbloomington.org
HIGHLAND PARK GATHERINGS
SUNDAYS @ 4-6 PM
FELLOWSHIP AND FUN!
St. Paul UMW News
The UMW gathers on Thursday, September 9th at 10:00 a.m. for Crafts; then at 12:00 noon they will hold their September Business Meeting. Bring a brown bag lunch. All ladies are invited to either or both. Come join for fellowship together. Crafts will be held in classroom M12; the Business Meeting will be held in Brashaber Fellowship Hall.
Craft Class will also take place on Thursday, September 23rd at 10:00 a.m. The ladies will break at 1:00 p.m. to go eat lunch together at a local restaurant. Join them for crafts and lunch! Don't craft? No problem. Come for the fun and fellowship.
Questions? Contact Pat McCormick, St. Paul UMW President.
Gold Group in September
The Gold Group (ages 60+) will travel to Patoka Lake to take a Wildlife Cruise on Wednesday, September 22nd. They will leave the church (bright and early) at 8:00 a.m.!
They plan to eat at Porkie's in Paoli on the way home.
Costs: $5 each for gas + $20 each for cruise + cost of your lunch.
Please sign-up on the sheet on bulletin board #2 at the church to reserve your seat on the church bus; or call the church office to be placed on the list.
Questions? Contact Barb Buker, Gold Group Coordinator.
Kroger Community Rewards for SPY
If you shop at Kroger you can sign-up to have part of your spending go to SPY (our St. Paul Youth)! Just register your Kroger Plus card at: krogercommunityrewards.com. You will need SPY's ID number, which is: MV709.
Sign-up today and part of your grocery spending will be donated to SPY each time you shop!
Thank you from SPY!
The Upper Room Devotional
The September/October Upper Room devotionals are available in the Narthex at the church. Feel free to grab a copy on Sunday or if you wish to receive a copy of the devotional, please call the church office and arrangements will be made to provide a copy to you.
Giving
You may place your offering envelope in the offering plates located in the Narthex on Sunday morning; mail your offering to the church office; or sign up for Online Giving! Just go to our website, stpaul.life and click "Giving" on the top of the home page which will direct you to the online giving service to sign up.
Thank you for your continued support to the ministries of St. Paul!

Stop the Spread of Germs (CDC.gov/coronavirus)
Help prevent the spread of respiratory diseases like COVID-19.
Stay at least 6 feet (about 2 arms' length) from other people.
Cover your cough or sneeze with a tissue, then throw the tissue in the trash and wash your hands.
When in public, wear a cloth face covering over your nose and mouth.
Do not touch your eyes, nose, and mouth.
Clean and disinfect frequently touched objects and surfaces.
Stay home when you are sick, except to get medical care.
Wash your hands often with soap and water for at least 20 seconds.
The Church Office is closed on Monday, September 6th in observance of Labor Day
Making Disciples of Jesus Christ for the Transformation of the World!
Our address is: 4201 W 3rd St, Bloomington, IN 47404, USA