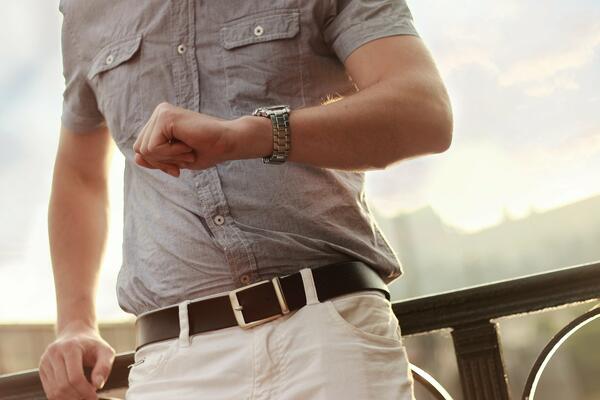 From the Pastor . . .
No More Whine
There's so much being written and said about COVID-19, I thought I'd be different. While you may be disappointed to learn I'm not writing about our current situation, how long we will be in it, or what we might do once restrictions are loosened, I thought it might be best to write about something that has absolutely nothing to do with our current circumstances.
So, in order to steer away from current events, I thought I'd instead focus on patience. Yes, patience because patience has nothing to do with what's currently happening.
When my kids were younger, my wife offered a definition of patience that they all understood. She said, "Patience is waiting without whining." That's a great definition! Not just for kids, but for adults as well. It's a great definition for me!
What makes patience so hard? I'll give you some time to think about that one.
Well?? I'm waiting….
Well?? Still waiting….
Still waiting...and...I don't like to wait! Maybe that's what makes patience so hard. The waiting. We don't like to wait. Patience, on the other hand, would mean that we could wait and wait without whining about how long everything is taking.
We like to wait. So we come up with ways to make airplanes fly faster, cook in less time, and get deliveries quicker. We want it and we want it now!
I've even heard people say, "Give me patience and give it to me now!" But we know patience doesn't work like that. As the saying goes, "Good things come to those who wait" and that's true of many things, including patience.
When Paul wrote to the Galatians, he included patience in the list of "Fruit" of the Spirit of God (Gal. 5:22-23). What if patience doesn't come because we work at it? What if patience, true patience, is a gift? What if we could see the gift of waiting?
I know that sounds crazy especially as we are asked to stay at home just a little bit longer. Especially as we are asked to continue social distancing when we want to get back to the way things were. Especially as we go stir crazy waiting, yes, I wrote "waiting", for all of this to pass.
Patience would be very helpful right now. What if the only place to really get patience is from God? God, after all, must be the most patient being ever. God must be patient because he is patient with me. God is patient with you as well.
God does not give up on us. Instead, he waits. And waits. God waits for us to recognize that we are not alone. He waits for us to realize how much he loves us and what he has done for us. He waits for us to say yes to his invitation of life and love.
We will get through this, like we have gotten through other difficult situations. While you are waiting, why not spend some time with God? He's been waiting for you...perhaps for a very long time.
Peace,
David.
Mission of the Month for May
May's Mission of the Month is for the St. Paul Shepherd's Fund. The Shepherd's Fund helps St. Paul assist those as needs arise throughout the year from within our congregation and in the community. You may give financially to the Mission of the Month by indicating "Shepherd's Fund" on your special offering envelope or write it in the memo line of your check.
Upper Room Devotionals
The May/June Upper Room devotionals have arrived at the church.
During this unique time, the Upper Room is offering the May/June devotional to their readers as a FREE PDF download! Just go to: https://www.upperroom.org/covid-19 to download a copy.
If interested in receiving one of the small print or large print devotionals, please call the church office first (812-332-4191) and arrangements will be made to get a copy to you.
Indiana UM Conference Postponed
The 2020 Indiana Annual Conference Session, originally scheduled June 11-13, 2020, has been postponed and redesigned to be two one-day sessions.
The first session is on August 15, 2020. The second session is on October 10, 2020. Each session will convene at 10 am EST / 9 am CST and adjourn at 6 pm EST / 5 pm CST.
The first session on August 15 will be on the campus of Indiana Wesleyan University in Marion, Indiana. This allows for social distancing space as well as outdoor space for community. The second session on October 10 will be at St. Luke's United Methodist Church in Indianapolis, Indiana.
For more information, go to: inumc.org.
Sunday, May 10th is Mother's Day!
Thank you to all Moms.
Monday, May 25th is Memorial Day
Honoring all men and women who have died while serving in the military.
Giving to St. Paul
Your offering envelopes may be mailed to the church office at the mailing address below OR you may sign up for Online Giving! Just go to our website: stpaulbloomington.org; click on the red menu triangle in the left corner of the home page; and scroll down through the menu to "Online Giving - Vanco" to sign up!
Thank you for your continued support to the ministries of St. Paul.
--
Sunday morning Worship continues Online!
Sunday mornings at 9:30 a.m.
Go to our St. Paul website for the links to live streaming and archives.

Making Disciples of Jesus Christ for the Transformation of the World!
Our address is: 4201 W 3rd St, Bloomington, IN 47404, USA