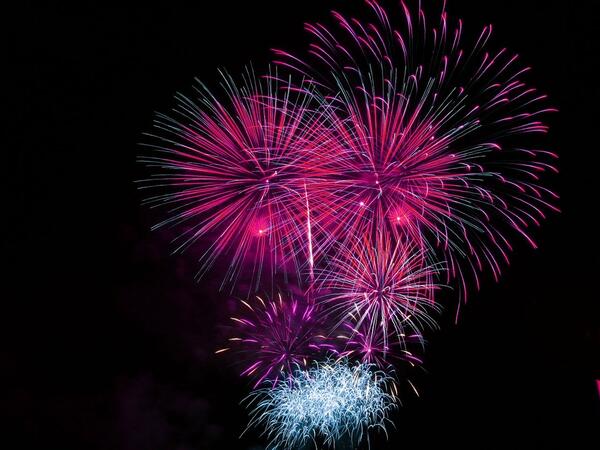 July 2020
Cornerstone News
From the Pastor . . .
July is Here!
Most of us think about the 4th when July tools around and for good reason. We celebrate our freedom on July 4th which deserves celebration. Because of men and women who were willing to give the greatest sacrifice, we are free to live out our rights of "life, liberty, and the pursuit of happiness." Such freedom demands celebration.
Free to Choose
We live out our freedoms differently. Freedom to pursue happiness may mean sitting on a white-sanded beach with crystal clear water, serving as a public servant, or pursuing a passion such as art or music. It may mean making a difference such as fighting for the oppressed, being a voice for those without one, or making sure freedom remains secure by joining the military. I, as you know, have used my freedom helping others deepen their relationship with Jesus, letting them know they matter to God and are invited into a life-transforming relationship with God.
We are free to love others, share, give, and make a difference. We are also free to make questionable or even bad decisions. We can choose to live for others, or only care about ourselves and what we want.
We are free to live life how we choose but with freedom comes responsibility. We are free to choose our actions but with freedoms comes consequences which we don't control.
Sometimes in the freedom of our pursuits, we end up in a prison of our own making. How many addictions have started with the freedom to try something? What starts out as a free choice can end with an inability to stop. We are free no more.
Freedom's Pathways
In Deuteronomy 29, Moses gathers the people to review their covenant with God. A covenant is like an agreement and/or contract between a greater entity, in this case, God, and a lesser entity, in this case, the people.
In chapter 30 verse 15 Moses says:
15 "Now listen! Today I am giving you a choice between life and death, between prosperity and disaster. 16 For I command you this day to love the Lord your God and to keep his commands, decrees, and regulations by walking in his ways. If you do this, you will live and multiply, and the Lord your God will bless you and the land you are about to enter and occupy.
17 "But if your heart turns away and you refuse to listen, and if you are drawn away to serve and worship other gods, 18 then I warn you now that you will certainly be destroyed. You will not live a long, good life in the land you are crossing the Jordan to occupy.
Moses sets before the people two pathways. One path leads to life. The other path leads to death. They must choose which path they will follow. The path to life is simple, yet difficult: Love God. Keep his commandments. Walk in his ways. The path to destruction is simple and easy: Don't listen. Serve and worship other gods.
Freedom brings choice and responsibility. We have the freedom to pursue happiness, but that pursuit can end in destruction. There are individuals who have pursued wealth, power, celebrity, recognition, power, greed, selfishness, believing that those things bring the happiness they desire, yet the end of their road was one of loneliness, depression, anxiety, isolation, and destruction.
Choose Life!
God sets before us a choice between life and death. We are free to choose. Choose wisely. Make a difference. Change the world. You are free to do so!
Peace, David.
Worship Services in July
Worship Together Online and Outside
Sundays in July at 9:30 a.m.
If it rains, stay home and watch the live stream. If you cannot do live stream, listen by phone on Sunday at 9:30 a.m. (551) 241-6305.
July Mission of the Month
We continue this month with Backpack Blitz as the Mission of the Month for July.
Due to COVID-19, The Salvation Army's Backpack Blitz will look a little different this year. They are accepting financial donations to help purchase the needed items to fill the backpacks with school supplies for the school children.
Please write "Backpack Blitz" on the memo line of your check or on your special offering envelope.
The Upper Room Devotionals
The July/August Upper Room devotionals are now available. If you attend our outdoor service on Sunday, the devotionals will be available outside for you to grab a copy.
If you are unable to attend the outdoor service and are interested in receiving one of the small print or large print devotionals, please call the church office first, (812) 332-4191, and arrangements will be made to provide a copy to you.
Summer Church Camp Suspended
All Impact 2818 events for Summer 2020 have been suspended due to the COVID-19 crisis, as communities are still being impacted.
For more information, questions, and/or to support the camping ministry, please visit impact2818.org/covid-19.
Indiana Annual Conference
The 2020 Indiana Annual Conference of the United Methodist Church has been postponed due to the Coronavirus. Instead, there will be two, one-day sessions on August 15, taking place on the campus of Indiana Wesleyan in Marion, Indiana and on October 10, which is planned as a virtual experience. For updates regarding the Indiana Annual Conference, go to inumc.org/annual-conference.
Scouts Troop 148 Fundraiser
The Scouts BSA Troop 148 for Boys are participating as a summer service project/fundraiser selling hand sanitizer. If you are interested, please see the information below.
· $30.00 per 1-gallon jug (25% return to Troop 148) (This is liquid not gel)
· 80% ABV ethyl alcohol based sanitizer, using WHO/FDA recipe
· FDA registered facility
Contact Marni Karaffa at acm.pack160@gmail.com or text 812-360-9728 to place an order. Orders are placed on a weekly or bi-weekly basis and fulfilled within the week. Payment is due upon delivery by cash or check (payable to Hoosier Trails Council). If wish to pay by credit card, arrangements can be made with the Hoosier Trails Council office. Please contact Marni to place an order and make arrangements regarding delivery. Contact information is below:
Marni Karaffa, acm.pack160@gmail.com or text 812-360-9728
Kroger Community Rewards for SPY
Do you shop at Kroger? Sign-up today and part of your spending will come back to SPY & SPY Jr. (our St. Paul Youth)!
Just register your Kroger Plus card at the website below and Kroger will donate 2% of your bill to SPY each time you shop at Kroger! It takes just a few seconds and you will need SPY's ID number, which is: MV709.
Go to: krogercommunityrewards.com and register your Kroger Plus card. If you don't have a Kroger Plus card, they are available at the customer service desk at any Kroger store.
Thank you for supporting SPY while you shop!
Giving to St. Paul
Your offering envelopes may be mailed to the church office OR you may sign up for Online Giving!
Simply go to our website: stpaulbloomington.org, click on the red menu triangle in the left corner of the home page; and scroll down through the menu to "Online Giving - Vanco" to sign up!
Thank you for your continued support to the ministries of St. Paul.
Stop the Spread of Germs
(CDC.gov/coronavirus)
Help prevent the spread of respiratory diseases like COVID-19.
Stay at least 6 feet (about 2 arms' length) from other people.
Cover your cough or sneeze with a tissue, then throw the tissue in the trash and wash your hands.
When in public, wear a cloth face covering over your nose and mouth.
Do not touch your eyes, nose, and mouth.
Clean and disinfect frequently touched objects and surfaces.
Stay home when you are sick, except to get medical care.
Wash your hands often with soap and water for at least 20 seconds.
The church office is closed on Friday, July 3rd in observance of Independence Day.
Making Disciples of Jesus Christ for the Transformation of the World!
Our address is: 4201 W 3rd St, Bloomington, IN 47404, USA