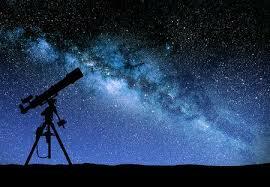 August 2020
Cornerstone News
From Pastor David . . .
I was surprised. Shocked actually. After two weeks of thinking about it, one night I gathered those who wanted to join me into the car and drove to a quiet place in the country without many lights so we could gaze at a once in a lifetime event. I wanted to see the comet Neowise before it left for 6800 years and I did!
When I got home, I discovered that I could see the comet from our backyard since I knew exactly where to look. So, the next day, I pulled out the telescope I purchased years before at a garage sale.
I had not taken very good care of the telescope. It had sat in our garage for five years. I rarely used it, but the trip to the country to see the Neowise lit an old fire of celestial curiosity. That night, I wanted to see the comet through the telescope, but I wasn't able to because the comet had shifted and was now behind some trees. I was disappointed, but I realized there were other objects to see in the night sky. To help me find those objects, I downloaded an app that showed where various stars, planets, and galaxies would be located at exact times.
The next night I looked at the moon to reorient myself with the telescope. Then I took the telescope to my porch where I could see the southeastern sky. I pointed the telescope at a star and took a look. Pretty cool. I looked around the dark sky and saw another star. It wasn't as bright as the first one, so it would take a little work to get it in my viewfinder but I was determined.
After a few minutes, I had the object centered in my lens. I slowly focused and couldn't believe what I was seeing. I went inside the house and said, "I think I found something, but I want you to look at it and let me know if I'm right." One by one my family looked into the telescope and each one saw what I saw. "Yep, that's a ring alright," my son said.
I am not an astronomer. While I have always been interested in space, I'm not very knowledgeable. However, according to the app, I had stumbled upon Saturn! To say I was shocked is an understatement. I had not planned to see Saturn. I thought I was looking at a star, instead, I made a happy and unplanned discovery. It was serendipity!
The first known use of the word serendipity was by Horace Walpole in the 1700s. He referenced a story called "The Three Princes of Serendip" who were constantly making discoveries they never set out to make.
I never set out to view Saturn, but it happened. Serendipity!
I was disappointed when I couldn't see Neowise through my telescope, but that disappointment led me to discover Saturn...well...not discover but at least see! Disappointment with not seeing Neowise could have caused me to put the telescope back into the garage. If so, I would have never had this happy discovery!
As I reflect on COVID-19, I see disappointment all around. There is much to be disappointed about with this virus and where we find ourselves. However, I wonder if there might be an opportunity for serendipitous discoveries. When we allow God to lead and guide us, we make discoveries we never set out to make.
When we are open and receptive to God's directives, we make wonderful discoveries of grace and love. I pray that even in the midst of disappointment, you remain open to what God is doing. May your eyes be open and opened to see the surprising work of God.
Peace,
David.
Worship Online and Outside
Sundays through Labor Day at 9:30 a.m.
Online and Outside
(If it rains, stay home and watch the live stream.)
(Can't live stream? Listen at 9:30 by phone -- (551) 241-6305)
For St. Paul Live Streaming and Archives of previous online gatherings, studies and worship services:
Go to our website, stpaulbloomington.org; click St. Paul Live Streaming and Archives, then click on either the Facebook link or the YouTube link.
(Can't live stream? Listen at 9:30 by phone -- (551) 241-6305)
August Mission of the Month
The Mission of the Month for August is for Middle Way House. Middle Way House works to empower survivors of domestic abuse, sexual violence, and human trafficking through a wide range of supportive services and advocacy. For more information, go to: middlewayhouse.org.
If you wish to give financial gifts, please write "Middle Way House" on the memo line of your check or on your special offering envelope.
The Upper Room Devotional
The July/August Upper Room devotionals are available. Feel free to grab a copy from the cart at the outside worship service on Sunday or if you are unable to attend the outside service and are interested in receiving a copy of the devotional, please call the church office at (812) 332-4191 and arrangements will be made to provide a copy to you.
St. Paul Website
Go to stpaulbloomington.org for worship service schedule, worship resources, past worship services; or to sign-up for Online Giving, or to receive the newsletter via email and much more!
Check it out today!
Stop the Spread of Germs (CDC.gov/coronavirus)
Help prevent the spread of respiratory diseases like COVID-19.
Stay at least 6 feet (about 2 arms' length) from other people.
Cover your cough or sneeze with a tissue, then throw the tissue in the trash and wash your hands.
When in public, wear a cloth face covering over your nose and mouth.
Do not touch your eyes, nose, and mouth.
Clean and disinfect frequently touched objects and surfaces.
Stay home when you are sick, except to get medical care.
Wash your hands often with soap and water for at least 20 seconds.
Kroger Community Rewards for SPY
If you shop at Kroger you can sign-up to have part of your spending go to SPY (our St. Paul Youth)! Just register your Kroger Plus card at: krogercommunityrewards.com. You will need SPY's ID number, which is: MV709.
Sign-up today and part of your grocery spending will be donated to SPY each time you shop!
Thank you from SPY!
Head Start Update
Due to COVID-19, the South Central Community Action Program (SCCAP) needs to move their Head Start program site from St. Paul to a larger space where social distancing can be maintained.
They are thankful for their partnership with St. Paul and have left the playground structure as a gift to the church.
Please keep the children and staff in your prayers as they begin a new school year!
Giving to St. Paul
Your offering envelopes may be mailed to the church office OR you may sign up for Online Giving! Simply go to our website: stpaulbloomington.org, click on the red menu triangle in the left corner of the home page; and scroll down through the menu to "Online Giving - Vanco" to sign up!
Thank you for your continued support to the ministries of St. Paul.
Troop #148 Project/Fundraiser
The Scouts BSA Troop 148 for Boys are participating as a summer service project/fundraiser selling hand sanitizer. If you are interested, please see the information below.
· $30.00 per 1-gallon jug (25% return to Troop 148) (This is liquid not gel)
· 80% ABV ethyl alcohol based sanitizer, using WHO/FDA recipe
· FDA registered facility
Contact Marni Karaffa at acm.pack160@gmail.com or text 812-360-9728 to place an order. Orders are placed on a weekly or bi-weekly basis and fulfilled within the week. Payment is due upon delivery by cash or check (payable to Hoosier Trails Council). If wish to pay by credit card, arrangements can be made with the Hoosier Trails Council office. Please contact Marni to place an order and make arrangements regarding delivery. Contact information is below:
Marni Karaffa, acm.pack160@gmail.com or text 812-360-9728

The church office is closed on Monday, September 7 for Labor Day.

Making Disciples of Jesus Christ for the Transformation of the World!
Our address is: 4201 W 3rd St, Bloomington, IN 47404, USA