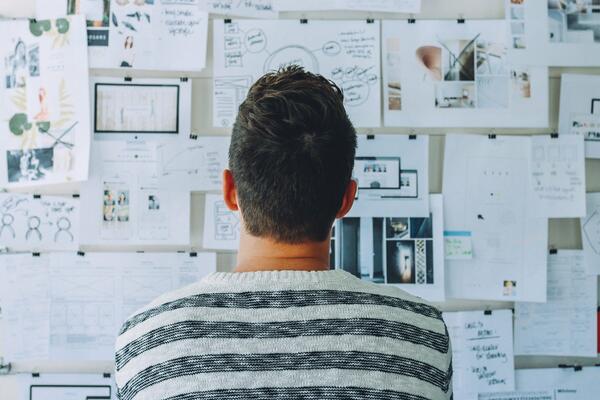 September 2020
Cornerstone News
From Pastor David . . .
The best laid schemes o' mice an' men / Gang aft a-gley". So true.
It is believed that Robert Burns composed the poem, "To a Mouse," while still holding on to his plow after plowing through a mouse's nest. He knew the mouse needed the nest to survive the winter. The mouse had planned well but to no avail.
The mouse had no way to foresee Robert, with his plow in hand, destroying his home. The line I quote above is from the original Scottish language poem, which is somewhat hard to understand. When translated the line becomes, "The best laid schemes of mice and men often go awry."
So true.
In the Air
We cannot predict or foresee many of life's events. We can plan but strategy goes out the window when you get punched in the face (according to Mike Tyson). The fact that plans go awry is why I often say, "Sometimes we build the airplane while flying it!." Sometimes you have to at least get up in the air and assess the situation as it unfolds.
To be honest, I love it when a plan comes together. I cherish a finely crafted plan. I don't want to 'wing it' but I also realize no plan takes into account everything that can go 'awry'. So, you move forward and adapt.
The ability to adapt is not given enough credit. We love a plan coming together, but that works much better on TV and in movies than real life. At least, that's been my experience. John Steinbeck agrees:
"Once a journey is designed, equipped, and put in process, a new factor enters and takes over. A trip, a safari, an exploration, is an entity, different from all other journeys. It has personality, temperament, individuality, uniqueness. A journey is a person in itself; no two are alike. And all plans, safeguards, policing, and coercion are fruitless. We find after years of struggle that we do not take a trip; a trip takes us. Tour masters, schedules, reservations, brass-bound and inevitable, dash themselves to wreckage on the personality of the trip. Only when this is recognized can the blown-in-the glass bum relax and go along with it. Only then do the frustrations fall away. In this a journey is like marriage. The certain way to be wrong is to think you control it."
"We don't take a trip; a trip takes us." Yes, indeed...and our plans don't control circumstances.
Adaptability
What does all of this have to do with St. Paul? Just this. During this pandemic, the ability to adapt has been vital. We have no idea what's coming around the corner and what tomorrow may bring. While there was some indication of what we were facing in March, April, May, and June, each month brings with it a realization that we are not in control of the pandemic.
So, plans must be made knowing that they may (and perhaps will) be adapted. I want to thank all of you for being patient and encouraging as plans are made, and, many times, changed. It's hard living in uncertainty but that is where we are.
Has everything gone smoothly? No. We've had technical issues from time to time. We plan, but then the pandemic punches us in the face. Ian and our musicians have been great, planning, adapting, dealing with problems, learning, then adapting the plan.
Silver Linings
Aaron and I continue to discuss and attempt to find ways to help all of us at St. Paul to grow spiritually and keep us moving forward in mission. We don't want to view this pandemic only as a problem. We want to look deeper and find opportunities.
I'm encouraging you to use this time do draw deeper in relationship with Jesus. Instead of focusing on all we are missing, we can focus on what this "slow down" offers. I know some of us have had big life changes and we are doing things we didn't use to do, not doing things that we used to love to do, and being called upon to do things we never thought we'd have to do (such as teaching our kids/grand-kids).
In the midst of everything, there may be some time you can set aside in order to pause and connect with the peace that only Jesus brings. We get so focused on what's in front of us, that we forget about the one who is with us. When we keep Jesus at the center of our life, we find his peace is like an anchor for our soul. No matter what tries to punch us in the face, we can duck, jive, and navigate, never losing the sense of peace that Jesus gives.
In order to help you, we've created a new website http://stpaul.life. We are still testing it, tweaking it, adapting it, but you are invited to sign up, explore the courses, connect with others, and be reminded that you are not alone. This is OUR (St. Paul's) website. There are no ads. I pray it will be a place where we can encourage each other, a shelter in the midst of the social media storm.
May you recognize God's blessings! May you discover his peace. May this time be a time of deeper connection with Jesus and others.
Peace,
David.
Worship Online and Outside
Sunday, September 6th at 9:30 a.m.
(If it rains, stay home and watch the live stream.)
Go to www.stpaulbloomington.org for service information and updates; and live streaming links via Facebook or YouTube.
If you can't do live streaming, listen live by phone. Call 551-241-6305 to listen live on Sunday morning at 9:30 a.m.
If you are unable to listen live on Sunday morning, you can listen by phone to the previous Sunday's service. Call 720-740-9897, use code 6102969#, press # again.
September Mission of the Month
The Mission of the Month is for Wheeler Mission-Bloomington. The Wheeler Mission Center for Men continues serving men requiring shelter and supportive services. The Center for Women & Children suspended services in July. The Center for Men's meal service is open to men, women, and children and their Winter Contingency will continue to offer emergency shelter services for women.
Wheeler Mission provides Christ-centered programs and services for the homeless and those in need. Their vision is to see every man, woman, and child whom they serve, equipped to be productive citizens who enjoy lasting success in Christ. To learn more, visit their website at: wheelermission.org.
Your financial gifts may be given this month. Please remember to write "Wheeler Mission" on the memo line of your check or on your special offering envelope.
The Upper Room Devotional
The September/October Upper Room devotionals are available. Feel free to grab a copy from the cart at the outside worship service on Sunday or if you are unable to attend the outside service and are interested in receiving a copy of the devotional, please call the church office at (812) 332-4191 and arrangements will be made to provide a copy to you.
Kroger Community Rewards for SPY
If you shop at Kroger you can sign-up to have part of your spending go to SPY (our St. Paul Youth)! Just register your Kroger Plus card at: krogercommunityrewards.com. You will need SPY's ID number, which is: MV709.
Sign-up today and part of your grocery spending will be donated to SPY each time you shop!
Thank you from SPY!
Stop the Spread of Germs (CDC.gov/coronavirus)
Help prevent the spread of respiratory diseases like COVID-19.
Stay at least 6 feet (about 2 arms' length) from other people.
Cover your cough or sneeze with a tissue, then throw the tissue in the trash and wash your hands.
When in public, wear a cloth face covering over your nose and mouth.
Do not touch your eyes, nose, and mouth.
Clean and disinfect frequently touched objects and surfaces.
Stay home when you are sick, except to get medical care.
Wash your hands often with soap and water for at least 20 seconds.
Go to stpaulbloomington.org for worship service schedule and live streaming info, worship resources, past worship services and gatherings; or you may also sign-up for Online Giving, or to receive the newsletter via email.
Troop 148 Service Project/Fundraiser
The Scouts BSA Troop 148 for Boys are participating as a summer service project/fundraiser selling hand sanitizer. If you are interested, please see the information below.
$30.00 per 1-gallon jug (25% return to Troop 148) (This is liquid not gel)
80% ABV ethyl alcohol based sanitizer, using WHO/FDA recipe
FDA registered facility
Contact Marni Karaffa at acm.pack160@gmail.com or text 812-360-9728 to place an order. Orders are placed on a weekly or bi-weekly basis and fulfilled within the week. Payment is due upon delivery by cash or check (payable to Hoosier Trails Council). If wish to pay by credit card, arrangements can be made with the Hoosier Trails Council office. Please contact Marni to place an order and make arrangements regarding delivery. Contact information is below:
Marni Karaffa, acm.pack160@gmail.com or text 812-360-9728

Giving to St. Paul
Your offering envelopes may be mailed to the church office OR you may sign up for Online Giving! Simply go to our website: stpaulbloomington.org, click on the red menu triangle in the left corner of the home page; and scroll down through the menu to "Online Giving - Vanco" to sign up!
Thank you for your on-going and continued support to the ministries of St. Paul!
The Church Office is closed on Monday, September 7th in observance of Labor Day
Did you know...
The First Day of Fall this year is...
September 22nd

Making Disciples of Jesus Christ for the Transformation of the World!
Our address is: 4201 W 3rd St, Bloomington, IN 47404, USA