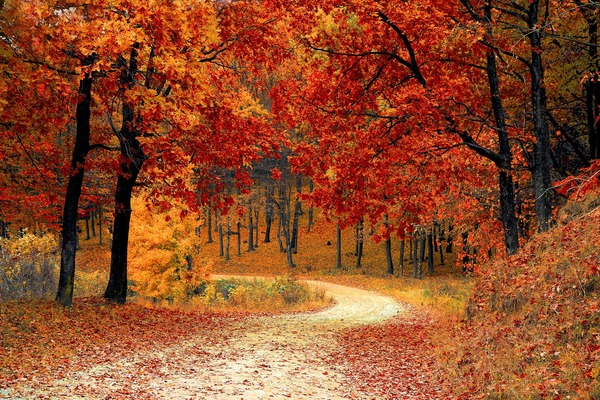 November 2020
Cornerstone News
From Pastor David . . .
Thanksgiving is right around the corner and you may be wondering, "Thanksgiving 2020? Isn't that an oxymoron? COVID-19, racial tensions, protests, Murder Hornets (remember those!), wildfires, hurricanes, etc., etc. How can I possibly be thankful?"
It's a good question. How can you be thankful? How can we, faced with all of the current challenges, be thankful?
Sometimes our gratitude and thankfulness don't run very deep. If life is going well, as we see it, we are thankful. If life is not turning out how we want it to, then we aren't thankful.
At the end of his letter to the Thessalonians, Paul encourages his readers to "give thanks in all circumstances...." (1 Thes 5:18). Note that Paul doesn't say, "Give thanks for the good things that happen to you." Or "Give thanks when things go well." No. He says, "Give thanks in all circumstances."
Also notice, he doesn't say, "Give thanks FOR all circumstances", but rather, "Give thanks IN all circumstances." We will all face different circumstances in our life. Some good. Some like 2020. Nevertheless, we are to give thanks in these circumstances...in the good...and in the bad.
In 2020, we are to give thanks. But how? That's the question. How can I give thanks when the world seems to be falling apart?
Perhaps the key is what comes right before verse 18. Paul writes,
16 Rejoice always, 17 pray continually, 18 give thanks in all circumstances; for this is God's will for you in Christ Jesus.
Rejoice always! Pray continually! Give thanks! Why? Because that is God's will for you in Christ Jesus. If you've ever asked God what his will was for your life, well, there's your answer. To rejoice, pray, and give thanks in all circumstances.
Remember, you are IN Christ Jesus. Jesus has you. Jesus is with you. For that reason, we can rejoice! For that reason, we pray (continually). For that reason, we give thanks...even in 2020!
May your Thanksgiving 2020 be filled with love and joy. Not because everything is going well, but because you've been able to connect to true gratitude and thankfulness.
May you experience a blessed Thanksgiving and November!
St. Paul Financial News
The pandemic has created financial difficulties for many Americans. Every so often, someone will ask how the pandemic has affected the church's finances. Since March when the pandemic hit, giving to St. Paul is down about $33,000. The majority of our expenses are fixed.
The Good News is that thanks to all of you and your faithfulness, St. Paul entered into the pandemic with a strong financial foundation. However, if the downward income trend continues, we will find ourselves needing to make difficult decisions.
Currently, you can give to St. Paul by bringing it to an in-person worship service, mailing a check, talking with Karol in the office and arranging to leave it with her, or give online. If you would like to give online but need help getting it set up, please let us know. We can help you get everything set up so you can continue to support the ministry and outreach of your community of faith. Electronic giving can be set to be weekly, monthly, or a one-time "catch up".
Also, our shepherd's fund is available to help if you need it. Or, if you know someone else at St. Paul who may need a helping hand. Please, let us join together during this time and help each other through these challenging days.
Peace, David.
All Saints Sunday - November 1st
We are surrounded by a great cloud of witnesses (Hebrews 12:1)! All Saints' Day is a celebration of those witnesses who have gone before us. On this day we remember and celebrate the memory and influence of those who have died. The following persons have been added to St. Paul's memorial roll since last All Saints' Day.
Jo Crozier, 11/18/2019
Stella Jane Franklin, 4/29/2020
Warren Dyer, 7/13/2020
Stpaul.life
A Place to Connect as a Community of Faith . . .
belong | believe | become
A place to grow in Faith, Hope, and Love
Courses • to grow . . .
(Christian Spirituality, How to Read and Study the Bible, Blueprint etc.)
Groups • to connect . . .
(That's Entertainment, St. Paul Prayers, Conversations etc.)
Kids Stuff • Quick Links • and so much more
Sign in today!
November Mission of the Month
The Mission of the Month is for Monroe County United Ministries' (MCUM) Food Pantry. MCUM provides not only a Food Pantry for nonperishable foods, they have a Cleaning Closet for shampoo, lotion, spray cleaners, deodorant, baby wash, etc.; Opportunity House for clothing of all sizes, pots & pans, towels, paper and plastic bags, craft materials; and United Ministries to help with rent/utilities to families in need of assistance. Your financial gifts may be given by writing "MCUM" on the memo line of your check or on your special offering envelope. For more information about MCUM, visit their website at mcum.org
Holiday Bazaar and Turkey Dinner
CANCELLED
Due to COVID-19

Outside Landscape Work Day
It's that time of year when outdoor projects & the landscaped areas around the church building need your TLC before winter!
Saturday morning, November 14th, 9-12 noon
Come and stay the entire time or just part of the time. All hands needed.
If that date does not work for you and you can help before the 14th, please contact Steve Lill and he can provide you with projects needing attention.
Don't forget your gloves!
Kroger Community Rewards for SPY/SPY Jr.
If you shop at Kroger you can sign-up to have part of your spending go to SPY (our St. Paul Youth)! Just register your Kroger Plus card at: krogercommunityrewards.com. You will need SPY's ID number, which is: MV709.
Sign-up today and part of your grocery spending will be donated to SPY each time you shop!
Thank you from SPY!
The Upper Room Devotional
The November/December Upper Room devotionals are available. Feel free to grab a copy on Sunday or if you are unable to attend the in-person service and are interested in receiving a copy of the devotional, please call the church office and arrangements will be made to provide a copy to you.
Angel Tree...coming soon
Jesus gave us the greatest gift when He came to live among us in order to save us. Through our Angel Tree, we can extend His love to others at Christmas time by sharing gifts with those less fortunate.
Our Angel Tree project will look a little different this year.
On Nov. 29th, the First Sunday in Advent:
If you worship IN-PERSON and wish to participate, go to the table in the narthex and you will be handed the "angel ornament" of the recipient you wish to share a gift and you will be assigned to that "angel".
If you worship ONLINE and wish to participate, call Karol in the church office to make arrangements as to which recipient you wish to share a gift and she will assign you to that "angel".
As we approach the First Sunday in Advent, watch for the list of "angels" which will be available, to view only, on our Stpaul.life website. You will be able to view the gender, age, and gift suggestions for the individual "angels" ahead of time. PLEASE DO NOT PURCHASE ANY GIFTS UNTIL YOU HAVE BEEN ASSIGNED TO AN "ANGEL" AND HAVE RECEIVED THE ANGEL ORNAMENT TAG.
Once you have been assigned and have received the "angel ornament", purchase a gift(s) based on the suggestions listed on the back side of the ornament. (Gift purchases should be approximately $25.00.) Please follow any special instructions listed on the ornament regarding wrapping etc. Make sure to attach the angel ornament with the gift when you return them to the church. Return the gifts on the date which will be indicated on the back of the ornament.
Info from Monroe County Health Dept.
FREE Drive-thru Flu Vaccination Clinics in Monroe County in November
This free vaccine is being generously provided by IU Health and will be administered by nurses with the Monroe County Public Health Clinic, which is a collaboration between IU Health Bloomington Hospital Community Health and the Monroe County Health Department. The CDC recommends everyone 6 months and older get a flu vaccine. It protects you AND the ones you love.
Why get a flu vaccine this year?
Getting a flu vaccine is an essential part of protecting your health and your family's health this season. For the upcoming flu season, flu vaccination will be very important to reduce flu because it can help reduce the overall impact of respiratory illnesses on the population and lessen the resulting burden on the healthcare system during the COVID-19 pandemic. A flu vaccine may also provide several individual health benefits, including keeping you from getting sick with flu, reducing the severity of your illness if you do get flu and reducing your risk of a flu-associated hospitalization. Effects from co-infection with COVID-19 and flu are unknown.
November 3, 2020 (VOTE & VACCINATE!)
12:00pm-3:00pm
Redeemer Church
111 S Kimble Dr., Bloomington (west side of Bloomington)
Please wear a mask to protect our nurses and staff.
Thank you to Redeemer Church for hosting this flu clinic!
November 19, 2020
12:00pm-3:00pm
City Church for All Nations
1200 N Russell Rd, Bloomington (east side of Bloomington)
Please wear a mask to protect our nurses and staff.
Thank you to City Church for hosting this flu clinic!
I can't attend on those days. Are there other options?
The Monroe County Public Health Clinic provides flu vaccinations by appointment on Monday, Wednesdays, Fridays and some Thursdays. Call for additional information and to schedule an appointment. 812-353-3244.
You can also check with local pharmacies or your primary care provider.
I have more questions about the flu vaccine
https://www.cdc.gov/flu/season/faq-flu-season-2020-2021.htm
Stop the Spread of Germs (CDC.gov/coronavirus)
Help prevent the spread of respiratory diseases like COVID-19.
Stay at least 6 feet (about 2 arms' length) from other people.
Cover your cough or sneeze with a tissue, then throw the tissue in the trash and wash your hands.
When in public, wear a cloth face covering over your nose and mouth.
Do not touch your eyes, nose, and mouth.
Clean and disinfect frequently touched objects and surfaces.
Stay home when you are sick, except to get medical care.
Wash your hands often with soap and water for at least 20 seconds.
Daylight Saving Time ends on
Sunday, November 1st


Fall back 1 hour
Making Disciples of Jesus Christ for the Transformation of the World!
Our address is: 4201 W 3rd St, Bloomington, IN 47404, USA