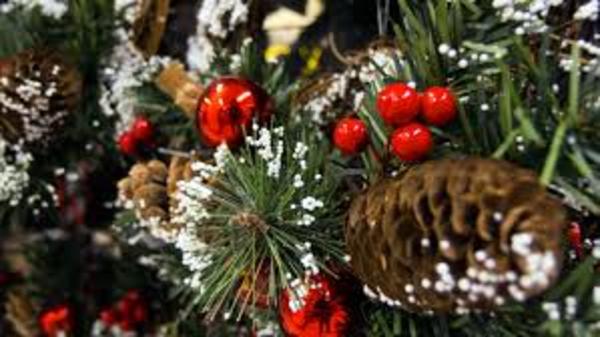 December 2020
Cornerstone News
From Pastor Mullens . . .
The Virus Who Stole Christmas
I'm not sure when it happened, but somehow we have all been transported to Whoville. We've awakened and discovered cherished traditions have been stolen from us. In the past, we would get together with friends and family, gathering together to celebrate the birth of Jesus. This year will, potentially, be vastly different. How different? We don't know. What we do know is that we are tired of the pandemic and having to forgo our normal activities.
The COVID-19 virus is threatening to steal Advent and Christmas from us. What can we do to stop it?
We are in a hard season. We are tired of restrictions. We are tired of limits. We are tired of not being able to do things the way we want to do them. Now, the pandemic threatens to drastically change our Advent celebrations and may even keep our families from gathering together for Christmas.
We are tired of people we love getting sick, some of them even dying. Even if we are able to gather at Christmas, some of our family members may have become one of the many victims of this virus. Some are no longer with us. Some will never be the same. We may never be the same.
This year has had its challenges and difficulties so how can we rise above it all so that we might celebrate this season with hope, peace, love, and joy?
We can always focus on challenges and difficulties, allowing them to drive us deeper into despair but because of our faith, we have another option. Instead of despair, we can joyfully embrace Advent. If there's any time we need our faith to sustain us, this is the year.
I think of the Christmas classic "How The Grinch Stole Christmas." As you remember, Whoville woke up on Christmas and all their presents, food, decorations, and everything that made Christmas special for them was gone. The Grinch thought if he just stole all those things, they would be as miserable as him. If he was able to take all of the items of celebration, they wouldn't be able to celebrate.
That's what the Grinch thought. But the Grinch was wrong! What he didn't understand was the depth of faith the Whos had. When the Whos got up on Christmas morn, they headed out and started singing with joy! They were able to celebrate...even though… Even though the packages were gone. Even though the roast beast was gone. Even though the decorations were gone. Even though….they were able to celebrate with joy!
"And the Grinch, with his grinch-feet ice-cold in the snow,
Stood puzzling and puzzling: "How could it be so?"
"It came without ribbons! It came without tags!"
"It came without packages, boxes or bags!"
And he puzzled three hours, till his puzzler was sore.
Then the Grinch thought of something he hadn't before!
"Maybe Christmas," he thought, "doesn't come from a store."
"Maybe Christmas...perhaps...means a little bit more!"
(Dr. Seuss, How the Grinch Stole Christmas)
More indeed!! Christmas is more. It is more than our celebrations. It's more than our gifts. It's more than we ever realized. Perhaps this year, we might be able to discover the "more than" of Christmas.
Advent has always been seen as a time of waiting and preparation. During Advent, we remember how God is faithful to his promises. God promised that one day a Messiah would come. Jesus is that Messiah and he rescues us from sin and death! Jesus will come again, putting everything back to rights! As we wait, we prepare for Jesus' return.
During Advent, we recognize Jesus as Immanuel, God with us. With all that's going on and all we have experienced this year, it's easy to forget that God is with us. It's easy to focus on our disappointments and forget that Jesus walks with us and that one day he will return. We wait hopefully and expectantly for that day.
What we learn from the story of the Grinch is that he was not able to steal Christmas from the Whos. What we learn from our faith is, the virus can't steal Christmas from us.
No matter what December brings, when we focus our eyes on the message of Advent, we are able to live in hope, peace, joy, and love. May you discover the "more than" this year, regardless of what December brings. May your faith guard your heart and may nothing steal away the joy of this season!
Peace,
David.
Worship in December
Many of you are wondering about our worship in December.
Will we be able to worship in-person?
First, thank you for your grace and understanding. As you know, the situation surrounding COVID-19 changes on a week by week basis. We really don't know what the 3rd or 4th week of December will be like. We really don't know what the 2nd week of December will look like.
We are actively monitoring the Indiana COVID-19 numbers according to the State's COVID-19 webpage. As of today, we will be online only for December 6th. I assume that will be the case for the 13th as well.
You can always check the status at https://stpaul.life
(Feel free to join the webpage as well!). We plan on having Christmas Eve services. We will let you know the specifics once we know what the situation allows.
Peace, David.
stpaul.life
A Place to Connect as a Community of Faith . . .
belong | believe | become
A place to grow in Faith, Hope, and Love
Courses • to grow . . .
(Christian Spirituality, How to Read and Study the Bible, Blueprint etc.)
Groups • to connect . . .
(That's Entertainment, St. Paul Prayers, Conversations etc.)
Kids Stuff • Quick Links • Chat and so much more
Sign in today!
Devotionals
The Advent devotional, HOPE-FULL LIVING, is available for your Advent journey. These larger print, daily devotions will enable us to use and see the power of the Advent spirit, Christ himself, working in and through us to bring Christmas hope to all.
Devotionals are available at the church. If you wish to receive a copy, Karol will be in the church office all week, M-F 8:30-4:30. Drive-thru and she will hand deliver a copy to you or call her to make arrangements to receive a copy. (812) 332-4191.
(It is available for Kindle readers on Amazon for 1.99.)
Upper Room Devotionals - January/February
The January/February Upper Room devotionals have arrived and are available as well. Contact Karol in the church office if you wish to receive a copy.
Dec. Missions-Angel Tree/Shepherd's Fund
The Angel Tree looks different this year!
If interested in participating and providing a gift for individual children or adults this Christmas, go to our "Virtual" Angel Tree at https://stpaul.life.
· Click on "Virtual Angel Tree" (under Quick Links on the home page.)
· View the angel details.
· Click "Sign-up" to confirm your wish to purchase a Christmas gift (~$25.00) for the selected recipient.
· Follow the instructions & drop off the gift to the church on or before the date indicated.
If you do not have computer access or need help signing up and wish to participate in this year's Angel Tree, call Karol as soon as possible in the church office (812-332-4191) and she can assist you with selecting an angel and signing-up.
Shepherd's Fund
The Shepherd's Fund is the financial project for December. The Shepherd's Fund is an on-going fund which is used throughout the year to help those seeking assistance, either from those within our congregation or outside our church family. You may place your financial gifts in the yellow mission envelope in the pew rack. Please write on the monthly mission line, "Shepherd's Fund".
Bishop's Christmas Offering for Children
When you give. . .
Campers learn about Jesus. A portion of The Bishop's Christmas Offering for Children goes to Impact 2818, the Indiana Conference camping ministry.
Indiana youth feel the love of God. Local outreach projects receive funding.
Children experience the grace of God all around the world. United Methodist Advance projects that minister to children are supported.
Give your secure gift online at: https://app.securegive.com/inumc
Give via check. Make checks payable to: Indiana Conference UMC, then
Mail to: Dept. 6089, Carol Stream, IL 60122.
OR, write a check to St. Paul; please remember to write in the memo line, "Bishop's Offering".
Church Grounds-Landscaping Projects
Thank you to all who came to help with the Fall clean-up. We were able to tackle many projects, but unfortunately we were rained out before we finished.
We hope there may be some of you who might find a little time to help finish the list of projects. Each task listed below is easily accomplished in 30-60 minutes. Please pick a task, or two, at your convenience.
1) Sweep out trash dumpster area. Throw debris in dumpster.
2) Blow leaves out of the garages. Throw leaves in dumpster.
3) Pickup apples from under apple trees. Throw apples in dumpster.
4) Salvage any rock from parking lot and washout in grass, cover black landscape barrier.
5) Rake leaves from playground area. Throw leaves in dumpster.
6) Trim Yews back about 12" (east end of parking lot, south side. The Yews on the west end have already been trimmed.)
Tools may be found in the garages - i.e. rake, shovel, blower, broom, hedge trimmers.
Questions? Call Steve Lill or the church office.
Kroger Rewards for SPY
If you shop at Kroger you can sign-up to have part of your spending go to SPY (our St. Paul Youth)! Just register your Kroger Plus card at: krogercommunityrewards.com. You will need SPY's ID number, which is: MV709.
Sign-up today and part of your grocery spending will be donated to SPY each time you shop!
Stop the Spread of Germs (CDC.gov/coronavirus)
Help prevent the spread of respiratory diseases like COVID-19.
Stay at least 6 feet (about 2 arms' length) from other people.
Cover your cough or sneeze with a tissue, then throw the tissue in the trash and wash your hands.
When in public, wear a cloth face covering over your nose and mouth.
Do not touch your eyes, nose, and mouth.
Clean and disinfect frequently touched objects and surfaces.
Stay home when you are sick, except to get medical care.
Wash your hands often with soap and water for at least 20 seconds.
(Luke 2:1-20 NRSV)
The Birth of Jesus
2 In those days a decree went out from Emperor Augustus that all the world should be registered. 2 This was the first registration and was taken while Quirinius was governor of Syria. 3 All went to their own towns to be registered. 4 Joseph also went from the town of Nazareth in Galilee to Judea, to the city of David called Bethlehem, because he was descended from the house and family of David. 5 He went to be registered with Mary, to whom he was engaged and who was expecting a child. 6 While they were there, the time came for her to deliver her child. 7 And she gave birth to her firstborn son and wrapped him in bands of cloth, and laid him in a manger, because there was no place for them in the inn.
The Shepherds and the Angels
8 In that region there were shepherds living in the fields, keeping watch over their flock by night. 9 Then an angel of the Lord stood before them, and the glory of the Lord shone around them, and they were terrified. 10 But the angel said to them, "Do not be afraid; for see—I am bringing you good news of great joy for all the people: 11 to you is born this day in the city of David a Savior, who is the Messiah, the Lord. 12 This will be a sign for you: you will find a child wrapped in bands of cloth and lying in a manger." 13 And suddenly there was with the angel a multitude of the heavenly host, praising God and saying,
14 "Glory to God in the highest heaven,
and on earth peace among those whom he favors!"
15 When the angels had left them and gone into heaven, the shepherds said to one another, "Let us go now to Bethlehem and see this thing that has taken place, which the Lord has made known to us." 16 So they went with haste and found Mary and Joseph, and the child lying in the manger. 17 When they saw this, they made known what had been told them about this child; 18 and all who heard it were amazed at what the shepherds told them. 19 But Mary treasured all these words and pondered them in her heart. 20 The shepherds returned, glorifying and praising God for all they had heard and seen, as it had been told them.
Making Disciples of Jesus Christ for the Transformation of the World!
Our address is: 4201 W 3rd St, Bloomington, IN 47404, USA