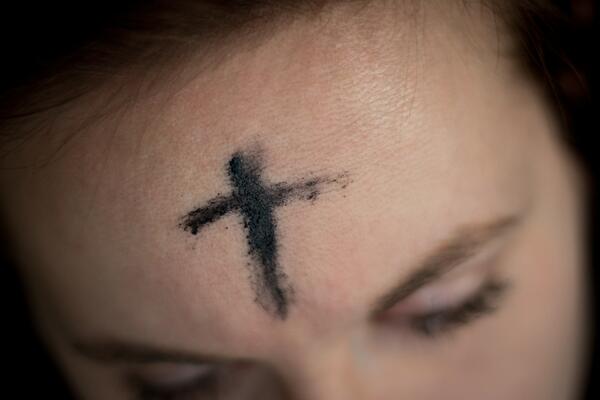 February 2021
Cornerstone News
From Pastor David . . .
The season of Lent begins February 17th and runs through April 3rd. During that time, we have an opportunity to deepen our relationship with Jesus. Whether we take the Lenten opportunity to journey with Jesus is completely up to us. Not all do. But those who do may find renewal.
Jesus said that he came so that we might have life and have it abundantly (John 10:10). However, he isn't the only one who promises to give life. Our culture constantly promises life through possessions, pleasure, power, prestige, protection, politics, and whatever else our heart might desire.
Jesus' way to life is different. Life doesn't come through what the world offers, but by giving ourselves over to Jesus. When we join Jesus and align ourselves with his will and way, we discover life.
When Jesus was in the wilderness (Matthew 4:1-11, Luke 4:1-13, Mark 1:12-13) he encountered Satan who promised him pleasure by turning a stone into bread, protection by having angels lift him up when he jumped, and power by giving him authority over the world. These are things we all want; pleasure, protection, power (or control).
Jesus denied all of Satan's offers because he knew he couldn't live by bread alone (pleasure), that tempting God was not the pathway to life (protection), and any power that Satan gives is not power worth having.
Through his life, Jesus showed us a different way to live and a much different pathway. Lent encourages us to quiet the calls of culture and lean into the call of Jesus. Lent invites us to get away to the wilderness of our soul where we seek to listen deeply to the calls which usually get drowned out by other agendas.
Will you go on this journey? Will you find time to draw away to a quiet place with Jesus? Will you listen? Pray? Read? Let go of attachments through fasting and denial?
Lent begins a path toward renewal and resurrection as it takes us to the Resurrection of Jesus. May we find true life on this journey.
Peace, David.
Lenten Devotionals
As you move through your Lenten journey the Lenten devotional, Steadfast Love, will be available at the church office soon. Beginning Ash Wednesday and continuing through Lent, this daily devotional includes excerpts from some of Henri J. M. Nouwen's published works. His insights are paired with original reflections and prayers. Nouwen is one of the most beloved spiritual thinkers of the 20th century.
Contact Karol in the church office to check availability and to make arrangements to receive a copy.
(Kindle users may find it available on Amazon.)
ASH WEDNESDAY SERVICE
Wednesday, February 17th, 2021
(Watch for details on Stpaul.life)
A time for repentance, reflection, and renewal.
Blueprint Group
Interested in participating in the Blueprint Group?
Go to: https://stpaul.life
Under St. Paul Quick Links, click Join Blueprint!

February Mission of the Month
The Mission of the Month for February is for Kairos of Indiana which is a Christian prison ministry based on the Cursillo method. Methodists know this method best as Walk to Emmaus. Kairos Inside operates in 16 prisons in Indiana, including two women's facilities. Kairos Torch operates in four juvenile facilities and Kairos Outside serves females who are affected by the incarceration of a family member or close friend.
Most facilities have two Kairos weekends each year. The weekends include lots of singing, prayer, discussion, food, and group activities that enable offenders to develop a closer relationship with God and build Christian community within the prison. The volunteer team on the weekend usually includes 30 to 45 people. But Kairos is not just a weekend event. Kairos volunteers are also present for a weekly "prayer and share" session and a monthly "reunion," events which are also designed to nurture Christian relationships. And Kairos works! Some people have described Kairos as having a "front-row seat to a miracle," and data show that Kairos "graduates" are much less likely to return to prison after their release.
Currently, Jim Birch is a volunteer at Putnamville Correctional Facility and Peter Bartczak and Jeremiah Wolfe are volunteers at Heritage Trail Correctional in Plainfield. Kyle Landgrebe has been a volunteer at Plainfield Correctional in the past. For more information go to: http://kairosofindiana.org/.
Thank you for your prayerful consideration. Your financial gifts may be given by writing a check to St. Paul and making sure to write "Kairos" on the memo line of your check.
(Of course during the pandemic, Kairos has not been operating, but they do hope to be back by Fall 2021!)
2021 Offering Envelopes
The 2021 offering envelopes are available at the church. Contact the church office to arrange to pick up your box. Please begin using the 2021 envelopes and recycle any old, previous years of envelopes and use only the Year 2021 offering envelopes.
If you wish to use the envelope system or wish to learn more about Online Giving, please contact Terry Patterson, Financial Secretary, or sign-up for Online Giving at https://stpaul.life.
Stop the Spread of Germs (CDC.gov/coronavirus)
Help prevent the spread of respiratory diseases like COVID-19.
Stay at least 6 feet (about 2 arms' length) from other people.
Cover your cough or sneeze with a tissue, then throw the tissue in the trash and wash your hands.
When in public, wear a cloth face covering over your nose and mouth.
Do not touch your eyes, nose, and mouth.
Clean and disinfect frequently touched objects and surfaces.
Stay home when you are sick, except to get medical care.
Wash your hands often with soap and water for at least 20 seconds.
COVID-19 Vaccine has arrived in Indiana
Any Hoosier age 65 and older is now eligible to schedule a vaccination appointment.
Go to: ourshot.in.gov for more information, to find a vaccination site, and to register; OR you can call 2-1-1 for assistance with registering for the vaccine.
Connect as a Community of Faith . . .
Stpaul.life
A Place to Connect as a St. Paul Community of Faith
belong | believe | become
A place to grow in Faith, Hope, and Love
Courses • to grow . . .
(Christian Spirituality, How to Read and Study the Bible, etc.)
Groups • to connect . . .
(St. Paul Prayers, Blueprint, That's Entertainment, Conversations etc.)
Kids Stuff • Quick Links • Chat and so much more
Sign in today!
Kroger Rewards for St. Paul Youth
Do you shop at Kroger? Sign-up today and part of your spending will come back to SPY and SPY Junior (our St. Paul Youth)! Just register your Kroger Plus card at the website below and Kroger will donate 2 percent of your bill to the St. Paul Youth each time you shop! It takes just a second and you will need SPY/SPY Junior's ID number, which is: MV709.
Go to: krogercommunityrewards.com and register your card. If you don't have a Kroger Plus card, they are available at the customer service desk at any Kroger store.
Church Camp back in 2021
Pull the plug on classrooms, social media, web meetings and isolation this summer, and PLUG INTO faith, friends, and fun!
Church camp is back for 2021. COVID is obviously still a thing, so necessary adjustments will be made.
Grab a friend and make plans now to join other campers for an electrifying camp experience!
Registration opens February 5, 2021. For schedules, pricing, and more visit: impact2818.org/camps.
Upper Room Devotionals-Jan./Feb.
The January/February 2021 Upper Room devotionals are available at the church. Please contact Karol in the church office to make arrangements to receive a copy.
Online Giving
Thank you for your continued giving and support to the ministries of St. Paul!
If you wish to sign-up for Online Giving, simply go to stpaul.life and click on "Giving" located on the top bar of the home page; or click "Giving" located under the Quick Links section on the home page.
You may mail your checks and/or offering envelopes to the church office (4201 W. Third St., Bloomington, IN, 47404); or if you wish to drop your offering by the office, just call first to make arrangements.
The church office will be closed on Monday, February 15, 2021 for Presidents' Day.

Making Disciples of Jesus Christ for the Transformation of the World!
Our address is: 4201 W 3rd St, Bloomington, IN 47404, USA