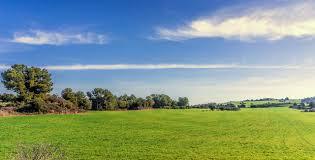 June 2021
Cornerstone News
From Pastor David . . .
Moving into Summer
Over the past several days, I've become convinced that summer is here! There's no doubt about it. Well, I guess summer doesn't officially arrive until June 20th at 11:32 pm ET, but it sure feels like summer!
Summer feels like an "in-between" time for me. Perhaps all the years of kids going to school, starting in August and ending in May, have influenced me to feel this way. After all, most things continue in summer like the rest of the year. Yet, summer usually is the time people set aside for vacations and other kinds of adventures, so it definitely feels different.
What are your plans this summer? How do you decide?
When I think about summer vacations and activities, I usually want to do something I like. Of course, I talk with others in my family as well. The conversation usually begins, "Well, what do we want to do this year?" Notice that? What do we want to do... Our plans are usually about us.
Over the past few months, 2 Corinthians 5:14 keeps coming to my mind. Paul writes, "For Christ's love compels us, because we are convinced that one died for all, and therefore all died (NIV)." Other translations translate "compels" as constrains, urges, or controls, rather than compels.
Paul knew his readers might have understood Paul's actions or life. They may even think he is out of his mind because of how he lives, what he does, and the sacrifices he makes. He responds that it is God's love that compels him and others to action.
Instead of Paul deciding what he wanted to do, he allowed God to be the motivator. It was the love of God that caused Paul to do what he did. The love of God compelled him, controlled him, and even caused him to limit (constrain) what he did. Love makes us do things that may not make sense to others.
In commenting on this passage, N. T. Wright writes,
'What on earth made you do that?'
The newspaper reporter was incredulous. A young woman had just won a competition. The first prize was a three-week trip around the world. The chance of a lifetime. And she had given it up in order to stay with a friend as she went into hospital to face a crucial, and terrifying, operation.
'I mean,' went on the reporter, 'surely she'd have understood? There must have been other people who could have been with her?' The young woman remained silent, pursing her lips.
Eventually, seeing she wasn't going to get away with saying nothing, she burst out, 'All right. You really want to know. You think I'm crazy. But what none of you know—and I wasn't going to tell you—is what she did for me three years ago.
I was on drugs and I couldn't stop. It got worse and worse. My family threw me out. She was the only person who looked after me. She sat up all night, again and again, and talked me through it. She mopped me down when I threw up, she changed my clothes, she took me to the hospital, she talked to the doctors, she made sure I was coming through it. She helped me with the court case. She even helped me get a job. She—she—she loved me! So did I have any choice? Now that she's sick herself, it's the least thing I can do to stay with her. That's far less than she did for me.'(Wright, Tom. Paul for Everyone: 2 Corinthians. London: Society for Promoting Christian Knowledge, 2004. Print).
Love. It makes us do things that others won't understand. Sometimes even crazy things. When someone we care about is in trouble, love compels us to drop what we are doing and help. The Corinthians might have thought Paul was crazy, but Paul says, I'm not, God's love compels me because Jesus died for all, so all might live not for themselves, but for Him.
What does God's love compel you to do? How does God's love compel you to live? What would it look like to invite God into your summer plans? Whether you go away on vacation or stick close to home, how can God be part of the planning? What would it mean for you if the Love of God compelled you this summer?
Peace,
David.
June 6th Celebration
We have an opportunity to celebrate ministry on June 6th. Ian and Laura Hall and the kids are moving to Kentucky. We want to send them off in love and gratitude, thanking them for almost twenty years of ministry to St. Paul. They have made a huge difference to St. Paul and will be greatly missed! We want to bless them on their journey.
We also will be celebrating Aaron Taylor's graduation and Ordination as a Provisional Elder in the United Methodist Church. While we look back at the Hall's ministry at St. Paul, we are looking forward to Aaron's ministry.
We will gather after service at the shelter for a cookout and celebration.
Sunday, June 6th we will be celebrating the Sacrament of Holy Communion.
For those who worship online and wish to pick up the elements for Sunday's service, please contact the church office to make arrangements.
UMW's Garage/Rummage Sale
Everything you ever wanted to know about our Garage Sale:
When: Friday, June 11 - 9 a.m. to 4 p.m.
and Saturday, June 12 - 9 a.m. to noon (EVERYTHING IS ½ PRICE on SATURDAY)
To donate, bring items to the garage area of the parking lot during the following times:
(Please do not bring items into the church building, we will just have to move them.)
Monday, June 7 from 9 a.m. to 3 p.m. OR 5-7 p.m.; or
Tuesday, June 8 from 9 a.m. to 3 p.m.; or
Wednesday, June 9 from 9 a.m. to 3 p.m.
If you can help with sorting or pricing during these times, please sign up on the schedule in the Narthex at church.
We will also need help on sale days and all help will be appreciated.
Items needed: Clothing, housewares (dishes, pots & pans), decorative items, Christmas items, books, movies, music, toys.
WE CANNOT USE: Electronics, large furniture, TVs, mattresses, children's car seats or strollers.
Please help us make this project a success, so we can use the proceeds to help with other St. Paul activities.
If you have questions, please contact Pat McCormick, UMW President.
UMW Crafts
The UMW will hold their Craft Class on Thursday, June 24th at 10:00 a.m. in room M12. They will go to eat lunch together at a local restaurant at 1:00 p.m. Even if you don't craft, join them for the lunch!
Questions? Contact Pat McCormick, UMW President.
Gold Group (ages 60+)
The Gold Group gears up in June! They will visit the Butterfly Pavilion at the Zoo, with lunch at the location.
Join them on Wednesday, June 16th, 2021 leaving the church at 9:00 a.m.
Costs: $5 each for gas; $20.75 each for admission; plus the cost of your lunch.
Sign-up at the church on bulletin board #1 or call the church office.
(Prefer those attending be vaccinated and bring a mask if needed for admission.)
Questions? Contact Barb Buker, Gold Group Coordinator.
Mission of the Month for June
For June's Mission of the Month we will be collecting money towards Backpack Blitz.
The Salvation Army continues the Backpack Blitz program, however at this time we are unsure how this year will look due to COVID-19.
For the month of June, your financial gifts will help to purchase supplies which are needed to complete the backpacks, so that the children can head back to school feeling confident and ready to learn in the fall! Please write "Backpack Blitz" on the memo line of your check or on your special offering envelope.
Indiana Annual Conference
The Indiana Annual Conference takes place on June 11-12. This year's theme is based from Matthew 5:9, Blessed are the Peacemakers. To access the livestream of Annual Conference, visit inumc.org/aclivestream.
Kroger Community Rewards for SPY
Do you shop at Kroger? Sign-up today and part of your spending will come back to SPY & SPY Jr. (our St. Paul Youth)!
Just register your Kroger Plus card at the website below and Kroger will donate 2% of your bill to SPY each time you shop at Kroger! It takes just a few seconds and you will need SPY's ID number, which is: MV709.
Go to: krogercommunityrewards.com and register your Kroger Plus card. If you don't have a Kroger Plus card, they are available at the customer service desk at any Kroger store.
Thank you for supporting SPY while you shop!
Giving to St. Paul
Your offering envelopes may be placed in the offering plate at church, mailed to the church office, OR you may sign up for Online Giving! Simply go to our website: stpaul.life click on the Giving option at the top of the home page.
Thank you for your continued support to the ministries of St. Paul.
Stop the Spread of Germs (CDC.gov/coronavirus)
Help prevent the spread of respiratory diseases like COVID-19.
Stay at least 6 feet (about 2 arms' length) from other people.
Cover your cough or sneeze with a tissue, then throw the tissue in the trash and wash your hands.
When in public, wear a cloth face covering over your nose and mouth.
Do not touch your eyes, nose, and mouth.
Clean and disinfect frequently touched objects and surfaces.
Stay home when you are sick, except to get medical care.
Wash your hands often with soap and water for at least 20 seconds.


Congratulations to all 2021 Graduates!


Sunday, June 20th is Father's Day
Hugs and kisses to all Dads on this special day.
Making Disciples of Jesus Christ for the Transformation of the World!
Our address is: 4201 W 3rd St, Bloomington, IN 47404, USA