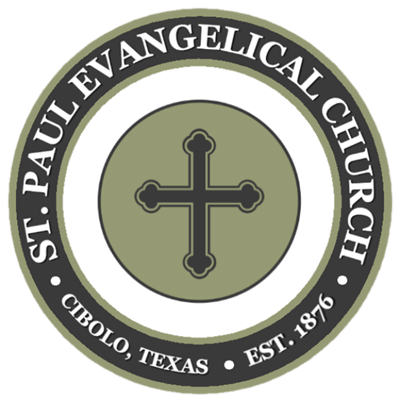 May 2022 Newsletter
From the Pastor's Desk

Important thoughts (adapted from Paul Tripp) on The Scripture and it's power to confront us in our sin.
I don't know about you, but I have no problem seeing the sin of friends and members of my family. However, I am often surprised and offended when mine is revealed! We must give up the erroneous thought that no one knows us better than we know ourselves. None of us have the gift of complete self-awareness. So while sin still lives inside of us, there will be inaccuracies in the way we see ourselves because there will still be pockets of spiritual blindness in us. We all desperately need something that can cut through our blindness and confront us with who we are and the thoughts and desires of our selfish, wandering hearts. The word of God has been given to us to do this very thing.
"But be doers of the word, and not hearers only, deceiving yourselves. For if anyone is a hearer of the word and not a doer, he is like a man who looks intently at his natural face in a mirror. For he looks at himself and goes away and at once forgets what he was like. But the one who looks into the perfect law, the law of liberty, and perseveres, being no hearer who forgets but a doer who acts, he will be blessed in his doing." (James 1:22-25)
We should give thanks every day that the word of God functions in the life of God's people as a mirror. When we look with ready minds and open hearts into the mirror of the word of God, we see ourselves as we actually are. But as long as sin still exists inside us, we will deflect Scripture's confrontation, calling to mind people who we think fit these confronting truths more than we do, and walk away unchanged.
So more than just needing the confronting power of the word of God, we also need the convicting power of the word of God (the Holy Spirit convicts, but his primary tool is Scripture). Our ongoing deliverance from sin and growth in Christian maturity depends on the Holy Spirit giving sight to our eyes and working grief in our hearts. First Thessalonians 1:5 captures this for us: "Because our gospel came to you not only in word, but also in power and in the Holy Spirit and with full conviction. You know what kind of men we proved to be among you for your sake."
There is not a day in any of our lives that we don't need the ministry of the Holy Spirit to bring God's word to us in convicting, grief-producing, and confession-resulting power. The Holy Spirit will continue to convict us of sin until sin is no more, and the tool he uses is the Bible. Be thankful that your Bible is the world's most powerful, penetrating, and accurate mirror. The constant confrontation of this mirror is one of God's most loving and gracious gifts to you.


"For the word of God is living and active, sharper than any two-edged sword, piercing to the division of soul and of spirit, of joints and of marrow, and discerning the thoughts and intentions of the heart." (Hebrews 4:12)
Grace and Peace,
Pastor Jason Ford
From the Staff - Youth & Children

Mother's Day is almost here, and I can remember how much I enjoyed my first Mother's Day 19 years ago. I felt like I had joined a club of people I looked up to. Over the years Mother's Day has been a joy and sadness at times since our family lives far away. It's been ages since we spent the day with our moms. I always worry if I sent the right card and if it would get delivered on time. I know other ladies that struggle with this day for many reasons. This year I looked up what others had to say about Mother's Day and found this great quote from an article written by Sara Wallace:
"Do you want to have an incredible Mother's Day? Stand in awe of the One who made you a mother. Let each sticky kiss and messy card remind you of a few things about God: Every good gift is from the Father of lights (James 1:17). God's strength is perfected in weak moms (2 Corinthians 12:9). He gives us the wisdom we so desperately need (James 1:5)."
Wow, you may not have little kids anymore to give you those sticky kisses, but I can relate to the focus that Sara is talking about: Jesus! By focusing on him, we take pressure off ourselves to either celebrate the perfect day for us or for the special women in our lives. We recognize our own brokenness and rely on him to show grace and gratitude to our first and extended family. It's okay if the day isn't great or the card shows up late!
As a mom, I am grateful most of all to share the gospel with my son. Hopefully through my weakness, the gospel will shine. And hopefully this Mother's Day, Christ will shine brightly through all the lunches, cards, flowers, and hugs!
May all our mothers feel the love of Christ this Mother's Day.
Blessings,
Stephanie
Giving Report for April 2022

Undesignated ---------$14,919.95
Communion -----------------$2.00
Fellowship ------------- $184.40
R.A.C.A.P. -------------- $120.00
TruLight 127 Ministries ------------- $200.00
Liz Miller, Christar in France ------------- $100.00
EA National Minister ------------- $100.00
General Missions ------------- $135.00
Wider Mission (Ukraine) ------------- $180.00
Pass thru ------------- $161.51
TOTAL ------------------------------------------------------- $16,102.86
"Bring the whole tithe into…My house, and test Me in this," says the Lord Almighty, "and see if I will not throw open the floodgates of Heaven and pour out so much blessing that you will not have room enough for it." Malachi 3:1
Attendance Report for April 2022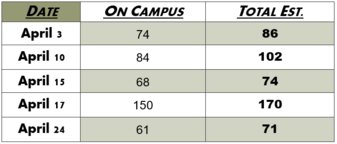 Remember the Sabbath day, to keep it holy.
Exodus 20:8
As His custom was, Jesus worshipped on the Sabbath day. Luke 4:16
May Birthdays

1 - Sawyer Wolston
3 - Joyce Hofferichter
8 - Doyle Brinkkoeter
8 - John Albert, Sr.
13 - Alice Bratton
17 - Nancy Gardella
17 - Nelda Harborth
20 - Janet Mckelvy
20 - Ken Friesenhahn
20 - Robert Schlather
20 - Tanner fuhrmann
21 - Andrea Sturm
22 - Christa Jones
23 - Brian Parks
25 - Karen Orth
26 - Evelyn Sax
26 - Malford Brehm
26 - Tammy Friesenhahn
27 - Bonnie Nichols
28 - Ben Ford
29 - Lawrence Schnieder
29 - Vivian Brehm
Please contact the church office with corrections or additions.
Our address is: 108 S Main St #3528, Cibolo, TX 78108, USA