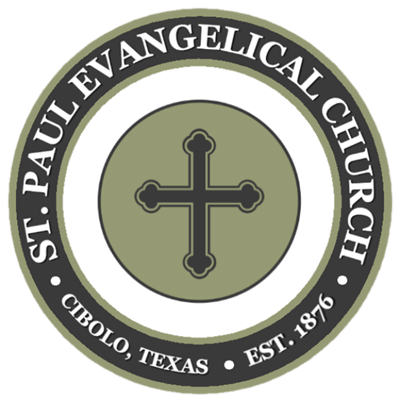 June 2022 Newsletter
From the Pastor's Desk

Once you surrender your life to Christ, from that point on, when God looks at you, he sees Jesus—not your past failures or even your accomplishments. He sees Jesus in you. God's grace is just that amazing. It seems too incredible to believe, doesn't it? This is why the gospel means "good news." Because of our union life with Jesus, we are no longer sinners. Instead, we are made free from the penalty and power of sin. We just need to learn how to walk in the freedom that has already been won by Jesus.
Picture in your mind a courtroom. You are on trial for treason against God.
You are sitting on the left side of the room, alone. The prosecuting attorney is seated on the right. In front is a Judge whose righteousness is so blinding you can't see his face; all you can see is his glory. The well-dressed prosecuting attorney approaches the Judge. He turns on a 20-foot, high-definition television. For hours he assaults you with everything you've ever done. His case is so convincing, so true, that it is beyond a shadow of a doubt that you are guilty. You are guilty of being a sinner.
As you stand to receive your well-deserved sentence of eternity in hell from the Judge, the creaking sound of the door opening echoes through the courtroom. It's your defense attorney. He's wearing a ripped-up, blood-soaked robe. You notice he has holes in his wrists. As your attorney approaches the bench, a hush descends over the crowded courtroom, and under the silence you hear, "He's never lost a case."
The prosecuting attorney objects to your defense attorney representing you. He tells the Judge that he wants you to represent yourself.
The Judge speaks. The courtroom trembles at his voice as he says, "Shut your mouth. My beloved son is about to speak!" And God's son, your defense attorney, who was provided for you free of charge, says, "Father, everything the prosecution has said about my client is true. He is guilty. But I went to the cross and shed my blood to eternally secure my client's freedom and forgiveness."
God the Father, with a smile the size of the Milky Way, thunderously slams the gavel of heaven and joyfully shouts, "You, my child, are innocent of all charges against you. And you are forever forgiven!"
Let Ephesians 1:7 soak in: "In him we have redemption through his blood, the forgiveness of sins, in accordance with the riches of God's grace" (ESV). And God's forgiveness in Jesus is so complete that all your sins—past, present, and future—have been forgiven.
The enemy of your soul loves to go historical on you. So, the next time he reminds you of your sin, your failures or shame, remember this truth and remind him of what Jesus accomplished on your behalf—you are forever forgiven.
Grace and Peace,
Pastor Jason Ford
From the Staff - Youth and Children

We are so excited school is out and the lazy days of summer are upon us! I hope all enjoy their much-needed break from the hustle and bustle of the school year. This summer we look forward to having "Family Fun Nights" (one in June and one in July). These events will give us a chance for fellowship and fun activities for the kids. Keep an eye out in the bulletin or social media for more details.
We are also planning regular children's worship in the month of June and no children's worship in the month of July. We will have an activity pack available for kids to take into the sanctuary. This break should provide us some time to regroup and prepare for the fall.
The nursery room (with our live feed) will be available all summer. There will be a sign posted if no attendant is available.
If you would like to be a part of either nursery or children's worship just let me know! We will be looking to have a rotating schedule for subs. We would love to have you join us!
Have a Wonderful Summer,
Stephanie Ford
Giving Report for May 2022

Undesignated ---------$15,946.50
Communion -----------------$9.00
Fellowship --------------- $85.11
R.A.C.A.P. --------------- $95.00
TruLight 127 Ministries ------------- $175.00
Liz Miller, Christar in France ------------- $100.00
EA National Minister ------------- $100.00
General Missions ------------- $190.00
Disaster Relief (Uvalde) ------------- $385.00
Pass thru ------------- $128.44
TOTAL ------------------------------------------------------- $17,214.05
"Bring the whole tithe into…My house, and test Me in this," says the Lord Almighty, "and see if I will not throw open the floodgates of Heaven and pour out so much blessing that you will not have room enough for it." Malachi 3:1
Attendance Report for May 2022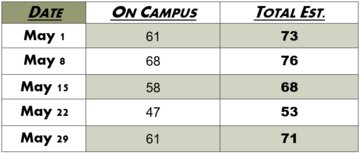 Remember the Sabbath day, to keep it holy.
Exodus 20:8
As His custom was, Jesus worshipped on the Sabbath day. Luke 4:16
June Birthdays

3 - Darlene Jacobsen
3 - Elaine McIntyre
5 - Armand Antony
8 - Larry (Bubba) Busch, Jr.
8 - Nancy Hinze
13 - Ruby Biegert
14 - Elliot Parks
21 - Arlon Pfeil
22 - Charles Clopper
27 - Gail Hyatt
27 - Sylvia Strey
Please contact the church office with corrections or additions.
Our address is: 108 S Main St #3528, Cibolo, TX 78108, USA