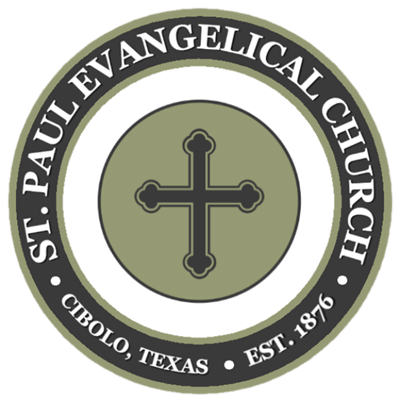 August 2022 Newsletter
From the Pastor's Desk

In August we will begin a new series on the Biblical Covenants. If you've gone to a wedding, you have witnessed a covenant being made. If you've attended a baptism, you've seen a covenant illustrated with the washing of water. Your banker may talk to you about a loan covenant when you agree on a commercial contract. When you buy a new home you may have had to sign a "neighborhood covenant." So, though "covenant" is not exactly a household term these days, covenants are nevertheless all around us.
In the Christian life, covenants are very significant. Christians make marriage vows because the Bible teaches that marriage is a covenant. We baptize because the Scriptures teach that baptism is the sign of God's covenant promise to believers and their children. We make membership vows when we join a new church because belonging to the local church is one of the blessings and responsibilities of God's covenant of grace. What this means is that all of us should want to know more about what the Scriptures teach about covenants. Indeed, understanding the covenants of Scripture will help us read our Bibles better, realize God's grace more deeply, and serve God with greater thankfulness and purpose. In the bible a covenant is an agreement which secures a relationship of commitment between God and his people. A covenant is the way God defines and confirms a special relationship between himself and his people.
Young couples will sometimes joke about having the "DTR" talk at some point in a budding relationship — the "define the relationship" talk. Well, God defines his relationship to us in the most meaningful and encouraging possible way in the covenants of Scripture.
Ligon Duncan who is the Chancellor of Reformed Theological Seminary, has taught a course on covenant theology for decades. He starts by asking "What is covenant theology?" and takes his time answering that question in the first lecture. What he says, in sum, is that covenant theology is the Bible's way of explaining and deepening our understanding of at least five things: (1) how to read the Bible (both Old Testament and New) as the unified, coherent and consistent account of the one plan of the one Triune God to commune with his people by means of covenant, so that they might glorify and enjoy him forever; (2) communion with God, how by God's loving condescension and covenant initiative we have been drawn into a covenant relationship of love with him; (3) the person and work of Christ, who is the covenant mediator and only redeemer of his covenant people, whom he saves by bearing the covenant curse they deserve on their behalf; (4) how we know that truly we belong to God and can be certainly assured of salvation, because of the unbreakable covenant oath and promise of God to us; and (5) the covenant signs, sacraments, or ordinances (in the New Testament: baptism and the Lord's Supper), what they are, what they are for, and how they work in confirming God's covenant promises and grace.
I look forward to sharing with you about the various covenants in the bible and how God shows his lovingkindness for us.
Grace and Peace,
Pastor Jason Ford
From the Staff - Youth and Children

August is here and it's almost time for pencils, backpacks, and early rides to school! We hope everyone enjoys their last bit of summer fun. Last Sunday we began handing out End of Summer "Boredom Buster" craft bags to the St. Paul kids. We filled the bags with activities to hopefully have some fun before school starts. Let me know if you need one!
We also want to let everyone know we are planning to start children's Sunday school in the fall on September 11th (the Sunday following Labor Day). We'll meet from 10am-10:25am in the children's classroom and we're using the "Show Me Jesus" material. It's open for ages 4 and up. Children Worship will still be available at its regular time during worship.
We'll be praying for our students and teachers. Wishing all a wonderful upcoming school year!
Blessings,
Stephanie Ford
Giving Report for July 2022

*NOTE: Due to timing and volunteer illness/ absence,
these totals do not include giving for Sunday, July 31.
Undesignated ---------$14,618.00
Fellowship ------------- $133.48
Communion ---------------- $9.00
R.A.C.A.P. --------------- $95.00
TruLight 127 Ministries ------------- $175.00
Liz Miller, Christar in France ------------- $100.00
EA National Minister --------------- $75.00
General Missions ------------- $140.00
Adult Education --------------- $40.00
Church Maintenance --------- $12,550.00
Pass thru --------------- $13.95
TOTAL ------------------------------------------------------- $27,949.43
"Bring the whole tithe into…My house, and test Me in this," says the Lord Almighty, "and see if I will not throw open the floodgates of Heaven and pour out so much blessing that you will not have room enough for it." Malachi 3:1
Attendance Report for July 2022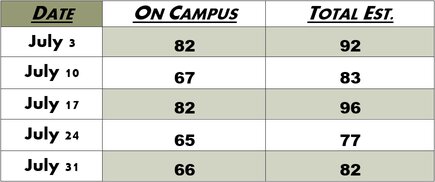 Remember the Sabbath day, to keep it holy.
Exodus 20:8
As His custom was, Jesus worshipped on the Sabbath day. Luke 4:16
August Birthdays

1 - Laura Woodward
8 - Sarah Hamann
9 - Evangelina Lambert
11 - Dorothy Nell
15 - Beau Lambert
19 - Brenda Meyer
19 - Nelly Strey
20 - Julia Webb
20 - Ty Klabunde
22 - Bill Busch
23 - Geri Friesenhahn
24 - Darren Meyer
26 - Randy Friesenhahn
27 - Connor Stuhl
Please contact the church office with corrections or additions.
Our address is: 108 S Main St #3528, Cibolo, TX 78108, USA