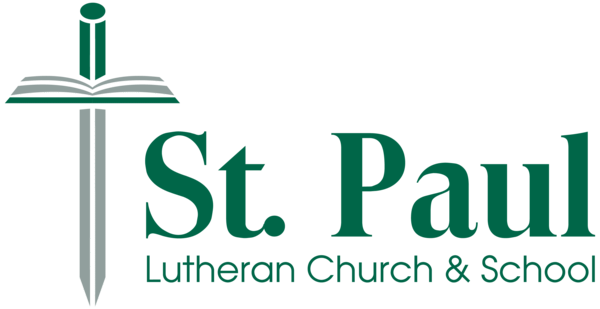 This Week at St. Paul
July 21–27, 2022

Seventh Sunday after Pentecost
Focused Prayer Claims What God Wants for Us, Not What We Want from Him
In a sense, prayer comes naturally to us. We want so we ask. We hurt so we cry out. We are frustrated so we vent. We are blessed so we give thanks. So we sometimes define prayer as "speaking to God from the heart." Seems so easy. What does not come naturally, however, is the focused prayer God wants for us. We need focus when it comes to the basis of our prayers. Our prayers are based entirely on the unique and unearned relationship with have with God, our Father. We also need focus when it comes to the content of our prayers. Yes, we can speak from the heart and ask for anything we want. But our Father invites us to pray specifically for the things he wants to give us. Prayer is the opportunity to bring our will into conformity with God's will, not the other way around. We have much to learn about prayer. So, along with Jesus' disciples, we say, "Lord, teach us to pray" (Luke 11:1).
This Week in Worship
Gospel—Luke 11:1–13
First Reading—Genesis 18:20–32
Second Reading—1 Timothy 2:1–7
Psalm of the Day—Psalm 138
Gospel Acclamation—Luke 11:9
Hymn of the Day—Our Father, Throned in Heaven Above (CW 720)
Sermon
Genesis 18:20–32
Pray Against All Odds

Remember in your prayers...
Betty Burfeind, who will be having surgery to treat a leg infection.
Doug Durkee, who is recovering from surgery to remove a brain tumor.
Mary Voigt, who has a benign brain tumor.
Merry Preston & Pastor Prell, who are recovering from surgeries.
Our brothers and sisters in the Ukrainian Lutheran Church and the Concord Evangelical Lutheran Church (Russia), and all others affected by war and rumors of war around the world. Pray for peace among nations and for protection over God's people as they proclaim the true, eternal peace we have in Christ.
Do not worry about anything, but in everything, by prayer and petition, with thanksgiving, let your requests be made known to God.
Philippians 4:6
Announcements
Holy Baptism
On Saturday, July 23 the following members of one family will be welcomed into God's family by the power and promise of God's Word in Holy Baptism: Gary Arnold Myers, Thomas Michael Torkelson, Trey Michael Torkelson, Deak Timothy Johnson, Klaus Reign Johnson, and Kaeden Michael Johnson. We thank God for the gift of new life he grants in this sacrament and pray that the Holy Spirit will continue to guide and strengthen these children of God in their lives of faith.
Annual Voters' Meeting
The Annual Voters' Meeting will take place on Sunday, August 7 at 10:00am at the Hillsboro Campus. Please note that there is only one service at 9:00am on that day, to allow for a gathering of all members in one place for the meeting. A pot luck lunch will be served following the meeting. Items on the agenda include membership changes, finalization of the combined church constitution and by-laws, and updates on current projects, events, and ministry. All members are welcomed and encouraged to attend.
Bible Information Class
Another Bible Information Class began on Monday, July 11, at 5:00pm at the Wonewoc campus. This class goes through the basics of Bible teaching that serve as the foundation for a lifetime of growth in God's word. It's especially geared towards those interested in becoming members of the congregation, but all are welcome to attend. Members, if it's been a while since your catechism todays, consider taking this opportunity for a big picture study of Bible teaching, as well as an opportunity to encourage others just starting their faith journey.
Pastor Snyder Vacation
Beginning Sunday afternoon (July 17), Pastor Snyder will be on vacation. He will return to work on Monday morning, August 1st. Pastor Limpert will be available if you need anything. The office number for Wonewoc is 608-464-3212 and Pastor Limpert's cell number is 608-462-7601 (if you need to contact him urgently or after hours).
Help Needed for the Hillsboro Charity Tractor Pull
The Hillsboro Charity Tractor Pull is Friday, August 12 and Saturday August 13 at the Hillsboro Fairgrounds. The food has been ordered and set up will be taken care of, but WE NEED VOLUNTEERS to help in the food stands and, in the grandstand, selling the concessions and with cleanup at the end of the night. There is a sign-up sheet at both churches and online at stpaulhw.com. Our churches and school benefit from this event, and if you can help, please sign up. You don't have to be there the whole time, there are different shift times available Friday afternoon and evening and Saturday. Anyone can help; kids are encouraged to help right along with their parents. And you get to see the pulls as a bonus!
Summer Cleaners—Wonewoc
Now that we are back in the Wonewoc church, we are in need of cleaners for the rest of the summer. The schedule is wide open, so if you could help, please sign up on the sheet in the church entry.
Church Directory Photos
If you haven't scheduled your church directory photo sitting, we encourage you to do so soon. The sitting fee is paid for by the church. You may purchase photos at a separate cost. All photos will be taken at the Wonewoc Campus. The dates of the sessions are:
Thursday - August 11th - 3:00-7:00 Sunday - August 14th - 12:00-4:00
Thursday - August 25th - 3:00-7:00 Sunday - August - 28th - 12:00-4:00
1. People can contact Stephanie Frick at weberfrick@yahoo.com or 608-797-4349 to schedule an appointment. When calling, please call after 5 PM on weekdays and on weekends any time after 9 AM
2. You can call the church office at 608-464-3212 to schedule.
3. You may go to our website stpaulhw.com and click on a link to sign up directly.
4. Someone can help sign you up for appointments sign-ups after church. Look for that in a week or so.
When sending an email or leaving a voice message to schedule your appointment, please ensure you leave a detailed message with date and time slot you prefer. You also need to leave an email or phone number so we can contact you if necessary.

New Life in Christ
Bible Information Class
Mondays at 5:00pm—Begins July 11
An opportunity for a careful study of Basic bible teachings. In this class we will see from Scripture how God carried out his plan of salvation to give us new life in Christ and how that life is shown in our lives. This class is ideal for those interested in becoming members of our congregation, members looking to review these foundational teachings, and anyone simply curious about what God's Word says.
WELS Together—News & Updates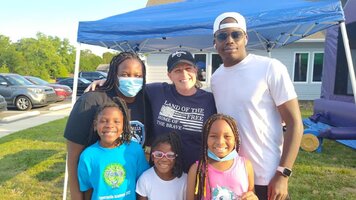 Home mission milestones – Summer 2022
wels.net/home-mission-church-milestones-summer-2022
Home mission congregations celebrate a variety of milestones as they grow and develop into self-supporting congregations. We celebrate with them and praise God for growing his church!
On June 4, home mission congregation Beautiful Savior in Fayetteville, N.C. (pictured above), was finally able to hold an open house for their community after dedicating their new worship facility in August 2021. The weekend was filled with food, games, a bounce house, and worship on Sunday.
We thank God for the 80-plus individuals who attended and the opportunities for many more to be reached with the gospel through the mission work being done at Beautiful Savior.
Another home mission congregation has officially opened its doors to the community for public worship! The Shore in Parrish, Fla., held their first public worship service on June 5 at a rented golf clubhouse.
We thank the Lord for this new gospel outpost, and we pray that the Holy Spirit continues to touch hearts through the Word that they proclaim into their community!
On June 27, Shepherd of the Valley closed on a five acre piece of land where they will build their church building. WELS Church Extention fund provided the loan and a matching land grant totaling $610,000. We thank God for this exciting next step as Shepherd of the Valley continues to reach out into their community with the gospel.
Please keep these home missions in your prayers as they continue to share the pure message of the gospel with more people in their communities. To stay connected with these and the other 141 home mission congregations scattered throughout the United States, Canada, and English-speaking West Indies, follow WELS Missions on Facebook at fb.com/WELSMissions.
St. Paul Evangelical Lutheran Church
579 Lake St., Hillsboro, WI 54634 ~ 608 489-2189
119 S East St., Wonewoc, WI 53968 ~ 608 464-3212
Pastor Peter Snyder
revsnyder@stpaulhw.com ~ 608 479-0778
Pastor Jacob Limpert
revlimpert@stpaulhw.com ~ 608 462-7601
Scripture quotations are from the Holy Bible, Evangelical Heritage Version® (EHV®) © 2019 Wartburg Project, Inc. All Rights Reserved. Used by permission.
Hymns marked CW are from Christian Worship: Hymnal © 2021 by Northwestern Publishing House.
Our address is: 119 S East St, Wonewoc, WI 53968, USA