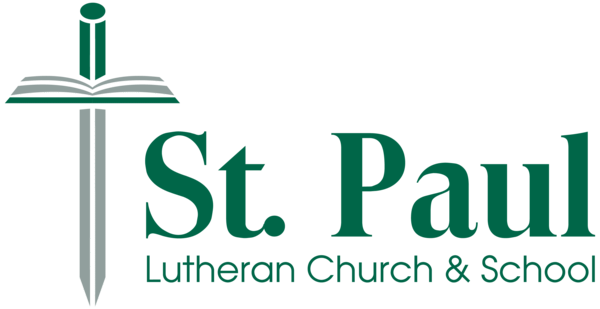 This Week at St. Paul
August 4–10, 2022

Ninth Sunday after Pentecost
Focused Living Properly Values Heavenly Treasure
Last week Jesus warned us against overvaluing earthly wealth. This week Jesus warns against undervaluing heavenly treasure. Last week, Jesus exposed the folly of greed. This week, Jesus exposes the folly of worry, even when faced with the prospect of having a shortage of earthly wealth. This week might be the bigger challenge! When it seems we lack providence or protection for our daily lives, it can be hard to avoid worry. But Jesus focuses us. He points to creatures that do not labor or toil, yet are daily fed and clothed. Even more Jesus points to our Father who promises to give us the heavenly treasures of his kingdom. Jesus assures us that Father will throw in needed earthly possessions as well. We can pursue heavenly treasure wholeheartedly, confident that our Father knows all we need.
This Week in Worship
Gospel—Luke 12:22–34
First Reading—Genesis 15:1–6
Second Reading—Hebrews 11:1–3,8–16
Psalm of the Day—Psalm 121
Gospel Acclamation—Luke 12:32
Hymn of the Day—How Firm a Foundation (CW 800)
Sermon
Luke 12:22–34
"Where Your Treasure Is, There Your Heart Will Be Also"
Join Us for Worship!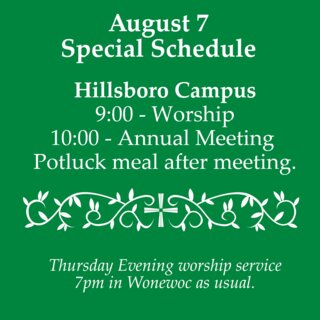 Remember in your prayers...
Doug Durkee, Betty Burfeind, & Gladys Santas, who are recovering from surgeries.
Our brothers and sisters in the Ukrainian Lutheran Church and the Concord Evangelical Lutheran Church (Russia), and all others affected by war and rumors of war around the world. Pray for peace among nations and for protection over God's people as they proclaim the true, eternal peace we have in Christ.
Do not worry about anything, but in everything, by prayer and petition, with thanksgiving, let your requests be made known to God.
Philippians 4:6
Announcements
Annual Voters' Meeting
The Annual Voters' Meeting will take place on Sunday, August 7 at 10:00am at the Hillsboro Campus. Please note that there is only one service at 9:00am on that day, to allow for a gathering of all members in one place for the meeting. A pot luck lunch will be served following the meeting. Items on the agenda include membership changes, finalization of the combined church constitution and by-laws, and updates on current projects, events, and ministry. All members are welcomed and encouraged to attend.
Help Needed for the Hillsboro Charity Tractor Pull
The Hillsboro Charity Tractor Pull is Friday, August 12 and Saturday August 13 at the Hillsboro Fairgrounds. The food has been ordered and set up will be taken care of, but WE NEED VOLUNTEERS to help in the food stands and, in the grandstand, selling the concessions and with cleanup at the end of the night. There is a sign-up sheet at both churches and online at stpaulhw.com. Our churches and school benefit from this event, and if you can help, please sign up. You don't have to be there the whole time, there are different shift times available Friday afternoon and evening and Saturday. Anyone can help; kids are encouraged to help right along with their parents. And you get to see the pulls as a bonus!
Church Directory Pictures
Additional time slots have been added for getting church directory pictures taken. If you haven't scheduled your church directory photo sitting, we encourage you to do so soon. The sitting fee is paid for by the church. You may purchase photos at a separate cost. All photos will be taken at the Wonewoc Campus. The dates of the sessions are:
Thursday - August 11th - 3:00-7:00
Sunday - August 14th - 12:00-4:00
Thursday - August 25th - 3:00-7:00
Sunday - August - 28th - 12:00-4:00
1. People can contact Stephanie Frick at weberfrick@yahoo.com or 608-797-4349 to schedule an appointment. When calling, please call after 5 PM on weekdays and on weekends any time after 9 AM
2. You can call the church office at 608-464-3212 to schedule.
3. You may go to our website stpaulhw.com and click on a link to sign up directly.
4. Someone can help sign you up for appointments sign-ups after church. Look for that in a week or so.
When sending an email or leaving a voice message to schedule your appointment, please ensure you leave a detailed message with date and time slot you prefer. You also need to leave an email or phone number so we can contact you if necessary.
School Registration
School Registration is happening in tandem with the family photo directory sittings this year. Those dates are:
Thursday - August 11th - 3:00-7:00
Sunday - August 14th - 12:00-4:00
Thursday - August 25th - 3:00-7:00
Sunday - August - 28th - 12:00-4:00
Student pictures will be taken at registration this year. Even if you haven't scheduled a family sitting, you can come for school registration and we will try to get school pictures, but there may be a wait time as scheduled pictures will take priority. Additional time slots have been added, but families are still encouraged to get a slot reserved. (Thursday, August 25th is also school open house, so parents can bring supplies and meet with the teachers on that afternoon and evening as well.)
Wednesday Bible Study
Wednesday morning Bible Study at St. John's in Kendall has resumed. Join us Wednesday mornings at 10:30 as we pick back up with the study Idols We Never Knew We Had.
Help Wanted—After School Care Program
St. Paul's School is looking for an individual or individuals that could work in our After School Care Program. The times are Monday–Friday from 3pm until 5pm. Duties include supervising children while they are on the playground, overseeing other activities, handing out snacks, having a short devotion or a Bible story, and other general caregiving duties. This is a paid position. A background check will be required. If you have even an afternoon or two free in the school week, you are encouraged to apply. Call the school office at 608-464-32112 or stop in and talk to Pastor Snyder if you are interested.

New Life in Christ
Bible Information Class
Mondays at 5:00pm—Wonewoc Campus
An opportunity for a careful study of Basic bible teachings. In this class we will see from Scripture how God carried out his plan of salvation to give us new life in Christ and how that life is shown in our lives. This class is ideal for those interested in becoming members of our congregation, members looking to review these foundational teachings, and anyone simply curious about what God's Word says.
Idols We Never Knew We Had
Wednesdays at 10:30am—St. John's, Kendall
August 3–24
A wood-carved animal figurine. A chiseled stone statue. A golden goddess. Do you have an idol-worship area set up in your home? We would say "Definitely not! I don't bow down to idols!" But sometimes we do worship idols and make them our gods, not even realizing they are there. Our study will bring to light these idols that hide themselves so easily in our homes and hearts, and through God's guidance and power we'll get help to avoid worshiping these false gods.
WELS Together—News & Updates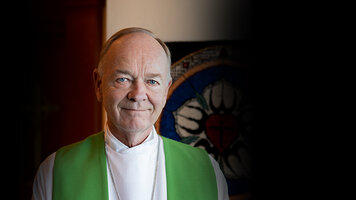 WELS National Conference on Lutheran Leadership
I'm happy to invite you all to the second WELS National Conference on Lutheran Leadership. It will be held January 16-18, 2023, at the Hilton Chicago. This conference is not only for those who serve in formal leadership positions in their congregation: called workers, church council members, school board members, and the like. This conference is for anyone who is passionate about the mission of the church. It is for everyone who, by encouragement and example, wants to lead others to engage in that mission. So, all are welcome—called workers and laity, men and women, retirees and high-school students, lifelong WELS members and those new to the church.
The conference includes five keynote presentations that will discuss the larger strategic issues and challenges facing every congregation. Attendees also will be able to choose from almost 50 breakout sessions. Some breakouts will focus on aspects of leadership: leadership development, planning, management, church polity. Others will share some "best practices" in various ministry areas: evangelism, worship, schools, youth ministry, adult discipleship. There will be a variety of panel discussions: teens, educators, worship leaders. Still other breakout sessions are purely devotional in nature. There is something for everyone and for every congregation. To take full advantage of all the breakouts, I'd encourage you to consider having a delegation from your congregation attend.
When WELS Congregational Services planned the first National Conference on Lutheran Leadership three years ago, it was hoping to have 400 people attend. In the end, 800 registered; the enrollment had to be capped due to capacity limits. This year's venue has more capacity.
I believe the reason so many were interested in the conference is simple to understand. We all know the challenges confronting American Christianity. Our congregations were—and still are—experiencing those challenges. Coming together to hear God's Word and to discuss our path forward was both edifying and encouraging. All the presenters at that first conference encouraged us to see those challenges as opportunities—opportunities to trust in the power of God's holy Word; opportunities to explore new ministry tactics; opportunities to recommit ourselves to doing all we can with the gospel.
The second WELS National Conference on Lutheran Leadership will do the same. I look forward to seeing you there.
Serving together with you in Christ,
WELS President Mark Schroeder
Learn more about the conference and register at lutheranleadership.com.
St. Paul Evangelical Lutheran Church
579 Lake St., Hillsboro, WI 54634 ~ 608 489-2189
119 S East St., Wonewoc, WI 53968 ~ 608 464-3212
Pastor Peter Snyder
revsnyder@stpaulhw.com ~ 608 479-0778
Pastor Jacob Limpert
revlimpert@stpaulhw.com ~ 608 462-7601
Scripture quotations are from the Holy Bible, Evangelical Heritage Version® (EHV®) © 2019 Wartburg Project, Inc. All Rights Reserved. Used by permission.
Hymns marked CW are from Christian Worship: Hymnal © 2021 by Northwestern Publishing House.
Our address is: 119 S East St, Wonewoc, WI 53968, USA