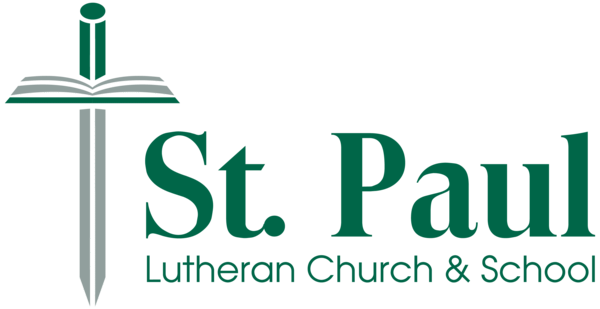 This Week at St. Paul
October 27–November 2, 2022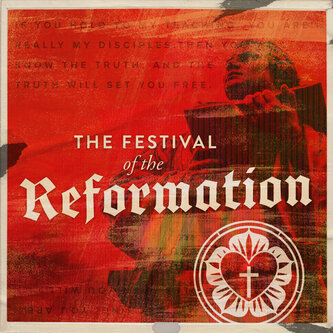 Reformation Day
The Truth Will Set You Free
We value freedom and strive to protect freedoms. But do we truly understand freedom? Freedom for many means doing what you want without control or coercion. Jesus helps us to understand true freedom: "If you hold to my teaching, you are really my disciples. Then you will know the truth, and the truth will set you free" (Gospel). Jesus says that you will never be free by living however you want. Take that attitude towards life and you'll be a slave. You'll only be free—spiritually, emotionally, eternally—"If you hold to my teaching" and therefore "know the truth."
A key principle Martin Luther established through the Reformation is Sola Scriptura, Scripture alone. Luther thought it was the answer to all of life's fundamental questions. On what basis is a belief or practice justified of rejected? Scripture alone. Who or what is the final arbiter of truth? Scripture alone. Heirs of the Reformation still bind themselves to Scripture. Does restricting ourselves in this manner curtail freedom? Just the opposite is true. God's divinely inspired truth brings freedom. It frees us from slavery to sinful delusions, the burden of guilt, and any earthly power. This week we see that when we willingly bind ourselves to truth, Jesus keeps his promise. The truth sets us free.
This Week in Worship
Gospel—John 8:31–36
First Reading—Jeremiah 31:31–34
Second Reading—Galatians 5:1–6
Psalm of the Day—Psalm 46
Gospel Acclamation—John 8:31,32
Hymn of the Day—A Mighty Fortress (CW 863)
Sermon
John 8:31–36
Freedom Contained in Christ
Join Us for Worship!

Remember in your prayers...
The family of Paul Feldman, who was called home to heaven this week.
The family of Pastor Ken Wenzel, former St. Paul's pastor, who was called home to heaven last week.
Kal Vaasen & Henry Frisk, who were welcomed into God's family through Holy Baptism last week.
Bev Ward, who is facing health issues of an undetermined cause.
Those in Florida and elsewhere, who have been impacted by Hurricane Ian.
Our brothers and sisters in the Ukrainian Lutheran Church and the Concord Evangelical Lutheran Church (Russia), our brothers and sisters in Burma, and all others affected by war and rumors of war around the world. Pray for peace among nations and for protection over God's people as they proclaim the true, eternal peace we have in Christ.
Do not worry about anything, but in everything, by prayer and petition, with thanksgiving, let your requests be made known to God.
Philippians 4:6
Announcements
Quarterly Meeting/Soup and Pie Luncheon
On November 6, we will have our quarterly voters' meeting. It will be held at the Wonewoc Campus. All members, voting and non-voting are encouraged to attend. In order to make it convenient for all members to attend, we will have only one service at 9:00am at Wonewoc that day. Following the meeting, the Ladies Aid will be hosting a soup and pie luncheon featuring chili, chicken soup and the best-of-the-best pies from all the excellent cooks in the congregation. There is a sign-up sheet on the stand in the stairway at the Wonewoc campus if you would like to contribute soup supplies or a pie. Come gather for worship, for the meeting and then for fellowship and great food after.
Youth Night
At 6:00 pm on November 13th, St. Paul-Wonewoc will be hosting the first of three Youth Nights with games, music, God's Word, small group discussion, and fun with fellow high schoolers (9th–12th grade) from all over the area. Find out more information on the Kendall/Southridge website alivethroughchrist.com under "Activities: Upcoming Events" or at the back of the church.
Education Hour
Adult Bible Study and Sunday School is held every Sunday at the Hillsboro Campus. The Wonewoc Campus has Adult Bible Study only. All begin at 9:15 am. Thursday Bible Study is currently on hiatus.
Advent By Candlelight
After a couple of years' hiatus, we are planning on having Advent By Candlelight this year. As we begin the busy and hectic Christmas season, Advent By Candlelight is an activity just for women to focus our hearts on the birth of the Savior who brings us salvation and peace. It is scheduled for Sunday, December 6, in the Wonewoc Campus church basement. There will be a luncheon and program beginning at 12:30pm. As in years past, we are asking for table hostesses to decorate a table and provide a light dish or dessert for the meal. There is a sign-up sheet at church if you are interested, as well as a more detailed explanation.
Christmas Cantata Practice
Choir practice for Christmas Eve Candlelight service begins November 6 at 6:00 pm and will be held every Sunday evening from then until Christmas. It will take place at St. Paul's school. You are invited to join the singers in the choir to glorify the Lord in song. If you can't make every practice, don't worry; just come when you can.
Viking Receipts
Our school participates in the Viking Village Foods Rebate Program. If you save your receipts from Viking, and turn them in to the school we can submit them for a 1% rebate. Thank you!
Help Needed
St. Paul's Lil' Lambs daycare in Mauston is looking for a responsible fun-loving individual to help in the classrooms with children in the early mornings (7-9am) AND/ OR the late afternoons (3:30-5pm). Playing with children is the main responsibility at this time of the day! A background check is required for this part time position. IF you are looking for some fun; please talk with Shar Weibel 608-847-2515 or email: stpaulslillambs@gmail.com!
Lutheran Leadership Conference
The WELS National Conference on Lutheran Leadership will be held January 16–18, 2023 in Chicago, IL. A group from our congregation attended the first conference in 2020, and we would like to help any members interested in attending next year's event to be able to do so. If you are interested or have any questions, speak with one of the pastors or contact the church office. More information can be found at lutheranleadership.com.
Opportunities to Serve—Help Needed
Both of our campuses have some physical needs that we could use some help with. Wonewoc campus is looking for cleaners to keep the sanctuary clean and supplied. Cleaners usually only clean once in the week, but occasionally we have extra light vacuuming, etc. if we have extra service. There is a sign-up sheet on the bulletin board in the narthex or talk to Jan Fick if you can help. The maintenance committee has also compiled a list of some minor fix-it projects at both campuses. There is a list available on the bulletin boards in the narthexes at both campuses. Thank you to all who give so generously of their time to meet these needs.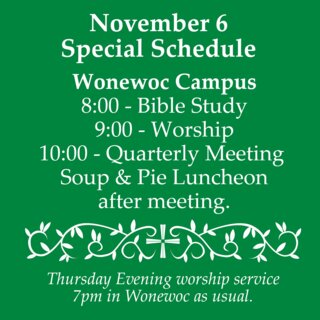 We Still Believe and Confess
Sundays at 9:15am—Both Campuses
October 30–December 18
The Lutheran Confessions are among the most important documents to ever exist. They are an expression of our faith. They guide us in our understanding of God's Word. They help us recognize the false voices that surround us. Yet, many Lutherans do not realize their importance. In this study we will examine the importance of confessions, introduce the background of each confession in the Book of Concord, and study key teachings of the Bible confessed in each document.
Sunday School (PreK–8)
Sundays at 9:15am—Hillsboro Campus
Calling all kids, Sunday School is in session! All children in the congregation, and friends and family who aren't members, are invited and encouraged to attend Sunday School, held at our Hillsboro campus. Students learn about God's love for them revealed in the Bible, and participate in learning and service activities to show that love to their neighbor. Come and join us!
New Life in Christ
Bible Information Class
Mondays at 5:00pm—Wonewoc Campus
An opportunity for a careful study of Basic bible teachings. In this class we will see from Scripture how God carried out his plan of salvation to give us new life in Christ and how that life is shown in our lives. This class is ideal for those interested in becoming members of our congregation, members looking to review these foundational teachings, or anyone simply curious about what God's Word says.
WELS Together—News & Updates
WELS National Conference on Lutheran Leadership
wels.net/together-video-update-october-25-2022
Learn more about the WELS National Conference on Lutheran Leadership straight from the workshop presenters themselves. Discover more about the topics that will be discussed and why it's so important for both lay and called, male and female to attend. For a full list of all presentations and to register, visit lutheranleadership.com.
St. Paul Evangelical Lutheran Church
579 Lake St., Hillsboro, WI 54634 ~ 608 489-2189
119 S East St., Wonewoc, WI 53968 ~ 608 464-3212
Pastor Peter Snyder
revsnyder@stpaulhw.com ~ 608 479-0778
Pastor Jacob Limpert
revlimpert@stpaulhw.com ~ 608 462-7601
Scripture quotations are from the Holy Bible, Evangelical Heritage Version® (EHV®) © 2019 Wartburg Project, Inc. All Rights Reserved. Used by permission.
Hymns marked CW are from Christian Worship: Hymnal © 2021 by Northwestern Publishing House.
Our address is: 119 S East St, Wonewoc, WI 53968, USA