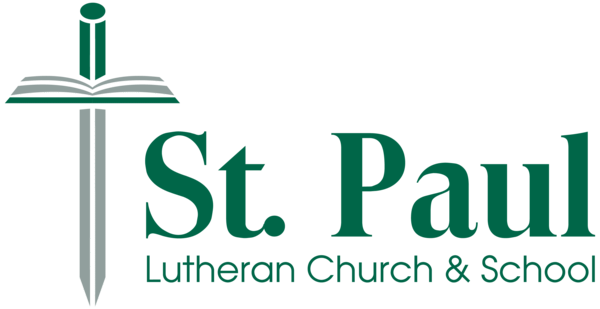 This Week at St. Paul
November 3–9, 2022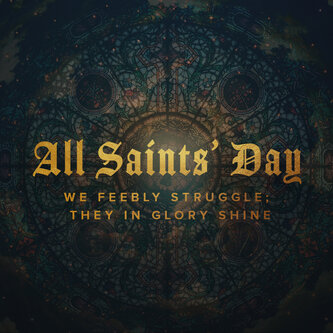 All Saints' Day
We Feebly Struggle; They in Glory Shine
We believe in "the holy Christian Church, the communion of saints" (Apostles' Creed). All with saving faith in Jesus as their Savior are holy. (Saint comes from the Latin word sanctus which means holy.) God grants the status of saint to all believers. Since sainthood is achieved through faith in Christ, we refer to believers as the invisible Church. Members are unknown to us since only God can see the heart. Furthermore, even if we knew the identity of each saint on earth, they would not look all that different from the rest of mankind. Believers still struggle with trials, temptations, and sin. Nor does membership in the holy Christian Church, the communion of saints make life easier. In some ways it makes life more difficult as we struggle against a world that is hostile towards Christ. However, some members of the communion of saints no longer struggle with trial and sin. They are not oppressed by an anti-Christian world. These are all the saints who, through their Christian death, have triumphed over all these things. The blessedness of being God's saint is no longer invisible for them. They live in the glory of Christ's light. This week, we thank God for those members of the communion of saints who have gone before us and now enjoy everlasting life. We feebly struggle, just as they once did. But now, thanks to Christ, they in glory shine. Their example encourages us as we patiently wait to join them.
This Week in Worship
Gospel—Luke 6:20–23
First Reading—Revelation 21:1–6
Second Reading—Hebrews 11:32–40
Psalm of the Day—Psalm 149
Gospel Acclamation—Revelation 7:15
Hymn of the Day—Jerusalem the Golden (CW 889)
Sermon
Revelation 21:1–6
It Is Done
Join Us for Worship!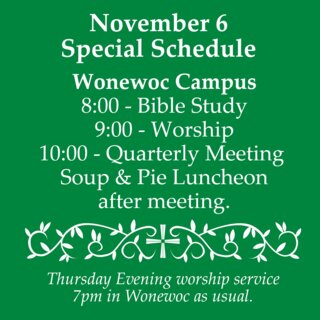 Remember in your prayers...
Mary Voigt, who is recovering from surgery.
The family of Paul Feldman, who was called home to heaven last week.
Bev Ward, who is facing health issues of an undetermined cause.
Those in Florida and elsewhere, who have been impacted by Hurricane Ian.
Our brothers and sisters in the Ukrainian Lutheran Church and the Concord Evangelical Lutheran Church (Russia), our brothers and sisters in Burma, and all others affected by war and rumors of war around the world. Pray for peace among nations and for protection over God's people as they proclaim the true, eternal peace we have in Christ.
Do not worry about anything, but in everything, by prayer and petition, with thanksgiving, let your requests be made known to God.
Philippians 4:6
Announcements
Quarterly Meeting/Soup and Pie Luncheon
The quarterly meeting will be held right after the service Sunday, November 6. All members, voting and non-voting are encouraged to attend. Following the meeting, the Ladies Aid will be hosting a soup and pie luncheon featuring chili, chicken soup and the best-of-the-best pies from all the excellent cooks in the congregation. Come join us!
Youth Night
At 5:45pm on November 13th, St. Paul- Wonewoc will be hosting the first of three Youth Nights with games, music, God's Word, small group discussion, and fun with fellow high schoolers (9th– 12th grade) from all over the area. Find out more information on the Kendall/Southridge website http://alivethroughchrist.com under "Activities: Up Coming Events" or at the back of the church.
Education Hour
Adult Bible Study and Sunday School is held every Sunday at the Hillsboro Campus. The Wonewoc Campus has Adult Bible Study only. All begin at 9:15am (Note the special schedule November 6). Thursday Bible Study is still on hold for the month of November.
Advent by Candlelight
After a couple of years' hiatus, we are planning on having Advent By Candlelight this year. As we begin the busy and hectic Christmas season, Advent by Candlelight is an activity just for women to focus our hearts on the birth of the Savior who brings us salvation and peace. It is scheduled for Sunday December 6, in the Wonewoc Campus church basement. There will be a luncheon and program beginning at 12:30pm. As in years past, we are asking for table hostesses to decorate a table and provide a light dish or dessert for the meal. There is a sign-up sheet in back if you are interested, as well as a more detailed explanation.
Christmas Cantata Practice
Choir practice for Christmas Eve Candlelight service begins November 6 at 6:00pm and will be held every Sunday evening from now until Christmas. It will take place at St. Paul's school. You are invited to join the singers in the choir to glorify the Lord in song. If you can't make every practice, don't worry; just come when you can.
Thanksgiving Fellowship Dinner
A Thanksgiving dinner will be held at St. Paul—Hillsboro Campus November 20th at 12:30pm. Everyone is invited and there is opportunity for carry-out meals if someone is unable to share the dinner on-site. Turkey, potatoes, dressing, gravy, and rolls will be provided. Everything else is pot luck. This is a wonderful opportunity to fellowship with each other in thanksgiving for all of God's blessings, not the least of which is our Christian family here.
Lutheran Leadership Conference
The WELS National Conference on Lutheran Leadership will be held January 16–18, 2023 in Chicago, IL. A group from our congregation attended the first conference in 2020, and we would like to help any members interested in attending next year's event to be able to do so. If you are interested or have any questions, speak with one of the pastors or contact the church office. More information can be found at lutheranleadership.com.
Opportunities to Serve—Help Needed
Both of our campuses have some physical needs that we could use some help with. Wonewoc campus is looking for cleaners to keep the sanctuary clean and supplied. Cleaners usually only clean once in the week, but occasionally we have extra light vacuuming, etc. if we have extra service. There is a sign-up sheet on the bulletin board in the narthex or talk to Jan Fick if you can help. The maintenance committee has also compiled a list of some minor fix-it projects at both campuses. There is a list available on the bulletin boards in the narthexes at both campuses. Thank you to all who give so generously of their time to meet these needs.

We Still Believe and Confess
Sundays at 9:15am—Both Campuses
October 30–December 18
The Lutheran Confessions are among the most important documents to ever exist. They are an expression of our faith. They guide us in our understanding of God's Word. They help us recognize the false voices that surround us. Yet, many Lutherans do not realize their importance. In this study we will examine the importance of confessions, introduce the background of each confession in the Book of Concord, and study key teachings of the Bible confessed in each document.
Sunday School (PreK–8)
Sundays at 9:15am—Hillsboro Campus
Calling all kids, Sunday School is in session! All children in the congregation, and friends and family who aren't members, are invited and encouraged to attend Sunday School, held at our Hillsboro campus. Students learn about God's love for them revealed in the Bible, and participate in learning and service activities to show that love to their neighbor. Come and join us!
New Life in Christ
Bible Information Class
Mondays at 5:00pm—Wonewoc Campus
An opportunity for a careful study of Basic bible teachings. In this class we will see from Scripture how God carried out his plan of salvation to give us new life in Christ and how that life is shown in our lives. This class is ideal for those interested in becoming members of our congregation, members looking to review these foundational teachings, or anyone simply curious about what God's Word says.
WELS Together—News & Updates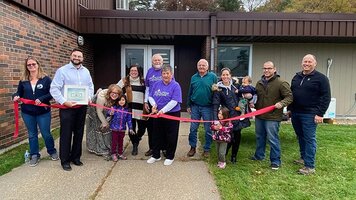 Home Missions Highlights
wels.net/home-missions-highlights
It's been a busy fall for WELS Home Missions.
On Sept. 11, three home mission congregations in Texas—Christ Our Refuge, Waco/Hewitt; Our Savior, West San Antonio; and Amazing Grace, Amarillo—launched their first public worship services. Learn more about these services in Forward in Christ's November article, "Home missions launch first worship services."
On Sept. 15 and 16, the Board for Home Missions met at the WELS Center for Mission and Ministry in Waukesha, Wis. The Board for Home Missions is made up of the district mission board chairman and one lay volunteer from each of the 14 home mission districts. This fall, board members spent time going through the requirements for any new home mission or enhancement requests the districts are preparing for the full board's spring meeting. The Board for Home Missions is anticipating requests for about 30 new mission starts and 17 enhancements in the spring.
On Oct. 2, Cross of Christ, North Nampa, Idaho, dedicated its new church building. The North Nampa location is a second-site ministry of Cross of Christ, Boise, Idaho.
On Oct. 10 and 11, the South Central District held its annual missionaries conference. In addition to 40 missionaries and district mission board members, this year's conference was also attended by three Michigan Lutheran Seminary students who were participating in the high school's Taste of Ministry experience.
On Oct. 16, Zion, Lodi, Wis., launched its first public worship service. Zion is a second-site ministry of Leeds, Wis. Also on Oct. 16, Bethlehem, Richland Center, Wis. (pictured above), dedicated its ministry facility, which houses an intergenerational ministry center and an early childhood center.
"As WELS Home Missions prepares for the official launch of its 100 missions in 10 years initiative in 2023, it's exciting to see all the ministry that God is already blessing," says Mr. Sean Young, senior director of WELS Missions Operations. "We're committed to aggressively reaching lost souls throughout North America with the gospel—today and in the years to come."
For more information about WELS Home Missions, visit wels.net/homemissions.
St. Paul Evangelical Lutheran Church
579 Lake St., Hillsboro, WI 54634 ~ 608 489-2189
119 S East St., Wonewoc, WI 53968 ~ 608 464-3212
Pastor Peter Snyder
revsnyder@stpaulhw.com ~ 608 479-0778
Pastor Jacob Limpert
revlimpert@stpaulhw.com ~ 608 462-7601
Scripture quotations are from the Holy Bible, Evangelical Heritage Version® (EHV®) © 2019 Wartburg Project, Inc. All Rights Reserved. Used by permission.
Hymns marked CW are from Christian Worship: Hymnal © 2021 by Northwestern Publishing House.
Our address is: 119 S East St, Wonewoc, WI 53968, USA