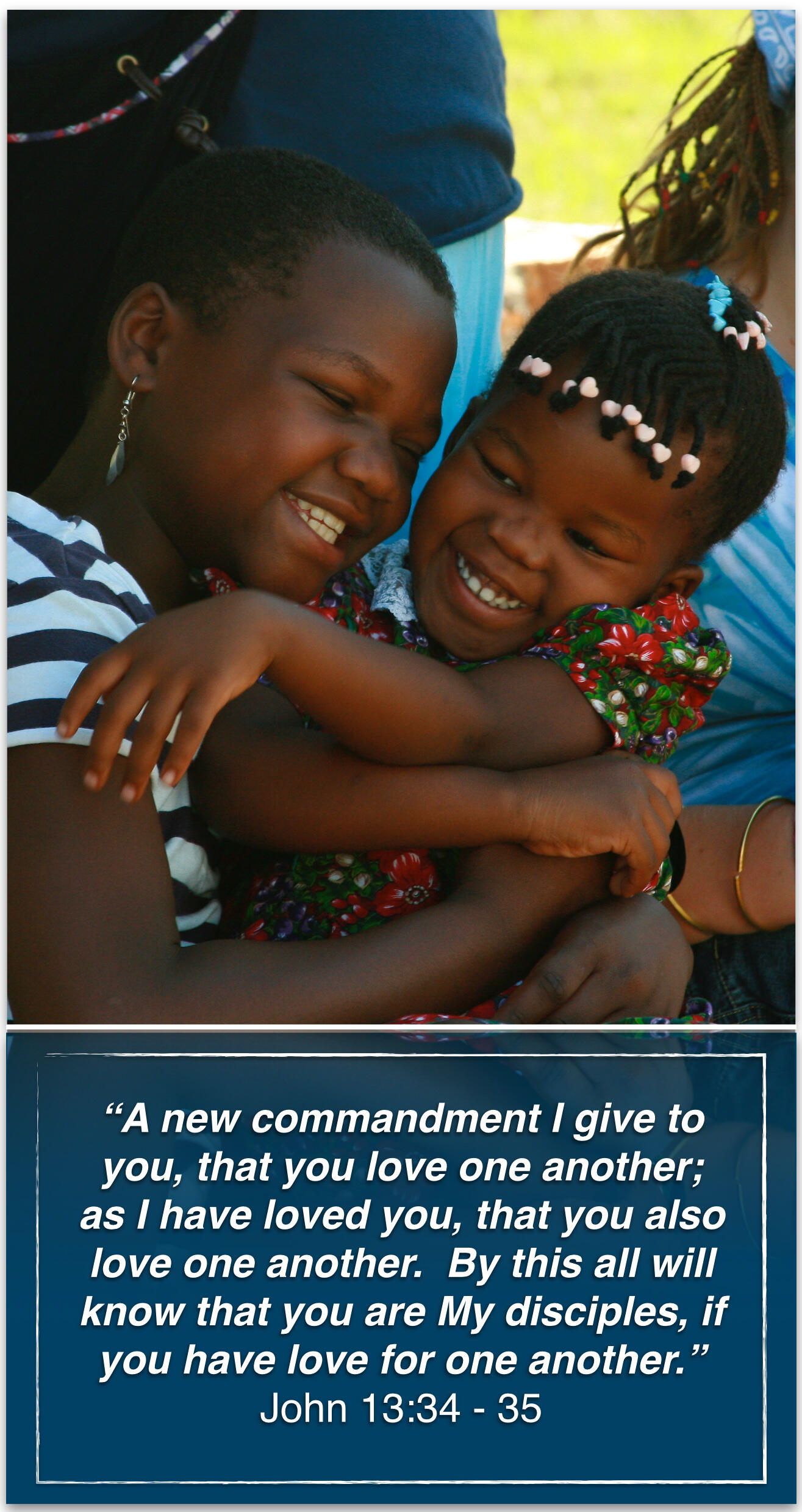 St. Paul's Evangelical Reformed Church
Lord's Day - July 11th, 2021
St. Paul's Evangelical Reformed Church
Pastor Daniel R. Schnabel 15480 County Road 31, Hamburg, MN
In this the love of God was manifested toward us, that God has sent His only begotten Son into the world, that we might live through Him. 1 John 4:9
Lord's Day — July 11, 2021
Prelude & Organ – Carol
Ringing of the bell
Welcome & Announcements
Silent Prayer and Call to Worship
• Salutation and Prayer
• Gloria Patri 735
Glory be to the Father and to the Son and to the Holy Ghost; as it was in the beginning, is now and ever shall be, world without end. Amen.
• Confession of Faith- Apostles' Creed
Hymn "Let Us Praise God Together" 659
We Read God's Word: 1 John 3:10-23 (Bible p. 1083)
Heidelberg Catechism - Lord's Day 25
Confession of Sin & Pastoral Prayer w/ Lord's Prayer
Call to Repentance and Assurance of Pardon: "For we ourselves were also once foolish, disobedient, deceived, serving various lusts and pleasures, living in malice and envy, hateful and hating one another. But when the kindness and the love of God our Savior toward man appeared, not by works of righteousness which we have done, but according to His mercy He saved us, through the washing of regeneration and renewing of the Holy Spirit, whom He poured out on us abundantly through Jesus Christ our Savior, that having been justified by His grace we should become heirs according to the hope of eternal life." Titus 3:3-7
• Hymn "Children Of the Heavenly Father" 131
Scripture Reading: Matthew 5:21,22, 43-48 (B. p. 852)
Sermon: Answering Anger with Persistent Love!
Hymn-Offering "O God of Mercy, …" VS. 1,3,4,5 433
• Benediction
• Doxology 731
Praise God from whom all blessings flow; praise Him, all creatures here below; praise Him above, ye heavenly host: praise Father, Son, and Holy Ghost. Amen.
• Silent Prayer
• Ringing of the Bell
Postlude
• Those who are able, please stand
Welcome to St. Paul's Evangelical Reformed Church, especially those who are visiting with us. If you are visiting with us for the first time, please fill out a visitor card in the pew or the guest registry in the entryway.
But as for me it is good to be near God. Psalm 73:28
Digital bulletin at https://faithlife.com/stpaulsrcus/bulletins
- This Week at St. Paul's -
Monday Peace Villa Bible Study at 10:00 a.m.
Thursday Consistory meeting at 7:00 p.m.
Sunday Worship Service at 9:30 a.m.
- Announcements -
Today we welcome Rev. Jim Sawtelle as we are doing a pulpit exchange after church camp. Pastor Schnabel is preaching at Emmaus RCUS this morning.
We give thanks to God for the great week at Church camp and safe traveling mercies there and back! Thanks so much to the Schmiegs for the use of their van!
Ice cream Social after worship next Sunday July 18th!
Thanks to the Women's Guild for serving Music at the park last week!
July Birthdays! Jeanie S.(7/9), Kara J.(7/14), John B.(7/27), Marie S.(7/27), Kevin G.(7/28).
- Prayer & Praise & Hospital Notes -
Bonnie as she struggles with aggressive cancer. She has also been in and out of the hospital as she waits for a surgery. Eph. 1:15-16
Linda as she continues to struggle with a sinus infection. Sadly the doctors have been unable to help her and giver her relief. Deut. 31:6
Jacob as he recovers from surgery. Ps. 121:2
Pray for Mallory & Ben as well as Whitney and Taylor as they are expecting a new babies. Psalm 71:6
Pray for the elderly, particularly those in nursing and assisted living homes – Lorna, Bernetta and Dorothy. This is particularly difficult as they cannot leave their building and many times even their room!2Corinthians 4:17
Pray for our first responders who are treating the sick. For Payton S. in her med school rotations, nurse Abbie H. and nurse Derek W.as they care for the sick including Covid 19 patients. For Abbie S. as she cares for Covid 19 patients needing dialysis. Pray also for those who are unemployed during this time as well as those suffering from this illness. Psalm 121:7
Pray for the police officers and their safety. Pray for our servicemen & women and national Guard who are members or related to members- Dakota, Jeremy, Ty , Kayla , Ryan, Sam, Michael , Amanda, and Caleb, as well as their families as they are serving. Psalm 91
Pray for this nation. Jeremiah 3:21-22.
Pray for the United Reformed Church of the Congo, the Free Reformed Fellowship of Kenya, the Pearl of the Orient Reformed Church in the Philippines, Rev. Eric Kayayan of Reformed Faith and Life, Rev. Victor D'Assonville of Reformation To Germany, Middle East Reformed Fellowship and Westminster Biblical Missions which we help support with our missions offerings. 2Thess. 3:1
- For Further Study -
Love all men, even your enemies, not because they are your brothers, but that they may become your brothers; that you may be at all times on fire with brotherly love, whether toward him that has become your brother, or toward your enemy, so that, by being beloved, he may become your brother. Augustine
By revenge you can but satisfy a lust, but by forgiveness you will conquer a lust. John Flavel
Holiness is the habit of being of one mind with God, according as we find His mind described in Scripture. It is the habit of agreeing in God's judgment, hating what He hates, loving what He loves, and measuring everything in this world by the standard of His Word. J.C. Ryle
Love of our enemies springs, directly and purely, from love of God; whereas our love for other men arises from diverse motives, e.g., from gratitude, from kinship, from fellow-citizenship, and the like. But nothing save the love of God can make us love our enemies; for we love them because they are His creatures, made in His image, and capable of enjoying Him. Thomas Aquinas.
Next Lord Supper - August 15th.
Heidelberg Catechism
Lord's Day 25
65. Since, then, we are made partakers of Christ and all His benefits by faith only, where
does this faith come from?
The Holy Spirit works faith in our hearts by the preaching of the Holy Gospel, and confirms it by the use of the holy sacraments.
66. What are the sacraments?
The sacraments are visible holy signs and seals appointed by God for this end, that by their use He may the more fully declare and seal to us the promise of the Gospel, namely, that of free grace He grants us the forgiveness of sins and everlasting life for the sake of the one sacrifice of Christ accomplished on the cross.
67. Are both the Word and the sacraments designed to direct our faith to the sacrifice of Christ on the cross as the only ground of our salvation?
Yes, truly, for the Holy Spirit teaches in the Gospel and assures us by the holy sacraments, that our whole salvation stands in the one sacrifice of Christ made for us on the cross.
68. How many sacraments has Christ instituted in the New Testament?
Two: Holy Baptism and the Holy Supper.
Apostle's Creed
I believe in God the Father Almighty, Maker of heaven and earth. And in Jesus Christ, His only-begotten Son, our Lord: who was conceived by the Holy Ghost, born of the virgin Mary, suffered under Pontius Pilate, was crucified, dead, and buried; He descended into hell; the third day He rose from the dead; He ascended into heaven, and sits at the right hand of God the Father Almighty; From there He will come to judge the living and the dead. I believe in the Holy Ghost, the holy, universal Christian church, the communion of saints, the forgiveness of sins, the resurrection of the body, and the life everlasting.
Lord's Prayer
Our Father, who art in heaven, hallowed be thy Name, thy kingdom come, thy will be done, on earth as it is in heaven. Give us this day our daily bread. And forgive us our debts, as we forgive our debtors. And lead us not into temptation, but deliver us from evil. For thine is the kingdom, and the power, and the glory, for ever and ever. Amen.
Answering Anger with Persistent Love!
Matthew 5:21,22, 43-48
The danger of anger
2. The answer to anger: Experiencing God's love
3. Expressing God's love
Picture: Knox Theological College (OPC) Mbale, Uganda
Bulletin cover, graphics and picture are by Pastor Schnabel.
Let us get to know you!
Please take a moment to send us your information so that we may stay connected with you. Your information is carefully managed and protected.
How did you hear about us?