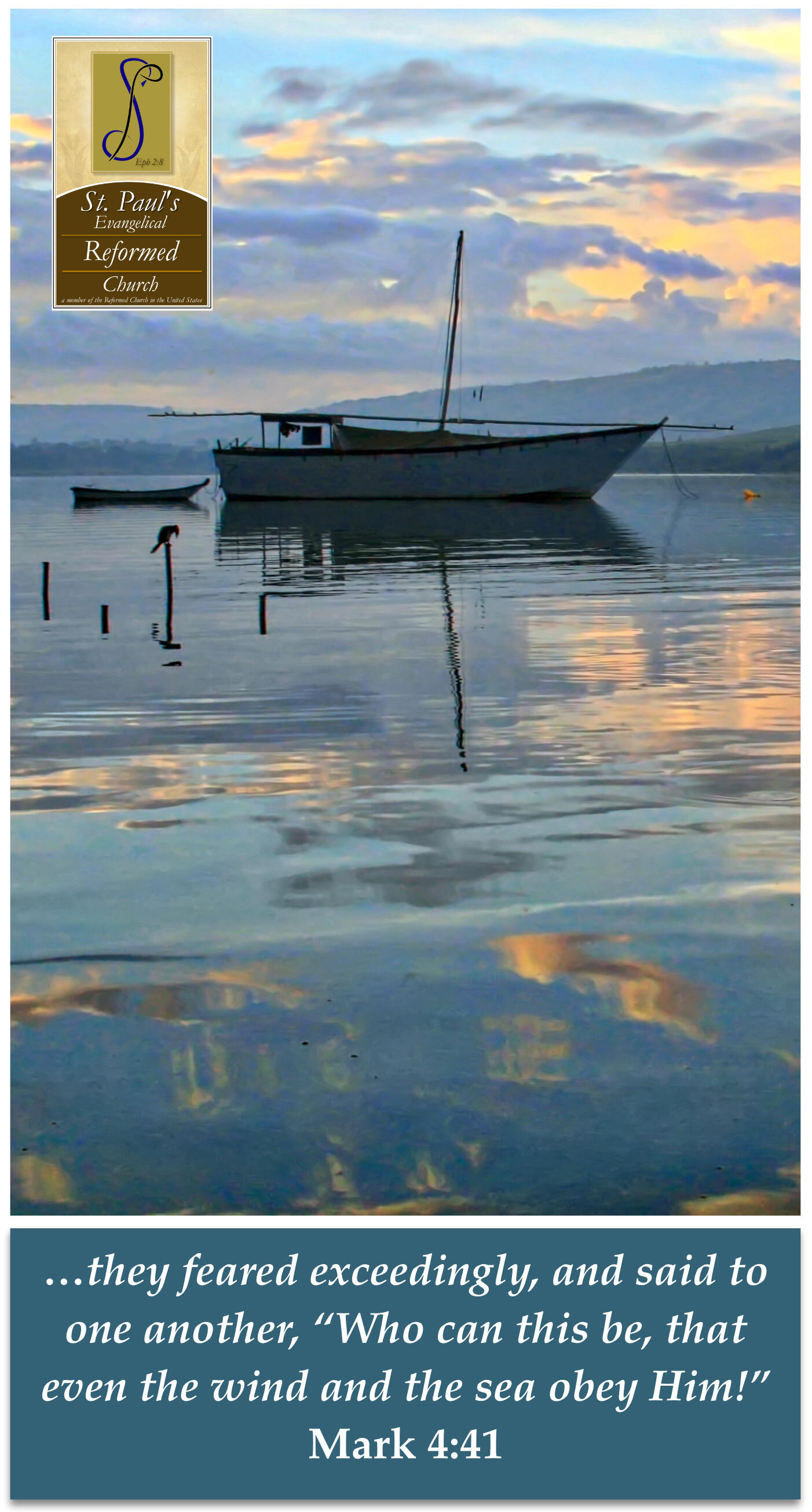 St. Paul's Evangelical Reformed Church
Lord's Day - September 19, 2021
St. Paul's Evangelical Reformed Church
Pastor Daniel R. Schnabel 15480 County Road 31, Hamburg, MN
If you then, being evil, know how to give good gifts to your children, how much more will your Father who is in heaven give good things to those who ask Him! Matthew 7:7
Lord's Day — September 19, 2021
Prelude & Organ – Carol
Ringing of the bell
Welcome & Announcements
Silent Prayer and Call to Worship
• Salutation and Prayer
• Gloria Patri 735
Glory be to the Father and to the Son and to the Holy Ghost; as it was in the beginning, is now and ever shall be, world without end. Amen.
• Confession of Faith- Apostles' Creed
Hymn"A Mighty Fortress Is Our God" (based on Ps. 46) 92
We Read God's Word: Exodus 20:1-17 (B. p. 68)
Heidelberg Catechism - Lord's Day 33
Confession of Sin & Pastoral Prayer w/ Lord's Prayer
Call to Repentance and Assurance of Pardon: To the Lord our God belong mercy and forgiveness, though we have rebelled against Him. Daniel 9:9
Hymn "My Faith Has Found A Resting Place" 468
Reading: Philippians 4:10-13 (B. p. 1044)
Sermon:Contentment
Hymn-Offering "What'er My God Ordains Is Right" 108
• Benediction
• Doxology 731
Praise God from whom all blessings flow; praise Him, all creatures here below; praise Him above, ye heavenly host: praise Father, Son, and Holy Ghost. Amen.
• Silent Prayer
• Ringing of the Bell
Postlude
• Those who are able, please stand
Welcome to St. Paul's Evangelical Reformed Church, especially those who are visiting with us. If you are visiting with us for the first time, please fill out a visitor card in the pew or the guest registry in the entryway.
But as for me it is good to be near God. Psalm 73:28
As we begin to worship please remember that we have no greater privilege and honor than to be called into the presence of God by His gracious love. We come to Him through the merit of Christ Crucified. We come in the power of the Holy Spirit and with God's promise that He will draw near us(James 4:8). May our gracious Lord draw near to you wonderfully in this worship service today. May you be blessed through the worship of our most high God as we reflect upon His goodness and grace to us through Jesus Christ our Lord and the Holy Spirit. It is our prayer you will feel at home among us and hope you will sense God's gracious and glorious presence here at St. Paul's and return soon.
- This Week at St. Paul's -
Today Youth Group will meet after worship.
Choir & New Members class after worship.
Tuesday Brotherhood at 7:30 p.m.
Wednesday Calvin Jones Concert at 7:30 p.m.
Thursday Harbor Bible Study at 10:00 a.m.
Sunday Worship Service at 9:30 a.m.
Sunday School & Bible Study at 8:45 a.m
Fellowship after worship!
Choir & New Member's / Inquirers Class after worship
- Announcements -
Thanks to Bob Kroells, Curtis Kroells and Richard Kroells who continued to side the garage during the week!
We are preparing to give our yearly donation to Heidelberg Seminary to help support the training of ministers in the Philippines. If you are interested in helping please make a note in the memo like of your church.
There are some packets on religious exemptions on the reading table.
September 22nd the composer Calvin Jones,(son of one of our denominations former pastors) who helped us find the grand piano, will be having a concert at our church at 7:30 p.m. Please sign up for the concert on the website or call or text Pastor's number at (952) 240-0886.
Congratulations to Abbie Harms and Brandon who were united in marriage Saturday! Proverbs 18:22
Carolyn will surgery this week on her knee. Psalm 6:2
Roy , Laura's brother, who has a variety of health issues. Psalm 41:3
Parker is doing much better! Psalm 103:3
Dale as they rework his heart medicine. Psalm 73:26
Pray for the elderly, particularly those in nursing and assisted living homes – Lorna, Bernetta and Dorothy. 2Cor. 4:17
Pray for Mackenzie & Wes as they are expecting a new baby. Psalm 71:6
Pray for the police officers and their safety. Pray for our servicemen & women and national Guard who are members or related to members- Dakota, Jeremy, Ty , Ryan, Sam, Michael , Amanda, and Caleb, as well as their families as they are serving. Psalm 91
Pray for this nation. Jeremiah 3:21-22.
Pray for the United Reformed Church of the Congo, the Free Reformed Fellowship of Kenya, the Pearl of the Orient Reformed Church in the Philippines, Rev. Eric Kayayan of Reformed Faith and Life, Rev. Victor D'Assonville of Reformation To Germany, Middle East Reformed Fellowship and Westminster Biblical Missions which we help support with our missions offerings. 2Thess. 3:1
- Further Study -
He is much happier that is always content, though he has ever so little, than he that is always coveting, though he has ever so much. Matthew Henry
The only person in this world who enjoys complete contentment is the person who knows that the only worthwhile and satisfying life is to be a means, however humble, to God's chief end his own glory and praise. J. I. Packer
There is no better antidote against coveting that which is another's than being content with that which is our own. Thomas Watson
Heidelberg Catechism
Lord's Day 33
88. In how many things does true repentance or conversion consist?
In two things: the dying of the old man, and the making alive of the new.
89. What is the dying of the old man?
Heartfelt sorrow for sin, causing us to hate and turn from it always more and more.
90. What is the making alive of the new man?
Heartfelt joy in God through Christ, causing us to take delight in living according to the will of God in all good works.
91. What are good works?
Those only which proceed from true faith, and are done according to the law of God, unto His glory, and not such as rest on our own opinion or the commandments of men.
Apostle's Creed
I believe in God the Father Almighty, Maker of heaven and earth. And in Jesus Christ, His only-begotten Son, our Lord: who was conceived by the Holy Ghost, born of the virgin Mary, suffered under Pontius Pilate, was crucified, dead, and buried; He descended into hell; the third day He rose from the dead; He ascended into heaven, and sits at the right hand of God the Father Almighty; From there He will come to judge the living and the dead. I believe in the Holy Ghost, the holy, universal Christian church, the communion of saints, the forgiveness of sins, the resurrection of the body, and the life everlasting.
Lord's Prayer
Our Father, who art in heaven, hallowed be thy Name, thy kingdom come, thy will be done, on earth as it is in heaven. Give us this day our daily bread. And forgive us our debts, as we forgive our debtors. And lead us not into temptation, but deliver us from evil. For thine is the kingdom, and the power, and the glory, for ever and ever. Amen.
Contentment
Philippians 4:10-13
We gain contentment in our life -
1. Because of God Sovereign gracious provisions!
2. Knowing it's the Lord we serve!
Picture: Lake Victoria outside of Jinja, Uganda
Bulletin cover by Pastor Schnabel
Let us get to know you!
Please take a moment to send us your information so that we may stay connected with you. Your information is carefully managed and protected.
How did you hear about us?