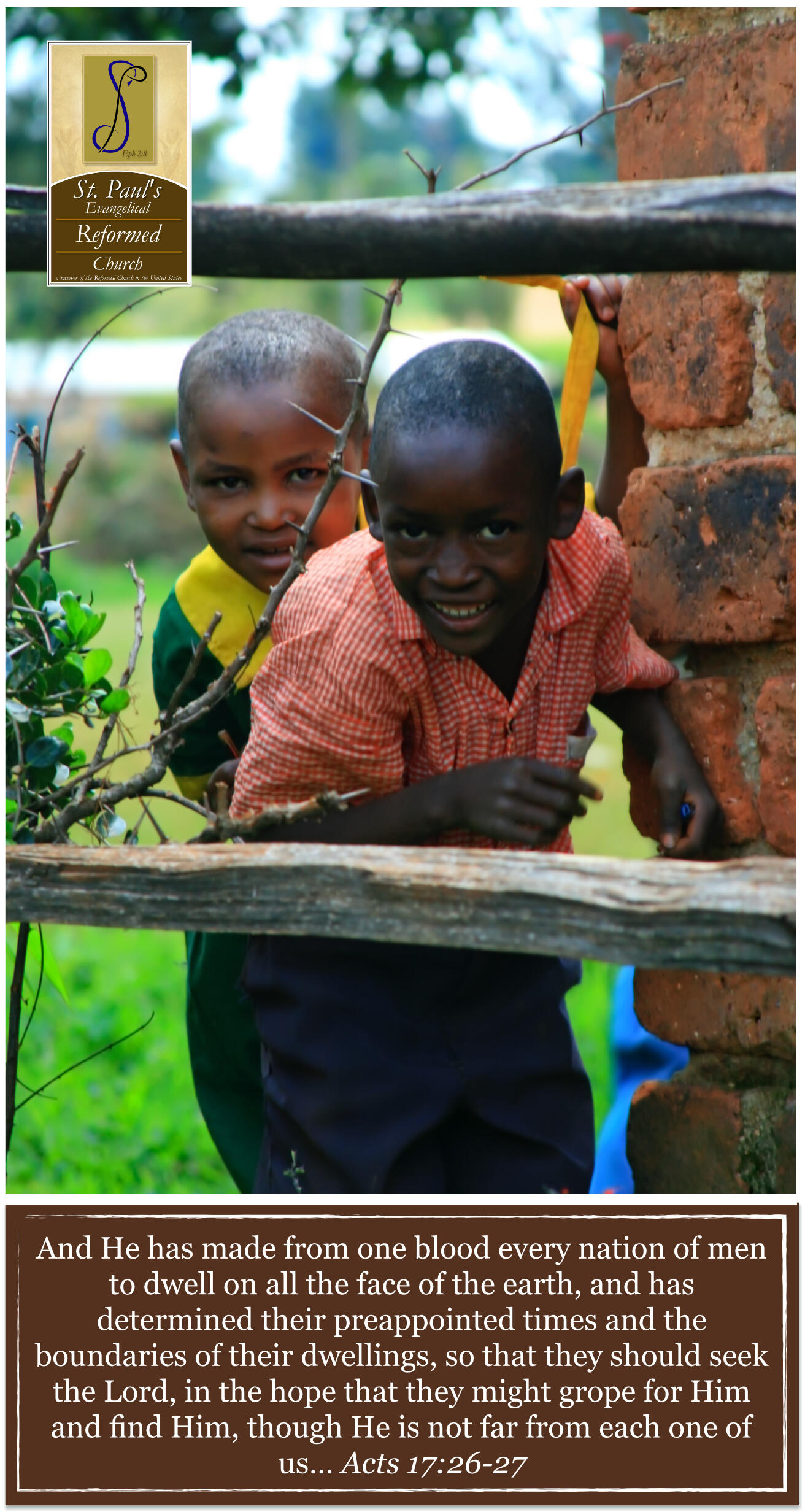 St. Paul's Evangelical Reformed Church
Lord's Day - Sunday November 7
St. Paul's Evangelical Reformed Church
Pastor Daniel R. Schnabel 15480 County Road 31, Hamburg, MN
For it is the God who commanded light to shine out of darkness, who has shone in our hearts to give the light of the knowledge of the glory of God in the face of Jesus Christ. 2Corinthians 4:6
Lord's Day — November 7th, 2021
Prelude & Piano – Amanda
Ringing of the bell
Welcome & Announcements
Silent Prayer and Call to Worship
• Salutation and Prayer
• Gloria Patri 735
Glory be to the Father and to the Son and to the Holy Ghost; as it was in the beginning, is now and ever shall be, world without end. Amen.
• Confession of Faith- Apostles' Creed
Hymn "O Worship The King" Psalm 104 2
We Read God's Word: Psalm 2 (H. p. 785)
Heidelberg Catechism - Lord's Day 39
Confession of Sin & Pastoral Prayer w/ Lord's Prayer
Call to Repentance and Assurance of Pardon: Call to Repentance and Assurance of Pardon: I will cleanse them from all their iniquity by which they have sinned against Me, and I will pardon all their iniquities by which they have sinned and by which they have transgressed against Me. Then it shall be to Me a name of joy, a praise, and an honor before all nations of the earth, who shall hear all the good that I do to them; they shall fear and tremble for all the goodness and all the prosperity that I provide for it." Jeremiah 33:8-9
Choir "A Servant In Your Heavenly House"
Reading: Psalm 67 (B. p. 514)
Sermon: Blessed To Be A Blessing!
Hymn-Offering "Arise, O God and Shine" 442
• Benediction
• Doxology 731
Praise God from whom all blessings flow; praise Him, all creatures here below; praise Him above, ye heavenly host: praise Father, Son, and Holy Ghost. Amen.
• Silent Prayer
• Ringing of the Bell
Postlude
• Those who are able, please stand
Welcome to St. Paul's Evangelical Reformed Church, especially those who are visiting with us. If you are visiting with us for the first time, please fill out a visitor card in the pew or the guest registry in the entryway. But as for me it is good to be near God. Psalm 73:28
- This Week at St. Paul's -
Today Pie Fellowship after worship.
Tuesday Bible Study Peace Villa at 10:00 a.m.
No Dartball
Wednesday Catechism 5:30 p.m. to 7:00 p.m. Workbook H.C. 67 & 68
Consistory at 7:00 p.m .
Sunday Worship Service at 9:30 a.m.
Sunday School at 8:45 a.m
No Bible Study or New Members Class.
- Announcements -
Today we welcome Rev. Michael Voytek for our mission fest service. Rev. Voytek is the pastor of the RCUS mission work Grace Reformed Church in Dickinson, ND. He is on the foreign missions committee and has taken several mission trips to train men in foreign countries including the Philippines.
Due to the increases of cases of the coronavirus in the church, we will have pie with toppings, to make the time shorter and people can spread out and have fellowship outside.
We want to thank Jean Gahl and Karen Kamps for the fall decorations! Thanks also to Jean and Mike for setting up the tables!
Next Sunday Pastor Schnabel will be taking next Sunday off and Mr. Dale Schmieg will exhort for us. The elders will lead the service.
Women's Guild has the order form up for the Christmas Poinsettia plants on the bulletin board. They are $12 for a poinsettia and will be red. Poinsettia deadline is Sunday November 21st.
The Women's Guild is sponsoring a drive for the homeless in Minneapolis. They are collecting new or gently used socks, hats, scarf, gloves or mittens. We will have two disbursements one on November 27th and another on December 25.
November is food shelf month! We are collecting non perishable food for the local food shelf.
The Women's Guild sells boxes of cards($5 for a box of twelve) in the entryway.
There are some packets on religious exemptions on the reading table.
Ron had a cardioversion Wednesday. Psalm 119:81
Maggie , had heart ablation on Friday and is recovering. Psalm 18:2
"Muggs", has been struggling with cancer and now has been pretty severely sick with covid. Psalm 84:2
Ray , Laura's brother, who has a variety of health issues. Psalm 41:3
Pray for the elderly, particularly those in nursing and assisted living homes – Lorna, Bernetta and Dorothy. 2Cor. 4:17
Pray for Mackenzie & Wes and Christine and Wyatt Schrupp as they are expecting new babies. Psalm 71:6
Pray for the police officers and their safety. Pray for our servicemen & women and national Guard who are members or related to members- Dakota, Jeremy, Ty , Ryan, Sam, Michael , Amanda, and Caleb, as well as their families as they are serving. Psalm 91
Pray for this nation. Jeremiah 3:21-22.
Pray for the United Reformed Church of the Congo, the Free Reformed Fellowship of Kenya, the Pearl of the Orient Reformed Church in the Philippines, Rev. Eric Kayayan of Reformed Faith and Life, Rev. Victor D'Assonville of Reformation To Germany, Middle East Reformed Fellowship and Westminster Biblical Missions which we help support with our missions offerings. 2Thess. 3:1
- Further Study -
In the saving of individuals, as well as in the calling of nations, God acts as a sovereign, and gives no account of his matters. J. C. Ryle
God's seed will come to God's harvest. Samuel Rutherford
Next Lord Supper - Sunday November 28 (Pew)
Heidelberg Catechism
Lord's Day 39
104. What does God require in the fifth commandment?
That I show all honor, love, and faithfulness to my father and mother, and to all in authority over me, submit myself with due obedience to all their good instruction and correction, and also bear patiently with their infirmities, since it is God's will to govern us by their hand.
Apostles Creed
I believe in God the Father Almighty, Maker of heaven and earth. And in Jesus Christ, His only-begotten Son, our Lord: who was conceived by the Holy Ghost, born of the virgin Mary, suffered under Pontius Pilate, was crucified, dead, and buried; He descended into hell; the third day He rose from the dead; He ascended into heaven, and sits at the right hand of God the Father Almighty; From there He will come to judge the living and the dead. I believe in the Holy Ghost, the holy, universal Christian church, the communion of saints, the forgiveness of sins, the resurrection of the body, and the life everlasting.
Lord's Prayer
Our Father which art in heaven, hallowed be Thy name. Thy kingdom come. Thy will be done on earth as it is in heaven. Give us this day our daily bread. And forgive us our debts, as we forgive our debtors. Lead us not into temptation, but deliver us from the evil. For Thine is the kingdom and the power and the glory forever. Amen. Lead us not into temptation, but deliver us from the evil. For Thine is the kingdom and the power and the glory forever. Amen.
Blessed to Be a Blessing!
Psalm 67
Introduction:
Proposition: It is an amazing fact that God is determined to bless sinful, rebellious creatures in spite of their sin. While commanded to "ask, seek, and knock" (Mat. 7:7), we must keep in mind that His answer to our prayers has more to do with His purposes than ours (Mat. 6:10). All that we have and are belong to Him (1 Cor. 6:20).
1. Ask for God's blessings
2. Remember the purpose of God's blessings
3. Consider the results of God's blessing
Conclusion:
Picture: Rionchogo Kenya
Bulletin cover, graphics and picture are by Pastor Schnabel.
Let us get to know you!
Please take a moment to send us your information so that we may stay connected with you. Your information is carefully managed and protected.
How did you hear about us?