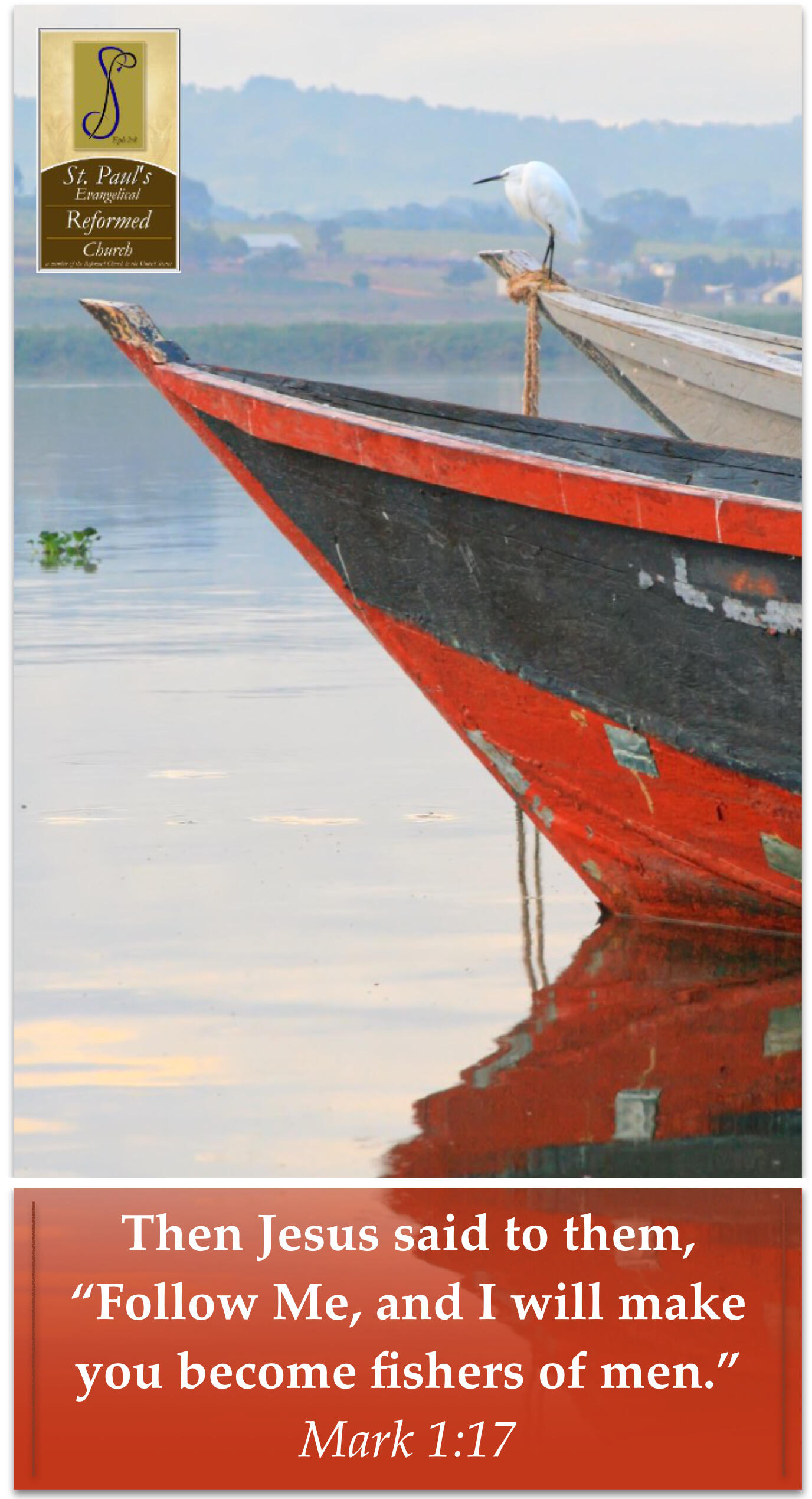 St. Paul's Evangelical Reformed Church
Lord's Day - Sunday November 14, 2021
St. Paul's Evangelical Reformed Church
Pastor Daniel R. Schnabel 15480 County Road 31, Hamburg, MN
By You I have been upheld from birth; You are He who took me out of my mother's womb. My praise shall be continually of You. Psalm 71:6
Lord's Day — November 14th, 2021
Prelude & Piano – Corinne
Ringing of the bell
Welcome & Announcements
Silent Prayer and Call to Worship
• Salutation and Prayer
• Gloria Patri 735
Glory be to the Father and to the Son and to the Holy Ghost; as it was in the beginning, is now and ever shall be, world without end. Amen.
• Confession of Faith- Apostles' Creed
Hymn "Come Let Us Sing Unto The Lord" Psalm 98 16
We Read God's Word: Psalm 22 (H. p. 791)
Heidelberg Catechism - Lord's Day 40
Confession of Sin & Pastoral Prayer w/ Lord's Prayer
Call to Repentance and Assurance of Pardon: "Therefore, as the elect of God, holy and beloved, put on tender mercies, kindness, humility, meekness, longsuffering; bearing with one another, and forgiving one another, if anyone has a complaint against another; even as Christ forgave you, so you also must do. But above all these things put on love, which is the bond of perfection. And let the peace of God rule in your hearts, to which also you were called in one body; and be thankful." Col. 3:12-15
Choir "A Harvest Of Thanksgiving"
Reading: Galatians 1:11-23 (B. p. 1003)
Sermon: Paul: Called To Serve!
Hymn-Offering "We Sing The Glorious Conquest" 483
• Benediction
• Doxology 731
Praise God from whom all blessings flow; praise Him, all creatures here below; praise Him above, ye heavenly host: praise Father, Son, and Holy Ghost. Amen.
• Silent Prayer
• Ringing of the Bell
Postlude
• Those who are able, please stand
Welcome to St. Paul's Evangelical Reformed Church, especially those who are visiting with us. If you are visiting with us for the first time, please fill out a visitor card in the pew or the guest registry in the entryway. But as for me it is good to be near God. Psalm 73:28
- This Week at St. Paul's -
Today Choir & Women's Guild meet after worship.
Tuesday Men's Brotherhood at 7:30 p.m.
Dartball at home vs NYA. At 8:00 p.m.
Wednesday Catechism 5:30 p.m. to 7:00 p.m. Workbook H.C. 67 & 68
Sunday Worship Service at 9:30 a.m.
Sunday School and Bible Study at 8:45 a.m
Choir and New Members Class after worship.
- Announcements -
Today we welcome Mr. Dale who will exhort for Pastor Schnabel as he takes a vacation Sunday. We also thank the Elders for leading the service.
We want to thank Jean and Karen for the fall decorations! Thanks to Lance Kloempken for the corn shocks.
Today is the day of prayer for RCUS Foreign Missions. There is a foreign missions handout which will update you on the various works of the RCUS and also needs. Today's loose offering will go to support Reformed Faith and Life.
The Youth group is accepting donations for the Christmas shoe boxes. These are given to needy families around the world.
Women's Guild has the order form up for the Christmas Poinsettia plants on the bulletin board. They are $12 for a poinsettia and will be red. Poinsettia deadline is Sunday November 21st.
The Women's Guild is sponsoring a drive for the homeless in Minneapolis. They are collecting new or gently used socks, hats, scarf, gloves or mittens. We will have two disbursements one on November 27th and another on December 25.
November is food shelf month! We are collecting non perishable food for the local food shelf.
The Women's Guild sells boxes of cards($5 for a box of twelve) in the entryway.
There are some packets on religious exemptions on the reading table.
- Prayer & Praise & Hospital Notes -
Joyce & Kenny would like to thank everyone for their prayers, cards, calls and well wishes! Philemon 5
"Muggs" , Darv's brother, died last Sunday. Please be in prayer for the family during this time of sorrow yet great hope & confidence in our risen & reigning faithful Lord and Savior Jesus Christ. Psalm 116:15
Ray , Laura's brother, who has a variety of health issues. Psalm 41:3
Pray for the elderly, particularly those in nursing and assisted living homes – Lorna, Bernetta and Dorothy. 2Cor. 4:17
Pray for Mackenzie & Wes and Christine and Wyatt Schrupp as they are expecting new babies. Psalm 71:6
Pray for the police officers and their safety. Pray for our servicemen & women and national Guard who are members or related to members- Dakota, Jeremy, Ty , Ryan, Sam, Michael , Amanda, and Caleb, as well as their families as they are serving. Psalm 91
Pray for this nation. Jeremiah 3:21-22.
Pray for the United Reformed Church of the Congo, the Free Reformed Fellowship of Kenya, the Pearl of the Orient Reformed Church in the Philippines, Rev. Eric Kayayan of Reformed Faith and Life, Rev. Victor D'Assonville of Reformation To Germany, Middle East Reformed Fellowship and Westminster Biblical Missions which we help support with our missions offerings. 2Thess. 3:1
- Further Study -
There is nothing more dangerous than to be weary of the Word. He therefore that is so cold, that he thinks himself to know enough, and begins by little and little to loathe the Word, that man has lost Christ and the Gospel, and that which he thinks himself to know, he attains only by bare speculation. Martin Luther
Let no one boast; for all have sinned. If then, doing well yourself, you are inclined to revile others, consider your own former life, and the uncertainty of the future, and restrain your anger. John Chrysostom
Next Lord Supper - Sunday November 28 (Pew)
Heidelberg Catechism
Lord's Day 40
105. What does God require in the sixth commandment?
That I do not revile, hate, insult, or kill my neighbor either in thought, word, or gesture, much less in deed, whether by myself or by another, but lay aside all desire of revenge; moreover, that I do not harm myself, nor willfully run into any danger. Wherefore also to restrain murder the magistrate is armed with the sword.
106. Does this commandment speak only of killing?
No, but in forbidding murder God teaches us that He abhors its very root, namely, envy, hatred, anger, and desire of revenge; and that in His sight all these are hidden murder.
107. But is this all that is required: that we do not kill our neighbor?
No, for in condemning envy, hatred, and anger, God requires us to love our neighbor as ourselves, to show patience, peace, meekness, mercy, and kindness toward him, and to prevent his hurt as much as possible; also, to do good even unto our enemies.
Apostles Creed
I believe in God the Father Almighty, Maker of heaven and earth. And in Jesus Christ, His only-begotten Son, our Lord: who was conceived by the Holy Ghost, born of the virgin Mary, suffered under Pontius Pilate, was crucified, dead, and buried; He descended into hell; the third day He rose from the dead; He ascended into heaven, and sits at the right hand of God the Father Almighty; From there He will come to judge the living and the dead. I believe in the Holy Ghost, the holy, universal Christian church, the communion of saints, the forgiveness of sins, the resurrection of the body, and the life everlasting.
Lord's Prayer
Our Father which art in heaven, hallowed be Thy name. Thy kingdom come. Thy will be done on earth as it is in heaven. Give us this day our daily bread. And forgive us our debts, as we forgive our debtors. Lead us not into temptation, but deliver us from the evil. For Thine is the kingdom and the power and the glory forever. Amen. Lead us not into temptation, but deliver us from the evil. For Thine is the kingdom and the power and the glory forever. Amen.
Paul: Called To Serve!
Galatians 1:11-23
1. Paul's Calling
2. Paul's contacts in Jerusalem and Judea
Picture: Jinja on Lake Victoria, Uganda
Bulletin cover, graphics and picture are by Pastor Schnabel.
Let us get to know you!
Please take a moment to send us your information so that we may stay connected with you. Your information is carefully managed and protected.
How did you hear about us?