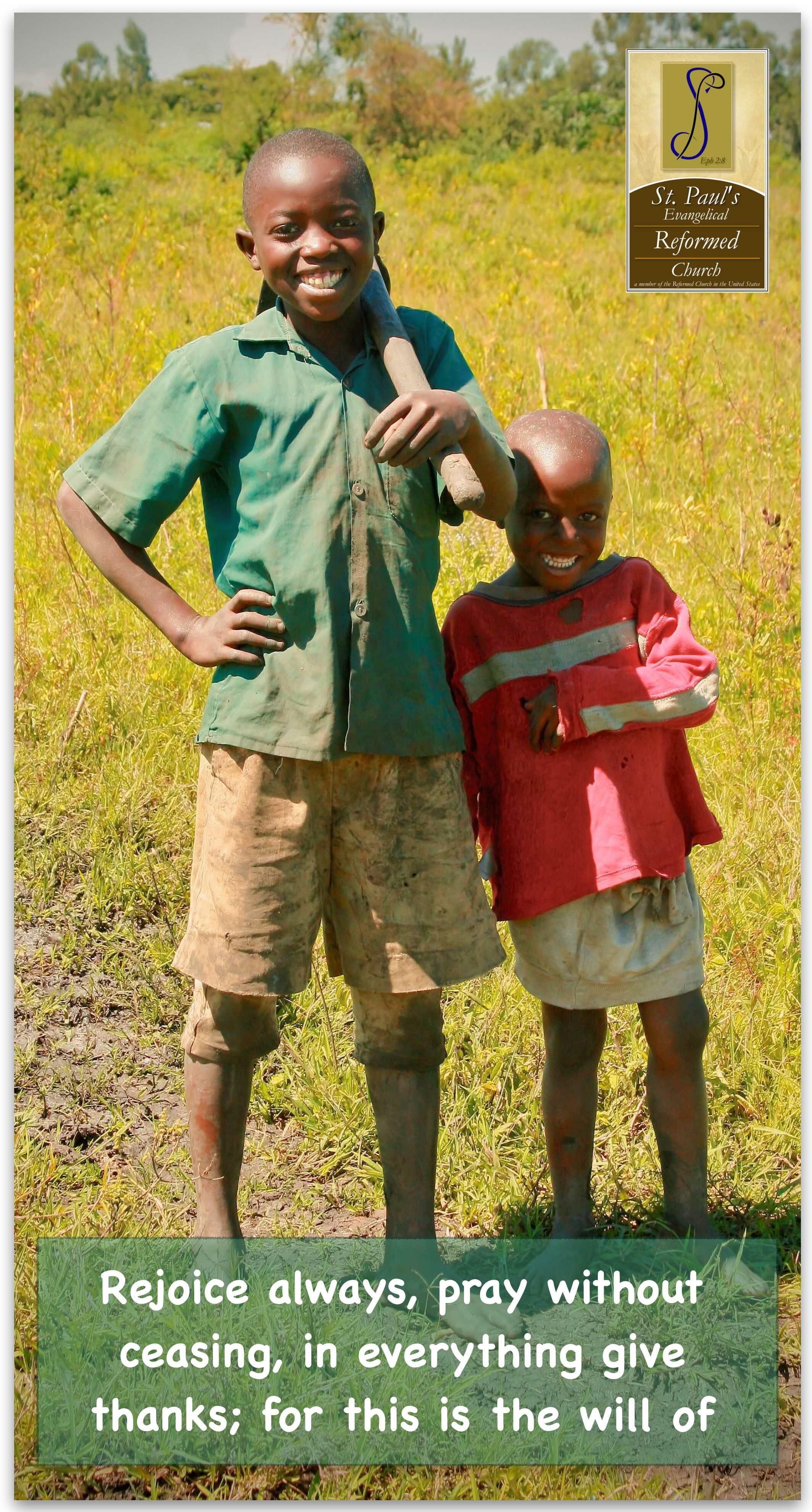 St. Paul's Evangelical Reformed Church
Thanksgiving - November 25th, 2021
St. Paul's Evangelical Reformed Church
Pastor Daniel R. Schnabel 15480 County Road 31, Hamburg, MN
Oh, that men would give thanks to the Lord for His goodness,
And for His wonderful works to the children of men! Psalm 107:8
Thanksgiving — November 25th, 2021
Prelude & Piano – Cambria
Ringing of the bell
Welcome & Announcements
Silent Prayer and Call to Worship
• Salutation and Prayer
• Gloria Patri 735
Glory be to the Father and to the Son and to the Holy Ghost; as it was in the beginning, is now and ever shall be, world without end. Amen.
• Confession of Faith- Apostles' Creed
Hymn "We Gather Together" 363
We Read God's Word: Colossians 3:12-17 (B. p. 1047)
Confession of Sin & Pastoral Prayer w/ Lord's Prayer
Call to Repentance and Assurance of Pardon: Be anxious for nothing, but in everything by prayer and supplication with thanksgiving let your requests be made known to God. And the peace of God, which surpasses all comprehension, shall guard your hearts and your minds in Christ Jesus. Philippians 4:6-7
Hymn "Come, Ye Thankful People, Come" 715
Reading: Psalm 138 (B. p. 554)
Sermon: Give Thankful Praise to God!
Hymn-Offering "Now Thank We All Our God" 98
• Benediction
• Doxology 731
Praise God from whom all blessings flow; praise Him, all creatures here below; praise Him above, ye heavenly host: praise Father, Son, and Holy Ghost. Amen.
• Silent Prayer
• Ringing of the Bell
Postlude
• Those who are able, please stand
Welcome to St. Paul's Evangelical Reformed Church, especially those who are visiting with us. If you are visiting with us for the first time, please fill out a visitor card in the pew or the guest registry in the entryway. But as for me it is good to be near God. Psalm 73:28
- This Week at St. Paul's -
Friday Harbor Bible Study at 9:00 a.m.
Saturday Youth Advent Practice at 9:00 a.m. Christmas Decorating at 10:00 a.m.
Sunday Sunday School and Bible Study at 8:45 a.m
Worship Service at 9:30 a.m.
Choir after worship.
Appetizers at 6:30 p.m.
Advent Service at 7:00 p.m.
- Announcements -
Sunday we will partake of the Lord's Supper (Pew). Please prepare your hearts for this sacrament and remembrance of the Lord Jesus' sacrifice in which He is spiritually present with us to bless those who partake in faith. Please read 1Corinthians 11:23-27
Thank you to the families who donated to Operation Christmas Child this year. We are still accepting donations for the Sunday school material which will be given with the shoeboxes. Your donations covered the cost of packing 24 boxes to children around the world. The Youth Group donated the cost of shipping.
The Women's Guild is sponsoring a drive for the homeless in Minneapolis. They are collecting new or gently used coats, socks, hats, scarf, gloves or mittens. We will have two disbursements one on November 27th and another on December 25.
November is food shelf month! We are collecting non perishable food for the local food shelf.
The Women's Guild sells boxes of cards($5 for a box of twelve) in the entryway.
There are some packets on religious exemptions on the reading table.
- Prayer & Praise & Hospital Notes -
Ryan , Molly's Husband, was hospitalized this past week and is now back home! 1 Peter 5:7
Pray for the elderly, particularly those in nursing and assisted living homes – Lorna, Bernetta and Dorothy. 2Cor. 4:17
Pray for Mackenzie & Wes and Christine and Wyatt Schrupp as they are expecting new babies. Psalm 71:6
Pray for Rev. Johnson, who is recovering from multiple blood clots and a stroke. Psalm 18:1-2
Pray for the police officers and their safety. Pray for our servicemen & women and national Guard who are members or related to members- Dakota, Jeremy, Ty , Ryan, Sam, Michael , Amanda, and Caleb, as well as their families as they are serving. Psalm 91
Pray for this nation. Jeremiah 3:21-22.
Pray for the United Reformed Church of the Congo, the Free Reformed Fellowship of Kenya, the Pearl of the Orient Reformed Church in the Philippines, Rev. Eric Kayayan of Reformed Faith and Life, Rev. Victor D'Assonville of Reformation To Germany, Middle East Reformed Fellowship and Westminster Biblical Missions which we help support with our missions offerings. 2Thess. 3:1
- Further Study -
The measure of our spirituality is the amount of praise and thanksgiving in our prayer. D. Martyn Lloyd-Jones
The essence of Christian ethics is gratitude. R. C. Sproul
Every furrow in the book of Psalms is sown with the seeds of thanksgiving. Jeremy Taylor
Hearty thanks must be given to God: such as cometh not from the roof of the mouth but the root of the heart.
John Trapp
Those blessings are sweetest that are won with prayers and worn with thanks. Thomas Goodwin
It ought to be as habitual to us to thank as to ask.
C. H. Spurgeon
Next Lord Supper - Sunday November 28 (Pew)
Thanksgiving Proclamation
By the President of the United States of America. a Proclamation.
Whereas it is the duty of all Nations to acknowledge the providence of Almighty God, to obey his will, to be grateful for his benefits, and humbly to implore his protection and favor—and whereas both Houses of Congress have by their joint Committee requested me "to recommend to the People of the United States a day of public thanksgiving and prayer to be observed by acknowledging with grateful hearts the many signal favors of Almighty God especially by affording them an opportunity peaceably to establish a form of government for their safety and happiness."
Now therefore I do recommend and assign Thursday the 26th day of November next to be devoted by the People of these States to the service of that great and glorious Being, who is the beneficent Author of all the good that was, that is, or that will be—That we may then all unite in rendering unto him our sincere and humble thanks—for his kind care and protection of the People of this Country previous to their becoming a Nation—for the signal and manifold mercies, and the favorable interpositions of his Providence which we experienced in the course and conclusion of the late war—for the great degree of tranquillity, union, and plenty, which we have since enjoyed—for the peaceable and rational manner, in which we have been enabled to establish constitutions of government for our safety and happiness, and particularly the national One now lately instituted—for the civil and religious liberty with which we are blessed; and the means we have of acquiring and diffusing useful knowledge; and in general for all the great and various favors which he hath been pleased to confer upon us.
and also that we may then unite in most humbly offering our prayers and supplications to the great Lord and Ruler of Nations and beseech him to pardon our national and other transgressions—to enable us all, whether in public or private stations, to perform our several and relative duties properly and punctually—to render our national government a blessing to all the people, by constantly being a Government of wise, just, and constitutional laws, discreetly and faithfully executed and obeyed—to protect and guide all Sovereigns and Nations (especially such as have shewn kindness unto us) and to bless them with good government, peace, and concord—To promote the knowledge and practice of true religion and virtue, and the increase of science among them and us—and generally to grant unto all Mankind such a degree of temporal prosperity as he alone knows to be best.
Given under my hand at the City of New-York the third day of October in the year of our Lord 1789. George Washington
Apostles Creed
I believe in God the Father Almighty, Maker of heaven and earth. And in Jesus Christ, His only-begotten Son, our Lord: who was conceived by the Holy Ghost, born of the virgin Mary, suffered under Pontius Pilate, was crucified, dead, and buried; He descended into hell; the third day He rose from the dead; He ascended into heaven, and sits at the right hand of God the Father Almighty; From there He will come to judge the living and the dead. I believe in the Holy Ghost, the holy, universal Christian church, the communion of saints, the forgiveness of sins, the resurrection of the body, and the life everlasting.
Give Thankful Praise To God!
Psalm 138
We have many reasons to personally give God thankful praise!
We must give thanks to encourage others to join in what one day will be universal thankful praise!
We must give thanks trusting God will continue His work till it's complete!
Picture: Countryside Mbale, Uganda
Bulletin cover, graphics and picture are by Pastor Schnabel.
Let us get to know you!
Please take a moment to send us your information so that we may stay connected with you. Your information is carefully managed and protected.
How did you hear about us?