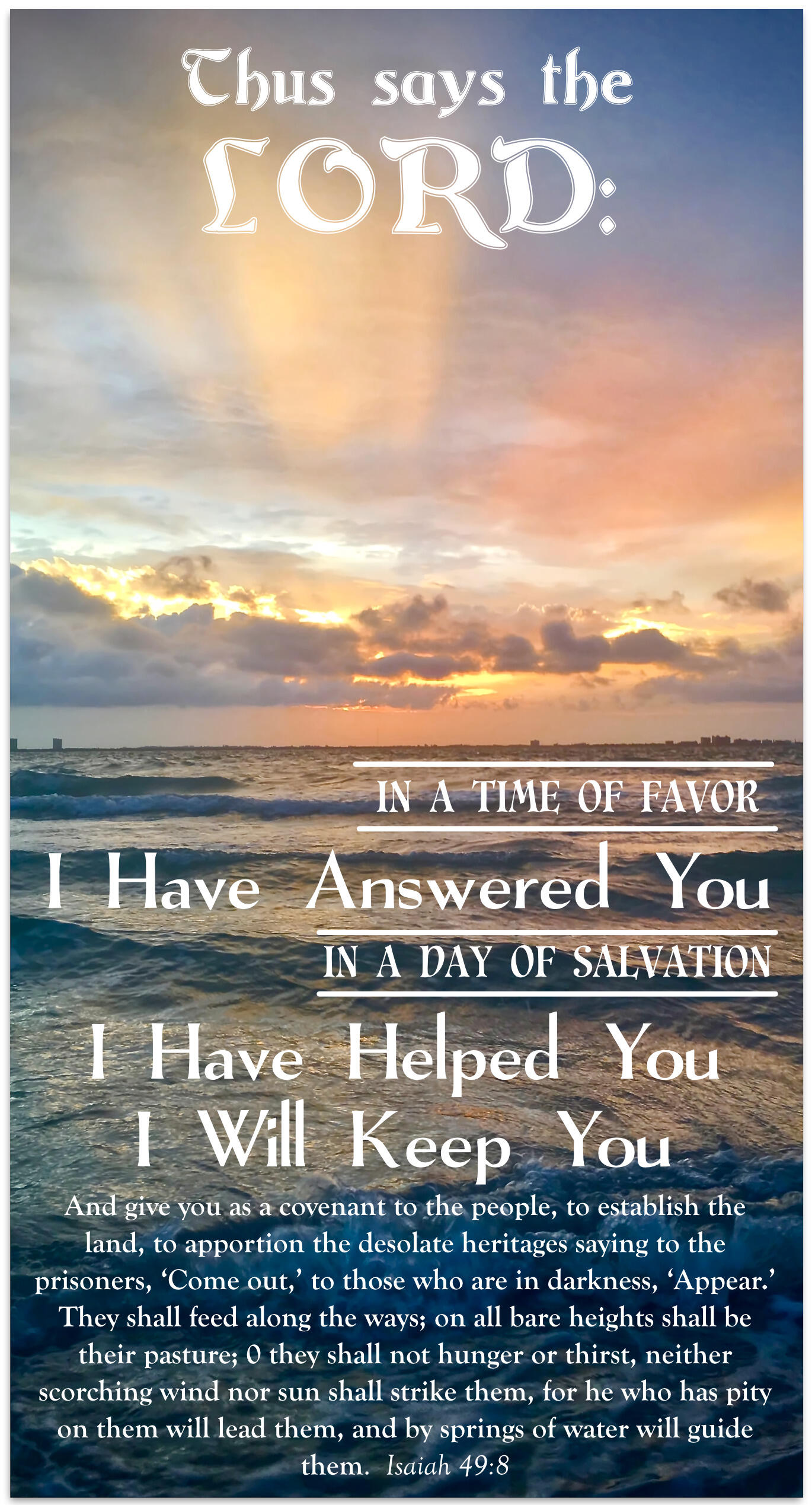 St. Paul's Ev. Reformed Church (RCUS)
Lord's Day - December 5, 2021
St. Paul's Evangelical Reformed Church
Pastor Daniel R. Schnabel 15480 County Road 31, Hamburg, MN
Therefore, since we are receiving a kingdom which cannot be shaken, let us have grace, by which we may serve God acceptably with reverence and godly fear. For our God is a consuming fire. Hebrews 12:28-29
Lord's Day — December 5, 2021
Prelude & Piano – Dana
Ringing of the bell
Welcome & Announcements
Silent Prayer and Call to Worship
• Salutation and Prayer
• Gloria Patri 735
Glory be to the Father and to the Son and to the Holy Ghost; as it was in the beginning, is now and ever shall be, world without end. Amen.
• Confession of Faith- Apostles' Creed
Hymn "Silent Night" 210
We Read God's Word: Matthew 6:19-34 (B. p. 68)
Heidelberg Catechism - Lord's Day 42
Confession of Sin & Pastoral Prayer w/ Lord's Prayer
Call to Repentance and Assurance of Pardon: "For the grace of God that brings salvation has appeared to all men, teaching us that, denying ungodliness and worldly lusts, we should live soberly, righteously, and godly in the present age, looking for the blessed hope and glorious appearing of our great God and Savior Jesus Christ, who gave Himself for us, that He might redeem us from every lawless deed and purify for Himself His own special people, zealous for good works. Titus 2:11-14
Choir "Advent Hymn" (John 1:14)
Reading: 1 Kings 18:20-40 (B. p. 322)
Sermon: Who Will You Worship & Serve!
Hymn-Offering "Joy To The World" 195
• Benediction
• Doxology 731
Praise God from whom all blessings flow; praise Him, all creatures here below; praise Him above, ye heavenly host: praise Father, Son, and Holy Ghost. Amen.
• Silent Prayer
• Ringing of the Bell
Postlude
• Those who are able, please stand
Welcome to St. Paul's Evangelical Reformed Church, especially those who are visiting with us. If you are visiting with us for the first time, please fill out a visitor card in the pew or the guest registry in the entryway. But as for me it is good to be near God. Psalm 73:28
- This Week at St. Paul's -
Today Choir after worship.
Women's Guild Christmas Party at 11:30 p.m.
Tuesday Dartball at Mayer at 8:00 p.m.
Wednesday No Catechism
Special Classis meeting
Sunday Sunday School and Bible Study at 8:45 a.m
Worship Service at 9:30 a.m.
Brotherhood Christmas party at 6:00 p.m.
- Announcements -
Bulletin today is sponsored by Lowell's family in honor of his birthday and thanksgiving to God!
As we come to the close of the year the cut off for reimbursement is Sunday December 12th. If you have done work for the church or will before the end of the year, or you have things you purchased on behalf of the church, even if you want you're tithe to count towards this years numbers(taxable year will be the end of the year as normal) on the annual report, please get those to the deacons by the 12th.
December 12th is nominations Sunday to nominate godly men for the office of elder and deacons. Please read 1 Timothy 3 and the guidelines God gives for those in leadership. Also included on the ballot is any issues you would like brought up or voted on at the annual meeting.
The Women's Guild is sponsoring a drive for the homeless in Minneapolis. They are collecting new or gently used socks, hats, scarf, gloves or mittens. We will disburse this on December 25.
The Women's Guild sells boxes of cards($5 for a box of twelve) in the entryway.
There are some packets on religious exemptions on the reading table.
-Prayer & Praise & Hospital Notes -
Congratulations to Christine and Wyatt on the birth of their new son! - Psalm 127:3
Jacob as he recovers from surgery for appendicitis. Psalm 30:2
Linda as sores on her ankle and leg heal. Psalm 6:2
Rev. Vriessen died this past Sunday. Please keep his family in your prayers during this time of trial and yet joy in our risen and ascended Lord and Savior Jesus Christ. 1 Peter 1:13
Pray for the elderly, particularly those in nursing and assisted living homes – Lorna, Bernetta and Dorothy. 2Cor. 4:17
Pray for Mackenzie & Wes as they are expecting new babies. Psalm 71:6
Pray for Rev. Johnson, who is recovering from multiple blood clots and a stroke. Psalm 18:1-2
Pray for the police officers and their safety. Pray for our servicemen & women and national Guard who are members or related to members- Dakota, Jeremy, Ty , Ryan, Sam, Michael , Amanda, and Caleb, as well as their families as they are serving. Psalm 91
Pray for this nation. Jeremiah 3:21-22.
Pray for the United Reformed Church of the Congo, the Free Reformed Fellowship of Kenya, the Pearl of the Orient Reformed Church in the Philippines, Rev. Eric Kayayan of Reformed Faith and Life, Rev. Victor D'Assonville of Reformation To Germany, Middle East Reformed Fellowship and Westminster Biblical Missions which we help support with our missions offerings. 2Thess. 3:1
- Further Study -
It is not lawful for you to make a compromise with God: to try to fulfill part of your duties, and to omit others at your own pleasure.
John Calvin
To do what others do when, deep down, one knows it is wrong is moral cowardice, which does not lessen guilt but increases it.
J. I. Packer
It is perhaps the greatest sin of the greatest number of Christians that in so many details of life they put God second. Dr. John Blanchard
May God save us from intermittent religion! C. H. Spurgeon
Next Lord Supper - Sunday December 26 (Table)
Heidelberg Catechism
Lord's Day 42
110. What does God forbid in the eighth commandment?
God forbids not only such theft and robbery as are punished by the government, but God views as theft also all wicked tricks and devices, whereby we seek to get our neighbor's goods, whether by force or by deceit, such as unjust weights, lengths, measures, goods, coins, usury, or by any means forbidden of God; also all covetousness and the misuse and waste of His gifts.
111. But what does God require of you in this commandment?
That I further my neighbor's good where I can and may, deal with him as I would have others deal with me, and labor faithfully, so that I may be able to help the poor in their need.
Apostles Creed
I believe in God the Father Almighty, Maker of heaven and earth. And in Jesus Christ, His only-begotten Son, our Lord: who was conceived by the Holy Ghost, born of the virgin Mary, suffered under Pontius Pilate, was crucified, dead, and buried; He descended into hell; the third day He rose from the dead; He ascended into heaven, and sits at the right hand of God the Father Almighty; From there He will come to judge the living and the dead. I believe in the Holy Ghost, the holy, universal Christian church, the communion of saints, the forgiveness of sins, the resurrection of the body, and the life everlasting.
Lord's Prayer
Our Father which art in heaven, hallowed be Thy name. Thy kingdom come. Thy will be done on earth as it is in heaven. Give us this day our daily bread. And forgive us our debts, as we forgive our debtors. Lead us not into temptation, but deliver us from the evil. For Thine is the kingdom and the power and the glory forever. Amen. Lead us not into temptation, but deliver us from the evil. For Thine is the kingdom and the power and the glory forever. Amen.
Who Will You Worship & Serve!
1 Kings 18:20-40
Never Forget:
1. The true & living God does not accept man's neutrality!
2. The True and living God is the God of power and grace!
He provides and accept the sacrifice for sinners!
He answers prayer!
He graciously changes hearts!
Picture: Sanibel Island, Florida.
Bulletin cover, graphics and picture are by Pastor Schnabel.
Let us get to know you!
Please take a moment to send us your information so that we may stay connected with you. Your information is carefully managed and protected.
How did you hear about us?