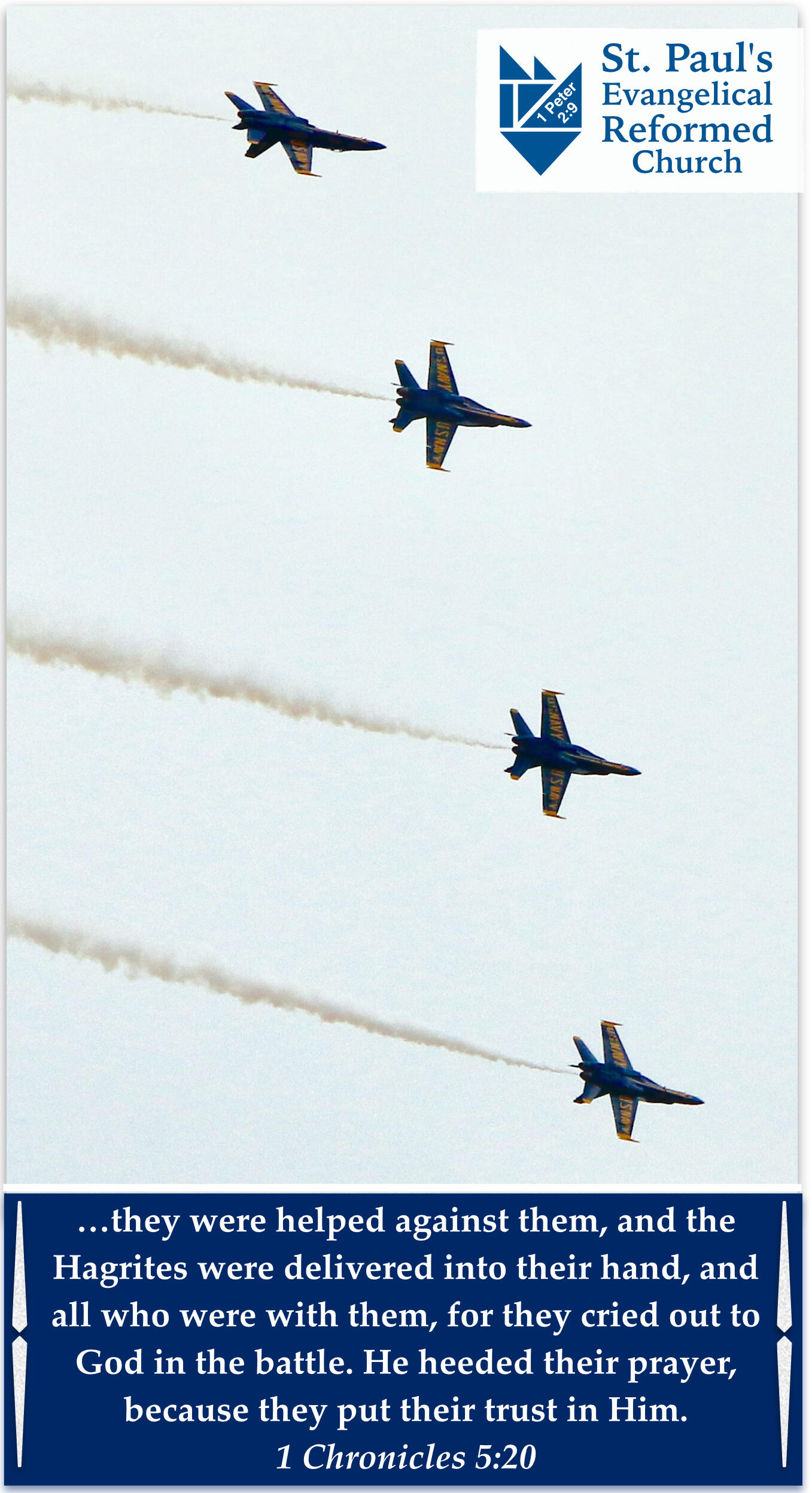 St. Paul's Evangelical Reformed Church
Lord's Day - January 9th, 2022
St. Paul's Evangelical Reformed Church
Pastor Daniel R. Schnabel 15480 County Road 31, Hamburg, MN
Be anxious for nothing, but in everything by prayer and supplication, with thanksgiving, let your requests be made known to God; and the peace of God, which surpasses all understanding, will guard your hearts and minds through Christ Jesus. Philippians 4:6
Lord's Day — January 9, 2022
Prelude & Piano – Sandy
Ringing of the bell
Welcome & Announcements
Silent Prayer and Call to Worship
• Salutation and Prayer
• Gloria Patri 735
Glory be to the Father and to the Son and to the Holy Ghost; as it was in the beginning, is now and ever shall be, world without end. Amen.
• Confession of Faith- Apostles' Creed
Hymn "Our God Our Help In Ages Past" (Psalm 90) 30
We Read God's Word: Matthew 18:1-14 (Bible p. 927)
Heidelberg Catechism - Lord's Day 2
Confession of Sin & Pastoral Prayer w/ Lord's Prayer
Call to Repentance and Assurance of Pardon: But, beloved, do not forget this one thing, that with the Lord one day is as a thousand years, and a thousand years as one day, The Lord is not slack concerning His promise, as some count slackness, but is longsuffering toward us, not willing that any should perish but that all should come to repentance. 2 Peter 3:8-9
• Hymn "What A Friend We Have in Jesus" 629
Reading: 1 Kings 18:41-46 (B. p. 323)
Sermon: Praying For What God Promises!
Hymn-Offering "Come, My Soul, Thy Suit Prepare" 628
• Benediction
• Doxology 731
Praise God from whom all blessings flow; praise Him, all creatures here below; praise Him above, ye heavenly host: praise Father, Son, and Holy Ghost. Amen.
• Silent Prayer
• Ringing of the Bell
Postlude
• Those who are able, please stand
Welcome to St. Paul's Evangelical Reformed Church, especially those who are visiting with us. If you are visiting with us for the first time, please fill out a visitor card in the pew or the guest registry in the entryway. May our gracious Lord draw near to you wonderfully in this worship service today as He gathers us as sinners, loving us through His grace. May you be blessed through the worship of our most high God as we reflect upon His sovereign goodness(Rom. 9:11) and grace to us through Jesus Christ our Lord and savior(Acts 4:12), as well as the gift of the Holy Spirit(1 Cor.12:3).
- This Week at St. Paul's -
Today Choir after worship.
Tuesday Dartball at Benton at 8:00 p.m.
Wednesday Catechism 5:30 p.m. to 6:30 p.m. Workbook H.C. 68 & 69
Consistory at 7:00 p.m.
Sunday Sunday School and Bible Study at 8:45 a.m
Worship Service at 9:30 a.m.
Choir after worship
- Announcements -
Thanks to those who came and helped clean up the Christmas decorations yesterday - Alan, Jeanie, Karen, Mike, Curtis & Shirley and Pastor.
Thanks to all who made donations for the homeless which Connie organized! They were able to help many people!
Please make any updates to the church directory which is on the table by the stairs in the entry way.
You can pick up poinsettias from the kitchen.
Annual Meeting will be after church on January 23rd. We will vote on adding the following statement to the Constitution Section 20 on the Cemetery, Article 3: Burial of a member should take place in a cemetery as soon as possible, unless providentially hindered (1 Corinthians 15:4,35-38, Genesis 15:15; 49:31). We have been asked to discuss the extra worship services. We also would like to discuss rules for service cancelations as well as the Scholarship Fund By Laws. We are also taking bids for the lawn care! We want to thank Richie for his many years of service in mowing as well as Shelby who also did it last year.
The Women's Guild sells boxes of cards($5 for a box of twelve) in the entryway.
There are some packets to help write a religious exemptions on the reading table.
Lorna has been moved to the Haven section of the village. Is 49:15
Pray for Pastor Schnabel and Pastor Kron as they travel this week to help in another church. Psalm 122:6
Linda as sores on her ankle and leg heal. Psalm 6:2
Pray for the elderly, particularly those in nursing and assisted living homes – Lorna, Bernetta and Dorothy. 2Cor. 4:17
Pray for Mackenzie & Wes as they are expecting a new baby. Psalm 71:6
Pray for Rev. Johnson, who is recovering from multiple blood clots and a stroke. Psalm 18:1-2
Pray for the police officers and their safety. Pray for our servicemen & women and national Guard who are members or related to members- Dakota, Jeremy, Ty , Ryan, Sam, Michael , Amanda, and Caleb, as well as their families as they are serving. Psalm 91
Pray for this nation. Jeremiah 3:21-22.
Pray for the United Reformed Church of the Congo, the Free Reformed Fellowship of Kenya, the Pearl of the Orient Reformed Church in the Philippines, Rev. Eric Kayayan of Reformed Faith and Life, Rev. Victor D'Assonville of Reformation To Germany, Middle East Reformed Fellowship and Westminster Biblical Missions which we help support with our missions offerings. 2Thess. 3:1
- Further Study -
The mightier any is in the Word, the more mighty he will be in prayer. William Gurnall
What the Church needs today is not more machinery or better, not new organizations or more and novel methods, but men whom the Holy Ghost can use—men of prayer, men mighty in prayer. The Holy Ghost does not flow through methods, but through men. He does not come on machinery, but on men. He does not anoint plans, but men—men of prayer. EM Bounds
Faith is to prayer what the feather is to the arrow: without it prayer will not hit the mark. J.C. Ryle
Heidelberg Catechism
Lord's Day 2
3. From where do you know your misery?
From the Law of God.
4. What does the Law of God require of us?
Christ teaches us in sum, Matthew 22, "You shall love the Lord your God with all your heart, with all your soul, and with all your mind. This is the first and great commandment. And the second is like it: You shall love your neighbor as yourself. On these two commandments hang all the Law and the Prophets."
5. Can you keep all this perfectly?
No, for I am prone by nature to hate God and my neighbor.
Apostle's Creed
I believe in God the Father Almighty, Maker of heaven and earth. And in Jesus Christ, His only-begotten Son, our Lord: who was conceived by the Holy Ghost, born of the virgin Mary, suffered under Pontius Pilate, was crucified, dead, and buried; He descended into hell; the third day He rose from the dead; He ascended into heaven, and sits at the right hand of God the Father Almighty; From there He will come to judge the living and the dead. I believe in the Holy Ghost, the holy, universal Christian church, the communion of saints, the forgiveness of sins, the resurrection of the body, and the life everlasting.
Lord's Prayer
Our Father, who art in heaven, hallowed be thy Name, thy kingdom come, thy will be done, on earth as it is in heaven. Give us this day our daily bread. And forgive us our debts, as we forgive our debtors. And lead us not into temptation, but deliver us from evil. For thine is the kingdom, and the power, and the glory, for ever and ever. Amen.
Praying For What God Promises!
1 Kings 18:41-46
1. Praying God's promises is the most important thing we can do!
2. We must pray God's promises, humbly and persistently!
3. We pray God's promises, because God is all powerful!
Picture: Sioux Falls SD, The Blue Angels.
Bulletin cover, graphics and picture are by Pastor Schnabel.
Let us get to know you!
Please take a moment to send us your information so that we may stay connected with you. Your information is carefully managed and protected.
How did you hear about us?