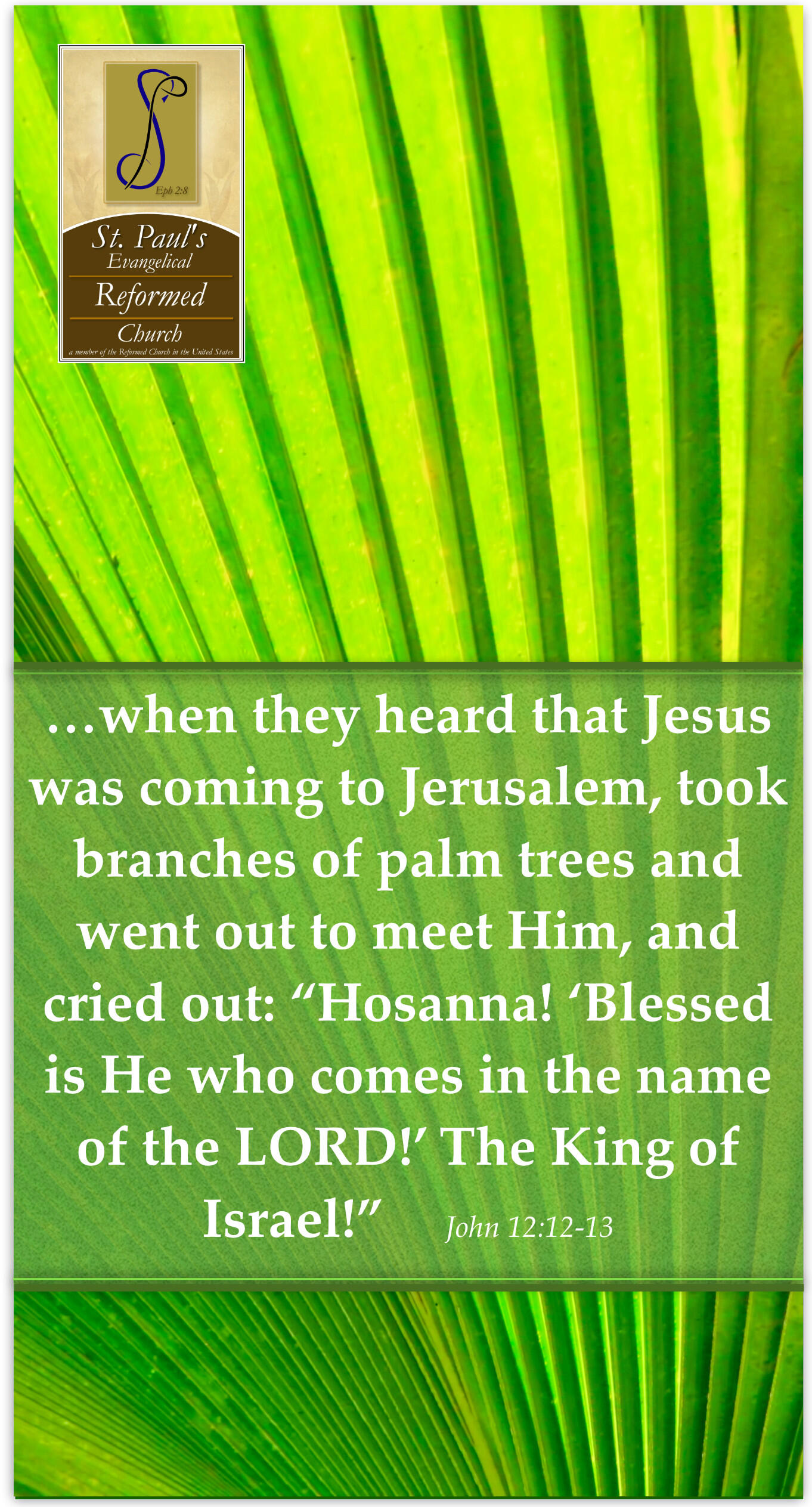 St. Paul's Evangelical Reformed Church
Lord's Day - April 10th, 2022
St. Paul's Evangelical Reformed Church
Pastor Daniel R. Schnabel 15480 County Road 31, Hamburg, MN
After these things I looked, and behold, a great multitude which no one could number, of all nations, tribes, peoples, and tongues, standing before the throne and before the Lamb, clothed with white robes, with palm branches in their hands, and crying out with a loud voice, saying, "Salvation belongs to our God who sits on the throne, and to the Lamb!" Revelation 7:9-10
Lord's Day — April 10, 2022
Prelude & Piano – Corinne
Ringing of the bell
Welcome & Announcements
Silent Prayer and Call to Worship
• Salutation and Prayer
• Gloria Patri 735
Glory be to the Father and to the Son and to the Holy Ghost; as it was in the beginning, is now and ever shall be, world without end. Amen.
• Confession of Faith- Apostles' Creed
Hymn "All Glory Laud and Honor" 235
We Read God's Word: Exodus 20:1-17 (B. 68)
Confession of Sin & Pastoral Prayer w/ Lord's Prayer
Call to Repentance and Assurance of Pardon: He who covers his sins will not prosper, But whoever confesses and forsakes them will have mercy. Proverbs 28:13
Choir "Yet Not I But Through Christ In Me"
Reading: John 17:6-13 (B. p. 985)
Sermon: Christ's High Priestly Prayer: For Even Us as His Disciples!
Confirmation Vows & Confession of Faith
Hymn-Offering "O Sacred Head Now wounded" 247
• Benediction
• Doxology 731
Praise God from whom all blessings flow; praise Him, all creatures here below; praise Him above, ye heavenly host: praise Father, Son, and Holy Ghost. Amen.
• Silent Prayer
• Ringing of the Bell
Postlude
• Those who are able, please stand
Welcome to St. Paul's Evangelical Reformed Church, especially those who are visiting with us. If you are visiting with us for the first time, please fill out a visitor card in the pew or the guest registry in the entryway. But as for me it is good to be near God. Psalm 73:28
- This Week at St. Paul's -
Tuesday Peace Villa Bible Study at 10:00 a.m.
Men's Brotherhood at 7:30 p.m.
Wednesday No Catechism
Thursday Maundy Thursday Worship Service at 7:00 p.m.
Friday Feed My Starving Children at 9:00 a.m.
Good Friday Worship Service at 7:00 p.m.
Saturday Youth Group & Catechism Sunrise practice at 9 a.m.
Sunday Sunrise Service at 7:00 a.m.
Breakfast - served by the Youth Group & Parents
Sunday School & Bible Study 8:45 a.m.
Worship Service at 9:30 a.m.
- Announcements -
Thursday(Pew), Friday(Table) and Sunday(Table) we will partake of the Lord's Supper. Please prepare your hearts for this sacrament and remembrance of the Lord Jesus' sacrifice in which He is spiritually present with us to bless those who partake in faith. Please read 1 Corinthians 11:23-27
We will be having an outdoor service yet this spring when the weather gets better.
Youth group is packing meals at Feed My Starving Children in Chanhassen on April 15th from 9:00 a.m. to 10:30 a.m. Members of the congregation are also invited to join the youth group. Since it's Good Friday, there is a special fundraiser donation requested by Feed My Starving Children of $52 per person. The youth group members are taken care of for this donation. If interested talk to Carol or Corrine!
Women's Guild is collecting clean gently used white t-shirts and white bedsheets. Much of this will get made into bandages for Global Health Ministries.
Care Ministry sign up sheet is on the bulletin board!
The Women's Guild sells boxes of cards($5 for a box of twelve) in the entryway.
Some have asked if we can give something to help with Christians in the Ukraine. The Orthodox Presbyterian church has a missionary in Ukraine, so we can collect offerings and channel them through the OPC. Rev. Hacquebord serves in Ukraine.
Heidelberg Seminary has been training men in the Philippines and now have started to train men for the pastorate in Africa through online classes. Those interested in helping with either of these would be appreciated.
- Confirmation Class 2022 -
Isaiah - Isaiah 43:11
Luke - John 15:5
Matthew - Psalm 103:13
Micaiah - Philippians 1:6
- Prayer & Praise & Hospital Notes -
Happy Birthday to LaVonne, Jim , and Dana ! Acts 17:25
Joel's Family would like to thank everyone for their prayers, cards and calls as well as they're helping at the funeral! Eph 1:5-6
Howard and Mavis would like to thank everyone for their prayers, calls and cards during their recent trials! Col. 1:3
Jacob and his family as they face incredible stress in their current trials. Psalm 23
Debbie as she will get a biopsy this week. Psalm 143:9
Pray for Luke (11 year old son of Dan & Rhonda at Heritage Reformed in Waymart, PA). He is 11 years old and has been wrestling with a very rare form of liver cancer. He has been through one bout of chemo last year and his numbers are going up again. Psalm 71:6
Pray for the Ukraine & Ethiopia and particularly the Christians there who have not been able to escape the fighting. Etheopia is in a civil war with over 500,000 dead in the last couple of years. Matthew 24:6
Pray for the elderly, particularly those in nursing and assisted living homes – Lorna, Bernetta and Dorothy. 2Cor. 4:17
Rev. Lee Johnson is slowly improving he is walking with a cane and still struggles to speak. Psalm 18:1-2
Pray for the police officers and their safety. Pray for our servicemen & women and national Guard who are members or related to members- Dakota, Jeremy, Ty , Ryan, Sam, Michael , Amanda, and Caleb, as well as their families as they are serving. Psalm 91
Pray for Christ's church and this nation. Pray for the Covenant East Classis and this denomination. Matthew 16:18, Philippians 1:20, Jeremiah 3:21-22.
Pray for the Foreign Missions Committee which is meeting this week. Matthew 28:19
Pray for this nation. Jeremiah 3:21-22.
Pray for the United Reformed Church of the Congo, the Free Reformed Fellowship of Kenya, the Pearl of the Orient Reformed Church in the Philippines, Rev. Eric Kayayan of Reformed Faith and Life, Rev. Victor D'Assonville of Reformation To Germany, Middle East Reformed Fellowship and Westminster Biblical Missions which we help support with our missions offerings. 2Thess. 3:1
The Catechism & Confirmation
For some, the catechism and confirmation are strange, misunderstood or even misapplied. We as Christians recognize God has given us a great deal of information in His word (2 Tim. 3:16-17) about Himself, who He is, His doctrine (2Tim. 4:2), how we worship Him(Lev. 10:3) and live(Heb. 12:28) before Him. This is the most important information in the world (John 17:3).
The purpose of the catechism is to instruct us by God's word concerning salvation by grace through faith in Christ alone (Eph. 2:8-10) and the proper grateful response of a Christian's life(1Thess. 5:18). Catechization is an efficient means of learning biblical truth while encouraging a unity of common belief(Phil. 2:1-3). The word for catechism comes from the God's word (Luke 1:4) and it means to echo back instruction. This is how we teach our children encouraging say "dadda" or "mamma." Should n't we encourage them to speak to and about their Heavenly Father(Gen. 18:19)? This instructing includes convincing about the facts (1Pet. 3:15) of God. While some say "no creed but Christ" the reality is that the church has always been confessing Christ and His teaching (Rom. 10:8-11) and using scripture to address fundamental problems (1 John 4: 1-3). Biblical creeds separate the church from cults and those who twist God's word(2 Pet. 3:16).
The church has two sacraments instituted by Christ himself. The Lord's Supper takes the place of Passover, since Christ fulfills it as "the lamb of God" (John 1:36). The other sacrament is baptism. Infant baptism like circumcision is for believers and their children (Gen. 17:7, Matt. 19:14, Acts 2:39; 16:15, 1Cor. 1:16). Adult baptism is for those coming to faith(Phil. 1:29) in Christ from outside the church. God also calls children of believers as Holy or set apart for Him (1Cor. 7:14, Ex. 4:24-26). Being outwardly members of God's covenant and people, children of believers receive not only the sign of covenant possession, but also instruction from the Lord (Eph. 6:1, Col. 3:20). Since Christ has shed His blood for our sins, the bloodless sign of baptism, replaces circumcision(Col. 2:11-14) as a covenant sign. Sacraments do not save, but as signs and seals of grace, they encourage our faith in God's sovereign promises in Christ, His righteousness and sacrifice for our sins. Besides sacraments, the church also has rites of marriage(1Cor. 7:2), ordination(1Tim. 4:14) and confirmation. Confirmation does not save but was a practice of the church to joyfully acknowledge God's promise of salvation, signified and sealed to them in baptism, upon an age of understanding and personal commitment. Confirmation is the opportunity to follow our Lord's example, for God submitted Him to what became known as a "bar mitzvah" (Ezekiel 44:4-9) to be examined (Luke 2:46-47) before the church. While parents have the primary responsibility for the spiritual nourishment of their children (Deut. 6:7 & Eph. 6:4) the church is to come along side, to minister to these children (Matt. 28:20). Confirmation is the time for covenant youth to first learn then publicly confess (2Cor. 13:5, 2Pet. 1:10-11) faith (Rom. 4:5) and repentance (2Cor. 7:10) as they embrace God's covenant promises for themselves. This confession must continue all their life long (Acts 14:22, Col. 1:23). Confirmation also opens the door to right participation in the Lord's Supper (1Cor. 11: 27-29). Our prayer is that our faithful God (Jer. 32:38-40) has sovereignly worked in the conferment's hearts to truly say "Jesus is Lord" (1Cor. 12:3) and may make them persevere in that confession (Matt. 10:32) all their life long. As Philippians 1:6 encourages "being confident of this, that he who began a good work in you will carry it on to completion until the day of Christ Jesus."
Apostle's Creed
I believe in God the Father Almighty, Maker of heaven and earth. And in Jesus Christ, His only-begotten Son, our Lord: who was conceived by the Holy Ghost, born of the virgin Mary, suffered under Pontius Pilate, was crucified, dead, and buried; He descended into hell; the third day He rose from the dead; He ascended into heaven, and sits at the right hand of God the Father Almighty; From there He will come to judge the living and the dead. I believe in the Holy Ghost, the holy, universal Christian church, the communion of saints, the forgiveness of sins, the resurrection of the body, and the life everlasting.
Lord's Prayer
Our Father, who art in heaven, hallowed be thy Name, thy kingdom come, thy will be done, on earth as it is in heaven. Give us this day our daily bread. And forgive us our debts, as we forgive our debtors. And lead us not into temptation, but deliver us from evil. For thine is the kingdom, and the power, and the glory, for ever and ever. Amen.
Christ's High Priestly Prayer:
For The Triune God's Glory!
John 17:1-5
1. Christian be encouraged by who is Jesus praying for!
2. Christian be encouraged by what is He praying for!
Our security in our Triune God!
For our Joy in Triune God!
Picture: Uganda, Jinja
Bulletin cover, photograph and graphics are by Pastor Schnabel.
Let us get to know you!
Please take a moment to send us your information so that we may stay connected with you. Your information is carefully managed and protected.
How did you hear about us?