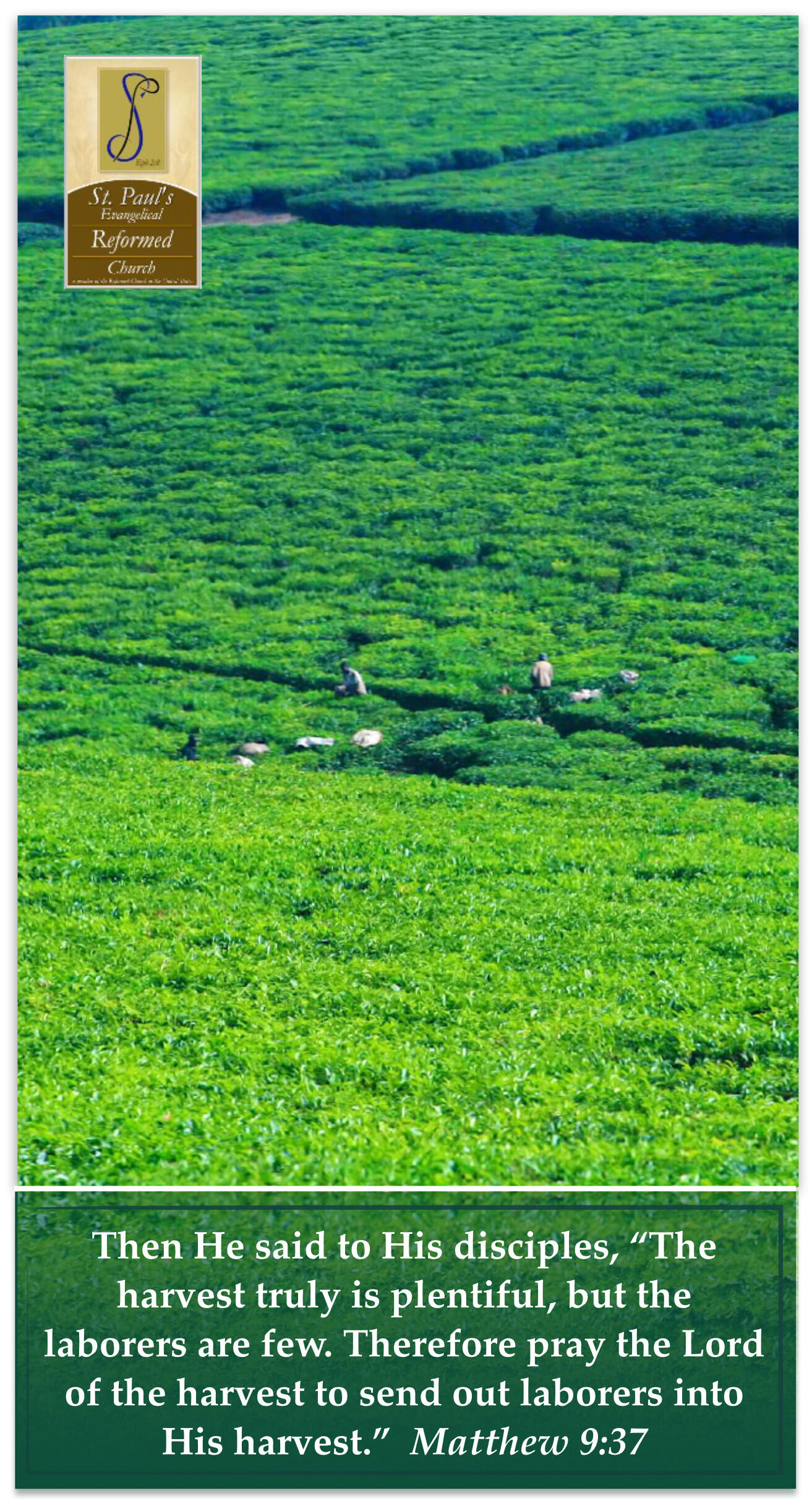 St. Paul's Evangelical Reformed Church
Lord's Day - June 26, 2022
St. Paul's Evangelical Reformed Church
Pastor Daniel R. Schnabel 15470 County Road 31, Hamburg, MN
The Lord is good, A stronghold in the day of trouble; And He knows those who trust in Him. Nahum 1:7
The Lords' Day - June 26, 2022
Prelude & Piano – Sandy
Ringing of the bell
Welcome & Announcements
Silent Prayer and Call to Worship
Salutation and Prayer
• Gloria Patri 735
Glory be to the Father and to the Son and to the Holy Ghost; as it was in the beginning, is now and ever shall be, world without end. Amen.
• Confession of Faith- Apostles' Creed
Hymn "A Mighty Fortress Is Our God" 92
We Read God's Word: 1 Corinthians 1:18-31 (insert)
Heidelberg Catechism - Lord's Day 24
Confession of Sin & Pastoral Prayer w/ Lord's Prayer
Call to Repentance and Assurance of Pardon: Now when He had taken the scroll, the four living creatures and the twenty-four elders fell down before the Lamb, each having a harp, and golden bowls full of incense, which are the prayers of the saints. And they sang a new song, saying: "You are worthy to take the scroll, And to open its seals; For You were slain, And have redeemed us to God by Your blood Out of every tribe and tongue and people and nation, And have made us kings and priests to our God; And we shall reign on the earth." Revelation 5:8-18
• Song "How Deep The Father's Love For Us" #4
Scripture: 2 Kings 5:1-19 (B. p. 333)
Sermon: God's Grace Even for the Nations!
Hymn-Offering "God Moves In A Mysterious Way" 128
• Doxology 731
Praise God from whom all blessings flow; praise Him, all creatures here below; praise Him above, ye heavenly host: praise Father, Son, and Holy Ghost. Amen.
• Silent Prayer
• Ringing of the Bell
• Those who are able, please stand
Welcome to St. Paul's Evangelical Reformed Church, especially those who are visiting with us. If you are visiting with us for the first time, please fill out a visitor card in the pew or the guest registry in the entryway. But as for me it is good to be near God. Psalm 73:28
- This Week at St. Paul's -
Sunday Worship Service at 9:30 a.m.
- Announcements -
There are new Fellowship group lists with new members added.
Heidelberg Reformed Youth Camp will be July 5-8.
Care Ministry sign up sheet is on the bulletin board!
The Women's Guild sells boxes of cards($5 for a box of twelve) in the entryway.
Heidelberg Seminary has been training men in the Philippines and now have started to train men for the pastorate in Africa through online classes. Those interested in helping with either of these would be appreciated.
Mission Fest will be October 2nd. That Sunday we will have the pleasure of having Rec. Dennis Roe with us who is also the chairman for Westminster Biblical Missions and works with Middle East Reformed Fellowship.
- Hymns -
A mighty fortress is our God, A bulwark never failing; Our helper he amid the flood, Of mortal ills prevailing. For still our ancient foe, Doth seek to work us woe; His craft and power are great; And armed with cruel hate, On earth is not his equal.
Did we in our own strength confide, Our striving would be losing; Were not the right Man on our side, The Man of God's own choosing. Dost ask who that may be? Christ Jesus, it is he,
Lord Sabaoth his name, From age to age the same, And he must win the battle.
And though this world, with devils filled, Should threaten to undo us, We will not fear, for God hath willed, His truth to triumph through us. The prince of darkness grim, We tremble not for him; His rage we can endure, For lo! his doom is sure;
One little word shall fell him.
That Word above all earthly powers, No thanks to them, abideth; The Spirit and the gifts are ours, Through him who with us sideth; Let goods and kindred go, This mortal life also; The body they may kill: God's truth abideth still; His kingdom is for ever.
How deep the Father's love for us? How vast beyond all measure? That He should give His only Son, To make a wretch His treasure
How great the pain of searing loss? The Father turns His face away As wounds which mar the Chosen One, Bring many sons to glory
Behold the man upon a cross, My sin upon His shoulders, Ashamed I hear my mocking voice, Call out among the scoffers
It was my sin that held Him there, Until it was accomplished, His dying breath has brought me life, I know that it is finished
I will not boast in anything, No gifts, no power, no wisdom, But I will boast in Jesus Christ, His death and resurrection
Why should I gain from His reward? I cannot give an answer, But this I know with all my heart, His wounds have paid my ransom
Why should I gain from His reward? I cannot give an answer, But this I know with all my heart, His wounds have paid my ransom
God moves in a mysterious way, His wonders to perform;
He plants his footsteps in the sea, And rides upon the storm.
Deep in unfathomable mines, Of never-failing skill, He treasures up his bright designs, And works his sovereign will.
Ye fearful saints, fresh courage take; The clouds ye so much dread, Are big with mercy, and shall break, In blessings on your head.
Judge not the Lord by feeble sense, But trust him for his grace;
Behind a frowning providence, He hides a smiling face.
His purposes will ripen fast, Unfolding every hour; The bud may have a bitter taste, But sweet will be the flow'r.
Blind unbelief is sure to err, And scan his work in vain. God is his own interpreter, And he will make it plain.
- 1 Corinthians 1:18-31 -
18 For the message of the cross is foolishness to those who are perishing, but to us who are being saved it is the power of God.
19 For it is written: "I will destroy the wisdom of the wise, And bring to nothing the understanding of the prudent."
20 Where is the wise? Where is the scribe? Where is the disputer of this age? Has not God made foolish the wisdom of this world?
21 For since, in the wisdom of God, the world through wisdom did not know God, it pleased God through the foolishness of the message preached to save those who believe.
22 For Jews request a sign, and Greeks seek after wisdom;
23 but we preach Christ crucified, to the Jews a stumbling block and to the Greeks foolishness, 24 but to those who are called, both Jews and Greeks, Christ the power of God and the wisdom of God.
25 Because the foolishness of God is wiser than men, and the weakness of God is stronger than men.
Next Lord's Supper - August 21
Heidelberg Catechism
Lord's Day 24
62. But why cannot our good works be the whole or part of our righteousness before God?
Because the righteousness which can stand before the judgment seat of God must be perfect throughout and entirely conformable to the divine law, but even our best works in this life are all imperfect and defiled with sin.
63. Do our good works merit nothing, even though it is God's will to reward them in this life and in that which is to come?
The reward comes not of merit, but of grace.
64. But does not this doctrine make men careless and profane?
No, for it is impossible that those who are implanted into Christ by true faith, should not bring forth fruits of thankfulness.
Apostles Creed
I believe in God the Father Almighty, Maker of heaven and earth. And in Jesus Christ, His only-begotten Son, our Lord: who was conceived by the Holy Ghost, born of the virgin Mary, suffered under Pontius Pilate, was crucified, dead, and buried; He descended into hell; the third day He rose from the dead; He ascended into heaven, and sits at the right hand of God the Father Almighty; From there He will come to judge the living and the dead. I believe in the Holy Ghost, the holy, universal Christian church, the communion of saints, the forgiveness of sins, the resurrection of the body, and the life everlasting.
Lord's Prayer
Our Father which art in heaven, hallowed be Thy name. Thy kingdom come. Thy will be done on earth as it is in heaven. Give us this day our daily bread. And forgive us our debts, as we forgive our debtors. Lead us not into temptation, but deliver us from the evil. For Thine is the kingdom and the power and the glory forever. Amen.
- Prayer & Praise & Hospital Notes -
Pray for Kacie & Nolan as they are expecting a new baby. Ps. 71:6
Aaron Harms as he will have another eye surgery. Psalm 26:3
Pray for the elderly, particularly those in nursing and assisted living homes – Bernetta and Dorothy. 2Cor. 4:17
Pray for the Ukraine & Ethiopia and particularly the Christians there who have not been able to escape the fighting. Ethiopia is in a civil war with over 500,000 dead in the last couple of years. Matthew 24:6
Pray for the police officers and their safety. Pray for our servicemen & women and national Guard who are members or related to members- Dakota, Jeremy, Ty , Ryan , Michael , Amanda , Caleb Schmieg , as well as their families as they are serving. Ps. 91
Pray for the United Reformed Church of the Congo, the Free Reformed Fellowship of Kenya, the Pearl of the Orient Reformed Church in the Philippines, Rev. Eric Kayayan of Reformed Faith and Life, Rev. Victor D'Assonville of Reformation To Germany, Middle East Reformed Fellowship and Westminster Biblical Missions which we help support with our missions offerings. 2Thess. 3:1
God's Grace Even For the Nations!
2 Kings 5:1-19
1. Knowing the mystery of God's sovereign ways we must witness to His redeeming grace!
2. Knowing the mystery of God's sovereign ways we must humbly obey Him!
Picture: Tea field rural Kenya
Bulletin cover, graphics are by Pastor Schnabel.
Let us get to know you!
Please take a moment to send us your information so that we may stay connected with you. Your information is carefully managed and protected.
How did you hear about us?