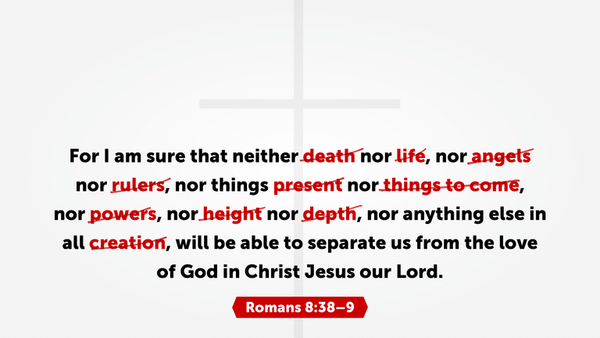 St. Paul's Weekly Update
11th Sunday after Pentecost Weekend of August 16th, 2020
In this newsletter...
This newsletter includes:
Notes & Funeral Notice
Devotional Thought
Worship Preview for Sunday
Bible Study
1. Notes & Funeral Notice
-"To live is Christ, to die is gain" (Php 1:21). Our dear sister in Christ, Judy Wacker, passed away this past Monday. We rejoice that her faithful savior has brought her to her eternal inheritance through faith in him, even as we mourn. Please pray for the family, that they find comfort in God's Word. Though the wages of sin is death, the gift of God is eternal life in Christ Jesus our Lord (Romans 6:23)!
The funeral will be held at noon on Monday, August 17th, at St. Paul's sanctuary, with visitation from 10-12, either outside along Bond street (weather-permitting) or down in the basement. Committal will follow at Oakwood cemetery. The family has requested that all those who attend the service wear masks. Due to Covid-precautions, there will be no luncheon. The obituary can be found here: https://www.casefuneralhome.com/obituaries/Judith-Ann-Wacker?obId=17844332 .
We will have masks-required services at 11:30am on the next two communion Sundays, August 16th and September 6th. This will be a shortened service with less singing, and the pastors will wear masks before and after the service, as well as during communion distribution. We will start with these two services in order to gauge interest.
-Regular in-person worship: Sunday at 8am & 9:45am; Monday at 6:30pm
-For those worshiping at home this week: Livestreamed 8am service, with the service available on Youtube afterwards. See worship preparation below to get the hymns and readings ready (or find bulletin here: https://drive.google.com/drive/folders/0BzC3y8YQ1IYcfndHWmRhQ2t6TVhhVXoyTWNVN29vcHBJMzlxcjMyWEJhRGpKM3RfNXdKMHc_ ).
-DVDs and sermon copies are available by contacting the church office, between 9am-12pm on weekdays. The DVDs from the past few weeks seem not to be working in some players. We are working on getting you new DVDs of those services as soon as possible.
+++
ONLINE BIBLE STUDY THURSDAY MORNING at 10am
Anybody is free to join. Click this link or enter the information below in the program/app Zoom. Meeting ID: 813 9931 8006 Password: 011081
+++
2. Devotional Thought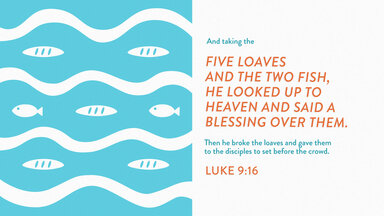 Jesus is bad at math.
Humanly speaking, Jesus is bad at math. Here's the numbers he was dealing with.
In Matthew chapter 14 (and in the other places the account is given: Luke 9, Mark 6, John 6), all Jesus has available for dinner is 5 loaves of bread and 2 fish. And he's not just serving up a dinner for one. He's surrounded by 5000 hungry men, which, when including their families, could be up to 30,000 people!
Hmm, let's do the math. 30,000 people divided by 5 loaves of bread and 2 fish = NOT ENOUGH!
Jesus' disciples were better at math. And so they told Jesus, "This is a deserted place and the hour is already late. Send the crowds away, so that they can go into the villages and buy food for themselves" (Mt 14:15).
Humanly speaking, they figured it out. There was just no possible way to care for all these people in the wilderness with what they had available!
Maybe right now your math figures don't look so good either.
This much money + this much stress + one pandemic + this many kids + 24 hours in the day + one me = NOT ENOUGH! Humanly speaking, there's no way we'll be taken care of. And that's without adding the worst number of all on the end of that equation:
This much money + this much stress + one pandemic + this many kids in school + 24 hours in the day + one me + one, sinful, doubting heart = NOT ENOUGH EVER!
But if we think we've got it figured out with our human calculations, if we look at everything going on in our lives and think God can't do the math and we don't have enough, then we need to check the numbers. Because there's one more number we need to add to the equation.
+ ONE DIVINE, LOVING SAVIOR.
Humanly speaking, it doesn't add up... but Jesus wasn't any old human. He was God, too. And long ago God had already figured out many times how to provide for his people--whether in the wilderness (manna, anyone?) or wherever they may be. And Jesus proves it again here:
They told him, "We have here only five loaves and two fish."
"Bring them here to me," he replied. Then he instructed the people to sit down on the grass. He took the five loaves and the two fish. After looking up to heaven, he blessed them. He broke the loaves and gave them to the disciples. The disciples gave the food to the people.
They all ate and were filled. They picked up twelve basketfuls of what was left over from the broken pieces. Those who ate were about five thousand men, not even counting women and children. (Matthew 14:17-20)
5 loaves of bread + 2 fish + around 30,000 people + One divine, loving, Savior = MORE THAN ENOUGH.
Humanly speaking, Jesus might be bad at math. But he is amazing at caring for his people.
So when you do your math today, don't forget to add the most important part of the equation:
+ ONE DIVINE, LOVING SAVIOR.
When that's how your equation ends, who cares how the human math might line up--because, divinely speaking, you will always have more than enough, through faith in Jesus.
+++
3. Worship Preview for Sunday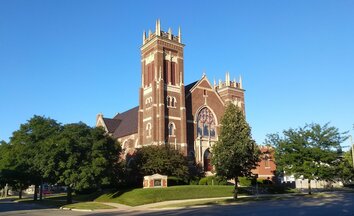 Read through the readings for Sunday during the week, while asking these questions:
What is this text saying?
What sins does this lead me to confess?
For what does this text lead me to give thanks (especially references to how God forgives those sins from #2)?
In response to this text, what will I pray for today?
The 11th Sunday after Pentecost: The Christian trusts God to provide.
The First Lesson is Genesis 41:41-49. Joseph's story seemed to be one of God not providing for him--he had been sold into slavery, and then thrown into prison. But in this account we see God's amazing, divine, math. One former slave and prisoner + one dream interpreted = God providing more than enough not just for Joseph, but for his family and for the entire nation of Egypt and beyond.
The Second Lesson is Romans 8:35-39 (Sermon Text). The hymn A Mighty Fortress echoes the truths of this text when it says, "Do what they will--hate, steal, hurt or kill--though all maybe be gone, our victory is won; the kingdom's ours forever!" It doesn't matter what trials we go through in life or what we have taken away from us, "nothing can separate us from the love of Christ," and so we are always more than victorious through him who loves us.
The Gospel is Matthew 14:13-21, the account of Jesus' feeding of the 5,000 (see devotional thought above). Here we see Jesus' love and compassion that leads him to provide everything that his people needs.
Psalms 42-43 is a prayer and inner monologue of a believer who is losing hope in this world. He reminds his soul that God alone can satisfy him, renew his hope, and lead him to praise God again.
Hymns: 353, 449, (432, 332:1-3), 332:4; Psalm: 42-43
Order of Service: Divine Service II in the Blue Hymnal (Christian Worship Supplement)
4. Bible Study--Online or On Your Own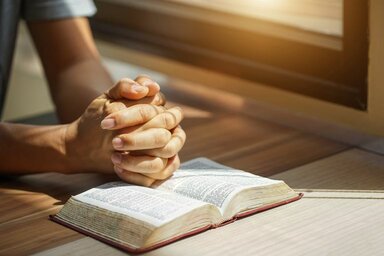 Bible Study—Matthew 14:13-21
Thursday at 10:00am
Join Zoom Meeting
https://us02web.zoom.us/j/81399318006?pwd=ZW5JR3BDL3d1RzNTZzNTZDlreEVrZz09
Meeting ID: 813 9931 8006
Password: 011081
For younger ones:
1) What did you eat for breakfast?
2) How many people do you think you could share your breakfast with and still have everybody have as much as they want?
Just you? One other person?
3) Jesus' friend John (John 6:1-14) talks about a time when a little boy had a lunch just for him, and he wanted to share it with 5,000 people. How many people do you think the boy's lunch could feed?
4) Jesus took that lunch and shared it with people. Then he shared it some more. And some more! How many people could Jesus feed with one small lunch?
All of them!
5) If Jesus could take care of 5,000 people with one small, lunch, do you think he can take care of you?
Of course!
More advanced questions:
1) Read Matthew 14:13-21. This account starts, "When Jesus heard this." Glance back to the start of the chapter--what had Jesus just heard?
2) Reread verse 13, and then verse 22-23. What did Jesus want to do after hearing about his cousin John?
3) Jesus had just lost a loved one. Describe are some thoughts and feelings that real humans (like Jesus!) experience at times like that.
4) Read verse 14-20. Jesus was trying to find some alone time. What happens instead?
5) These verses show Jesus' love and power. If you had to make a mark on a line on whether it shows Jesus' love or power more, where would you put that mark?
LOVE <--------------------------------> POWER
6) How is Jesus' command in verse 16 a test for the disciples?
7) Share situations in which people today could feel the same as the disciples in that moment.
8) The parables talk about how the kingdom of heaven is "hidden"--it starts so small and yet eventually reveals itself as powerful. In what ways does this account illustrate that truth.
9) List some things that are your equivalent to the "five loaves" and "two fish" in this story. Share how God has provided through those things, even when it didn't seem possible.
Contact
St. Paul's Lutheran Church and School
Church: 1020 Court St.
School: 2745 W. Genesee Ave.
Our address is: 1020 Court St, Saginaw, MI 48602, USA