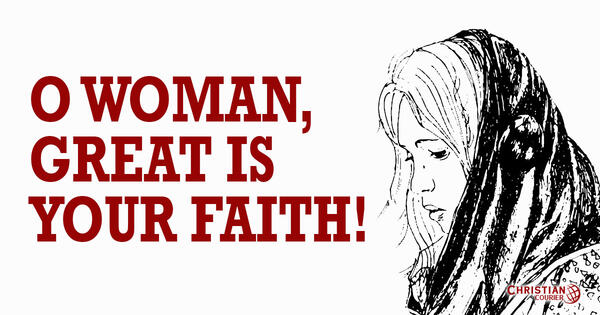 St. Paul's Weekly Update--Slightly Updated
13th Sunday after Pentecost Weekend of August 30th, 2020
In this newsletter...
This newsletter includes:
Devotional Thought
Worship Preview for Sunday
Bible Study
Notes
-COVID-19 Update (Slightly updated from an hour ago)
We have been informed that a member who was in the 8:00 service on August 23rd, was notified of a positive test. This member is tested weekly for work. This member was and is completely asymptomatic, was well-distanced from others in the sanctuary, and did not interact with anyone for an extended period of time. All of the family members of this member have all tested negative since despite extended close contact. A new type of test at the workplace yielded many more positives than the tests in the previous weeks, and those individuals who newly tested positive were asymptomatic as well, and those who were retested immediately were negative on their second test. So, all indications are this was a false positive, and this member is getting retested for this reason. We thank the family for notifying us and for sharing this information. The latest CDC guidelines indicate that other individuals at the service do not need to be tested under these circumstances (https://www.cdc.gov/coronavirus/2019-ncov/hcp/testing-overview.html). Just monitor yourself like normal.
As we have noted in the past, there is no guarantee that Christians cannot get sick at church. We take common sense precautions and continue to rely on God and his wise and perfect rule and protection. We trust you as you make your personal decisions according to your conscience, guided by God's Word. We thank God that we have currently had almost 50 services since May, with over 8000 worshippers, and this is our first alert of this kind. There may be more in the future. There's much we don't know. But there is something we always know: "Where two or three gather together in my name, there I am with them" (Matthew 18:20). We are glad to be informed by members so we can continue to care for each other in that way. We are also glad to be informed by Jesus that at every service, as at the 8:00 service on the 23rd, he was there with us, granting perfect protection through his word, and conquering the far greater enemies out to harm us through his forgiveness. As we heard in the sermon, continue to live in the confidence of Moses' words to the Israelites: "Do not be afraid. Stand firm and you will see the deliverance the LORD will bring you today. The Egyptians you see today you will never see again." Our loving God and Father, the source of all good, will continue to deliver us from whatever may harm us.
-NEW CHURCH DIRECTORY As part of our anniversary celebration next year (170th of congregation, 100th of building), we are producing a new anniversary church directory. One short and safe trip to church will make sure that you (or your family) are a part of this project to bring our church family together. Pictures will be taken in the church basement October 8-10, and 12. The whole picture taking process takes about 45 minutes, and you get a free directory and a free 8 x 10 portrait just for participating. Sign up for a time in-person between services, or online. To sign up online, go to www.ucdir.com, click on the yellow sunburst icon, enter mi1502 for the church code and enter photos for the password. Online sign up will only be active Mon-Fri, so that the sheets for in-person sign up on Sunday morning will be accurate.
-We will have our next mask-required services at 11:30am on September 6th. This will be a shortened service with less singing, and the pastors will wear masks before and after the service, as well as during communion distribution.
-Regular in-person worship: Sunday at 8am & 9:45am; Monday at 6:30pm
-For those worshiping at home this week: Livestreamed 8am service, with the service available on Youtube afterwards. See worship preparation below to get the hymns and readings ready (or find bulletin here: https://drive.google.com/drive/folders/0BzC3y8YQ1IYcfndHWmRhQ2t6TVhhVXoyTWNVN29vcHBJMzlxcjMyWEJhRGpKM3RfNXdKMHc_ ).
-DVDs and sermon copies are available by contacting the church office, between 9am-12pm on weekdays.
-Sunday School Registration can be done online! Just click here: https://forms.gle/bHvXpQuSZet76RHe6 . We're currently (tentatively) planning on having Bible Study in the sanctuary and Sunday School in the basement of the church (while in Phase 4--Phase 5 would be normal).
+++
ONLINE BIBLE STUDY THURSDAY MORNING at 10am
Anybody is free to join. Click this link or enter the information below in the program/app Zoom. Meeting ID: 813 9931 8006 Password: 011081
+++
1. Devotional Thought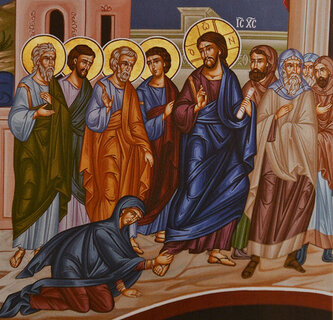 "Leave him alone!"
"Who do you think you are? Approaching Jesus! The Chosen One! The King of the Jews! And yet you, a Canaanite woman, come crawling to him and begging for his help. Pathetic."
"She doesn't even have a halo like us!"
Can you sense the disapproval of the "haloed" disciples in the painting?
They, and the religious leaders off to the side, thought that they deserved to be in Jesus company. Even Jesus gives the impression that he has far better things to do than to give time to this non-Israelite woman. "I was sent only to the lost sheep of the house of Israel," he says. "It is not good to take the children's bread and throw it to their little dogs."
After all, why would he give her time!? He's holy, she isn't! She doesn't have a halo--she's not even part of the physical people of Israel. And yet...
She won't leave him alone.
Because she wasn't coming to him because she already had a halo; she was coming because he truly did. She was coming because she knew how much she needed him--and she knew this holy, righteous man, the Lord, the Son of David himself, would be merciful to her even though she didn't deserve it.
When you come to your Savior, do you come because you already have a halo? Because you're better than those other people? That's not faith--let alone great faith. That's a faith to be rejected and pushed away.
And when we find ourselves pushed away, rejected, and undeserving of our Savior in any way... well that's the best time to come to him--to kneel, to crawl, to beg--to find out why he does have a halo.
Because he saves people just like us.
That's why you can find paintings and drawings of this Canaanite woman in modern day America, 17th century Europe, and the 6th Century Middle East. Because all around the world people just like us find hope in the one who saves all people. And that salvation gives us great faith too.
+++
2. Worship Preview for Sunday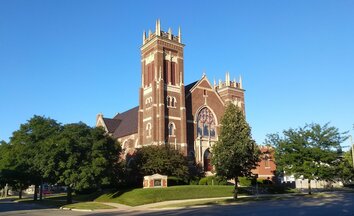 Read through the readings for Sunday during the week, while asking these questions:
What is this text saying?
What sins does this lead me to confess?
For what does this text lead me to give thanks (especially references to how God forgives those sins from #2)?
In response to this text, what will I pray for today?
The 13th Sunday after Pentecost: The Church is meant for all people.
The First Lesson is Isaiah 56:1, 6-8, a prophecy of how God brings people from all nations "into his house," that is, to worship him through faith in the salvation he accomplished for all people.
The Second Lesson is Romans 11:13-15, 28-32. At various times in the Old Testament it seemed obvious that the people of Israel were God's people and that they all would be saved by him. They were supposed to celebrate God's love for them and show other people that they, too, could enjoy this relationship with God by joining Israel. But instead, the majority of the Israelites took this relationship with God for granted, and rejected God and his salvation through unbelief and through believing that they deserved his love more than everybody else.
So God turned away from them and offered the fullness of his relationship to all people, whether they were part of the nation of Israel or not! In this sense, "their rejection meant reconciliation of the world (v. 15)," and, "you have been shown mercy due to their disobedience (v. 30)." This turning point emphasized what the Old Testament had shown all along--those who are truly God's people are not those who are physically related to Abraham; those who believe in God are truly his people. All people can enjoy God's mercy simply by receiving it through faith. Jesus was the culmination of this turning point as he was lifted up on the cross to draw all people to himself and to fulfill the laws that divided the people of Israel from the rest of the nations.
In this reading from Romans, Paul clarifies that this doesn't mean that those who are physically related to Abraham--physical Israelites--cannot be saved. God wants them to be "jealous" of the incredible mercy God has shown to all people and set aside their disobedience so they can enjoy it, too.
The Gospel Reading is Matthew 15:21-28 (Sermon text). Here Jesus literally treats a Canaanite woman like a dog--and yet she is not too proud to beg like a dog to receive scraps of his grace. The disciples think she doesn't even deserve that! But because of her humble faith, Jesus says about her something he never said about an Israelite, "Your faith is great!" Truly, Jesus is meant for all people. What grace that we should never take for granted!
The Prayer of the Day emphasizes how it is only by God's grace that we enter the church:
Almighty and merciful God, it is only by your gift of grace that we come into your presence and offer true and faithful service. Grant that our worship on earth may always be pleasing to you, and in the life to come give us the fulfillment of what you have promised; through Jesus Christ, your Son, our Lord, who lives and reigns with you and the Holy Spirit, one God, now and forever. Amen.
Hymns: 357, 413, 756
Order of Service: Morning Praise New Service Settings
3. Bible Study--Online or On Your Own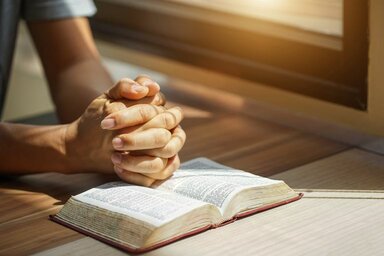 Bible Study—Isaiah 56:1-8
Thursday at 10:00am
Join Zoom Meeting
https://us02web.zoom.us/j/81399318006?pwd=ZW5JR3BDL3d1RzNTZzNTZDlreEVrZz09
Meeting ID: 813 9931 8006
Password: 011081
For younger ones:
1) Have you ever played tug of war with a dog?
2) How tight do you have to hold on to the rope so you can win?
3) Isaiah says to hold on tight to Jesus because he saves us. How do you hold on tight to Jesus? (Faith--by trusting in him and by hearing and studying his word to strengthen your trust in him)
More advanced questions:
1) Read Isaiah 56:1-2. Someone says, "Jesus is coming soon and then everything will be better, so I don't need to worry too much about living this life." Contrast that attitude to Isaiah 56:1.
2) What are some ways believers are blessed by holding on to salvation?
3) Read Isaiah 56:3. For what reasons might a foreigner in the Old Testament say the words of verse 3? Or a eunuch say the words at the end of verse 3?
4) How do the Old Testament examples of Rahab and Ruth show that a foreigner could be part of God's people?
5) Read John 10:16 and Ephesians 2:9-22. Explain why the distinctions between foreigner/Israelite and physically harmed/whole could be done away with in the New Testament.
6) Read Isaiah 56:4-5. Use verse 5 to comfort a family unable to have children.
7) Read Isaiah 56:6-8. Identify all the "offensive"/"shocking" things in these verses to the Jews in Jesus' day who believed that the Gentiles would never be fully part of God's people.
8) Today we often think of ourselves by race, gender, background, economic status... In what ways are we given a new identity in the church?
9) Notice that actions of the Lord in verses 7-8. I will bring them... I will make them glad... I will gather still more...
10) Though the temple in Jerusalem is destroyed, what are some ways the prophecy of verse 7 has been fulfilled: "My house will be called a house of prayer for all the peoples of the world."
Contact
St. Paul's Lutheran Church and School
Church: 1020 Court St.
School: 2745 W. Genesee Ave.
Our address is: 1020 Court St, Saginaw, MI 48602, USA