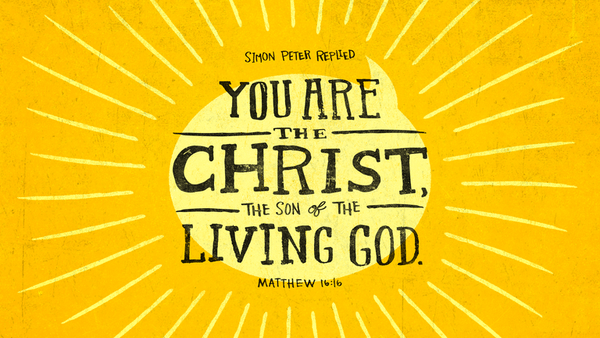 St. Paul's Weekly Update
14th Sunday after Pentecost Weekend of September 6th, 2020
In this newsletter...
This newsletter includes:
Devotional Thought
Worship Preview for Sunday
Bible Study
Notes
--We will have our next mask-required services at 11:30am this Sunday, September 6th. This will be a shortened service with less singing, and the pastors will wear masks before and after the service, as well as during communion distribution. After this service, the mask-required service will be the remaining Mondays in September (more on that in note below).
--Worship and Bible Class Fall Schedule Starts September 13th!
This is the last week of 9:45 late service. After Labor Day, Sunday Worship will be at 8:00am and 10:30, with Bible Class and Sunday School in-between, at the church for the time being. Bible class will continue our study of the Passion (remember when we were studying that??) in the sanctuary, and Sunday School (teen Bible class as well) will meet downstairs. Parents, either register your kids for Sunday School at church ( https://forms.gle/bHvXpQuSZet76RHe6 ) or visit our publishing house website to prepare to teach Sunday School to your kids at home (https://online.nph.net/ss-at-home). Wednesday Bible classes, at 10am and 7pm, will be at the church.
4 Upcoming Things To Note for Worship and Bible class
Monday night will be mask required for the final three weeks in September. With late service moving back, and Public School confirmation beginning 12-1pm on Sundays, we're running out of time (and pastoral manpower) on Sunday morning for a special mask service. So we ask those who are able to wear masks to do so for the services on Monday the 14th, 21st, and 28th. We will continue to revisit our plans monthly.
We will have a teen (7th grade through high school) Bible class between services on Sunday, beginning with the study, "Courage that Defies Death."
Scheduled Facebook video devotions will be coming to an end soon. With school starting, the pastors will be adding back school year duties, and this involves cutting back on some other things. We will still provide online content as able.
The Thursday Zoom Bible Class will migrate to Wednesday morning. We will hold our Wednesday classes in the basement of the church, and the Wednesday morning one, God-willing, will be a hybrid in-person and online study.
-For those worshiping at home this week: Livestreamed 8am service, with the service available on Youtube afterwards. See worship preparation below to get the hymns and readings ready (or find bulletin here: https://drive.google.com/drive/folders/0BzC3y8YQ1IYcfndHWmRhQ2t6TVhhVXoyTWNVN29vcHBJMzlxcjMyWEJhRGpKM3RfNXdKMHc_ ).
-DVDs and sermon copies are available by contacting the church office, between 9am-12pm on weekdays.
-NEW CHURCH DIRECTORY
Sign up for a time in-person between services, online, or call during the week for us to help you. To sign up online, go to www.ucdir.com, click on the appointment scheduling button, enter mi1502 for the church code and enter photos for the password. Online sign up will only be active Mon-Fri, so that the sheets for in-person sign up on Sunday morning will be accurate.
+++
ONLINE BIBLE STUDY THURSDAY MORNING at 10am
Questions below. Anybody is free to join. Click this link or enter the information below in the program/app Zoom. Meeting ID: 813 9931 8006 Password: 011081
+++
1. Devotional Thought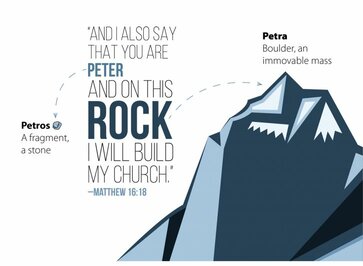 If these stones could speak, what would they say?
The leader of the Israelites, Joshua, told the leaders of the people to make a monument of twelve stones--one for each of the tribes of Israel (Joshua 4). This monument was supposed to speak, in a sense. The rocks were a testimony to something amazing that had happened. And if they could have spoken out loud, they may have said this:
"There we were, down in the ground beneath the rushing river Jordan, when all of a sudden, the water started to retreat. Soon, the ground was completely dry! Men clothed in white carried a golden chest with angels on top of it. They stopped in the middle of where the river had just been. They stood there as a huge crowd of people crossed over. And just before they left, someone picked me up and placed me on the other side of the river, together with twelve others, so I could tell you this story."
These rocks were a confession. For generations, whenever God's people saw them, they would be reminded of the power of their God who worked miracles to bring them into the promised land.
That's what those stones would say. What about you?
When people interact with you, what do you remind them of? What stories do you tell? If you were a monument--what would the plaque say at the bottom?
Try this one: "Jesus is the Christ, the Son of the living God."
That's what one "stone" said, long ago. When Jesus asked Peter (little rock), what his confession was about Jesus, Peter responded with that ROCK of a confession--a memorial for generations to come. And he didn't come up with this on his own. Jesus said, "Blessed are you, Simon, son of Jonah, for flesh and blood did not reveal this to you, but my Father who is in heaven."
There are so many ways our lives can be a monument to lesser, foolish things. Because of our sinful nature, our whole lives are set up to be a monument to ourselves, a crumbling monument built on sin, selfishness and the temporary news and pleasures in this world. On our own, we could never build a monument that matters or share a message worth remembering.
But just as the Father did for Peter, that little rock, he does for us. Through the Bible--the monument of all the gracious, miraculous things God has done for us in Jesus--he reveals to us a better story. Through the second Joshua--Jesus--God has brought us into the promised land of faith through the forgiveness of our sins. By revealing the truth about Jesus and giving us faith in him, God has built us, as living stones, into the monument of Christ's church. That means your life, just like Peter's, is built on this ROCK--a confession of who Jesus is. That means that your life is a confession--and everything you say and do can tell the most important story ever told.
If living stones could talk, what would you say? How about this: "Jesus is the Christ, the Son of the living God."
+++
2. Worship Preview for Sunday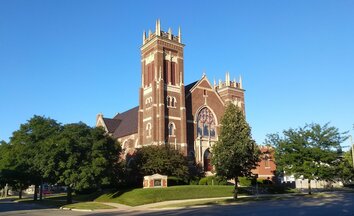 Read through the readings for Sunday during the week, while asking these questions:
What is this text saying?
What sins does this lead me to confess?
For what does this text lead me to give thanks (especially references to how God forgives those sins from #2)?
In response to this text, what will I pray for today?
The 14th Sunday after Pentecost: The Church Will Stand Forever.
The First Lesson is Joshua 4:1-9, an account of Joshua setting up a monument of 12 stones to commemorate God's people miraculously crossing the Jordan river on dry ground to enter the Promised Land.
The Second Lesson is Revelation 7:1-8 gives us a glimpse of God's perspective on the world and the church. Throughout Revelation, God uses symbolic language to comfort the church. When those in the church see how wicked the world is, and how treacherous it can be for the church (God's people), they can wonder why God hasn't ended the world yet. God shows that he is holding back the final destruction because he wants to gather all of his people--and he still has some to gather. He wants to gather all those he has chosen. His chosen ones are symbolically represented throughout the book of Revelation with the number 12 (like the 12 tribes of Israel and 12 disciples), and 10 and multiples of 10 are used throughout this book to talk about "completeness" or the "complete number." So here 12(to the 2nd) times 10(to the 3rd) = 144,000. (More on the symbolism in the Bible study below!)
The Gospel Reading is Matthew 16:13-20 (Sermon text and devotional thought above). The truth about Jesus is the rock upon which the church stands.
Hymns (All star hymns this Sunday!): 538, 536, (529/239), 314
Order of Service: p. 26 CW
(Find a couple wonderful settings of "Built on the Rock" here: https://www.youtube.com/watch?v=kQjyHDkZBcE & https://www.youtube.com/watch?v=Rnrt0M8-H8U )
3. Bible Study--Online or On Your Own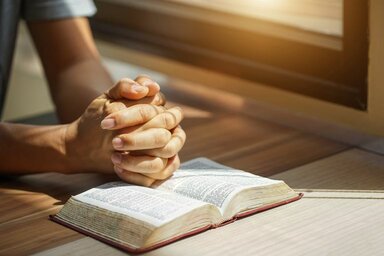 Bible Study—Revelation 7:1-17
Thursday at 10:00am
Join Zoom Meeting
https://us02web.zoom.us/j/81399318006?pwd=ZW5JR3BDL3d1RzNTZzNTZDlreEVrZz09
Meeting ID: 813 9931 8006
Password: 011081
For younger ones:
1) Do your parents have shopping lists? What kinds of things are on them?
2) Revelation 7 says that God has a list kind of like a shopping list--except it's for people. And if you've been baptized, you can know that you're on it! He is waiting for Jesus to come back until he has gathered everyone in his basket through baptism.
More advanced questions:
1) Read Revelation 7:1. What are the "four winds" that the angels are holding back? (Cf. Isaiah 11:12, Jeremiah 49:36, Daniel 7:2, Matthew 24:31)
2) Read Revelation 7:2-3. Compare "the seal" to "the mark" in another symbolic passage of the Bible in Ezekiel 9:1-8. What does the mark do in the vision of Ezekiel (and in Revelation 9:4)?
3) See also Ephesians 1:13. What is our seal?
4) When do we receive this seal?
5) Read Revelation 7:4-8. Note the symbolism. We take the Bible literally--which means we take it as the author wants us to take it. We read poetry as poetry, narrative as narrative, and symbolic apocalyptic literature as symbolic. If I read a fantasy novel honestly, I take literally the authors intent to create a fictional story. If we read Revelation (and Daniel and Ezekiel) honestly, we honor the authors' intent to use pictures to describe realities that we can't understand in other ways. Most people naturally understand this in some parts of Revelation, e.g. Few people have a problem understanding that the dragon in Revelation symbolizes the devil. But often those same interpreters insist on taking some other things literalistically, especially the numbers. But sometimes, the Bible wants us to understand numbers symbolically too. Even Jesus said, "Forgive seven times seventy times!" He didn't literally mean to forgive 539 times, he literally meant to forgive a countless amount of times.
In the same way, when Revelation clearly starts to record a symbolic vision (Rev 4:1, "After these things I looked, and there was a door opened in heaven! ... Immediately, I was in spirit. And look!), numbers are symbolic. A possible, and I think very good, explanation of the numbers is this:
We find three basic numbers: 3, 4, and 10. Four is the number of the earth (like 4 corners of the earth), three is number of God (like Triune God), and 10 is the number of completeness ("i.e. I've told you a thousand times!"). The number 12, perhaps because it is 3 times 4, is the number of the church--God (3) interacts with the earth (4), and brings people into the church (12). We also think of the 12 tribes and 12 disciples. But the best way to see that 12 is the number for the church is the way it is used in Revelation--for those who are saved through faith in Jesus. They are a multitude too numerous to count (7:9) and those who sing a song acceptable to God because they have been redeemed by the lamb (Revelation 14:1-5). Multiplication intensifies things. Here perhaps 12 is multiplied because the "144,000" involves believers from the Old Testament ("12 tribes") and New Testament ("12 Apostles"), and 10 is multiplied to emphasize the large, complete number of believers God has gathered = 144,000.
6) Read Revelation 7:9-10. Who are the "144,000" according to these verses?
7) Why is verse 10 such good news in a world that thinks it can save itself if we just work together and get along?
8) Read verse 11-12. In heavenly worship, who is the focus?
9) In earthly worship, in what ways can we keep the same focus?
10) Read verses 13-17. Then read through the phrases below and pick 2 that jump out to you. Be ready to share what they mean to you (with us, and with your family and people you know!).
"These are the ones who are coming out of the great tribulation."
"They have washed their robes and have made them white in the blood of the Lamb."
"They are in front of the throne of God"
"They serve him day and night"
"He will spread his tent over them"
"They will never be hungry or thirsty ever again"
"The Lamb will be their shepherd"
"He will lead them to springs of living water"
"God will wipe away every tear from their eyes"
Contact
St. Paul's Lutheran Church and School
Church: 1020 Court St.
School: 2745 W. Genesee Ave.
Our address is: 1020 Court St, Saginaw, MI 48602, USA