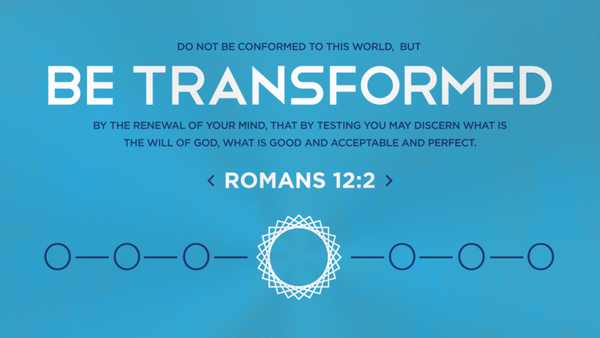 St. Paul's Weekly Update
15th Sunday after Pentecost Weekend of September 13th, 2020
In this newsletter...
Picture above from the sermon text for this weekend. May this newsletter lead you to the word of God which transforms your mind to know God's Will! This newsletter includes:
Devotional Thought
Worship Preview for Sunday
Bible Study
Notes
-Worship and Bible Class Fall Schedule Starts September 13th! Sunday Worship will be at 8:00am and 10:30, with Bible Class and Sunday School in-between, at the church for the time being. Bible class will continue our study of the Passion in the sanctuary, and Sunday School (teen Bible class as well) will meet downstairs. The remaining Monday nights in September will be mask-required, unless you are medically unable to wear one.
-This Sunday, in the late service, we will have an affirmation of the confirmands whom we confirmed this past spring. It will also be our Christian Education Sunday, with special prayers and focus on the mission of assisting parents to bring their children up in the knowledge of the the Lord. Pray that God bless our teachers, parents, students, and staff in that mission!
3 Upcoming Things To Note for Worship and Bible class
Monday night will be mask required for the final three weeks in September. With late service moving back, and Public School confirmation beginning 12-1pm on Sundays, we're running out of time (and pastoral manpower) on Sunday morning for a special mask service. So we ask those who are able to wear masks to do so for the services on Monday the 14th, 21st, and 28th. We will continue to revisit our plans monthly.
We will have a teen (7th grade through high school) Bible class between services on Sunday, beginning with the study, "Courage that Defies Death."
The Thursday Zoom Bible Class will migrate to Wednesday morning. We will hold our Wednesday classes in the basement of the church, and the Wednesday morning one, God-willing, will be a hybrid in-person and online study.
-For those worshiping at home this week: Livestreamed 8am service, with the service available on Youtube afterwards. See worship preparation below to get the hymns and readings ready (or find bulletin here: https://drive.google.com/drive/folders/0BzC3y8YQ1IYcfndHWmRhQ2t6TVhhVXoyTWNVN29vcHBJMzlxcjMyWEJhRGpKM3RfNXdKMHc_ ).
-DVDs and sermon copies are available by contacting the church office, between 9am-12pm on weekdays.
-NEW CHURCH DIRECTORY
Sign up for a time in-person between services, online, or call during the week for us to help you. To sign up online, go to www.ucdir.com, click on the appointment scheduling button, enter mi1502 for the church code and enter photos for the password. Online sign up will only be active Mon-Fri, so that the sheets for in-person sign up on Sunday morning will be accurate. If you are unable to go to the basement because of handicap accessibility, or need help scheduling, call Elaine Livingston at 989-321-1095.
+++
ONLINE BIBLE STUDY THURSDAY MORNING at 10am (Next Week moving to Wednesday at 10am)
Questions below. Anybody is free to join. Click this link or enter the information below in the program/app Zoom. Meeting ID: 813 9931 8006 Password: 011081
+++
1. Devotional Thought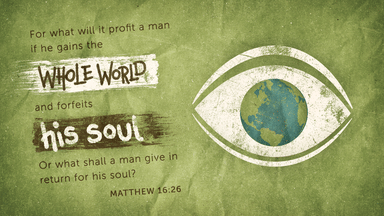 When I have the option between eating one marshmallow now, or two later... I choose three right now.
I have a hard time delaying gratification, and that seems to be typical of the age we live in. We live in an age of instant gratification. We check our notifications--now! We need our food--fast! Our motto as a culture seems to be, "I need my best life—right now! And if I can't have it right now, then I at least need it soon, sometime in the next 70 years or so."
Whether we want our best life now, or in 70 years, either way, that's a very shortsighted way of looking at things.
It might not seem that way to us now--instant gratification rarely seems like a bad idea at the time. But when Jesus puts things in the perspective of eternity, then we can see how foolish it is to be fixated on my gratification right now. He says, "What will it benefit a person if he gains the whole world, yet forfeits his soul?"
What good is a "best life" for the next 70 years, if we forfeit our soul for the next 700,000!?
Jesus knows the answer--even if we sometimes don't. When he told his disciples that he was going to the cross to die for the sins of the world, and then rise again on the third day, Peter rebuked him. "No, Jesus--you can't die! You need your best life now--and we want that too!" But Jesus knew that the benefits of instant gratification of selfish desires in this life could never outweigh the eternal benefits of what he had come to do. So he rebuked Peter right back, and he gave up not just his best life, but his whole life on the cross to save people like Peter from this kind of sinful, selfish foolishness.
Our sinful nature is the same as Peter's. We want to give in to all our sinful, selfish desires this side of heaven; we think that this life is all about having as good a life as possible right now, for us and our families. But "What will it benefit a person if he gains the whole world, yet forfeits his soul?" Any moment we've sacrificed God's will for ours, any time we've sacrificed following Jesus to do what we want, instead of sacrificing what we want to follow Jesus, we've made that foolish, sinful, condemning trade, and earned the delayed punishment of an eternity of our worst death ever, body and soul.
Jesus knew the cost of instant gratification.
He knew the cost of saving our souls from our sinful search for the best life now. He says, "What can a person give in exchange for his soul?" The answer: Nothing. We can't. There is no way to undo the foolish trades we've made, sacrificing our eternity for a sinful present.
But Jesus could give something in exchange for our souls--his own.
That's why he was so determined to live a life that led to a painful death on the cross. He wanted to save us from our fools bargain, and he did. He gave his life in exchange for ours, and exchanged the consequences of our selfish gratification for the reward of his selfless life. Through Jesus, we have regained our souls--and we will gain more than the world in the life to come.
And that means our lives right now are also, instantly, about more than a selfish quest for our best life now.
We live to take up our cross, sacrificing our sinful desires to follow the one who gave up everything for us. And, in a way, that is our "best life now," because it is a life saying thank you to the one who has saved our souls and guaranteed us our best life forever, through faith in him.
+++
2. Worship Preview for Sunday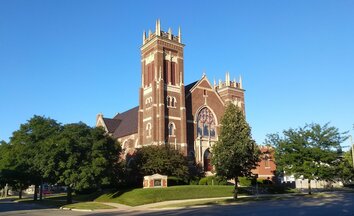 Read through the readings for Sunday during the week, while asking these questions:
What is this text saying?
What sins does this lead me to confess?
For what does this text lead me to give thanks (especially references to how God forgives those sins from #2)?
In response to this text, what will I pray for today?
The 15th Sunday after Pentecost: The Church on Earth Bears the Cross while Awaiting the Crown.
The First Lesson is Judges 16:22-31, the account of the end of Samson's life. Samson spent his life gaining the world: strength, fame, power, leadership, love. But he was losing his soul. Here, at the end of his life—in his weakness—he is led by God's grace to embrace the cross, and to die in service to his God. Then he faced his cross; now he enjoys his crown.
The Second Lesson is Romans 12:1-8 (Sermon Text). What does it mean when Jesus says that we have to forfeit the world to follow him? What does it mean to lose your life for Jesus' sake, and so to find it? Romans 12 gives us a description. Taking up our cross and following Jesus means living in the light of his mercy, knowing that the treasure of knowing him and his forgiveness is more valuable than anything this world has to offer. Because we know that mercy, we strive to offer ourselves as living sacrifices to him. We examine our lives and viewpoints carefully, sacrificing everything that does not conform to God's good, pleasing, and perfect will. Little by little God's Word transforms our minds, leading us to find more and more ways to "lose our life"-- to let go of selfish and sinful plans -- in order to find our life in Christ--using all of the gifts and blessings we have in this life to serve him.
The Gospel Reading is Matthew 16:21-26 (See devotional thought above). In this reading, Peter tries to stop Jesus from bearing his cross. He wants to have the crown without the cross. But Jesus rebukes him. Christ's path for us, and our path following him, always comes with the cross first, then the crown. What determination and love Jesus shows for us--he refuses to spare his own life, but gives it up in order to save ours! And then, joy of joys, he allows us to give up our sinful and selfish lives in order to follow him and find true and eternal life!
Hymns: CWS (Blue Hymnal) 784, 465, 469, 579
Psalm: 121
Order of Service: Special printed order
3. Bible Study--Online or On Your Own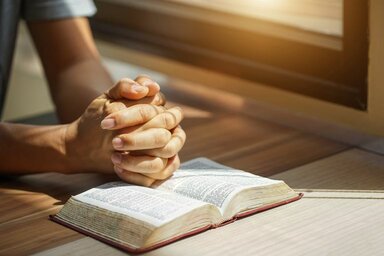 Bible Study—Matthew 16:21-28
Thursday at 10:00am
Join Zoom Meeting
https://us02web.zoom.us/j/81399318006?pwd=ZW5JR3BDL3d1RzNTZzNTZDlreEVrZz09
Meeting ID: 813 9931 8006
Password: 011081
For younger ones:
1) Would you rather have one marshmallow now, or two later?
2) Would you rather have a really fun life for the next year, or a tough year now and a perfect life forever?
3) Jesus does not promise you a perfect life now, but he does promise you a perfect life forever!
More advanced questions:
1) Read Matthew 16:21-23. After Peter's confession about Jesus as the Christ, Jesus began to speak more clearly to them about how he would suffer and die and then rise. For what reasons do you think Jesus would be more clear about his mission at this point?
2) Explain Peter's thought process and emotions as he strongly rebukes Jesus.
3) Agree/Disagree Jesus lost control of his emotions with his response to Peter
4) Why would Jesus be so passionate about rebuking Peter here?
5) Read Matthew 16:24-28. Explain this sentence: Christianity is all about delayed gratification.
6) Now explain this sentence: Christianity is all about avoiding gratification entirely.
7) In Jesus' day, bearing a cross was a shameful thing. In what ways can it still seem shameful, or worth ridiculing, when a Christian "denies himself," and "loses his life for Jesus' sake"?
8) Go through the ten commandments. Point out one sinful desire from each one that needs to be denied daily.
9) Now explain how Jesus' promise in verse 27 motivates us to deny those desires.
10) It is said that no leader asks his followers to do something that he himself isn't willing to do. How does Jesus show he was willing to do the things listed in verses 24-26?
Contact
St. Paul's Lutheran Church and School
Church: 1020 Court St.
School: 2745 W. Genesee Ave.
Our address is: 1020 Court St, Saginaw, MI 48602, USA