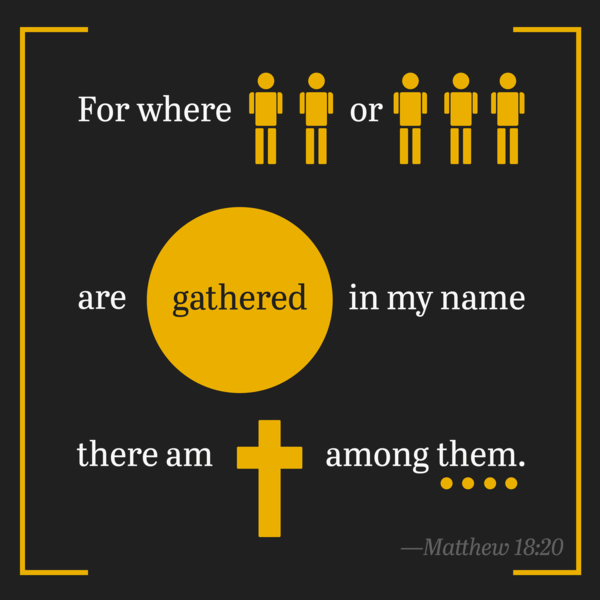 St. Paul's Weekly Update
16th Sunday after Pentecost Weekend of September 20th, 2020
In this newsletter...
(Picture above found at https://credohouse.org/)
This newsletter includes:
Devotional Thought
Worship Preview for Sunday
Bible Study
Notes
-Sunday Worship will be at 8:00am and 10:30, with Bible Class and Sunday School in-between, at the church for the time being. The remaining Monday nights in September will be mask-required, unless you are medically unable to wear one.
-Sunday morning Bible class will be livestreamed. Sunday's materials can be found here: https://www.stpls.org/bible-study/
-Wednesday morning Bible class will be livestreamed. Questions are below. Click this link or enter the information below in the program/app Zoom. Meeting ID: 813 9931 8006 Password: 011081
-COVID NOTIFICATION We have once again been notified of a regularly tested individual who was told of a positive test on Sunday evening. This individual attended the 8:00 am service on 9/13, and had and still has no symptoms. The family also has no symptoms currently. Since there was no close contact (within 6 ft/15 minutes), and no new symptoms from the person or anyone around, then according to the latest CDC guidelines, all we should do is continue to monitor ourselves like normal (https://www.cdc.gov/coronavirus/2019-ncov/hcp/testing-overview.html).
Again, we have no promise from God that we can't get sick on the way to church or being in church. But we hold on to the promises that we do have, that as we gather together we will be encouraged and prepared by God's gifts not just for a day of potential COVID alerts, but for the DAY, when Jesus returns to bring us to paradise.(See devotional thought below as well)
-For those worshiping at home this week: Livestreamed 8am service, with the service available on Youtube afterwards. See worship preparation below to get the hymns and readings ready (or find bulletin here: https://drive.google.com/drive/folders/0BzC3y8YQ1IYcfndHWmRhQ2t6TVhhVXoyTWNVN29vcHBJMzlxcjMyWEJhRGpKM3RfNXdKMHc_ ).
-DVDs and sermon copies are available by contacting the church office, between 9am-12pm on weekdays.
-NEW CHURCH DIRECTORY
Sign up for a time in-person between services, online, or call during the week for us to help you. To sign up online, go to www.ucdir.com, click on the appointment scheduling button, enter mi1502 for the church code and enter photos for the password. Online sign up will only be active Mon-Fri, so that the sheets for in-person sign up on Sunday morning will be accurate. If you are unable to go to the basement because of handicap accessibility, or need help scheduling, call Elaine Livingston at 989-321-1095.
+++
1. Devotional Thought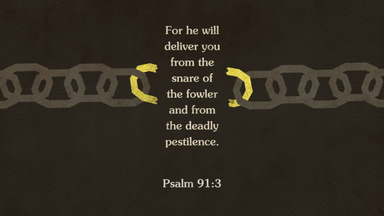 I will say of the LORD, "He is my refuge and my fortress, my God, in whom I trust" (Psalm 91:1).
That's not what "Andrew" was saying when the secret police knocked on his door, arrested him, and left him in a dark cell to wait for four hours before they questioned him.
He actually said, "I was terrified!"
And he also says, "And I'm scared every single time!" (because this keeps happening to him!)
And every single time God takes away his fear with his promises. Andrew says, "When they come in to question me, and I start talking about the gospel, that's when my fear goes away... The maximum they can do to me is kill me. That's just like changing my address. So instead of living in Oklahoma, let's say, you live at home with the Lord."
As he shares the good news about Jesus, and sometimes see it take hold in the hearts of those he is speaking to, Andrew also finds that the gospel takes hold of his heart, too. The good news is that "He who dwells in the shelter of the Most High will rest in the shadow of the Almighty" (Psalm 91:1). He who is safe from God's wrath against our sin, through faith in Jesus, rests securely with God. That's good news! And that good news that he shares also allows him to say personally, "He is my refuge and my fortress, my God, in whom I trust" (v. 2).
There are many things that we can fear in this life, the greatest of them being sin, and the eternal death that it brings. When sin brings you to fear, how about sharing the good news of Psalm 91? "Surely he will save you from the fowler's snare and from the deadly pestilence. He will cover you with his feathers, and under his wings you will find refuge; his faithfulness will be your shield and rampart. You will not fear the terror of night, nor the pestilence that stalks in the darkness, nor the plague that destroys at midday... If you make the Most High your dwelling--even the LORD, who is my refuge--then no harm will befall you, no disaster will come near your tent. For he will command his angels concerning you to guard you in all your ways" (vss. 5-11).
Share the good news with others, and you will find that God uses the good news to encourage your heart too. Then, whether you're captured by the secret police and thrown in a cell, or just got woken up in the night by lightning, or whatever in-between, you can say:
I will say of the LORD, "He is my refuge and my fortress, my God, in whom I trust."
+++
2. Worship Preview for Sunday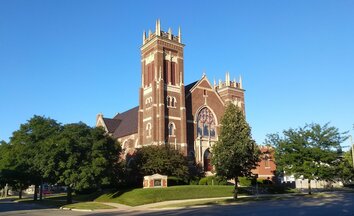 Read through the readings for Sunday during the week, while asking these questions:
What is this text saying?
What sins does this lead me to confess?
For what does this text lead me to give thanks (especially references to how God forgives those sins from #2)?
In response to this text, what will I pray for today?
The 16th Sunday after Pentecost: The Church fulfills her role as her brother's keeper.
The First Lesson is Ezekiel 33:7-11 where God tells us the wonderful truth that he does not take pleasure in the death of the wicked, but that they turn from their ways and live! God gives us the role of watchmen in the lives of those he places in our lives--we are to watch out for and point out sin and wickedness, because God wants people to turn to him for forgiveness and live!
The Second Lesson is Galatians 2:11-21 (Sermon Text). In this reading, the apostle Paul talks about a time he confronted a leader of the early church--Peter himself! He had to, because Peter had fallen into sin, and the teaching of the gospel was in danger. It's important that we help each other live and believe "in line with the truth of the gospel," which is that we are justified by faith in Jesus Christ.
The Gospel Reading is Matthew 18:15-20. This section concludes with a big promise, and we need it, because this is a BIG job that Jesus gives his church. He says we are to confront each other about sin, person to person, believers to believer, and finally congregation to the one trapped in sin. This is all to bring our fellow believers to repentance so they can enjoy God's forgiveness. The big promise? "Where two or three gather together in my name, there I am with them."
Hymns: CW (Red Hymnal) 230, 304, (311), 521
Psalm: 51a
Order of Service: p. 15
3. Bible Study--Online or On Your Own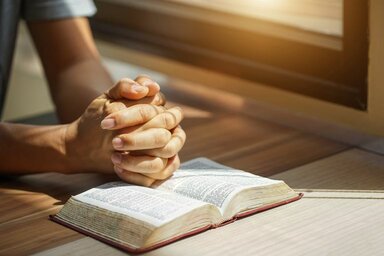 Bible Study—Matthew 18:15-20
Wednesday at 10:00am
Join Zoom Meeting
https://us02web.zoom.us/j/81399318006?pwd=ZW5JR3BDL3d1RzNTZzNTZDlreEVrZz09
Meeting ID: 813 9931 8006
Password: 011081
​​Bible Study Matthew 18:15-20
1.Read Matthew 18:15-20. Reread verse 15. Jesus says you have regained your brother if he listens to you. This brother needs to be regained. What does that imply about the seriousness of the sin being committed?
​​
2.​​What are some things that make it difficult to show someone their sin, just between the two of you, instead of ignoring it, or telling someone else, or making cryptic Facebook posts?
​​
3.​​What are some reasons Christians need to be shown their sin by other Christians? Can't they just examine themselves?
​​
4.​What is always the goal of showing someone their sin, according to the end of this verse?
​​
5.We wish that the scenario ended with verse 15 (and it often does!). But sometimes it continues and the sin becomes more grievous, and public. In this case, more witnesses are needed. Compare this verse to Deuteronomy 19:15. What are some benefits to the sinner and to the one showing sin of having several witnesses?
​​
6.Reread verse 17. Someone says: "It's pointless and mean to bring the matter to the church when they won't listen. Why don't you just leave them alone?" Respond.
​​
7.This "treating as an unbeliever or a tax collector" has been called "giving the person a "loving word of exclusion." How can it be loving to say, effectively, "You are no longer a follower of Jesus of Nazareth. At this time, you are outside the family of God."
​​
8.​This process is difficult! And scary! So Jesus gives big promises! Explain the three promises Jesus gives in verses 18-20.
​​
9.​Go back and read the verses just before our reading, 18:12-14. What does confronting sin look like without the Shepherd's love in this parable? What does confronting sin look like with the Shepherd's love?
Contact
St. Paul's Lutheran Church and School
Church: 1020 Court St.
School: 2745 W. Genesee Ave.
Our address is: 1020 Court St, Saginaw, MI 48602, USA