St. Paul's Weekly Update
19th Sunday after Pentecost Weekend of October 11th, 2020
In this newsletter...
This newsletter includes:
Devotional Thought
Worship Preview for Sunday
Bible Study
Notes
-Sunday Worship is at 8:00am and 10:30, with Bible Class and Sunday School in-between, at the church for the time being. The elders have decided to keep Monday nights through November 2nd mask-required, unless you are medically unable to wear one. We'll keep revisiting plans moving forward.
-Sunday morning Bible class will be livestreamed. Sunday's materials can be found here: https://www.stpls.org/bible-study/ .
-Wednesday morning Bible class will be livestreamed. Questions are below. Click this link or enter the information below in the program/app Zoom. Meeting ID: 813 9931 8006 Password: 011081
-For those worshiping at home this week: Livestreamed 8am service, with the service available on Youtube afterwards. See worship preparation below to get the hymns and readings ready (or find bulletin here: https://drive.google.com/drive/folders/0BzC3y8YQ1IYcfndHWmRhQ2t6TVhhVXoyTWNVN29vcHBJMzlxcjMyWEJhRGpKM3RfNXdKMHc?usp=sharing ).
-DVDs and sermon copies are available by contacting the church office, between 9am-12pm on weekdays.
+++
1. Devotional Thought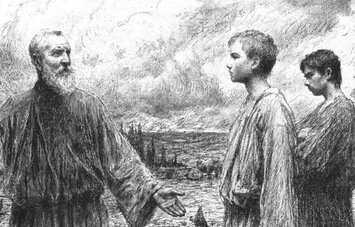 "I do."


Are you ever afraid of making a God-sized promise like that?
"I do. I do. I believe. I do. I do, and I ask God to help me."
Most of us have said these words, in that order. What are they? They are the responses we gave when we were confirmed, or joined a WELS congregation.
They are the response to questions like, "Do you reject the devil along with all his lies and empty promises? Do you intend to continue steadfast in this teaching and to endure all things, even death, rather than fall away from it?"
Those are some GOD-SIZED promises! Is that enough for God? "Ok, I've said it, God. I do, I do, I believe etc... It's all settled. I'm set for life."
In our Gospel reading for this weekend, Jesus tells a parable about two sons of a man who owned a vineyard. The man said to his sons, "Go, work today in my vineyard."
One responded, "I will not!" Another responded, "I will!"
Was that enough for God? Was he pleased with the second, but not with the first?
Jesus goes on. The son who said, "I will not," changed his mind and wound up going to work in the vineyard. But the son who said, "I will," wound up not going to work in the vineyard. Jesus then asks, "Which of the two did the will of the father?"
The answer of course: The first! The son who said, "I will not," but then changed his mind and went to work.
The point: more important than a GOD-SIZED promise is GOD-SIZED follow-through.
It's not enough to say, "I reject the devil," but then to live my life according to his lies. God is not pleased when I promise to remain steadfast in his teaching and to endure all things, even death, rather than fall away from it, but then live my life as if remaining steadfast in Jesus' teaching is the least important thing in my life.
God forgive us for being like the second son--when we fail to live according to our faith and according to the promises we have made to God!
God does forgive--we know he does, because he has followed through on all of his GOD-SIZED promises with GOD-SIZED follow through! He sent the "third son," Jesus, who said, "I will go and save them," and followed through with a perfect life in obedience to God in our place. He is the follow-through to whatever God-sized promises God has inspired us to make.
"Do you reject the devil and his lies?" I DO! Because Jesus defeated the devil and his lies for me, and his victory over the devil counts as mine through faith.
"Do you intend to remain steadfast to Jesus' teachings?" I DO, AND I ASK GOD TO HELP ME! And I know God does, because he continues to strengthen my faith in Jesus' teachings every time I hear and take to heart his words, and whenever I remember and trust in the promises in my baptism and in the Lord's Supper.
So keep making GOD-SIZED PROMISES! And rely on the GOD-SIZED FOLLOW-THROUGH that God grants you through faith in Jesus.
+++
2. Worship Preview for Sunday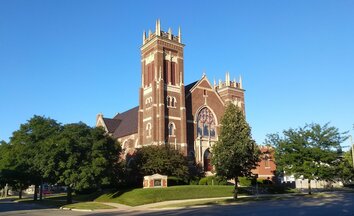 Read through the readings for Sunday during the week, while asking these questions:
What is this text saying?
What sins does this lead me to confess?
For what does this text lead me to give thanks (especially references to how God forgives those sins from #2)?
In response to this text, what will I pray for today?
The 19th Sunday after Pentecost: Our God wants real repentance that leads to true obedience.
The First Lesson is Ezekiel 18:1-4, 25-32 (Sermon Text). The people of Israel in exile thought they didn't need to repent. "It's our parents fault we're in exile!" But God teaches them that each individual is responsible for his or her life before God. For this reason, he calls each individual to repentance with his powerful word! God wants everyone to turn from sin and life through faith in him. "Turn! Turn from your wicked ways and live!"
The Second Lesson is 2 Corinthians 13:5-8. Whenever we start taking for granted that we are God's children, while at the same time living as if we are just like everyone else who doesn't believe in God, we need to examine ourselves! Are we acting like the son in the gospel reading (below) that says, "I will! Of course I am a Christian!" but then living as if I am anything but? Paul tells us to examine ourselves according to God's Word and repent of our lack of fruit, as well as rejoice when we see evidence that the faith God has given us is bearing fruit.
The Gospel Reading is Matthew 21:28-32 (devotional thought above). It is never enough to think we are doing God's will, or claim that we are doing God's will. True obedience is responding to God's commands by doing what he asks us to do! It's so easy to say, "I am a Christian," all while living for myself. That's not what God wants! Being a Christian starts with saying, "God, I have not been as obedient as I should be; forgive me, for Jesus' sake!" Jesus' forgiveness then moves us to say, "God, tell me what you want me to do, then give me the strength to do it!"
Hymns: CW (Red Hymnal) 302, 306, 308, 368
Psalm: 25 (Bible Study Below)
+++
3. Bible Study--Online or On Your Own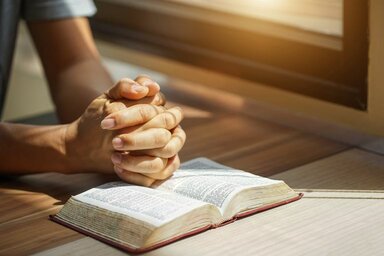 Bible Study—Psalm 25
Wednesday at 10:00am
Join Zoom Meeting
https://us02web.zoom.us/j/81399318006?pwd=ZW5JR3BDL3d1RzNTZzNTZDlreEVrZz09
Meeting ID: 813 9931 8006
Password: 011081
For kids:
1. When did you learn your ABCs (or when will you?)
2. This psalm is a alphabet psalm, where the writer goes through the Hebrew alphabet. He is trying to learn how to live to please God and to be blessed by him. How do we learn about God and what pleases him?
For adults:
1. Read Psalm 25:1-3. Your friend boasts about how he is taking his 25 year old vehicle with 500,000 miles across the US. "This baby will never die!" Then he breaks down after 20 miles and has to cancel his trip. Describe how the vehicle put him to shame for trusting in it.
2. Compare that scenario to verses 1-3. David is saying, "I trust in you! Don't break down!" And he was confident that wouldn't happen. What proof could David offer from his life that "all who hope in you will never be put to shame."
3.​ Read Romans 5:5. Even when it seems God is failing us, what do believers always have that prevents us from being ashamed of God? (Read also Romans 1:16, Isaiah 49:23).
​​
4.​ Read Psalm 25:4-11. David should know that God would never put his trust to shame, but there is something (besides his enemies) that could lead him to think God would decide to abandon him. Reread verse 7. What is it?
5. For what reasons is it sometimes easier for young people/Christians to fall into sin or "rebellious ways"?
6. We may have sins buried deep in our past from years ago. Reread verse 6. What is even more "ancient" than the sins of our youth?
7. A man on his death bed was plagued by the sins he had committed in his 70 year life. A pastor quoted to him this Psalm. The man responded: "I am a fool remembering what God has forgotten."
​​
8. Reread verses 4-5, and 8-10. Explain this sentence: On the road to heaven, God is like a map you have to check frequently.
9. Why do some people hate asking for directions? What attitude does verse 9 show we need to continue to take direction from God throughout life?
10. In the Lord's Prayer we pray: Hallowed be your name. We know God's name is always holy, but we pray in this petition that God continues to teach us more about his name/reputation so that we can live in a way that sets apart God's name and reputation as something different, holy, and wonderful. Find connections to "Hallowed be your name" in verses 9-11.
10. Read Psalm 25:12-14. A Christian living in poverty and under persecution reads verse 13. How is that verse true for him?
11. Read Psalm 25:15-22. How were these words fulfilled on the cross?
12. Since we are already redeemed from all our distress (verse 22), what can our reaction be when we are surrounded by affliction and enemies? (verse 15, 21 especially)
13. This Psalm is about instructing our hearts in the comforting truths of God. Go through these verses and explain what we learn about God from the Bible:
-verse 3
-verse 4-5
-verse 5
-verse 6
-verse 8
-verse 10
-verse 11
-verse 14
-verse 16
-verse 15, 20
Contact
St. Paul's Lutheran Church and School
Church: 1020 Court St.
School: 2745 W. Genesee Ave.
Our address is: 1020 Court St, Saginaw, MI 48602, USA