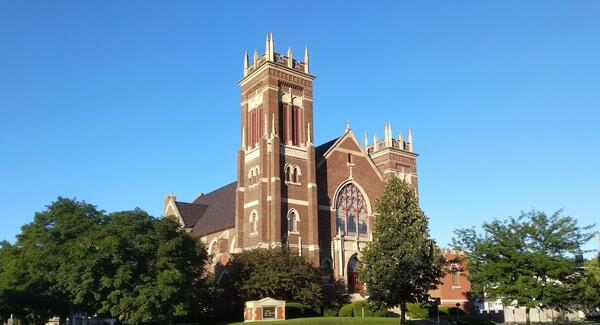 St. Paul's Voters' Meeting Items
2pm on October 11th, 2020 St. Paul's School Cafeteria
Agenda Items
St. Paul's Family,
Since we have some bigger items for discussion on the council agenda for Sunday, the council wanted to let you know about some of them ahead of time. We will also announce some of the items at church. Our new business will include:
Elections
Bond Street Property: The Board of Trustees recommends we do not purchase the Bond Street property that has become available for the price of $5,000 (The trustees no longer believe there is a need for additional parking. The $5,000 is only the purchase cost of the house, but purchasing would involve additional cost of tearing down the house, landscaping, and maintaining the property each year.)
Special 100th Anniversary of Building Offering in 2021: The Council is recommending a special offering be gathered in 2021 through 12 monthly special anniversary envelopes, which will be split between the renovation of the church basement at St. Paul's and the construction of a church building in a mission field or other congregation.
New Hymnal Recommendation: The Board of Elders recommends the purchase of the New Hymnal (https://www.christianworship.com/) by November 28, 2021, with the estimated $16,000 cost to be funded by special individual gifts from members of the congregation.
A Permanent Call for a New Part-time (40%) Teacher: The Board of Education recommends the congregation extend a permanent divine call for a part-time teacher to assist in the lower grade classrooms.
2021 Budget --The proposed 2021 St. Paul's Ministry Fund budget has minor inflationary adjustments for some expense categories as usual, and the normal worker salary bumps associated with gaining one more year of experience. The proposed 2021 budget may also include wages and FICA for a new 40% part-time teacher (with no health insurance or pension benefits) should the congregation approve same (see number 5 above) Also, the proposed 2021 Mission Fund goal was set a bit differently this year; we chose to set the Mission goal to be a certain percent of the total St. Paul's Ministry Fund, 13.5% to be specific. The proposed 2021 Mission goal is $113,400 which is $7,800 or 7.4% greater than the 2020 Missions goal of $105,600.
God bless,
St. Paul's Council
Contact
St. Paul's Lutheran Church and School
Church: 1020 Court St.
School: 2745 W. Genesee Ave.
Our address is: 1020 Court St, Saginaw, MI 48602, USA