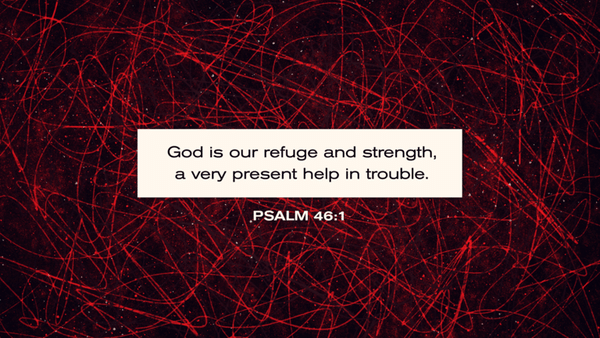 St. Paul's Weekly Update
Reformation Weekend of November 1, 2020
In this newsletter...
This newsletter includes:
Devotional Thought
Worship Preview for Sunday
Bible Study
Notes
-The Livestream battle continues. I believe we are currently in Episode 5, "The Livestream Strikes Back." But we are optimistic that we will get to Episode 6 soon, "The Return of the Livestream." In the meantime, we will try to get the recorded 8:00am service up at soon as possible on Youtube on Sundays, and will use Facebook live again to livestream Bible class if needed.
-Sunday Worship is at 8:00am and 10:30, with Bible Class and Sunday School in-between, at the church for the time being. Monday night worship is at 6:30pm, and through November 2nd they remain mask-required, unless you are medically unable to wear one. We'll keep revisiting plans moving forward.
-We continue our Bible Study "Politics: This Will Not Divide Us" this week with the topic: The Separation of Church and State. Email stpls@stpls.org for the materials for the Sunday Bible class. Look for the class on our Facebook page if the Youtube livestream is still not working.
-Wednesday morning Bible class will be livestreamed via Zoom. Questions are below. Click this link or enter the information below in the program/app Zoom. Meeting ID: 813 9931 8006 Password: 011081
-For those worshiping at home this week: Again, we will try to live-stream, but unfortunately it may be best not to plan on the service being available in real-time. We will try to have the worship service up by the afternoon. See worship preparation below to get the hymns and readings ready (or find bulletin here: https://drive.google.com/drive/folders/0BzC3y8YQ1IYcfndHWmRhQ2t6TVhhVXoyTWNVN29vcHBJMzlxcjMyWEJhRGpKM3RfNXdKMHc?usp=sharing ).
-DVDs and sermon copies are available by contacting the church office, between 9am-12pm on weekdays.
+++
1. Devotional Thought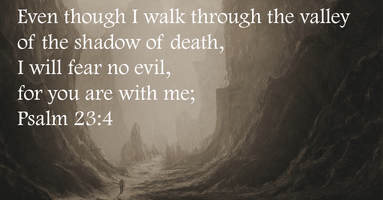 One of the books of his that we have studied at St. Paul's in years past is "The Theology of the Cross." For the devotional thought this week, I've included a section from that book about the cross of getting older and nearing death.
"After all is said and done, our loss of control in our old age merely makes more obvious what has been true all along: We were never really in control, even on our strongest and most successful day. The only difference between the times of frailty in old age and the vigor of youth is that in old age we recognize the reality much more readily--and with the end of the vain struggles of life, we have much more reason to give thanks for that reality. The reality is that God has kept his promises. He has not forsaken us. He has remained our strength and stay every step of the way. And in the last and fearsome struggle he will not change his promises or his saving habits toward us.
"St. Paul's attitude puts the whole matter into beautiful focus. He was in prison. He expected that his life would end soon in martyrdom. Many were the crosses he had already borne. Many were the burdens and trials and afflictions. But now they were all coming to an end. And this is what he says as that day draws nearer: "The time has come for my departure. I have fought the good fight, I have finished the race, I have kept the faith. Now there is in store for me the crown of righteousness, which the Lord, the righteous Judge, will award to me on that day--and not only to me, but to all who have longed for his appearing" (2 Timothy 4:6-8).
"Did you notice it? No calluses! His life had been an exhausting race. His epistles bear witness to it, that his work gave him one fight after another... But there is no trace of bitterness in his tone. There is only gratitude for the time he had served, and yes, gratitude for the fact that that time was now passed. What a model for us! We had the honor to serve; now we have the honor to lay down the burdens of service and fill our hearts and souls with what lies ahead: a crown of righteousness. What lies ahead is Jesus! What is there for us to complain about?
"So there are but two tasks to focus on as the end draws near: Ever more to see Jesus only, and as much as possible, to serve still by making the work of those around as easy for them as possible, as we pray for them and give thanks for them. In the process by word and deed, we make a good confession; we let those near and dear and those who serve us know that our confidence, our hope, our peace is all in Christ. With him we died in Baptism and were raised again to life. With him we are ready to pass through the valley of the shadow of death and on into an eternity of triumph in heaven. Because of him we will soon pass from imitating him in his humiliation to sharing with him in his exaltation. Wer so stirbt, stirbt wohl! 'He who dies thus dies well!'"
-Daniel M. Deutschlander, The Theology of the Cross, Northwestern Publishing House, pp. 191-193 (https://online.nph.net/the-theology-of-the-cross.html)
+++
2. Worship Preview for Sunday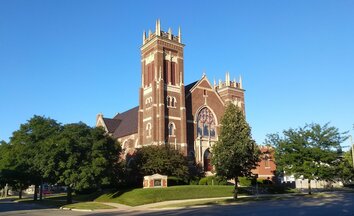 Read through the readings for Sunday during the week, while asking these questions:
What is this text saying?
What sins does this lead me to confess?
For what does this text lead me to give thanks (especially references to how God forgives those sins from #2)?
In response to this text, what will I pray for today?
Reformation Sunday: Lord, keep us faithful to your Word!
The First Lesson is Daniel 6:10-12, 16-23. Daniel refuses to waver from his faith in God, even when ordered by the most powerful person in the world. He is thrown into the lion's den for his trouble. But even there, his God, the true God, was glorified. "So Daniel was brought up from the pit, and he was unharmed because he trusted in his God." Through faith in God, we, too, can never be harmed--not really--because our God rescues us from every evil, whether in life or in death.
Psalm of the Day: Psalm 46, the basis of Martin Luther's hymn, "A Mighty Fortress is our God." When everything else in the world seems to be giving way, God, our fortress, is unshakeable!
The Second Lesson is 2 Timothy 4:9-18. Paul talks about some coworkers who deserted him because they loved this world. And yet, like Daniel, Paul was strengthened by the Lord to proclaim the true God and give him glory. He, too, was rescued by the Lord. "The Lord will rescue me from every evil work and will bring me safely into his heavenly kingdom. To him be glory forever and ever. Amen."
The Gospel Reading is Matthew 10:16-23 (Sermon Text). Jesus tells his disciples that it will not be easy to testify about him. They will be hated and persecuted as they testify to all people, even before governors and kings! And yet they did not need to worry how they would respond, because the Holy Spirit would strengthen them to testify about Jesus despite the danger. Through God's Word, the Holy Spirit gives us the ability to testify as well.
Hymns: 770 (Blue Hymnal), 200 (514/199/205)
+++
3. Bible Study--Online or On Your Own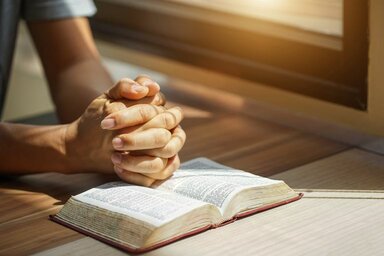 Bible Study—Psalm 46
Wednesday at 10:00am
Join Zoom Meeting
https://us02web.zoom.us/j/81399318006?pwd=ZW5JR3BDL3d1RzNTZzNTZDlreEVrZz09
Meeting ID: 813 9931 8006
Password: 011081
For kids:
1. What do you do when you're scared?
2. Even if parents aren't around to help us, we can always call on God in prayer. He will always keep us safe!
For adults:
1. Read Psalm 46. This Psalm is all about finding strength and refuge in the Lord. What are some things people try to find strength and security in (apart from God)?
2. How well do those things protect people from heartbreak, failure, sin, disease, disaster or judgment?
3. Explain: Verse 1 says God is both someone we run to and who runs to us in times of trouble.
4. Compare Psalm 46 verse 1 to the first lines of "A Mighty Fortress." "A mighty fortress is our God, a trusty shield and weapon; He helps us free from every need that has us now overtaken."
5. Read verses 2-3. Contrast the stability of God to the instability of worldly things.
(Note also verse 4 of the hymn: "And do what they will--hate, steal, hurt, or kill--though all may be gone, our victory is won; the kingdom's ours forever" or another translation: "Let good and kindred go, this mortal life also; the body they may kill; God's truth abideth still; his kingdom is forever.")
​​
6.​ Read verses 4-7. Describe the peacefulness of "Jerusalem."
7. The Bible often talks about this heavenly city and its stream of living water. Read Ezekiel 47:1-12; Zech 14:8; Rev 22:1-2; and Hebrews 11:10.
8. Read John 7:37. How do we enjoy the living water even now?
9. Read Psalm 46:8-10 and compare to 2 Kings 19:35-36.
10. Share moments when people need to hear verse 10 especially.
11. Read verse 11 and compare to 2 Kings 6:15-16. Then read the second verse of hymn 200:
With might of ours can naught be done; Soon were our loss effected. But for us fights the valiant one whom God himself elected. You ask "Who is this?" Jesus Christ it is, the Almighty Lord. And there's no other God. He holds the field forever.
+++
Contact
St. Paul's Lutheran Church and School
Church: 1020 Court St.
School: 2745 W. Genesee Ave.
Our address is: 1020 Court St, Saginaw, MI 48602, USA