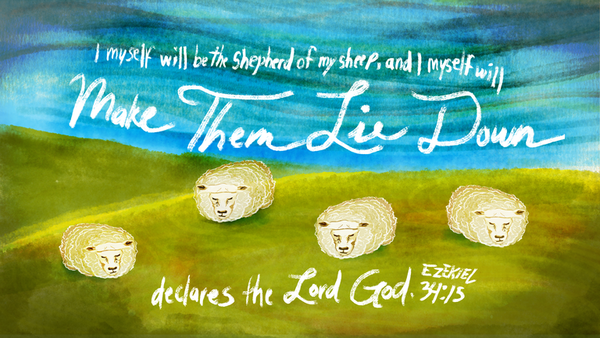 St. Paul's Weekly Update
Christ the King Weekend of November 22, 2020
In this newsletter...
This newsletter includes:
Devotional Thought
Worship Preview for Sunday
Bible Study
Notes
-Sunday Worship is at 8:00am and 10:30 (mask-optional), with Bible Class and Sunday School in-between, at the church. A new Bible class starts this week! It's called, "O Lord, How Shall I Meet You?" and will help us appreciate the hymns and life of Paul Gerhardt and apply his favorite Bible truths of comfort during cross and trial to our lives. Watch this video to get an overview of his life and impact.
-Monday night worship (mask-required) is at 6:30pm and will continue weekly through the month of January.
-The Livestream claims that it is fixed! While we have become suspicious of our livestream, we have reason to believe that it will indeed work from now on! We thank the Spaudes for all their hard work. Say prayers that everything works this Sunday.
-For those worshiping at home this week: See worship preparation below to get the hymns and readings ready (or find bulletin here: https://drive.google.com/drive/folders/0BzC3y8YQ1IYcfndHWmRhQ2t6TVhhVXoyTWNVN29vcHBJMzlxcjMyWEJhRGpKM3RfNXdKMHc?usp=sharing ).
-As cases rise going into the winter season, we thank you all for continuing to make faithful decisions out of gratefulness to God's forgiveness as you balance the commandments like the...
1st (regarding fearing, loving, and trusting God above all things)
2nd (regarding bringing glory to God's name with all we believe and do)
3rd (regarding treasuring God's Word and worship)
4th (regarding respect for government)
5th (regarding love for our neighbor's welfare)
8th (regarding taking our neighbor's words and actions in the kindest possible way).
-Romans 14 is an excellent guide when we consider what Christians can do to serve and build each other up when there are situations where we may disagree. Read all of Romans 14-15 to review things to consider during this time. Here's Romans 14:13-18, 22-23:
13 Therefore let us stop passing judgment on one another. Instead, make up your mind not to put any stumbling block or obstacle in the way of a brother or sister. 14 I am convinced, being fully persuaded in the Lord Jesus, that nothing is unclean in itself. But if anyone regards something as unclean, then for that person it is unclean. 15 If your brother or sister is distressed because of what you eat, you are no longer acting in love. Do not by your eating destroy someone for whom Christ died. 16 Therefore do not let what you know is good be spoken of as evil. 17 For the kingdom of God is not a matter of eating and drinking, but of righteousness, peace and joy in the Holy Spirit, 18 because anyone who serves Christ in this way is pleasing to God and receives human approval. 19 Let us therefore make every effort to do what leads to peace and to mutual edification...
22 So whatever you believe about these things keep between yourself and God. Blessed is the one who does not condemn himself by what he approves. 23 But whoever has doubts is condemned if they eat, because their eating is not from faith; and everything that does not come from faith is sin.
-Thanksgiving Eve worship (2 services): 3:30 (Mask-required) and 6:30pm on Wednesday, November 25th.
-DVDs and sermon copies are available by contacting the church office, between 9am-12pm on weekdays.
-Private communion always available by appointment. Call the office or call/email Pastor Naumann (412-0232); Pastor Buelow (412-0458)
+++
1. Devotional Thought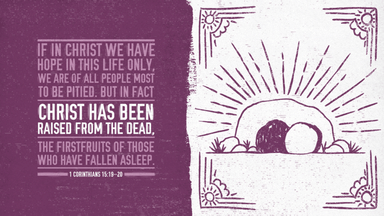 You know what the coolest thing a king can do is?
Say "Away with him," and dismiss someone from his presence.
I wish I could do that. If I'm worried, I could just say, "Away with it," and my worry would leave. If I'm afraid, I could just wave my hand and say, "Away with it," and I wouldn't feel afraid anymore.
I don't have that power. But our King, Jesus, does.
He can do it because is the king--of everything! He rules over everything. He says, "Come here," and people have to come to him. He says, "Away," and it has to go away.
And you know what he says, "Away with him" about?
Death.
1 Corinthians 15:26 says, "Death is the last enemy to be done away with." It may seem to take a while. But when the King is good and ready, when death has served its final purpose, Jesus will dismiss it as easily as waving his hand.
And with that same hand he will welcome you into your heavenly home.
Which means today we can say that too. To any worry or fear, even to death, we can say, "Away with you! My King, Jesus, reigns. He is alive! And I know that I will live forever with him."
2. Worship Preview for Sunday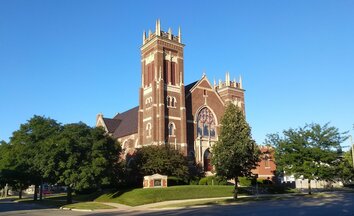 Read through the readings for Sunday during the week, while asking these questions:
What is this text saying?
What sins does this lead me to confess?
For what does this text lead me to give thanks (especially references to how God forgives those sins from #2)?
In response to this text, what will I pray for today?
Christ the King
The Gospel reading, Matthew 27:27-31, contrasts with the other readings of the day because we see Jesus suffering in a way that does not look very kingly at all. He wears a crown not of gold, but of thorns. This reminds us what kind of King Jesus is for us. He doesn't sit high and mighty on his throne and make us serve him--he comes humbly to serve us. And though his kingdom seems weak, through the eyes of faith we know that it is an invincible and eternal kingdom established forever by Jesus' death and resurrection.
The OT Reading is Ezekiel 34: 11-16, 23, 24, a wonderful list of all the things "I," that is, God, will do. In a time when we feel the pressure of all the things we are told to do to take care of our welfare, what a relief to hear about all the things God does for us! He will seek our welfare, he will gather us, he will heal us, and he will strengthen us. All of this is possible because of the last thing prophesied: He will raise up over us one shepherd-king, the true and better "David," Jesus. What a blessing to have such a king care for us!
Psalm 47 is song of praise to the King, our LORD God! We could say, "Long live the king," but instead this psalm says to praise him with these words, with shouts, with clapping hands, and with music. What else can you do when you know that the King over all the earth is a king who loves you and will give you a place in his kingdom!? Remember, even if you are worshiping at home at this time, how important it is to sing to God and praise him with spiritual songs--it drives the glorious truths of God into your heart. Try one of these hymns based on the truth of Christ as King: Crown him with many crowns, See the conqueror, Up through endless ranks of angels, or one of these settings of the psalm itself: Contemporary, Acapella Men's Group. Remember to sing together as a family, especially when you are worshiping at home!
The NT Reading is 1 Corinthians 15:20-28. It tells of the rule of the Son, Jesus, the Christ, "Anointed" King. He undoes what the first man, Adam ruined through the fall into sin, by living perfectly, conquering death, and rising to give life to all. He now rules over everything as the true Adam, the quintessential man as man should have been, all for our good and to God's glory.
Hymns: 216, 217, 442, 344, 426
+++
3. Bible Study--Online or On Your Own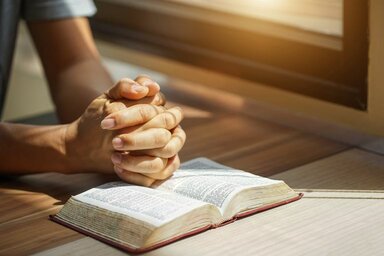 Bible Study—1 Corinthians 15
Wednesday at 10:00am
Join Zoom Meeting
https://us02web.zoom.us/j/81399318006?pwd=ZW5JR3BDL3d1RzNTZzNTZDlreEVrZz09
Meeting ID: 813 9931 8006
Password: 011081
Read 1 Corinthians 15
Discuss
1. What are the basics of the gospel?
2. What proof does Paul give us for the physical resurrection of Jesus Christ from the dead?
3. Throughout Corinthians, Paul addressed problems in the Corinthian congregation. What problem did Paul address in this chapter? (verse 12)
4. What are the consequences of not believing in any resurrection?
5. What are the consequences of not believing in Jesus' resurrection?
Apply
6. How is a Christian funeral service different from other funeral services?
+++
Contact
St. Paul's Lutheran Church and School
Church: 1020 Court St.
School: 2745 W. Genesee Ave.
Our address is: 1020 Court St, Saginaw, MI 48602, USA