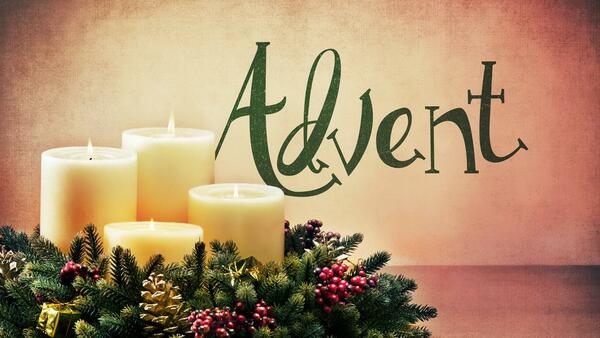 St. Paul's Weekly Update
Fourth Sunday in Advent Weekend of December 20, 2020
Introduction & Notes
Receive the Christmas Promise
This weekend the fourth Advent candle will be lit! Which means we are very close now. Do you have your shopping done? Have you gotten presents for everyone you'd like to get a present for? Are you ready to give those presents on Christmas Eve or Day?
This weekend you don't have to worry about getting a last-minute present for God; you simply get to receive his present to you. Like David, Mary, and all Christians, simply receive the miraculous gift of Christmas from God through faith.


Notes
-If you are in need of assistance of any kind this Christmas, please let us know. We have many who are willing to provide food especially!
Worship Service Times
-Christmas Eve worship will be Thursday, December 24th, at 2:00pm (mask-required), 4:00pm, and 6:30pm.
-Christmas Day worship with communion will be Friday, December 25th, at 9:30am.
-Advent Midweek worship concludes tomorrow @ 3:30 and 6:30pm (mask-optional) under the theme: Prepare the Way for the Lord--Through Meditation. Both services will be live-streamed, since the first will begin with a 10 minute Sunday School program, and the second service will begin with four Christmas songs from the Adult Choir.
-Sunday Worship is at 8:00am and 10:30 (mask-optional), with Bible Class and Sunday School in-between.
-Monday night worship (mask-required) is at 6:30pm.
-The livestreams of the 3:30 Advent service and Sunday 8:00am can be found here. See worship preparation below to get the hymns and readings ready (or find bulletin here)
-DVDs and sermon copies are available by contacting the church office, between 9am-12pm on weekdays.
-Private communion always available by appointment. Don't let anything separate you from God's means of Grace! Call the office or call/email Pastor Naumann (412-0232); Pastor Buelow (412-0458)
-For other events, click on the Calendar link at the bottom of this email.
+++
Worship Preview for Sunday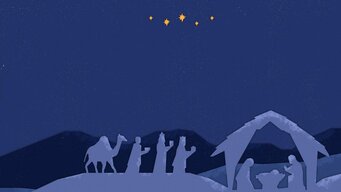 Read through the readings for Sunday during the week, while asking these questions:
What is this text saying?
What sins does this lead me to confess?
For what does this text lead me to give thanks (especially references to how God forgives those sins from #2)?
In response to this text, what will I pray for today?
Advent 4: Receive God's Miraculous Gift!
In the Gospel reading, Luke 1:26-38, the angel Gabriel announces an unbelievable and miraculous gift to the virgin Mary: "You have found favor with God. You will conceive and give birth to a son, and you are to name him Jesus. He will be great and will be called the Son of the Most High. The Lord will give him the throne of his father David." What is Mary's answer to this miraculous gift? She simple receives and believes God's Word. "Maybe it happen to me as you have said." We, too, need to simply receive the gift of every word of God with that faith.
The Old Testament Reading is 2 Samuel 7:8-16 (Sermon text), where God promises to David exactly what was announced to Mary in the gospel reading. David wanted to give God the gift of a new temple, but God says, "Not so fast. First, I need to give the greatest gift to you." He promises David that his kingly throne will last forever through someone who would be God's own Son. David, and all God's people, have been receiving this promise through faith every since. On Christmas, God's gifts always come first, and we receive them through faith.
The New Testament Reading is Romans 16:25-27. We don't need to produce our own faith so that we can receive God's gifts. God gives even that faith to us as a gift, producing it through the good news about Jesus. The good news of God's gifts results in the obedience of faith--saying, like Mary, "I am the Lord's servant, may it be to me as you have said."
Hymns: 358, 23, (310) 6
Psalm: 89 (A song of praise to God concerning his promise in 2 Samuel 7)
Order of Service: CW p. 26
+++
Devotional Readings/Questions for December 16-23: Receive God's miraculous gift!
December 16 (Wednesday): 2 Samuel 7:1-16
Why did David want to build a temple for the LORD (vss. 1-3)?
What would the LORD do for David instead (note how all of these things can only be fulfilled in Jesus)?
How does God always "outgive" what we want to give to him?
December 17 (Thursday): 2 Samuel 7:1-16
List all the things the LORD promises to do in verses 9-15.
List some of the miraculous promises the LORD gives to you through these promises about Jesus.
December 18 (Friday): Psalm 89:1-4, 19-26
What does the fact that someone besides David wrote a song about his promises from 2 Samuel say about the promises God made to David? These promises were important and remembered not just by David, but by God's people too!
What does verse 1 show we will do in response to God's promises?
December 19 (Saturday): Psalm 89:1-4, 19-26
What does God promise David in verses 20-25?
How were these promises fulfilled in the Son of David, Jesus?
December 20 (Sunday): Designate a special time to worship. If livestreaming at home, prepare the room and the computer (and hopefully a hymnal/bulletin from online) to make this time special. Check in on a fellow member of St. Paul's after worship!
December 21 (Monday): Luke 1:26-38
What was the promise that Gabriel gave to Mary?
Whose throne will be given to Mary's son? How does this connect to 2 Samuel and Psalm 89?
How does Mary receive this miraculous gift of God?
December 22 (Tuesday): Luke 1:26-28
Mary received this promise, but Jesus still would not be born for a little while. What are some promises God has give to you that you have to wait for?
Describe why it is sometimes difficult to imitate Mary in verse 38 as we wait for God's promises to be fulfilled.
December 23 (Wednesday): Psalm 96
Tomorrow (Christmas Eve) you get to fulfill this Psalm by celebrating Christmas Eve! But not just on Christmas Eve. Read verse 2. Why is the good news worth proclaiming from day to day?
Read verse 11. "Joy to the Word--heaven and nature sing!" What are some ways you can join in and praise God in the following days?
December 24/25 Christmas Eve + Day. Plan out when/where you will worship!
Contact
St. Paul's Lutheran Church and School
Church: 1020 Court St.
School: 2745 W. Genesee Ave.
Our address is: 1020 Court St, Saginaw, MI 48602, USA