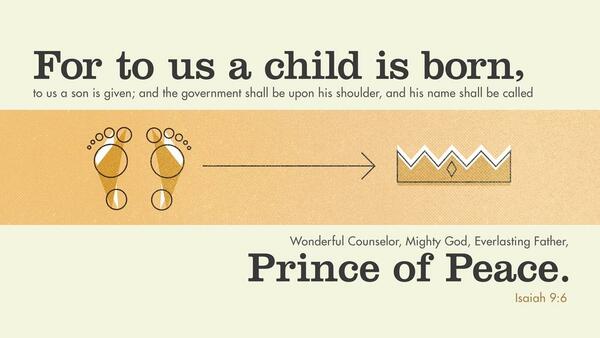 St. Paul's Christmas Schedule
Week of the Celebration of Christ's Birth 2020 A.D.
Christmas Greeting and Schedule
For to us...
Isn't it exciting when someone is about to have a baby? Family members and close friends wait on pins and needles for the text or phone call that says, "Yep, she's this big and mom is doing fine..."
For the parents, it's almost too much. God has entrusted this little child to me? What a gift. What grace.
This week, we celebrate a gift and grace infinitely greater through the child that comes for us. Jesus was not just a cute little baby for his parents. He is the ruler of the universe, the wonderful counselor, the mighty God, the Everlasting Father, and the Prince of Peace! All packed into a 6 pound or so infant, and entrusted to us.
What a gift! What grace! The fact that Jesus came into this world, "born of a woman, born under the law, to redeem those under the law" means that he is all of those things Isaiah listed for us. He came to us, even though we could never keep God's law perfectly the way he demands, and so deserve eternal death. He rules the world in truth and grace--for us--forgiving our trespasses against God's law! He wonderfully counsels us, giving us new birth through his good news! He is our mighty God! He is our caring Father! And he rules as the prince of our heart through faith, and gives us peace.
How exciting is it that we get to celebrate that this week!? "For to us a child is born!" I'm on pins and needles as I wait to join the angels and our congregation of believers to sing in joy, "Glory to God in the highest, and on earth, peace, goodwill toward mankind."
Worship Service Times
Christmas Eve Worship
2:00pm (mask-required)
4:00pm (Livestreamed)
6:30pm
Christmas Day Worship with Communion
9:30am (also livestreamed)
-Sunday Worship, the 27th, is at 8:00am and 10:30 (mask-optional), with no Bible Class and Sunday School this week.
-Monday night worship, the 28th, (mask-required) is at 6:30pm.
-New Year's Eve Worship is at 6:30pm.
-The livestreams of the 4:00 Christmas service, the 9:30 Christmas Day service, and the other services can be found on our youtube page. See worship preparation below to get the hymns and readings ready (or find bulletin here)
A note on loving each other as we make different worship decisions
As we see people make different decisions in regard to worship than us, remember 1 Corinthians 13 and the love God demands from us, including love that is not selfish (1 Cor 13:5). The Greek is οὐ ζητεῖ τὰ ἑαυτῆς (oo zaytee ta eautays), which means "it is not seeking its own," in other words, "it does not insist on its own way." That verse continues, "[Love] is not irritable. It does not keep a record of wrongs."
This means that there may be a way I want people to behave, but love does not insist on its own way. There may be irritation I feel when people make decisions I feel are wrong, but love is not irritable. I may feel people have wracked up a bunch of wrongs against me by the way they have been acting, but love does not keep a record of wrongs.
For those of us on either side of personal decisions where there is no explicit command from God, we need to repent of our sometimes loveless hearts towards our brothers and sisters in Christ, for whom Christ died! We need to repent when we have allowed the irritation and records of wrong that are so common in the world today become part of Christ's family, which is not of this world! I need to repent of this every day.
We do repent--and we return to the one who is love for our forgiveness. If anyone could have insisted on his own way, it is Jesus, the LORD of heaven and earth. But he did not. He lovingly submitted to the Father's plan for him to come into this world and lovingly serve people who did not deserve his love. The good news of Christmas is that he sought you, and instead of being irritated at our failure to love, he loved us all the more. He was born out of love for you, and he died on the cross--not to keep a record of our wrongs, but to forgive us and to purge the record of wrongs against us. Because of Jesus, we instead have a record of perfect love toward each other in God's eyes. Jesus' perfect, selfless, non-irritable, no-record-of-wrong-keeping love is what we have for each other through our one baptism into Christ.
All of us with our different opinions and different decisions are united in Christ and his love. As 1 Corinthians 12 says, "For just as the body is one and has many members, and all the members of the body, though many, are one body, so also is Christ. For by one Spirit we all were baptized into one body, whether Jews or Greeks, whether slaves or free people, and we were all caused to drink one Spirit... The eye cannot say to the hand, 'I have no need for you,' or again to the feet, 'I have no need for you'... You are the body of Christ, and individually you are members of it."
If you love Christ (and you do!), remember that you love all of him. Christ is the head of his body--and what a wonderful leader he is who leads us to grow together into his love! I love Jesus, the head of the body! Which means I can't help but love the other body parts too. When you see or talk to someone who is making a different decision than you, say to yourself, "There is part of Christ's body! I'm so glad they are, and I'm so glad they are different than me. If I love the head of Christ's body, so I love his hand, eye, and foot too."
This Christmas season, we sing with the angels, "Glory to the newborn king! Peace on earth, and mercy mild, God and sinners reconciled!" So rejoice! We are reconciled, one with God through his love in Christ! And rejoice! That love reconciles us to each other too. "We love, because he first loved us."
+++
Contact
St. Paul's Lutheran Church and School
Church: 1020 Court St.
School: 2745 W. Genesee Ave.
Our address is: 1020 Court St, Saginaw, MI 48602, USA