St. Paul's Weekly Update
First Special Anniversary Service & Funeral Announcement Weekend of January 17, 2020
Introductory Thought
Seek the Lord on the Dark Days
Many were disoriented and unsettled by the events of this past week, especially the violence at the Capitol in Washington D.C. Christians hate to witness evidence of the sinfulness in the world and the deep depravity of mankind! We cry out, "Come quickly, Lord Jesus!" And we let moments like these drive you to the Lord in the prayer he taught us:
-- "Our Father in Heaven": Like little children scared in the dark, we settle into our good Father's lap in prayer. We don't understand all that is going on and we don't know exactly what to do about it, but we trust that He knows all things and He knows what to do, that nothing can separate us from his love, and that he works all things for the eternal good of his children.
--"Hallowed be your name": God's name is holy, good and perfect, set apart from all such atrocities. So we pray that God would lead us to call upon his holy name in every trouble, and allow us to reflect his holiness in all we believe, say, and do.
--"Your kingdom come": God's kingdom comes all by itself, but we pray that God's kingdom would continue to come into the hearts of all people, not through force, but through the Word of God. We pray especially for those whose hearts have made an earthly kingdom their idol, that they come to know Jesus' kingdom which is not of this world, and which gives peace this world cannot give.
--"Your will be done, on earth as in heaven." We are confident that God's will is done no matter what, but we also pray that it may be done in our hearts. So we pray that God would destroy whatever evil the devil, the world, and our sinful flesh want to bring out of this tragedy. Instead, we pray that God would use this to drive us back to his Word and Sacrament to be strengthened in faith.
--"Give us today our daily bread." God gives good gifts to all people--even to the wicked, to me, to all those I am angry with or disgusted with right now, and to those with whom I disagree. I am no better than God! So I pray that I, too, may give good to all, even those I consider wicked, by praying for them and doing good to them. I also thank God, and ask God to continue to provide for all of us peace and order, godly and faithful leaders, good government, good friends, and faithful neighbors.
--"Forgive us our sins, as we forgive those who sin against us." When we see rebellion and rioting, we should not first throw our hands up in disgust at those people. We should remember that this was our attitude towards God from the time we are conceived. God should have put us to death our rebellion, but instead he was merciful to us, and put our hostility to death by putting his son to death on the cross in our place. What glorious undeserved love! God not give up on us in disgust--he forgave us in Christ! He still forgives us daily as we fight against our rebellious sinful flesh and enable us to forgive others from the heart.
In blind revolt we would not see
that rebel wills wrought death and night.
We seized and used in fear and spite
your wondrous gift of liberty...
You came into our hall of death, O Christ,
to breathe our poisoned air,
to drink for us the deep despair
that strangled our reluctant breath.
How beautiful the feet that trod
the road to bring good news from God!
How beautiful the feet that bring
good tidings of our saving King!"
-CW 400:2, 3 (Martin Franzmann)
--"Lead us not into temptation." Pray that God would not allow moments like these to lead us into despair, but instead lead us back to Christ and the victory we have in him.
--"But deliver us from evil." We ask for God's protection and care for all people in our country in times of unrest, and we look forward in faith to the time when Jesus will deliver us from evil once and for all by taking us out of this sin-sick world to himself in heaven.
--"For the kingdom, the power, and the glory are yours now and forever. Amen." The United States is just a tiny pawn in God's grand ruling of the universe. God is the King of Kings and Lord of Lords. His is the glory and the power. And he has promised to answer our prayers according to his good will. Amen. Yes it shall be so.
Notes and News
-- Our dear sister in Christ, Margaret Buetow, passed away yesterday morning after months on hospice care. We rejoice that she is with her Savior, and pray that He comfort her family and friends. The funeral will be at St. Paul's at 11am on Saturday, with visitation from 9-11.
-- Sunday Worship is at 8:00am and 10:30 (mask-optional), with Bible Class and Sunday School in-between.
-- Monday night worship (mask-required) is at 6:30pm.
-- The livestream of Sunday 8:00am can be found here. See worship preparation below to get the hymns and readings ready (or find bulletin here)
-- God-willing, both Bible studies will be livestreamed this Wednesday on Zoom and via phone call. Join both the 10am (Civil Government) Bible Study, or the 7pm (Jeremiah) Bible Study by using the info below:
IN THE ZOOM APP: Go to the Zoom app, and enter meeting ID: 813 9931 8006, passcode: 011081, or click: https://us02web.zoom.us/j/81399318006?pwd=ZW5JR3BDL3d1RzNTZzNTZDlreEVrZz09
BY PHONE: Call +1 312 626 6799, meeting ID: 813 9931 8006, passcode: 011081
-- DVDs and sermon copies are available by contacting the church office, between 9am-12pm on weekdays.
-- Private communion always available by appointment. Don't let anything separate you from God's means of grace! Call the office or call/email Pastor Naumann (412-0232); Pastor Buelow (412-0458)
-- Check the latest bulletin & the calendar for up to date announcements, and a list of our newly installed officers for 2021.
Worship Preview for Sunday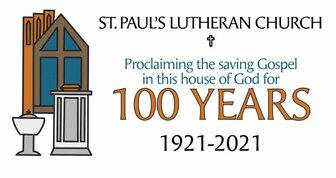 God's Word and Gospel Preaching
From Anniversary Celebration Worship Committee
A pulpit is a piece of church furniture, not too different from a speaker's podium in an university classroom. But appearances aside, there is a world of difference between them. In point of fact, a pulpit doesn't have to be a piece of furniture at all. For our Lord a pulpit could be a rocking fishing boat just off shore, or a mountain slope beneath the blue vault of heaven. It was – and is – a place where God's Word is proclaimed.
That is the thing that sets it apart and gives it a beauty far surpassing the materials or the place or its setting. It is where little children hear of a Savior who loves them, where they learn to trust this one who will keep their souls safe when "now I lay me down to sleep." It is where those struggling with a myriad of troubles and illnesses find peace, and hope, and trust in him "who forgives all your sins and heals all your diseases," Psalm 103:3. It is where mourners assemble to hear of him who has conquered death and "opened the kingdom of heaven to all believers." It is where we learn to say even through our tears that "heaven is our home." It is where we learn to "see Jesus more clearly and love him more dearly."
And the Gospel preaching that is heard here is not something invented by the genius of mankind. No, it is something God-given, God's appointed way of providing salvation. "God was pleased through the foolishness of what was preached to save those who believe," 1 Corinthians 1:21.
It does not seem to be much, according to the wisdom of the world, for a man to don a black or white robe, to ascend a pulpit, and to speak for 15 or 20 minutes. But here the Holy Spirit is working through the Word to give us Christ Jesus, "who became for us the wisdom from God, namely, our righteousness and sanctification and redemption," 1 Corinthians 1:30.
Hymns: 384, 283, 281, 288, 280
Psalm: 119b
Order of Service: DS1 with Word of God Gathering Rite
+++
Contact
St. Paul's Lutheran Church and School
Church: 1020 Court St.
School: 2745 W. Genesee Ave.
Our address is: 1020 Court St, Saginaw, MI 48602, USA