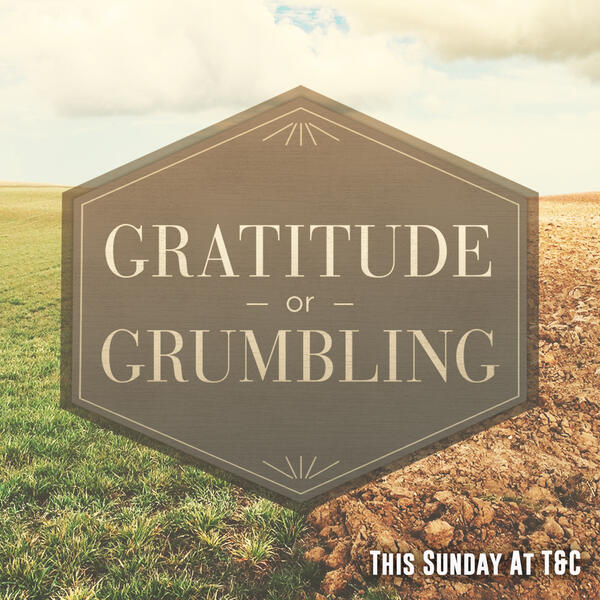 What's Happening
News, Events, Prayer Requests and More From T&C
Upcoming Events
Download
Want to start singing Christmas songs early? Our annual Christmas cantata rehearsals are every Sunday night at 5 p.m. No tryouts, just folks who want to sing together. Give it a whirl, it'll be fun.
Sunday, October 31st, 2021  •  5–6 pm (CDT)
Download
Join our women's study as they take a chronological journey through the Bible. Contact the church office for more information.
Tuesday, November 2nd, 2021  •  9:30–11:00 am (CDT)
Gratitude Vs. Grumbling - 1 Thess. 5:16-28
Gratitude Vs. Grumbling - 1 Thessalonians 5:16-28
Open It
If you could ask God any three questions about how to live your life, what would you ask?
Explore It
What attitudes represent God's will for us? (5:16-18)
How should we pray? (5:17)
When should we give thanks? (5:18)
What is God's will for us? (5:16-18)
How should we show respect for the Holy Spirit's presence in us? (5:19-22)
What does God want to happen inside us? (5:23)
For what reason can we depend on God? (5:24)
What kind of affection did Paul have for the Thessalonian Christians? (5:26)
Who was to hear the contents of this letter? (5:27)
Get It
What can we do to live in peace with everyone in the church?
How can the peace among people in the church be damaged?
What situations tend to test your patience?
What does it mean to pray continually?
What happens when you pay back evil to a person who has done wrong to you?
Why should we give thanks in all circumstances?
What value is there in giving thanks in all circumstances?
How can you remain joyful when things go badly?
How does prayer relate to a person's joy?
How could a person put out the Spirit's fire?
How can we tell if God is actually at work in us?
How can we help or hinder God's work within us?
Apply It
Which of Paul's short, direct commands in this passage do you most need to remember this week?
With whom do you need to make peace? How can you start?
Our address is: 616 Northeast Washington Boulevard, Bartlesville, OK, 74006