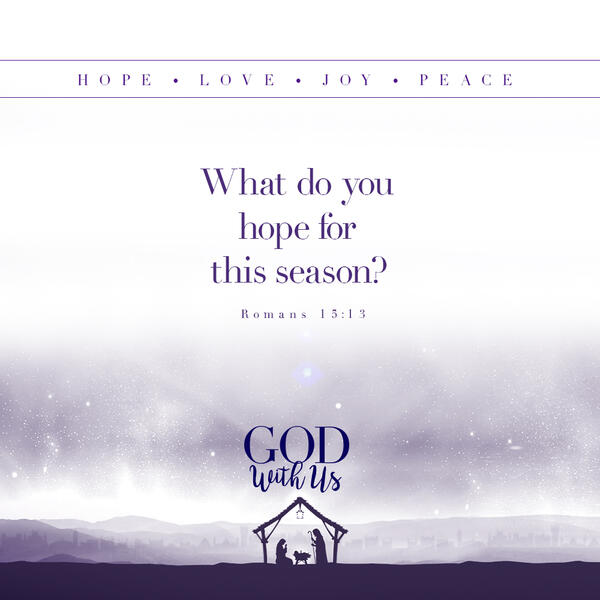 What's Happening
News, Events, Prayer Requests and More From T&C
Great Expectations
Here's a study you can use to prepare your heart and mind for the theme of the 1st Sunday in Advent - Hope.
GREAT EXPECTATIONS
LUKE 2:22-38
MAIN POINT
We should recognize and receive the salvation God offers in Jesus, the long-awaited Messiah.
INTRODUCTION
Think about something you waited a long time to do, such as leave home, get married, have a baby, or get your dream job.
What was your greatest expectation for that event?
Did the event live up to your expectation?
Sometimes events in life greatly exceed our expectations, and other times they fail to live up to the hype in our mind. Simeon and Anna had lived in anticipation of God's promised Messiah. Recognizing Jesus as the One through whom salvation would be made available to all people, Simeon offered praise to God. Following Simeon's example, we should recognize and receive the salvation God offers in Jesus, and make praise to God for His salvation a prominent element of our lives.
UNDERSTANDING
READ LUKE 2:22-26.
How would you describe Simeon, based on these verses?
What was Simeon waiting for? What do you think "the consolation of Israel" means?
Simeon was "righteous"; that is, he kept God's laws and the laws of his society, behaving well toward others. He also was "devout," carefully fulfilling prescribed religious duties. The combination of the words "righteous" and "devout" stresses that he thoughtfully lived out his relationship with God. In addition, Simeon was "waiting for the consolation of Israel." This referred to the hope Israel had in regard to God's plan for the nation. More specifically, it referred to the Messiah's role in that plan. Simeon lived with the anticipation that God's promised Deliverer could come at any time.
READ LUKE 2:27-32.
How did Simeon recognize Jesus?
What is the relationship between Simeon's righteousness and devotion and his recognition of the Savior?
What we learn from Simeon is that an intimate, personal relationship with God enables us to respond to God's leading. Simeon was walking in a right relationship with God. He was anticipating the Messiah's coming, which indicates he took God's promises seriously. In addition, he was "moved by the Holy Spirit" (v. 27). Finally, Simeon was worshiping God in the temple. God used Simeon's worship time to communicate Jesus' identity and mission.
When we come to church to worship God, do we come with the anticipation that God will reveal Himself to us? Why or why not?
What does Simeon predict about the mission of Jesus?
What does it mean that Jesus is "a light for revelation to the Gentiles"?
The word translated "Gentiles" in verse 32 is from the Greek word ethnos, meaning "nations." It's the same word Jesus used in the Great Commission, "go and make disciples of all nations" (Matt. 28:19). The coming of Jesus was more than a fulfillment of Israel's messianic hopes. Jesus is the light revealing and providing God's way of salvation for all people. Though Israel has always had a special place in God's plan, God's plan of redemption includes both Jews and Gentiles. (See Isa. 40:5; 42:6; 49:6; 52:9-10.).
How might knowing that Jesus' plan of redemption is for all people challenge us to invest in missions this Holiday season?
How can you help others recognize the Savior this week?
READ LUKE 2:33-38.
The coming of Jesus is not just a heart-warming, feel-good story. Jesus was destined to cause the fall and rise of many. This prophecy asserted two opposite reactions to Jesus. Division would result from His life and ministry as some would fall in judgment while others would rise in salvation. Some of Jesus' own people would reject Him. Jesus would cause division and opposition even as He went about bringing reconciliation, redemption, and salvation.
How is Jesus still the cause of the rising and falling of people today? Why are some people threatened by Jesus?
How can anticipating opposition help you deal with it?
The truth of Christ's coming, while welcomed by some, is threatening to others. We need to remember that the salvation we have received in Christ is completely undeserved. We did nothing to earn it--it is the result of the unmerited kindness of God being showered freely on us. There may have even been a time in our lives when we openly opposed the gospel. Knowing that we are going to face opposition and that we too once opposed the gospel will help us be prepared to face our opponents with grace and point them to Christ even in the face of their opposition.
How does Luke describe Anna? How was she anticipating the Messiah?
Why do you think Luke included Anna in this account of Jesus' purification at the temple?
Ancient Israel and Rome were male dominated cultures and yet, Luke included this episode of a female prophet worshipping Jesus. Including this story would not have impressed anyone in Luke's day. This further illustrates the truth of verses 29-32, that Jesus has come to be savior to all people. In addition to race, Anna's inclusion reminds us that Jesus' sacrifice is for all regardless of sex or social status. Anna shines as an example of what it means to delight in Christ.
APPLICATION
What is your greatest longing? What does that longing reveal about the central focus of your life?
How has the discussion today challenged you to keep your focus on Jesus?
In what ways are you making praise to God for His salvation in Jesus a prominent part of your lifestyle? What could you do to make it more prominent?
Jesus is God's salvation made available for all people. What is our church doing to help spread the news around the world? How can you help?
PRAYER
Close in prayer, praising God for the opportunity of salvation for all people, initiated by Jesus' birth. Ask God to help us become more aware of opportunities to share His message of salvation with our world.
Our address is: 616 Northeast Washington Boulevard, Bartlesville, OK, 74006