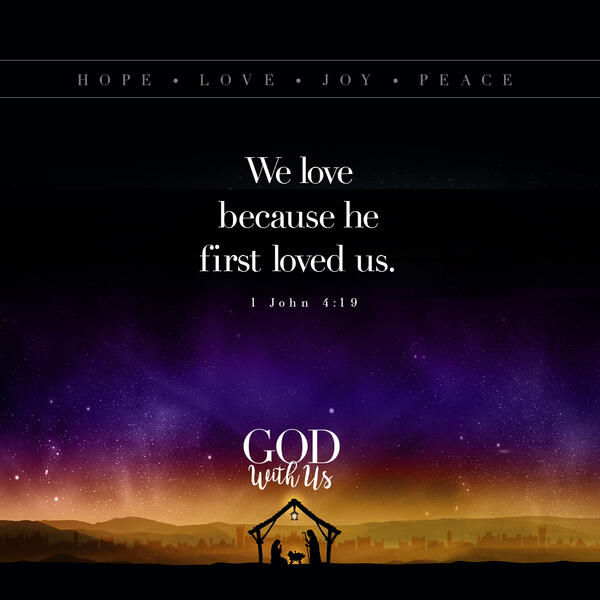 What's Happening
News, Events, Prayer Requests and More From T&C
Great Expectations
Here's a study you can use to prepare your heart and mind for the theme of the 2nd Sunday in Advent - Love.
MAIN POINT
We come to Christ alone but we connect to Christ with others..
INTRODUCTION
Other than your family, who are some of the most important relationships in your life right now?
How did you first get connected to that person?
Through Jesus' sacrifice we become connected in ways and with people that we might never have otherwise been invested in. Thanks to His work, we are not only connected to God, but also connected to others because a vertical relationship with God always leads to a horizontal relationship with others. Though we may come to Christ alone, we connect to Christ with others.
UNDERSTANDING
READ EPHESIANS 3:14-21.
What kinds of things might believers be tempted to think they need in order to be spiritually strong?
In contrast, what does Paul indicate we need in these verses?
How does greater spiritual strength in one's inner being strengthen every aspect of a person?
Real spiritual power is something only God's Spirit can give God's people. Paul wanted something to happen within the believer's inner being (heart, spirit, true inner self) that only God's Spirit can accomplish. The Spirit is indwelling every Christian from the time of conversion, but day by day we can grow in the Spirit of God's power.
What do you think are some evidences of spiritual strength? Based on verses 17-19, what do believers receive when they pray for spiritual power?
According to Paul, what will result when the Spirit strengthens our inner being and Christ takes up permanent residence in our lives?
Love for God and for others in the body of Christ is the intended outcome of experiencing the Spirit's strength and Christ's indwelling. This love will not be superficial but rather deeply ingrained. Paul used two images for this love. One is agricultural (rooted); the second is architectural (grounded). A well-rooted tree and a well-built house will stand through trials. In both images, the soil remains largely unseen; nevertheless, the cause of the stability in both images is the same.
Why would we be strengthened to do great things if we grasped the extent of Christ's love? How does realizing you are loved this way strengthen you?
READ EPHESIANS 4:1-6.
What does this passage have to say about the source of our Christian unity?
The sevenfold repetition of "one" in these verses is striking. The unity of the body of Christ reflects the unity and oneness that permeates the Godhead—God the Father, Jesus the Son, and the Holy Spirit. Since God is One, that same unity should permeate the Christian community. But when we look at the church, unity isn't always the first thing we notice.
What factors or issues hinder unity in the church? Which issues are legitimate barriers to Christian unity, and which are superficial or arbitrary?
Why is unity worth striving for in the church?
Practically speaking, how do we cultivate and nurture community among believers?
In the first three verses of this chapter, Paul stressed the importance of living a life worthy of our calling, which means bearing with each other in love and striving toward keeping the unity of the Spirit through the bond of peace. Community among Christians doesn't happen automatically—it's something we have to cultivate and nurture.
READ EPHESIANS 4:7-16.
What does it look like for God to impart His grace in different ways to different people?
What's the purpose of diversity within Christian community? Why is it essential to the mission?
In verses 11-13 of Ephesians 4, Paul lists some of the different spiritual gifts Christ gives His followers. Paul also makes it clear that the purpose of these gifts is for building up the body of Christ, not for personal gain or glory. Often we see people become prideful because of their gifts, while others feel their gifts are inferior and become ashamed. God gives us those gifts intentionally for us to use.
What is Christ's intention in giving spiritual gifts to His people?
In what ways are we each important to the life and growth of other Christians (vv. 15-16)?
Using the gifts God has equipped us with, we should help each other grow in Christ—speaking the truth in love and supporting each other. For ministry to be effective we need the gifts of others and others need us to use our gifts. That's the beauty of the church body God created. Each person is gifted to benefit those around them. Strength is created within the body when each part works in conjunction with the others.
APPLICATION
How have you seen Christian community suffer when certain parts are too weak or missing? On the other hand, how have you seen it thrive when everyone is using their gifts and serving one another?
What steps can you take to minimize unresolved differences in your community?
How can we help each other understand our individual functions within the body of Christ? What opportunities are you aware of at our church that would give people in our group the opportunities to exercise their specific gifts?
PRAYER
Pray that your group would value and pursue the connection they have with God and each other.
Our address is: 616 Northeast Washington Boulevard, Bartlesville, OK, 74006