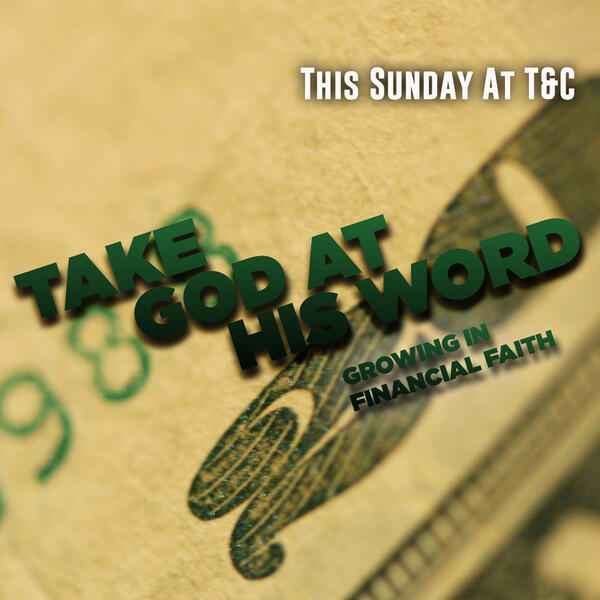 What's Happening
News, Events, Prayer Requests and More From T&C
Where Your Treasure Is
Stewardship
MATTHEW 6:19-24; MALACHI 3:8-12
MAIN POINT
Christians have a spiritual debtorship to the whole world, a holy trusteeship in the gospel, and a binding stewardship in their possessions.
INTRODUCTION
What does it mean to be a steward? What are some things that you are able to steward?
How does knowing Jesus change how you relate to the treasures you have on earth?
We cannot understand the biblical vision of the Christian life without embracing the biblical concept of stewardship. This idea goes back to the garden of Eden, where Adam and Eve were assigned the responsibility to be stewards of the garden God had created (see Gen. 1:27-30). At the heart of stewardship is the understanding that stewards do not own what God has entrusted to them, but are managers of His resources.
God is the source of all blessings, temporal and spiritual; all that we have and are we owe to Him. Human beings are granted an incredible responsibility as stewards of God's earth, but this fact is grounded in the principle that God owns everything and that we human beings will give an answer to God for our use, enjoyment, and protection of all He has entrusted to us.
UNDERSTANDING
READ MATTHEW 6:19-24.
What type of relationship does Jesus call each of us to have with the gifts that He gives?
What happens when we prioritize the gifts above the Giver? What is the danger in becoming too tied to our things? What happens to the treasures we accumulate on earth?
The biblical view that God owns all things stands in opposition to modern secularism and the idea of human self-sufficiency. We enjoy a world we did not create. We eat of its fruit, we receive its gifts, and we use its resources—but we have created none of this.
In the New Testament, Jesus used the role of a steward in several parables, making clear that we are stewards and, as such, will be held accountable for our use and investment of what God has given us (see Matt. 25:14-29; Luke 12:16-21; 16:1-13). Being good stewards of what has been entrusted to us is an important Christian responsibility.
Read 1 Corinthians 6:20. What does the gospel teach us about ourselves? How does this relate to what we do with the good gifts that God gives us?
How do we know when money and material goods have become our master? How does giving our resources away free us to enjoy the type of life that God died to give us?
The Christian worldview is revolutionary in that it frees people from an unhealthy attachment to material possessions and money. While the world frantically accumulates as much as possible, Christians understand that all earthly goods are to be enjoyed and used only on a temporary basis. Furthermore, we understand that all we are and all we own are at Christ's disposal for the cause of the gospel.
READ MALACHI 3:8-12.
When we tithe, what does giving the first ten percent of our income communicate about our perception of our finances?
How does tithing help us see ourselves as stewards of our money and not owners of it?
What does it mean to "bring the whole tithe"? What does this tell us about the motives with which God wants us to give?
What does God promise to those who give this way (v. 10)?
One issue of controversy among Christians has been the tithe. In the Old Testament God commanded the people of God to give a minimum of 10 percent as an offering (see Lev. 27:30-32; Mal. 3:10). Some people argue that Christians, no longer under the law, are now free from the responsibility of the tithe. Responsible believers understand, however, that Christians bear no less responsibility for giving than God commanded of His people in the Old Testament. Those who have been transformed by Christ are called to an even higher level of giving that is motivated by more than law and obligation (see Matt. 6:19-21; 23:23). Christians must seek to give generously to the local church and to gospel causes, knowing that God loves a cheerful giver (see 2 Cor. 9:7).
APPLICATION
What does the way you spend you money reveal about the direction of your heart and the attention of your worship? How could you best maximize your time, talents, and treasure for the kingdom of God?
According to some estimations, as few as 10-20% of regular church attenders tithe. What work in the kingdom do we prevent from happening if we refuse to obey God with our wallets?
What is the relationship between stewardship and the work of missions and evangelism? How does giving of our time and our money allow the work of the kingdom to go forward?


PRAYER
Thank God for the blessings and resources we have to glorify Him and to advance His kingdom. Pray for God's forgiveness for when we squander our opportunities and selfishly use our God-given resources. Pray that we would be good and faithful stewards.
Upcoming Events
Download
Messy Church is the way church was meant to be; generational learning, lots of fun, and of course FOOD! Come join us Wednesday evenings from 6:30-7:30pm.
Wednesday, September 14th  •  6:30–7:30 pm (CDT)
Download
6 - 12 grade students are invited to participate in our Sunday night youth group events. There will be food, fun, fellowship and study. Contact Chris@tcccfamily.org for more info.
Sunday, September 18th  •  6:00–7:30 pm (CDT)
Download
Join our women's study as they take a chronological journey through the Bible. Contact the church office for more information.
Tuesday, September 20th  •  9:30–11:00 am (CDT)
Our address is: 616 Northeast Washington Boulevard, Bartlesville, OK, 74006