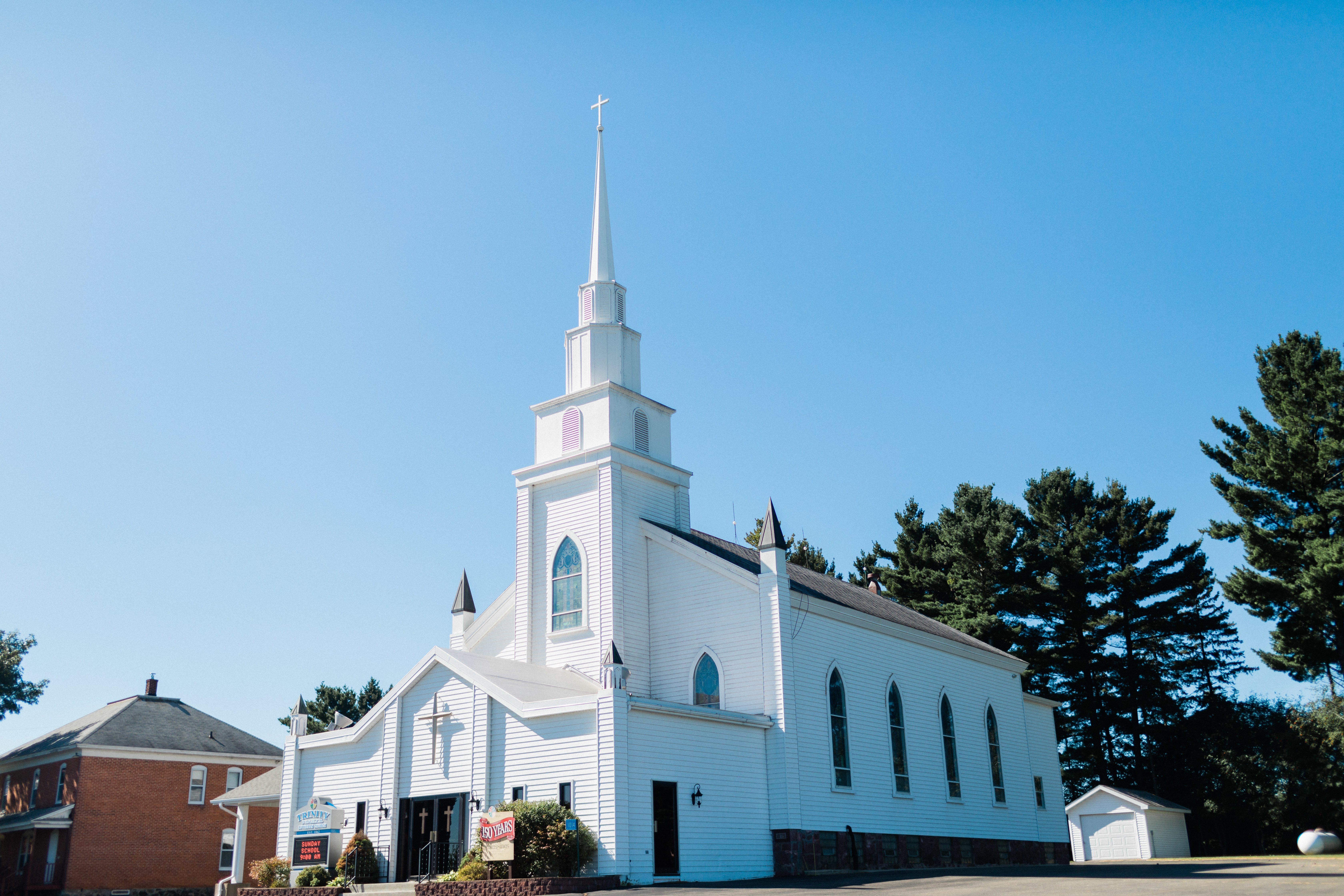 Trinity Ev Lutheran Church 1008 N 120th Avenue Wausau, WI 54401 October 21, 2018
Twenty-Second Sunday after Pentecost
Our Holy Communion Worship
WELCOME TO TRINITY! Today's gospel starts with disciples obsessing over who's number one, which leads Jesus to say something about God's take on importance and power. Here Jesus makes it explicit that the reversal of values in God's community is a direct challenge to the values of the dominant culture, where wielding power over others is what makes you great. When we pray "your kingdom come" we are praying for an end to tyranny and oppression.
We pray this gathered around the cross, a sign of great shame transformed to be the sign of great honor and service. A joyous greeting to one and all! A special welcome to those who are
visiting. Please take time to sign our guest book in the entry of our church leaving both an address and a telephone number.
TODAY WE CELEBRATE THE SACRAMENT OF HOLY COMMUNION: All who seek the Lord's Grace and forgiveness and are baptized are welcome to the Lord's Table. Children who have not received communion instruction are invited to come forward for a blessing.
(Worship setting # 8 in ELW-page 184-items designated by*)
GATHERING
Prelude
Call to Worship by the Bell
Welcome and Announcements
Sunday School Children to sing
Opening Hymn "You Servants of God" ELW # 825
The Greeting: P: The grace of our Lord Jesus Christ, the love of God, and the communion of the Holy Spirit be with you all. C: And also with you.
Hymn of Praise "This is the feast of victory . ..." . p. 187 ELW Prayer of the Day P: The Lord be with you. C: And also with you.
P: Sovereign God, C: you turn your greatness into goodness for all the peoples on earth. Shape us into willing servants of your kingdom, and make us desire always and only your will, through Jesus Christ, our Savior and Lord. Amen.
THE WORD
First Reading Isaiah 53:4-12
Psalm Psalm 91:9-16
Gospel Acclamation "Alleluia. Lord, to whom shall we go?'' p.188 Response after announcement: Glory to you, 0 Lord. Mark 10:35-45
Response after the conclusion: Praise to you, 0 Christ.
Children's Sermon
Sermon Pastor Phil Bogen
Hymn of the Day "Lord, Whose Love in Humble Service" ELW # 712
Apostles' Creed
Prayers of Intercession P: Lord, in your mercy. C: Hear our prayer.
Sharing of the Peace
P: The peace of the Lord be with you always. C: And also with you.
MEAL
Offering
Offering Song "We Are An Offering" ELW # 692
Offering Prayer: P: God of Life, C: you give us these gifts of the earth, these resources of our life and our labor. Take them, offered in great thanksgiving, and use them to set a table that will heal the whole creation; through Jesus Christ, our Savior and Light. Amen.
*Great Thanksgiving p.190 ELW
*Proper -Preface "Holy, holy, holy Lord ..." p.190 ELW
*Words of Institution
*Lord's Prayer p. 191 ELW
Invitation to Communion: P: Speak to us, 0 Lord, in the breaking of the bread, and make us one with you.
Communion Hymns:"Lamb of God, you take away ... ." p. 191 ELW
"On Eagle's Wings" (blue hymnal) WOV # 779
"Will You Let Me Be Your Servant" ELW # 659
Post Communion Blessing: P: The body and blood of our Lord Jesus Christ strengthen and
keep you in his grace. C: Amen
Prayer after Communion: P: Holy and compassionate God, C: in bread and wine you give us gifts that form us to be humble and courageous. May your words come to life in our serving
· and in our witness, that we might speak a living voice of healing and justice to all the world,
through Jesus Christ, our rock and our redeemer. Amen.
THE SENDING
Benediction
Closing Hymn "The Lord Now Sends Us Forth" ELW # 538
Dismissal: Go in peace. Serve the Lord. C: Thanks be to God.
Postlude Laurie Wiedeman
Announcements
FAMILY FUN DAY & ICE CREAM SOCIAL: TODAY, the Sunday School children invited parents, grandparents and any other family member to come to Sunday School with them today. Also thank you to our Sunday school children for singing morning during worship There will be an ice cream social to follow worship, the congregation is encouraged to join the children for this event.
COUNCIL MEETING for Trinity is scheduled for Tuesday, November 6, 2018 at 6:30 pm in the basement of Trinity Lutheran Church. NEXT JOINT COUNCIL MEETING is scheduled for Tuesday, November 13 at 6:30 p.m. at St. Peter. Put this important meeting on your schedule. See you there.
THIS YEAR'S ANNUAL CHILI DINNER AND MUSIC SERVICE will be held on Sunday, November 11,2018. Music will be provided by II Edition. Tickets will be on sale before church on October 215
28th and November 4th and 11th. Tickets for this year chili dinner will be $8.00 adults, $5.00 children ages 4 -10 and children under the age of 3 are free. You will also be able to order chili to go at that will be $8.00 A donation sheet will be in the back of church, watch for that to be posted towards the end of October, all donations and help are greatly welcomed and we thank all of you in advance for your support. Any questions you can contact Sheila Frey 715-443-2039
CROP WALKERS WALK 10K AND RAISE MONEY FOR WORLD AND LOCAL HUNGER: Four youth and three adults walked and raised money for world and local hunger. Those who walked were Clara Dehnel, Brenna Dulak and Anya Mueller from Trinity and Parker Mathwich from St. Peter. Walking the IOK with the kids was Susan Mathwich from St. Peter. Pastor Phil and Mike Buttke walked the 5K. The walkers from Trinity raised $471.36. They would like to thank all those at Trinity for their contributions and support!
TRINITY WOMEN'S BIBLE STUDY WILL HAVE MONTHLY MEETING OCTOBER 23RD: The
Trinity Women's Bible Study has begun their fall schedule and the next meeting is Tuesday, October 23 at 1:OO pm in the Trinity basement. These are 1 1/2 hour meetings filled with Bible Study, food and fellowship. If you haven't tried this out before, please come and join us. We use the women's Gather Magazine as our basis for Bible Study. This year's study is a study of repentance. The author is The Rev. Meghan Johnston Aelabouni who is a full time Ph.D, student and a mom to three
MEN'S BREAKFAST & BIBLE STUDY EVERY SECOND SATURDAY AT VILLAGE INN
Men's breakfast and Bible Study will again be meeting on the second Saturday of the month starting in September. Next men's breakfast and Bible study is scheduled for Nov. 10,2018, 8:00 a.m. at the Village Inn in Marathon. This is a great time for fellowship and a discussion on the upcoming Sunday gospel. No sign up needed; just show up; friends and neighbors are welcome
WOMEN'S BIBLE STUDY will no longer be ordering cutlery We do have a supply on hand, check the book on the bulletin board for a list of items. We will continue to have the greeting cards, Any questions please contact Gerri
BERLIN-HAMBURG LIONS CLUB is having a Harvest Brunch on October 21'1 from 10 am until 3 pm at Rib River Ballroom, the price is $8.00 for adults and children. Children under the age of three are free. The menu is: Potato & Buttermilk pancakes, maple syrup, applesauce, cheese, scramble eggs, sausages and fruit. Please join us for wonderful meal and help support the Berlin-Hamburg Lions Club
A MESSAGE FROM GREATER WAUSAU CHRISTIAN SERVICES: Judy Nelsen has been the Trinity board representative for Greater Wausau Christian Services for the last period of time. Judy finished her term on the board at the end of
2017. Trinity will need a volunteer to replace her. If anyone is interested, please contact Pastor Phil.
SUMMER BIBLE STUDY AT ST. PETER WILL BE OCTOBER 10 & 24: The St. Peter Wednesday morning Summer Bible study continues to meet every other Wednesday at 10:30 am. We will study one of the texts for the upcoming Sunday. I will put the coffeepot on and there usually is plenty of goodies to go around. Next scheduled meeting is October 24 at 10:30 am at the St. Peter fellowship hall. Come for the fellowship. Come for the goodies. But most importantly come for the Bible Study.
DISABLED AMERICAN VETERANS NEED RIDES TO MEDICAL APPOINTMENTS: Do you have one or two days a month to be a volunteer driver for our Veterans? The Disabled American Veterans Transportation network is in need of drivers for Marathon County. The van, which is provided, provides free rides for Veterans to appointments at Tomah VA, Madison VA, Milwaukee VA, Green Bay
VA, Wis. Rapids VA, Wausau VA as well as VA approved hospitals and clinics. We
just need your time! If you are interested, please contact Rose at 608-504-1313 and I
will get you started on the application process! Thank you!!! DON'T FORGET
WISCONSIN SINGERS WILL PERFORM AT WEST HIGH ON SUNDAY, NOVEMBER 11 am: Wisconsin Sings, the University of Wisconsin-Madison's premier entertainment group, is taking the stage for its 51st season show, Nothing's Gonna Stop Us Now! with captivating vocals, stunning choreography, big band sound and Badger spirit performed by the UW's most talented students at Wausau West High School for one night only on Sunday, November 11,2018, at 4:30 pm. Trinity's own Reid Parks is a singer/dancer in this amazing Broadway-caliber show. Come see Reid and the other members of troupe along with music groups from Wausau West High. Tickets are available at the Wausau West Business Office or online at ShowTixs4U.com for $12 per person. For more information, contact Kathy Folino at Wausau West (715-261-0899 ).
Let us get to know you!
Please take a moment to send us your information so that we may stay connected with you. Your information is carefully managed and protected.
How did you hear about us?