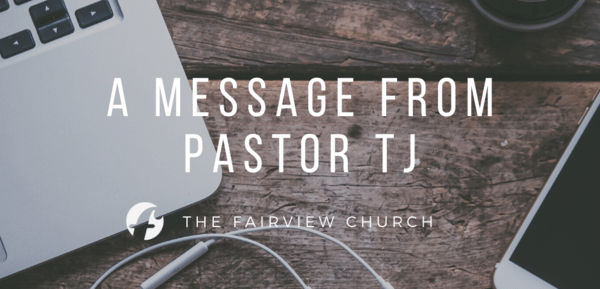 Fairview Update
Hi Fairview Church Family,
We pray this email finds you well during the latest "Stay Home, Stay Healthy" order. We know this time can come with a lot of different emotions and we want you to know WE CARE! If you are in need of anything during this time or just want to connect with us, please let us know.
Some important information:
Good Friday Service - Stay Tuned
Easter Sunrise Service - Canceled
At this point our plan will be to move forward with:
ONLINE Easter Sunday Service @ 10:30 AM
Pastor TJ's Installation Service - Postponed, TBD
Looking for a resource to stay encouraged? Connect here for 6 weeks of Pathways devotional magazine from Warner Press! More ways to connect coming soon.
We want to HEAR FROM YOU! Record a video saying "We are the Church" and send it to this email or text 360-607-7441 and Pastor TJ will use it in his sermon this Sunday.
This Sunday's Online Service will look very similar to our first online service we launched. We will post the online stream via Facebook and our church Website again through a new and revised The Fairview Church Media YouTube channel. As we navigate this new platform we pray it reaches everyone easily and keeps us connected as a church family. If you need any help getting online, please contact us for help.
We love you. God bless!
Changing the face of Seattle one person at a time.
Our address is: 844 NE 78th St. Seattle, WA 98115