Stand Apart
Do NOT Stand Alone
Live Your Hope
What a blessing it is to know Jesus, our Living Hope!
For the past several weeks we have been studying the book of
1 Peter and have learned what it means to have the assurance of what Jesus did on the cross for us and who He says we are in Him (where we get our value), etc.
This week we take all that has been taught on the subject of hope and get to make a decision on what we do with the information and how that decision affects our lives going forward.
Please join us this Sunday, Aug. 22nd, at 9:30 AM in the parking lot or online on Facebook Live.
Just for fun!
If you have not attended or watched one of our services online lately, you might want to watch one of the videos online to see Pastor Jim climb up and down on the 11 ft. ladder.
SUMMER SALAD SOCIAL – THIS SATURDAY
Hey ladies . . . this Saturday – don't forget!
By the time you read this, it will be just a few days till the Summer Salad Social on Saturday, Aug. 21st, at 9:30 AM in the Washington Park, Shelter #2.
Bring your favorite salad to share and invite a friend to come along with you (ladies only). It will be a great time with food and fellowship.
As an added bonus, Pastorette Kim Shade will inspire and motivate us ladies with some words of encouragement. You don't want to miss this! See you Saturday!
First Impressions Training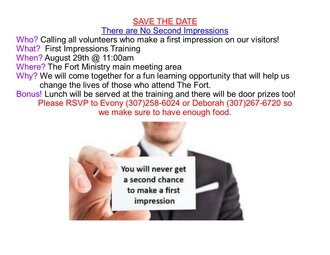 Mark Your Calendars Now!
If you currently volunteer as a Greeter, do name tags, prepare coffee, serve communion or would like to get involved in The Fort Ministry by serving others, this fun training is for you!
Coming September 12th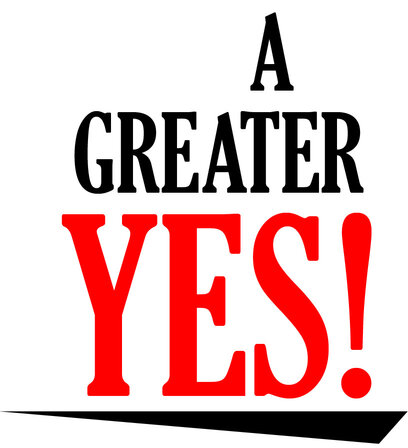 Mark your calendars now and plan to be here at the church for this exciting Sunday!
Sunday, Sept. 12th, at 9:30 AM we will kick-off a new sermon series titled "A Greater Yes!" and we want EVERYONE to be there!
We ask that each of you invite a friend and if you normally watch our service online, we'd love to have you join us (if you live locally) so we can get to know our online family as well. Invites are available at the church.
A tasty BBQ will follow the service and sign-up for all of the side dishes begins this Sunday. If you won't be at church in person, but are interested in bringing a dish to share, email us at Connect@thefortministry.com.
Prayer
"Finally, all of you, live in harmony with one another; be sympathetic, love as brothers, be compassionate and humble."
1 Peter 3:8
Dear God, In this world today it is difficult to find peace and harmony. I can only find it if I abide in Christ Jesus. Help me to show Christian love to everyone You place in my path. May I love others, be compassionate and humble. May I show high value and honor to everyone, in spite of how I feel. In a world of chaos my Living Hope in Christ is peace personified. In Jesus' name, Amen.
Cheryl Flores – Prayer Ministry Leader
ABIDE ACQUIRE ADVANCE
Our address is: 4741 W Yellowstone Hwy, Mills, WY 82604, USA